Australian players making inroads in the Majors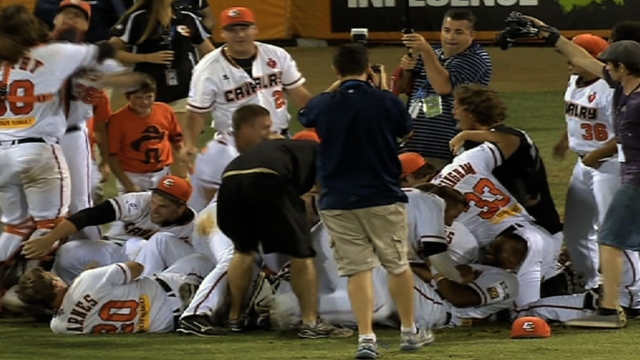 PHOENIX -- Team Australia may have been eliminated from the World Baseball Classic, but there are a few players from the Land Down Under who are just getting warmed up for the Major League season.
Baseball has been in Australia since the 1850s, when American gold miners first brought the game over, but it never really gained widespread popularity.
"It's seventh or eighth on the list," Angels outfielder Trent Oeltjen, a native of Sydney, said. "You know, rugby and cricket are the two main sports in Australia, followed by swimming and a couple others, so with our small population, there's just not that many people playing baseball. The kids generally go into rugby and cricket."
Joe Quinn was the first of 28 Australian-born players in the Majors, playing from 1884-1901. It took more than 80 years for the next Australian Major Leaguer to arrive, when infielder Craig Shipley made his debut with the Dodgers in 1986.
Twenty of the 28 Australia-born Major Leaguers have been pitchers, with current Oakland reliever Grant Balfour, also from Sydney, leading the list in strikeouts and saves. Balfour said he was around 7 years old when he and his father were first introduced to the game.
"We sort of came across the game being played, went up to some people and sort of said, 'Hey, what have we got to do to get started?' and stuff like that," Balfour said. "I came back the next week and stared playing T-ball. From there, it took off."
Balfour's father co-founded a youth baseball club, and before long, the two of them were rising through the ranks.
"We sort of moved up the whole way together, until we got to where I was playing for Australia and he was coaching," Balfour said.
Father and son kept their roles of coach and player until Balfour moved to the United States to play in the Majors.
Part of what intrigued Balfour about baseball was how difficult it was to master.
"It's a tough game to nail down. It's definitely not easy," he said, adding that, "trying to get a grasp of the whole game and learn the game and trying to excel at the best level is a challenge."
Balfour's A's teammate and fellow Australian-born pitcher Travis Blackley became interested in baseball after watching his younger brother, former Red Sox prospect Adam Blackley, play the game. Like Balfour, he was drawn in by the complexity of the game.
"It was the fact that you couldn't be good at it every day," he said. "I was pretty good at most sports, pretty athletic. Not the best at them, but pretty decent. And that was the sport I found instantly like, 'Woah, what is this? This is new. I don't know how to be good at this yet,' and it just kind of sucked me in."
Oeltjen's American father introduced him to baseball, and Oeltjen enjoyed the faster pace of the game.
"Cricket's a little slow, and it can take a couple days to complete a match," he said. "I wasn't too into that, so that's how I got into baseball."
When Australian players move to the United States, getting used to the grind of a long baseball season can be their biggest challenge on the field, but the hardest part of the transition happens outside of the ballpark.
"We come over here at 17, 18 years old, fresh out of high school, and it's a bit of a culture shock here on the other side of the world," Oeltjen said.
The distance between players and their loved ones can make it especially difficult.
"Over here, if something happened, you could probably give them a call and they could be there the next couple hours or the next day," Oeltjen said, "whereas Australia, it's half a world away so it takes a little bit longer and it's a little harder with the time differences to contact everyone back there."
Though many people in Australia don't follow baseball themselves, Blackley said they're usually pretty excited to see their fellow countrymen do well at the highest level of the sport.
"They appreciate the fact that the MLB is like, to them, like the UEFA of soccer or like the English Premier of soccer or like the NFL," he said. "They see it on TV, they see how big it is over here, so for an Aussie to be in that, they're pretty happy about it."
Over the past decade, Australian baseball players have started to get more notice than ever before, such as when Oeltjen and his Olympic teammates brought home the silver medal for baseball in the 2004 Athens Games. And while Blackley doesn't really get recognized around town when he goes back home to Melbourne, it's another story when he tries to go and watch a game. After the dynamic season the A's had last year, going to the ballpark could mean courting chaos.
"I had to keep out of the stands," he said. "Before I could walk through the stands, no worries, and just people would know. But now the kids -- you see 50 A's hats at a game. It's pretty crazy. Not just cause of me, but because of Balfour. They love Balfour."
For his part, Balfour hopes that the recent success of the A's can get more young Aussies interested in baseball.
"I don't get a chance to go back that much anymore, but definitely there's guys, I'm sure, that look up to you," he said. "That's good, that's what you want to see, because I'd like to see some more kids get over here and keep signing and represent Australia in the big leagues."
Nathan Humpherys is an associate reporter for MLB.com. This story was not subject to the approval of Major League Baseball or its clubs.