Veterans give younger players examples to follow
Ability to provide a calm, steady influence is among important leadership qualities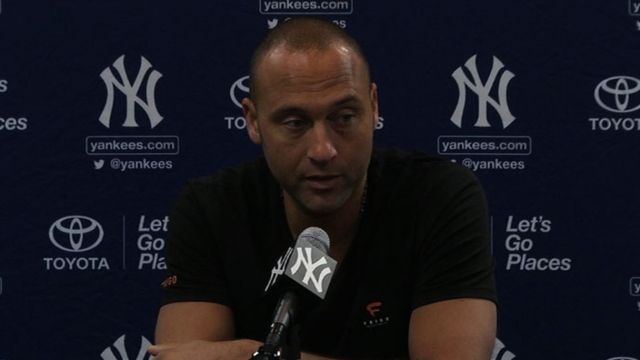 Often the image in our minds of a great leader is one player, surrounded by his teammates before a game, using loud words and demonstrative body language to motivate his team to victory.
There's no doubt those types of leaders are needed.
Think back to last postseason, when Hunter Pence inspired his Giants teammates with pregame speeches en route to San Francisco's 2012 World Series title. Or last month, when fiery Baltimore Ravens linebacker Ray Lewis led his team to a Super Bowl victory.
But in a sport in which personal and team-wide highs and lows are all but guaranteed, it's often a calm, steady influence that inspires and carries a team through a 162-game season.
"We often mistake leadership," Braves manager Fredi Gonzalez said. "It doesn't have to be a guy who yells and screams, but it can be somebody who plays the game the right way and can tell his teammates when they're not doing it correctly."
Gonzalez knows the importance of such a leader. In his first two seasons as Braves manager, Gonzalez said he often relied on Chipper Jones to get a feel for the club. This year, with Jones having retired, Gonzalez won't have that luxury.
After 19 seasons in an Atlanta uniform, Jones is gone. So, too, is Cardinals right-hander Chris Carpenter, who's been shut down indefinitely with recurring nerve problems.
But while their leadership generated league-wide recognition, others remain who lead by example.
There are veterans, such as Yankees captain Derek Jeter, White Sox first baseman Paul Konerko and Rockies first baseman Todd Helton. And there are younger players, like Red Sox second baseman Dustin Pedroia and Giants catcher Buster Posey.
None of them are overly outspoken. But they lead with their play, reflected by their combined 28 All-Star appearances, two Most Valuable Player awards and 14 other top-10 MVP finishes. And like many great players, they bring others along for the ride; those five have combined for eight World Series championships and 26 postseason appearances.
"On a winning team, you need these guys on your team, not just coaches and managers," Reds manager Dusty Baker said. "I remember one time we were playing the Yankees and it was time for stretching. Jeter came over and told their guys, 'Let's go, guys,' and they all cut their conversations right there and stretched."
That type of respect doesn't just happen. It's earned.
It's earned, for example, when a rookie sees a veteran working hard in Spring Training.
"You see that guy in here early. He's in the weight room. He's doing conditioning stuff before most guys are getting here," White Sox manager Robin Ventura said of Konerko. "It wakes you up to what it takes to be good and what it takes for longevity."
It's earned by going about your business daily.
"He sets the tone in how he goes about his work, the energy he shows in anything he gets involved in," Red Sox manager John Farrell said of Pedroia. "[It's] individual defense or a team fundamental we might be going through or just the way he talks."
You don't have to have an MVP plaque or even an All-Star appearance to lead. In Cincinnati, the Reds are searching for leadership after the departures of veterans Scott Rolen and Miguel Cairo. Baker said he expects left-handed reliever Sean Marshall to fill that role, for which Marshall is ready and able.
"It's a nice thing for the manager to say about someone," said Marshall, a veteran of seven big league seasons who came up as a starter. "I feel like, given my experience and the multiple roles that I've had ... I can add some insight and experience to younger players and tell them what to expect from pitching in certain roles. I can provide some examples and guidance in that way."
It's a similar approach to that taken by Carpenter and other veteran Cardinals pitchers in St. Louis, where the veteran players often take youngsters under their wing. This offseason, 22-year-old Trevor Rosenthal stayed with Jake Westbrook in St. Louis and worked out with Carpenter.
Rosenthal said seeing a Cy Young Award winner continue to stay the course opened his eyes.
"When you look back at the career that he's had and see how hard he's still working, if you can't respect that and have it motivate you, then you're not in the right spot," Rosenthal said.
Although he's only 25 years old, Posey has earned the same respect in San Francisco, as the Giants have seen firsthand how his work ethic translates into results.
"He's back there and he's going to be playing every day," Giants reliever Javier Lopez said. "Obviously, he's an MVP, too, so that proves that if you go out there and do your business and you work hard, good things will come to you."
Although speeches can motivate and are sometimes necessary, what you do on the field, Nationals manager Davey Johnson said, is how you lead.
"You lead by example. You don't have to be vocal. It's how you go about your job, that's good leadership," Johnson said. "Shoot, Brooks Robinson was one of the quietest guys I ever met, but he was a heck of a leader. Frank [Robinson] didn't have to say a whole lot, but ... he led by example, won the Triple Crown.
"That's leadership."
Cash Kruth is a reporter for MLB.com. Follow him on Twitter at @cashkruth. This story was not subject to the approval of Major League Baseball or its clubs.