Nats, Angels get early nods in Power Rankings
Defending-champion Giants, offensively deeper Tigers lurk just behind top two teams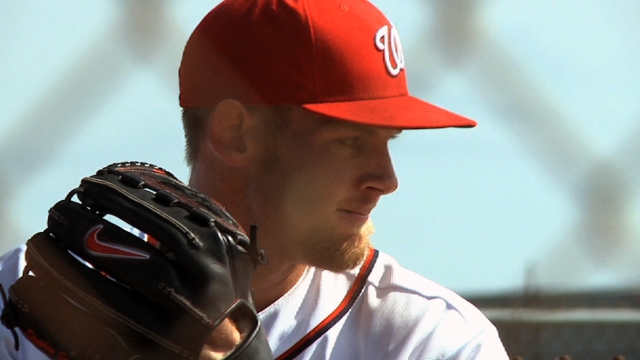 This time last year, the Phillies and the Marlins were predicted by many experts and fans to win the National League East. The Nationals were not considered championship material.
What a difference a year makes.
The Nats, who had the best record in the Major Leagues last season, have been the talk of baseball all winter and much of this spring. It seems fans will be surprised if they don't run away with the division.
Now that's a power shift.
Welcome to the Spring Training edition of the 2013 MLB.com Power Rankings and please say hello to the new leaders: the Washington Nationals.
Yes, it's early. Yes, we are a month away from the start of the regular season. But it's never too early to hear from fans and rank the best teams in baseball.
Where are you, Braves fans?
Are the Angels, not the Rangers, the best in the American League West?
The Dodgers have understandably received a great deal of attention this offseason, but you don't have to remind the folks in San Francisco that the Giants have won the World Series twice in the past three years.
Are the Tigers still the team to beat in the AL Central? What about the Reds in the NL Central?
Who is the new beast in the AL East?
MLB.com has set up a panel of experts to vote on the top 15 teams each week. The group includes MLB.com vice president and executive editor Carlton Thompson, VP and executive producer Jim Jenks, columnists Mike Bauman, Hal Bodley, Anthony Castrovince, Richard Justice, Matthew Leach, Terence Moore and Tracy Ringolsby, reporters Barry M. Bloom, Marty Noble, Jesse Sanchez and Lyle Spencer, and MLB Network analyst Mitch Williams.
Agree? Disagree? The power to rank the teams is yours.
This Week's Power Rankings

| This Week | Movement | Power Player | Last Week |
| --- | --- | --- | --- |
| 1 | | The team with the best regular-season record in 2012 looks just as strong this year. Ace Stephen Strasburg will not have any innings limits and Bryce Harper has shown early this spring that he might be more of a force than he was in his Rookie of the Year season. The Nationals' formidable pitching staff is healthy and ready to go. | - |
| 2 | | With Josh Hamilton added to a lineup that includes Mike Trout and Albert Pujols, the Angels figure to have one of the best offenses in baseball. And with Ryan Madson and Sean Burnett joining a relief corps that tied for the AL lead in blown saves last year, the bullpen should be much improved. The question, seemingly the only one on this club, is starting pitching. | - |
| 3 | | The Giants have won two of the past three World Series and it's not much of a secret how they did it: pitching, timely hitting, a resilient roster and their rock, Buster Posey, behind the plate. They didn't do much roster renovation in the offseason and will count on the same nucleus to once again get them deep into October. The only question mark appears to be starter Tim Lincecum; it will be intriguing to see how he performs in a pivotal year. | - |
| 4 | | Add Victor Martinez and Torii Hunter to a lineup that already included Prince Fielder and Miguel Cabrera, and the defending AL champs might be even better than they were last year. Everyone knows what Justin Verlander brings to the mound every five days, but the fans in the Motor City are also expecting great things from fellow starters Doug Fister, Max Scherzer and Anibal Sanchez. | - |
| 5 | | If championships were won on paper, the new-look Blue Jays might already have the AL pennant wrapped up. For a team that brought in R.A. Dickey, Josh Johnson, Mark Buehrle, Jose Reyes, Melky Cabrera and Emilio Bonifacio, the challenge will be to live up to the advanced billing. Even if a few injuries occur, this is a team deep in talent that simply needs to jell into a cohesive unit to make big waves in the AL East. | - |
| 6 | | The lineup reads like an All-Star team -- Matt Kemp, Adrian Gonzalez, Hanley Ramirez, Andre Ethier, Carl Crawford -- but the starting pitching, led by Clayton Kershaw, Zack Greinke and Josh Beckett, could be the real reason why the Dodgers make a run to the top of the NL West. The expectations are high in Los Angeles, just ask anyone. | - |
| 7 | | Could this be the year the Reds go all the way? The club with the second-best record in baseball didn't rest this winter, adding Shin-Soo Choo to the lineup and moving Aroldis Chapman from the bullpen to the rotation. Here's something else to consider: Last year's season-opening five-man rotation of Johnny Cueto, Mat Latos, Homer Bailey, Bronson Arroyo and Mike Leake combined to start 161 of Cincinnati's 162 regular-season games. | - |
| 8 | | The Braves averaged 91 victories over the past three seasons and made the playoffs twice. Now they have Justin Upton and B.J. Upton roaming the outfield with Jason Heyward. Add one of the best bullpens in the big leagues and a top-of-the-line rotation and it's easy to see why folks in Atlanta believe this could be the year the Braves win it all. | - |
| 9 | | Josh Hamilton now plays for Anaheim, Mike Napoli is with Boston and Michael Young is gone to Philadelphia, but the Rangers are focused on their current roster and a trip back to the World Series. Remember, Ian Kinsler, David Murphy, Elvis Andrus, Nelson Cruz and Adrian Beltre are all World Series veterans and the club boasts the likes of winning veterans such as Lance Berkman and A.J. Pierzynski. Don't forget about Yu Darvish, Matt Harrison, Derek Holland and Alexi Ogando pacing the rotation. | - |
| 10 | | Big Game James Shields was traded to Kansas City, but if there is one club that can afford to lose a starter, it's the Rays. A healthy Evan Longoria has the potential to win an MVP and his presence in the lineup is crucial to the team's success. Put simply, the Rays win more often with Longoria in the lineup. It also seems difficult to fall into a prolonged slump when David Price, the reigning AL Cy Young Award winner, takes the hill every five days. | - |
| 11 | | Now that Justin Upton is gone, the new-look D-backs belong to Miguel Montero, Martin Prado and J.J. Putz. Expect Arizona to be aggressive on the bases, put the ball in play more often and strike out a lot less. Can they win their division? Manager Kirk Gibson sure thinks so. | - |
| 12 | | The Cardinals won the 2011 World Series and came within one victory of returning to the Fall Classic last year. They have been resilient. They have not been healthy. But once again, there are high expectations. There are also questions about the shortstop situation and how the rotation will fare without Chris Carpenter. | - |
| 13 | | We've all heard and read about how old the Yankees are but let's not forget how good they can be. They won 95 games last season and they are confident they can win their division again. Yes, the Orioles, Rays and now the Blue Jays should not be ignored, but the Yankees won't go down without a fight. By the way, Derek Jeter and Mariano Rivera are both working their way back to health. | - |
| 14 | | The Angels and Rangers received most of the attention during the offseason but the defending AL West champs are out to prove that last year was not a fluke. Left fielder Yoenis Cespedes had a big debut season and will anchor a talented group of outfielders that includes Coco Crisp, Josh Reddick and Chris Young. But once again, it will be the pitching, not the hitting, that paces the A's. | - |
| 15 | | Remember when the Phillies were the perennial favorites to win the NL East? They do. They made a run at the NL Wild Card last year when they finally were healthy and there's no reason to believe that Roy Halladay, Cole Hamels and Cliff Lee won't lead them back to the postseason. Everyone knows the infield isn't as young as it used to be but do not overlook the value of veteran leadership. | - |