Special instructors take on increased importance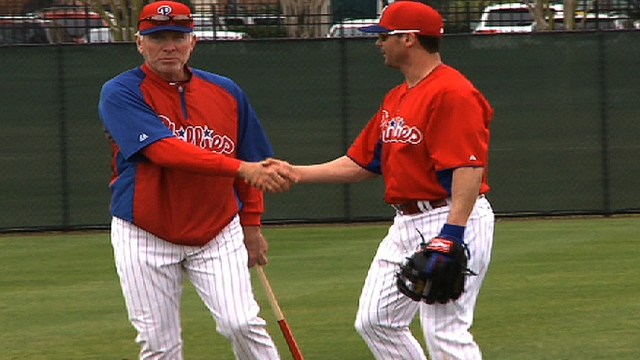 Back when he was making seven All-Star teams and winning a pair of National League Most Valuable Player Awards for the Braves, Dale Murphy didn't pay a lot of attention to the special guest instructors who came to Spring Training.
"When I was playing, I'd see guys come back who had been retired for a few years and, I'll be honest with you, I'd say, 'You know, when I'm done, I'm not going to come back for a week and put on a uni with a pot belly and walk around and lean on a fungo,'" Murphy said with a laugh recently at Champion Stadium in Lake Buena Vista, Fla.
The kicker, of course, is that Murphy was in Florida partly to be exactly the guy he said he'd never be. Except that he doesn't have a pot belly; he's in great shape. And Murphy does more than lean on a bat.
There was a time when inviting former stars to camp was mostly a nice gesture. The guys got a little vacation, made a few bucks. That's evolved over the years in at least two important ways.
The first is that teams have come to understand that there's a value to having big names from their past for the current generation of players to meet. The Yankees were among the first to do this, inviting a dozen or more of their legends to camp. Now most teams have at least one former player around to be a living, breathing link to the past.
"We love the fact that there's a history here, and it kind of brings that history to life," said Braves general manager Frank Wren, who noted that Chipper Jones had been in earlier. "Whether it's Phil Niekro or David Justice or Fred McGriff or Gene Garber or Dale Murphy. You could go on and on and on."
Added Cardinals general manager John Mozeliak: "You think about the impact somebody like a Stan Musial had on this team and this city. You think about somebody like Red Schoendienst coming around the ballpark. Lou Brock and Bob Gibson and Ozzie Smith. All these guys help create a like-minded way of thinking about what it means to be a St. Louis Cardinal."
Even more significantly, the greats who come back now become actively involved with the younger players.
Astros general manager Jeff Luhnow said being able to have Roger Clemens and Craig Biggio in Kissimmee is an invaluable asset.
"They bring a credibility that's irreplaceable," Luhnow explained. "I sat in the locker room and watched Roger address all the pitchers in camp. And they were hanging on every word he was saying. He was getting up and demonstrating how he worked on the mound and talking about psychology and everything. And, really, to hear it from a person who had that much success in their career, these players are really impressionable at their age. And they listen. Often times the messages are similar to the ones we communicate to them on a daily basis. But if it's coming from someone with that kind of reputation, they listen.
"And the fact that Roger is also out on the field, watching the pitchers. And it didn't matter if you're the top guy or bullpen guy or Triple-A guy. Roger was watching and giving them feedback. And they all felt they were a part of individualized instruction."
Hall of Fame third baseman Mike Schmidt used to spend about 10 days with the Phillies in Clearwater. This spring, general manager Ruben Amaro Jr. asked him if he could stay for a month. And Schmidt was happy to do it.
"This is my area of expertise in life: Baseball," Schmidt said. "It's what I know the most about. It's where I have the most respect. It's where, when I open my mouth, people listen. It gives you a good feeling when you're in your element, and I'm in my element here. I feel good being in my element. Life has taken me in directions that don't allow me to be in this element seven, eight months a year. But when I am here for this month, it's a good feeling."
Said Amaro: "It's just his mere presence. He's one of the greatest players of all time. And I think he feels much more comfortable being in the role and being around here, and we're happy to have him. He brings experience. He can add little pieces of information that might help something click in somebody. We believe in our instructors, but at the same time, if there's something Schmitty can bring to the table and give us some information, it's great."
Wren recalled that Justice asked to address the team last year.
"And he talked to the team basically about being unselfish and going about it to win Braves baseball," Wren said. "'This is the way we play Braves baseball.' It was totally unscripted. Nobody knew what he was going to say. But you would love to bottle it and have it replayed year after year after year. Because it was from the heart, and it was everything you would hope young players understand.
"It allows our young players to talk to these legends that they watched on TV and pick their brains. And our guys have been very engaging."
Schmidt was asked to speak to the Phillies' hitters.
"I've had a tremendous amount of interest in my knowledge this year, maybe more so than ever," he said. "And that makes me feel good. So that's one thing I really like about it. Sort of a feeling of being wanted, you know what I mean? I think they want me around. So that's good, you know?"
And, yes, Murphy has changed his mind, too.
"The first time I was asked, I couldn't get on a plane fast enough to get down here," he said, laughing again. "So I'm just very grateful that the Braves have invited me."
Paul Hagen is a reporter for MLB.com. This story was not subject to the approval of Major League Baseball or its clubs.