Familiar faces appear in new places in 2013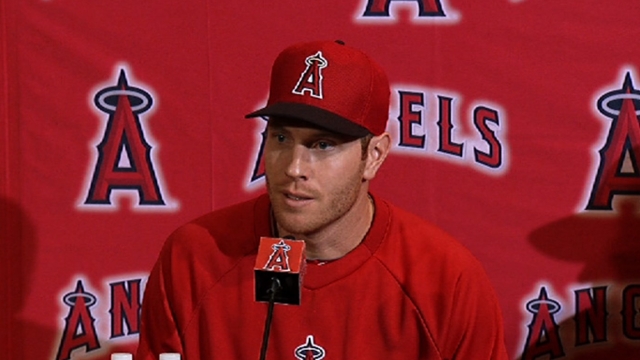 Baseball fans of a certain age may remember when vendors walked through the stands and yelling: "Get your scorecard here! Can't tell the players without a scorecard!"
That started to change when teams began putting names on the back of uniforms. Now, with so many games on television and intensive year-round coverage, many players are more familiar than your next-door neighbors.
Still, at the start of Spring Training, it's always a small jolt to see a player we've grown accustomed to in one uniform show up wearing the colors of another team. This year is no exception.
Josh Hamilton resurrected his career, won an American League Most Valuable Player Award and went to the World Series twice with the Rangers. He's with the Angels now.
Kevin Youkilis, a nemesis when he played for the Red Sox, is a Yankee. The Phillies may not have gotten younger, but they definitely got Younger, acquiring Michael Young in a trade with Texas and signing Delmon Young, who was the AL Championship Series MVP for Detroit.
Zack Greinke is now wearing Dodger blue. The Royals got James Shields from Tampa Bay. Nick Swisher has been identified with the Yankees, and Michael Bourn with the Braves. Both are Indians now.
The Blue Jays and Red Sox will compete for the most introductory handshakes in the Grapefruit League. Toronto brought in Jose Reyes, Josh Johnson, Mark Buehrle and Emilio Bonifacio from the Marlins, reigning National League Cy Young Award winner R.A. Dickey from the Mets and All-Star Game MVP Melky Cabrera from the Giants. Boston's new faces include Shane Victorino (Phillies), Stephen Drew (Diamondbacks), Jonny Gomes (Athletics) and Joel Hanrahan (Pirates).
New faces in new places always create a buzz. And nowhere is that more true than Tempe, Ariz., where Hamilton will join Albert Pujols in the Angels' lineup.
"It was definitely a very good offseason two offseasons ago, when we picked up Pujols and got C.J. [Wilson] as well," said right-hander Jered Weaver. "Now you have a guy like Hamilton in the lineup. I don't think I'll be running to the bathroom any time during the game. I don't want to miss anything. It'll be nice to see those guys work."
Of course, not everybody is thrilled with this move.
"We had about two seconds to celebrate," joked A's general manager Billy Beane. "'Yay, he's leaving Texas. Boo, he's going to Anaheim.'
"He's a great player. He's an MVP candidate every year he's out there. I'm glad to see him leaving Texas, but it doesn't do me any good because he went to Anaheim. ... He's a force. He gets on streaks where he can carry a club. Now you've got [Mike] Trout in front of him, you've got Pujols around him; it's a dynamic offensive club."
Youkilis was a player fans in the Bronx loved to hate. Now he's on their side. And Yanks general manager Brian Cashman thinks he'll fit in just fine.
"Philosophically, he's exactly the type of player that we like; plate discipline, power. He's a big hairy monster, though he's got less hair now," Cashman said, a reference to the team's policy against beards. "Johnny Damon transitioned here very well because of his experience up there. New York and Boston, players that have to grow up in those environments or work in those environments are better prepared to deal with [New York]. Johnny Damon came in here, Youk is now coming here. He'll be prepared for everything and anything."
First baseman Mark Teixeira agreed.
"I've always been a fan of Kevin Youkilis because of the way he plays the game," Teixeira said. "Like I always say, you're going to have ups and downs, but when you play the game hard like Kevin, when you play the game hard every single day no matter what the situation, players respect you. Your teammates respect you. And we're going to really enjoy playing with him this year."
There is always some risk bringing in a lot of new faces, but Blue Jays slugger Jose Bautista doesn't think that will be an issue for Toronto.
"If you have a group of guys that are kind of pulling the rope their own way and not the team way, it could [be a problem]," Bautista said. "But the sense I get from meeting all of these guys is that's not going to happen. They're all Major League established players.
"They're not out to make a name for themselves, they're not prideful players where they're going to take their personal stats over team wins. I think everyone here has the same goal in mind, and that's winning games and hopefully going to the World Series and being world champions. Because of those reasons, I don't think team chemistry is going to be an issue at all."
The Royals believe Shields can be a key to competing for the division title this year.
"The innings that he brings and the stuff that he brings might rate only a little bit higher than the leadership he brings, but he's the total package," said Kansas City manager Ned Yost. "He's already beaten the drum to our staff, saying, 'Yeah, I'm a 200-inning guy -- but so are you, and so are you, and so are you, and so are you.'"
Swisher was excited when the Indians went the extra financial mile to sign Bourn.
"Bringing a guy of his financial caliber over here, especially after signing a big contract with me and then suddenly turning around and giving almost the same contract to Mike [was huge]. Every single pitcher on this team is going to love him," Swisher told reporters.
Michael Young was a Rangers franchise icon who had spent his entire career with the Texas organization.
"Bringing [Young] to Philadelphia was important to us in a variety of ways," said Phils general manager Ruben Amaro Jr. "He fills a need at third base, clearly, but I think more importantly he brings the kind of character, the championship attitude, that we're looking for in a player and in the people we try to acquire here."
Similar storylines are playing out in every camp.
Paul Hagen is a reporter for MLB.com. MLB.com reporters Gregor Chisholm, Alden Gonzalez, Bryan Hoch and John Schlegel contributed to this story. This story was not subject to the approval of Major League Baseball or its clubs.