Familiar foes await those who moved this winter
Signings and swaps will bring reunions against former division or league rivals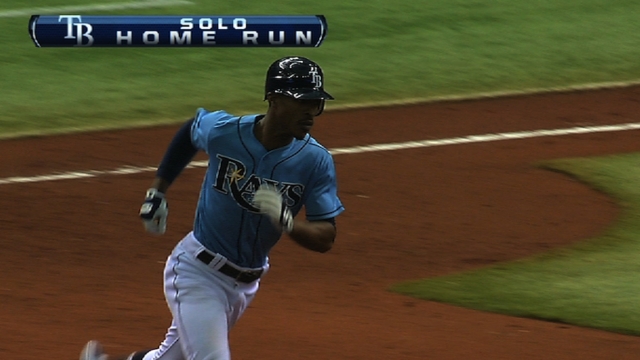 This season will be unlike any other for Braves outfielder B.J. Upton.
After spending his first eight big league seasons with the Rays, Upton signed a five-year, $75.25 million deal with Atlanta this offseason. Not only will Upton need to adjust to playing in a new city with new teammates, but he'll also need to get used to life in the National League.
Whether or not there's an adjustment period to playing in the NL East remains to be seen, but fortunately for Upton, he likely won't have to wait too long to at least see a familiar face staring back at him from the mound.
Assuming both players are healthy, Upton figures to face former nemesis Roy Halladay during the Braves' season-opening series against the Phillies. Upton and Halladay squared off more frequently as American League East foes from 2004-09, when Halladay was in Toronto.
Despite Halladay's status as one of the game's top pitchers over the past decade, reviving the matchup may be a welcomed treat for Upton, who has much success against Halladay. Of the 17 pitchers against whom Upton has logged 25 or more at-bats, his .357 average (15-for-42) and .417 on-base percentage against Halladay are personal bests.
Few other hitters have given Halladay as much trouble as Upton, as only four players with at least 35 plate appearances -- Jim Thome, Kevin Youkilis, Trot Nixon and Rafael Palmeiro -- have recorded a higher career OBP against the crafty right-hander.
A number of other players will be reintroduced to former foes after switching divisions or leagues this offseason. Let's take a look at some other intriguing reunions:
Mark Buehrle and R.A. Dickey tackle AL East
In separate trades that landed them in Toronto, veteran starters R.A. Dickey and Mark Buehrle both departed the NL East for the AL East. Historically, numbers suggest the move may better suit the knuckleball-throwing Dickey than his new southpaw teammate, though Buehrle spent only one season with Miami after 12 with the White Sox.
Dickey's knuckleball has stifled many of the division's top hitters, including the Yankees' core group of Curtis Granderson, Derek Jeter, Mark Teixeira, Robinson Cano, Ichiro Suzuki and newcomer Kevin Youkilis, who have a combined .197 career average (13-for-66) against Dickey.
"They know that I'm all in and that I'm going to pitch my guts out for the Toronto Blue Jays," Dickey said. "[General manager Alex Anthopoulos] knows what he's getting and I know what I'm getting, I feel like, and that's a good start to a good marriage."
Buehrle hasn't fared nearly as well against the Yankees -- or the AL East in general, for that matter. He's 1-8 with a 6.38 career ERA against the Yanks and has struggled repeatedly to retire Ichiro (.438), Cano (.429), Jeter (.368) and Teixeira (.341). Boston's David Ortiz has also given Buehrle fits to the tune of a .354 career average (23-for-65), three home runs and 13 RBIs.
Dempster tries to solve Yankees
Last year, veteran Ryan Dempster posted a dominant 2.25 ERA in 16 starts for the Cubs before struggling to a 5.09 mark in 12 AL outings for the Rangers following a midseason trade. Now he's with the Red Sox.
The downside to trying to find a rhythm in the AL East will be the inevitable showdowns against the Bronx Bombers. Dempster is 0-4 with a 7.62 career ERA in five starts against the Yanks. He was tagged for eight runs in six innings at Yankee Stadium in his third start for Texas in August.
The good news is Dempster has fared well against many of the division's other top hitters, especially those with the Blue Jays. Edwin Encarnacion and Colby Rasmus are each 1-for-11 (.091) against him, while slugger Jose Bautista is 2-for-10 and newcomer Emilio Bonifacio is 3-for-16. Baltimore's J.J. Hardy is a 2-for-27 (.074) and Tampa Bay's James Loney is 3-for-19.
Tribe's additions look to find stride in AL Central
The Indians, who will have new manager Terry Francona at the helm, were busy this offseason, adding Nick Swisher and Mark Reynolds. Few favorable matchups await them, however, as both have struggled against many AL Central starters.
"It's hard to envision a better fit for our team," Indians GM Chris Antonetti said of Swisher, who has spent the bulk of his career with the Yankees and A's and hit .219 with 69 RBIs in his one season with the division-rival White Sox. "For anyone who's watched Nick play, it's not only about his ability, but how he plays the game. His passion, his enthusiasm, his energy, you'll see it from the very first day."
Swisher is 13-for-29 against the Royals' Jeremy Guthrie, but that's about where the success ends. He's hitting a combined .207 (25-for-121) against other potential Royals starters Ervin Santana, Bruce Chen, Luke Hochevar and former Rays starters Wade Davis and James Shields, who also have moved from the AL East to the Central.
Like many, Swisher has also struggled against Tigers ace Justin Verlander (11-for-61 with 23 strikeouts), as well as other Detroit starters, including Doug Fister and Max Scherzer (6-for-29 combined with 10 strikeouts).
As for Reynolds, who left Baltimore, he's 5-for-37 with 18 combined strikeouts against White Sox starters Jake Peavy, Chris Sale, Gavin Floyd and John Danks. As with Swisher, Shields has been a thorn in Reynolds' side, as the first baseman is 1-for-10 with six strikeouts against the new Royals ace.
Pierzynski faces tough tests out West
Statistically, AL West opponents haven't been the most welcoming for catcher A.J. Pierzynski. Yet that's exactly where he ended up this offseason, leaving the White Sox and signing a one-year contract with the Rangers.
The fiery catcher is preparing for a season in which he will face the two pitchers who have given him the most trouble throughout his career -- Seattle's Felix Hernandez and Oakland's Bartolo Colon -- as well as an Angels\ staff against which he has collectively struggled. Pierzynski has logged 25 or more at-bats against 42 pitchers, and his .188 average (6-for-32) against Hernandez and .195 mark (8-for-41) against Colon are easily his two lowest among those examples. He's also been a .190 hitter (16-for-84) against pitchers currently with the Angels.
On the bright side, Pierzynski will have 19 games to try to record his first career home run against AL West-newcomer Houston, one of three clubs he has never homered against.
Paul Casella is a reporter for MLB.com. Follow him on Twitter @paul_casella. This story was not subject to the approval of Major League Baseball or its clubs.