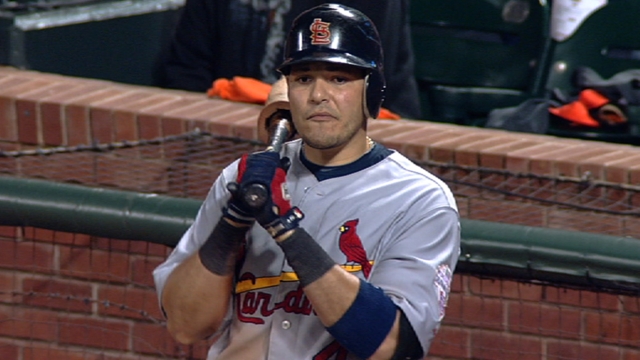 • Aside from stating that he'd like to get his contract situation taken care of without an arbitration hearing, third baseman David Freese had little to comment on regarding current negotiations. On Friday, Freese's agent exchanged arbitration figures with the Cardinals. Freese asked for $3.75 million, while the Cardinals filed at $2.4 million.
If the two sides cannot reach an agreement, a hearing will be scheduled for sometime during the first three weeks of February. Freese is arbitration eligible for the first time.
"Publicly, I'm not going to get involved with where we're at," Freese said. "It'll get resolved. It kind of has to. When? I don't know. But it has to."
• Matt Carpenter said he will report to Jupiter, Fla., in early February to get a head start on the second-base work that he will be doing with infield coach Jose Oquendo. Carpenter has been taking ground balls at the position nearly daily this offseason with the expectation that he will get the chance to compete for a starting job at second this spring.
"Really, I'm just working at it every day with the mindset of trying to get comfortable over there so that when I come into Spring Training, I can prove to our coaching staff that I can handle it," Carpenter said. "Whatever role ends up happening, they'll decide that."
• Asked to offer one of his most memorable encounters with the late Stan Musial, Mabry shared this:
"One great story for me was that Stan was throwing out a [ceremonial] first pitch and I was actually catching the first pitch. He throws the ball, I catch it, and we go out to get a photo [taken]. He says, 'John, you're my grandson's favorite player.' I said, 'Well, Mr. Musial, has he looked at the back of your baseball card? Because I will never touch anything that is on the back of that baseball card.' He said, 'He doesn't pay attention to his grandpa.'
Mabry was, jokingly, asked if he then signed the ball for Musial.
"I wouldn't dare sign a ball for him," Mabry answered. "He signed it for me and I still have it. Then that picture he signed: 'To a great Cardinal.' To me, that means the world for the best Cardinal to say I'm a great Cardinal. He is what the Cardinals should be."
• A resident of San Francisco, Daniel Descalso said that he has been fueled this offseason by the sting of watching his hometown celebrate a World Series championship in October. Descalso relayed one story in which, while picking up a to-go order, he had to walk the streets of the city as fans celebrated a Giants World Series win. San Francisco, after winning three straight National League Championship Series elimination games over the Cardinals, swept the Tigers in the Fall Classic.
"It was extra painful to me going back to San Francisco," Descalso said, "I basically went into my hole. I didn't want to see anybody. I was stuck in the middle of Giants mania and the parade. I could have done without that."