Ownership praises approach by Duquette, Showalter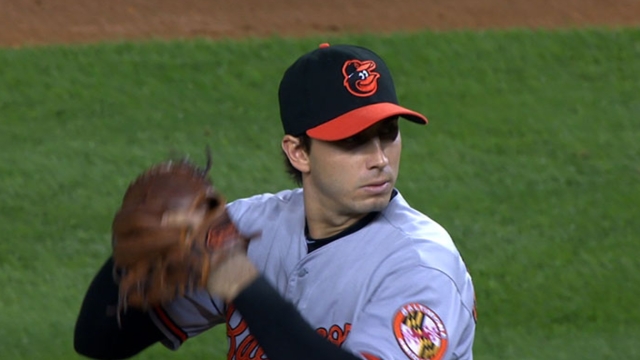 BALTIMORE -- While many Orioles fans have questioned the organization's lack of offseason activity, Louis Angelos, speaking as the ownership representative for managing partner Peter Angelos, took time Thursday morning to praise the efforts of executive vice president of baseball operations Dan Duquette and manager Buck Showalter for staying the course.
"You don't want to trade the future or sacrifice that future for what's in the immediate," said Angelos, who held court with a group of reporters after Duquette's and Showalter's contract extensions were officially announced. "I think Orioles fans know the game really well, and they want sustained winning and they want to see guys come up through the system. You can get away from that and get distracted by a tantalizing free agent or a trade possibility in [R.A.] Dickey's case, for example. That was a long and considered internal dialogue that went on, but Dan has his vision, and it's right in sync with Buck's vision.
"When you extend both of them to 2018, it's not about the immediate. It's not a two-year extension or a three-year extension where you got the 'We got to win now [mind-set].' It promotes doing the right things to win over a 10-year period or a 20-year period. Let's have sustained competitive teams with players that are brought from within, so you draft and develop, and you supplement from the outside."
Duquette said Thursday morning that the club has received "umpteenth" trade proposals from other teams, but he hasn't been willing to part with the club's young players. While it's unlikely the Orioles will add the impact bat they wanted this winter, Duquette said given the choice, he'd prefer to have the pitching depth in the organization. The Orioles, who re-signed outfielder Nate McLouth as their biggest move, are still trying to sign another veteran starter before heading to camp next month.
"The notion that it hasn't been an eventful offseason, in many ways, you can interpret as good," Angelos said. "I know Mr. [Peter] Angelos has said, 'You guys want to do it? Let's go for it. What do you want to do?' And you can play all sides of that. But the response [from Duquette and Showalter] consistently has been, again with respect to Dickey -- tough call -- but we are going to stay with the program. We are going to keep bringing our guys up, and I think it's going to pay dividends over the long term."