Sarah's Take: Writers got it wrong with Hall shutout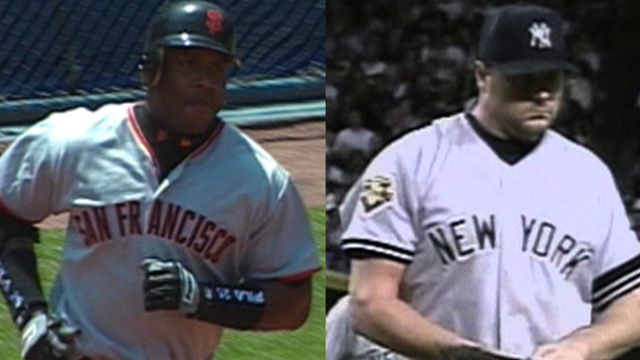 I simply don't understand.
On Wednesday, the National Baseball Hall of Fame announced the Class of 2013, and the Baseball Writers' Association of America didn't elect anyone.
I understand this Hall of Fame ballot was the most difficult in history, but still ...
I know the writers took their responsibility seriously, but not having anyone going into the Hall of Fame this year hurts the popularity of baseball.
This year's ballot has gotten more media attention than any in history. It had at least four players who should have been guaranteed Hall of Famers. However, the era of performance-enhancing drugs is clouding the process because the voters don't know who was clean and who was dirty.
Many Hall of Famers don't want anyone who used PEDs enshrined in the Hall of Fame. While that stance is ideal, it is not practical.
I thought I would share how I would have voted for the top players on this year's ballot.
I wouldn't choose either Sammy Sosa or Mark McGwire. They were one-dimensional players who probably couldn't have done what they did without the aid of PEDs. I won't soon forget the excitement of the summer of 1998, when Sosa and McGwire competed to surpass Roger Maris' record of 61 home runs in a single season. After the work stoppage of '94 that cancelled the World Series, baseball needed this competition to regain its popularity. I know the Baseball Hall of Fame already has an exhibit to commemorate this remarkable season.
Since I didn't watch the American League during Don Mattingly's Yankees career, I wouldn't vote for him because I don't feel I could be objective. I know him as Dodgers hitting coach and manager. Except for All-Star Games, I didn't see him play, and looking at statistics doesn't give me a full picture of a player and how he performed.
I have the same story with Jack Morris. I can remember him pitching a no-hitter while I was in high school. Although I can watch some highlights, they won't give me the full story.
Dale Murphy: Yes. From 1982 -87, he dominated the National League. He was a terrific center fielder after the Atlanta Braves finally discovered his best position, and thus playing multiple positions hindered his development into a great player until he was 26. He earned two National League MVP Awards, four consecutive Silver Slugger Awards, and five Gold Glove Awards. As a deeply religious ballplayer, he gave many youngsters a positive role model while many other Major Leaguers used illegal drugs (cocaine). I hope the Veterans Committee will elect him to the Hall of Fame because he deserves to be there.
Tim Raines: Yes. He was the best leadoff hitter and base stealer of his generation. Spending most of his playing career with the Montreal Expos, Raines didn't get the national attention in the U.S. that he deserved. Raines has the fifth-highest stolen base total in history, and his success rate is the highest in history among players with 300 or more steals. In 1986, he won the NL batting title.
Roger Clemens: Yes. I don't like his behavior as a human being, and I think he used PEDs in the later stages of his career. But from 1986-96, he was the most dominant starter in the AL During this period with the Boston Red Sox, he earned three Cy Young Awards and an AL MVP award. I don't look at his time with the Toronto Blue Jays, New York Yankees, and the Houston Astros because I think that is when he used PEDs. Clemens didn't know when to retire.
Curt Schilling: No. He was an excellent starter with longevity during the 1990s and 2000s, but he never earned a Cy Young Award. His ERA was outstanding, and he didn't have a major arm injury until the final season of his 20-year career. Sometime in the future, I hope he gets into the Hall of Fame, but he isn't a first-ballot inductee.
Barry Bonds: Definitely. Before 1998, when I think he started using PEDs, Bonds had a Hall-of-Fame career. He already had three NL MVP Awards and seven Gold Gloves. He has 514 stolen bases, and most of them came before he began using PEDs, I believe. I can't see keeping the most feared hitter of the early 1990s out of the Hall of Fame.
Mike Piazza: Definitely. He has the most home runs by a catcher. Enough said.
Craig Biggio: Definitely. He has more than 3,000 hits. This used to be a guarantee for induction into the Hall of Fame. He changed positions four times during his 20-year career with the Astros. He earned four Gold Gloves at second base. Biggio did everything with such intensity, and he would do anything for his team. Biggio was a pillar in the Houston community.
Sarah D. Morris can be reached at sarahmorris27@gmail.com. This story was not subject to the approval of Major League Baseball or its clubs.