Pedroia snares Wilson defensive award
Pedroia snares Wilson defensive award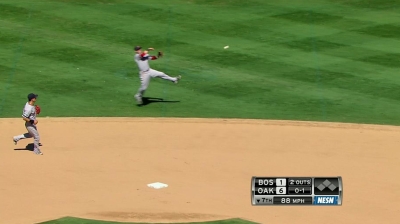 BOSTON -- Dustin Pedroia was the Red Sox's winner in the inaugural Wilson Defensive Player of the Year Awards.
Each team had one player selected as its defensive player of the year. Unlike the Gold Glove Awards, which are voted on by Major League managers and coaches, these award winners were determined by statistical metrics, using the same "shredder system" seen on the sabermetrics-heavy show "Clubhouse Confidential," along with input from MLB Network analysts.
Although the Red Sox went 69-93 and finished in last place in the American League East, Pedroia played stellar defense. The second baseman made just five errors, a low total that falls right in line with the career track record; he's never made more than seven in a big league season. Using the stats Ultimate Zone Rating and Defensive Runs Saved, he was one of the top three defensive second basemen in baseball this season, if not the best.
"I take pride in making the routine play," Pedroia recently told FanGraphs. "That's the most important thing, because if our pitcher makes his pitch and gets a ground ball rolled over to me, he's done his job. I have to do mine. I have to make sure I make those plays and get the outs. The bonus is making the great play, or turning a double play on a broken bat, when maybe it shouldn't have been turned. Those are added bonuses. The most important thing for me is making the routine plays, so my team can get back to swinging their bats."
Wilson Sporting Goods has been the Official Ball Glove of Major League Baseball for more than 20 years.
Pedroia could also figure to be in the mix for the Defensive Player of the Year in the 2012 Greatness in Baseball Yearly Awards (GIBBYs), which are based on voting by media, front-office personnel, MLB alumni and the Society for American Baseball Research, as well as fan balloting on MLB.com.
Starting on Monday through Dec. 2, fans will be able to cast their ballots at MLB.com for the year's top defensive star.
Evan Drellich is a reporter for MLB.com. Follow him on Twitter @EvanDrellich. This story was not subject to the approval of Major League Baseball or its clubs.