Vintage CC buries O's, lifting Yanks to ALCS
Vintage CC buries O's, lifting Yanks to ALCS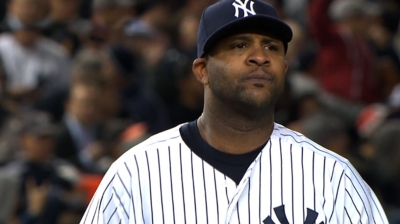 NEW YORK -- CC Sabathia strapped his team's hopes across his broad shoulders and answered the call of a must-win challenge, delivering an outing worthy of his ace billing to punch the Yankees' ticket into the American League Championship Series.
Sabathia allowed just four hits in a dominant complete-game effort as the Yankees moved eight victories from their ultimate goal of a 28th World Series championship, defeating the Orioles, 3-1, in Game 5 of the AL Division Series on Friday at Yankee Stadium. Detroit's Doug Fister is scheduled to start against Andy Pettitte.
"It's what I'm here for," Sabathia said, with a flicker of the nasty glare he used behind inducing all 27 Baltimore outs. "It's what I play the game for. I guess I should feel a little pressure or something like that, but I don't."
Fittingly, Sabathia fielded the final out himself, snaring Matt Wieters' chopper back to the mound and firing to first base as the Yankees gleefully celebrated clinching the 15th ALCS appearance in franchise history.
"He was just dominant -- he shows why he's making all that money," Yankees catcher Russell Martin said. "He's the man. He's the horse of this team. It's fun to be back there and try to direct him. He's been awesome."
The Yankees splashed and shouted in a messy clubhouse scene, but they won't have much time to celebrate. By virtue of owning the best regular-season record in the AL, the Yankees own home-field advantage and will host the Tigers for Game 1 on Saturday at 8 p.m. ET on TBS.
New York's Game 5 victory was just its 12th in 23 contests against Baltimore this year, including the regular season. The rivalry was so evenly matched, New York outscored the Orioles by a margin of only 106-102 over the course of the full year.
"Anything can happen in a five-game series," Yankees captain Derek Jeter said. "We were back and forth with them so much. If we'd played a Game 6, they might have come back and won Game 6. One team had to win; fortunately it was us. Now we go to another series."
Sabathia entered the ninth inning with a pitch count already in triple digits but had no intention of letting manager Joe Girardi wrestle the ball away, despite the fact that closer Rafael Soriano was ready and waiting in the bullpen.
"There was no conversation," said Sabathia, who put the finishing touches on a 121-pitch gem that penned the final chapter of Baltimore's Cinderella season. "I felt like there was nothing to say."
"He is our ace," Girardi said. "That's the bottom line. He has been there and done that."
Girardi's decision to keep most of his lineup constant in Game 5, save for benching Alex Rodriguez, worked. New York produced two runs in 5 2/3 innings against Baltimore starter Jason Hammel in a reprise of the pitching matchup from Game 1.
Curtis Granderson, mired in a 1-for-16 slump with nine strikeouts entering Game 5, added an exclamation point with a second-deck home run to right field in the seventh inning off left-hander Troy Patton.
"We, as a team, haven't swung the bats as well as we would have liked to," Granderson said. "Baltimore didn't swing as well as they would have liked to, but you've just got to get hits when you need to."
Sabathia handled the rest, beating the Orioles for the second time in a week by walking two and striking out nine -- setting a personal career high in the postseason -- to improve to 7-1 with a 3.09 ERA in 13 postseason games with the Yankees.
"He's the best pitcher in baseball, in my mind," Yankees outfielder Nick Swisher said. "Here in New York, it's a little different than most places. To be able to have a guy who toes the hill every five days, you know if you get him a lead, you're feeling good about your chances."
Mark Teixeira, who missed most of September with a left calf injury, became an unlikely candidate to manufacture New York's first run in the fifth inning. With first baseman Mark Reynolds playing behind him, Teixeira stole just his third base of the year, recording his first career postseason stolen base.
"We talked about it a little bit yesterday and a little bit today, that if the opportunity presented itself, they're not holding you on," Teixeira said. "I felt like we needed a little spark. I felt like we needed to get a guy in scoring position with nobody out. I took the chance."
Teixeira came home when Raul Ibanez laced a run-scoring single past the dive of second baseman Robert Andino. Ichiro Suzuki added the second run off Hammel in the sixth, pelting the right-field wall with an RBI double.
Baltimore thought it had gotten on the board in the sixth as Nate McLouth launched a deep drive down the right-field line, but the ball was ruled foul and upheld after a brief video review.
The Orioles threatened again in the eighth against Sabathia, as Wieters opened with a single and Manny Machado walked. Sabathia recorded a strikeout of Reynolds, but Lew Ford punched a run-scoring single past diving shortstop Jeter to break up the shutout.
With the bases loaded after Sabathia had no play on an Andino chopper, the crowd of 47,081 rhythmically chanted, "CC! CC!," pushing Sabathia to strike out McLouth and then induce J.J. Hardy to ground out softly to Jeter, ending the inning.
"He's a great pitcher," Orioles manager Buck Showalter said. "And we had very few opportunities against him. We had a shot there in the eighth, and he took it to another level, if there is such a thing."
From there, Swisher said, the Yankees might as well have put the champagne on ice.
"After he got through that eighth, it was almost kind of a done deal," Swisher said. "Those guys put some good at-bats together, but we battled so hard to get here. We want to keep this roll going."
The Yankees, winners of 95 games during the regular season, will host ALCS action at the newest incarnation of Yankee Stadium for the third time in its four years of operation. The ballpark also matched the Yankees against the Angels in 2009 and the Rangers in '10.
"Pitching in games like this, having a chance to win a championship every year, the organization gets exactly what you need to try to put together a championship team," Sabathia said. "And that's all you can ask for as a player."
Bryan Hoch is a reporter for MLB.com. Follow him on Twitter @bryanhoch and read his MLBlog, Bombers Beat. This story was not subject to the approval of Major League Baseball or its clubs.