Mauer scratched from lineup with back spasms
Mauer scratched from lineup with back spasms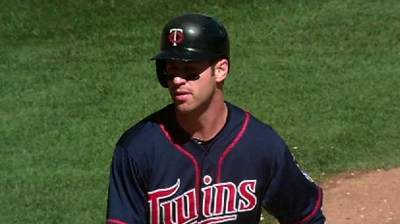 MINNEAPOLIS -- Twins catcher Joe Mauer was a late scratch from the lineup against Kansas City on Tuesday.
Mauer was originally slated to catch the series opener, but experienced back spasms before batting practice.
"He was out here earlier. He was about ready to hit and his back tightened up on him," manager Ron Gardenhire said. "He's having spasms."
The five-time All-Star has been mostly injury free this season after an injury-plagued 2011 in which he played just 82 games. This year, Mauer had played in 131 of the Twins' 141 games entering Tuesday. He did miss seven games between June 4-21 because of a sprained right thumb.
With Mauer out, Gardenhire moved Ryan Doumit from designated hitter to catcher. Trevor Plouffe was moved to designated hitter and Eduardo Escobar took over Plouffe's post at third base.
Josh Willingham -- getting his first start in the outfield since Sept. 1 -- moved up to hit in Mauer's usual No. 3 spot in the batting order.