Network documentary tells story of Kile's death
Pitcher's sudden passing continues to affect friends, teammates decade later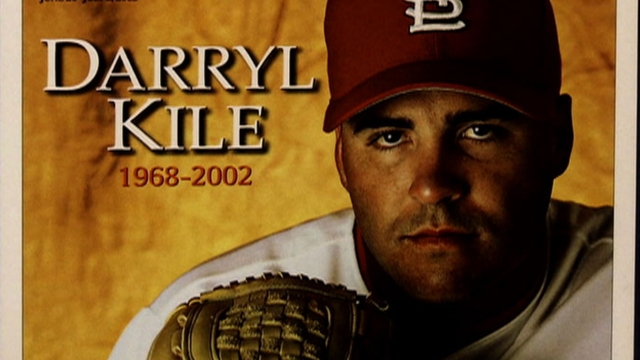 It's a clip that we've watched many times over the last 10 years, especially around the anniversary. No matter how much time goes by, the words are no less chilling. What happened in the following hours, days and weeks is no less devastating.
June 22, 2002. Joe Girardi, the catcher for the Chicago Cubs, spoke into a microphone to a restless Wrigley Field crowd several minutes after the first pitch was to have been thrown. Fighting back tears, his words created an eerie hush never before heard at the normally loud and raucous Friendly Confines.
"I thank you for your patience," Girardi said, his voice breaking. "We regret to inform you because of a tragedy in the Cardinals family, the Commissioner has cancelled the game today."
Stunned silence.
"Tell us why, tell us why," one fan yelled out. But Girardi could not. Not yet. He couldn't announce what had happened, because although the Cardinals knew their leader, pitcher Darryl Kile, had tragically died in his hotel room in downtown Chicago, Kile's wife, Flynn, was not yet aware.
"I ask you to say a prayer for the St. Louis Cardinals family," Girardi managed.
The incomprehensible struck the Cardinals and the entire baseball community that day, and in the 10 years that have passed, the wounds are clearly still open for those who were affected by it. A moving hour-long documentary recently aired on MLB Network commemorating the life and death of the veteran pitcher provided reflections from many friends and teammates from all three teams Kile played for.
Ten years may seem like a long time, but for those closest to Kile during his time with the Astros, Rockies and Cardinals, the pain is still there. And it's constant.
"It's been a lonely 10 years, not having your best friend to share it with you," said Dave Veres, a former Cardinals reliever prominently featured in the MLB Network special. It was Veres' wife, Robin, who accompanied hotel security to Kile's room to force the door open. It was Robin who had to tell Cardinals traveling secretary C.J. Cherre about what they discovered in Kile's room. It was Robin who called Flynn to break the tragic news.
Kile had 90 percent blockage in two coronary arteries near his heart. At age 33, and seemingly in the prime of both his life and his career, he died in his sleep from a heart attack.
Back in the tiny, cramped visitors clubhouse at Wrigley, Cardinals players sat in petrified silence, fearing the worst. Kile was usually an early arriver, but because he wasn't pitching until the next night, his absence in the early-morning hours didn't initially worry his teammates.
As batting practice progressed, concern grew. When Kile didn't answer his cell phone for several hours, panic started to set in.
Cardinals manager Tony La Russa stepped out of his office and into the clubhouse.
"By that time, every guy was virtually fearing the worst," La Russa said. "I went out there and confirmed it."
---
In Houston, Jeff Bagwell was in his daughter's room when his phone rang. It was his friend Moises Alou, who was now playing for the Cubs after spending the previous four seasons with the Astros.
"I said, 'Homeboy, what are you doing?'" Bagwell tearfully recalled on the Network documentary. "'You have a game in 20 minutes.' Alou said, 'Darryl's dead. They found him in his hotel room.'"
Kile was drafted by the Astros and came up through the Minor League system with Bagwell. The two made the team, for the first time, out of spring Training in 1991. Kile threw a no-hitter while with the Astros in 1993, and by the time he signed as a free agent with the Rockies after the '97 season, he had established himself as one of the league's premier pitchers.
More than four years had passed since Kile wore an Astros uniform, but he had many friends still with that team when he passed. Bagwell, Craig Biggio and Brad Ausmus did not start the game that night, but Bagwell did end up pinch-hitting -- and logging the game-winning hit.
The next day, Bagwell mustered up the strength to speak to the media. He was still trying to comprehend what had happened and he was not yet ready to talk about the tragedy. But he felt he needed to tell the world just what Kile meant to him and to so many who were close to him.
"I am a better person because I knew Darryl Kile," Bagwell said.
---
The Cardinals, understandably, floundered in the next few games after Kile's death. Players were going through the motions, but their minds were elsewhere. La Russa didn't know what to do to get his team focused. What words could he possibly say that could get the players back on track?
Then, a columnist from the St. Louis Post-Dispatch found an old article about Kile reflecting on his dad's premature death, years earlier, at the age of 44.
La Russa read it, and knew they finally had their answer. "I was certain this was a piece of magic for us," he said.
He read Kile's words out loud to the team:
"I don't think I'll ever get over it, but my father was my best friend," Kile had said. "But in order to be a man, you've got to separate your personal life from your work life. It may sound cold, but I've got work to do. I'll never forget my father, but I'm sure he'd want me to keep on working and try to do the best I can do."
"I feel this is what we've been struggling with," La Russa said to the team. "He just told us what we have to do."
The Cardinals started winning again. And winning and winning. They clinched the National League Central title and beat the D-backs in the Division Series. Their run ended when they lost to the Giants in the League Championship Series.
In the documentary, former Cardinals general manager Walt Jocketty noted an eerie symmetry that defined the Cardinals' season. They had 40 wins when Kile died and 97 when they ended the regular season. In between, they won 57 -- Kile's uniform number.
The MLB Network special confirmed what everyone knew back then and still knows 10 years later -- Darryl Kile was the model person, father, husband and teammate. His number is visible in the home ballparks of all three teams he played for, and two teams -- the Astros and Cardinals -- have named a yearly "good guy" award after him.
"I don't want to disrespect other teammates," La Russa said. "So we'll say he's tied for first, for the best teammate you could ever have."
Alyson Footer is a national correspondent for MLB.com. Follow her on Twitter @alysonfooter. This story was not subject to the approval of Major League Baseball or its clubs.