AL, NL top skippers next on MLB Network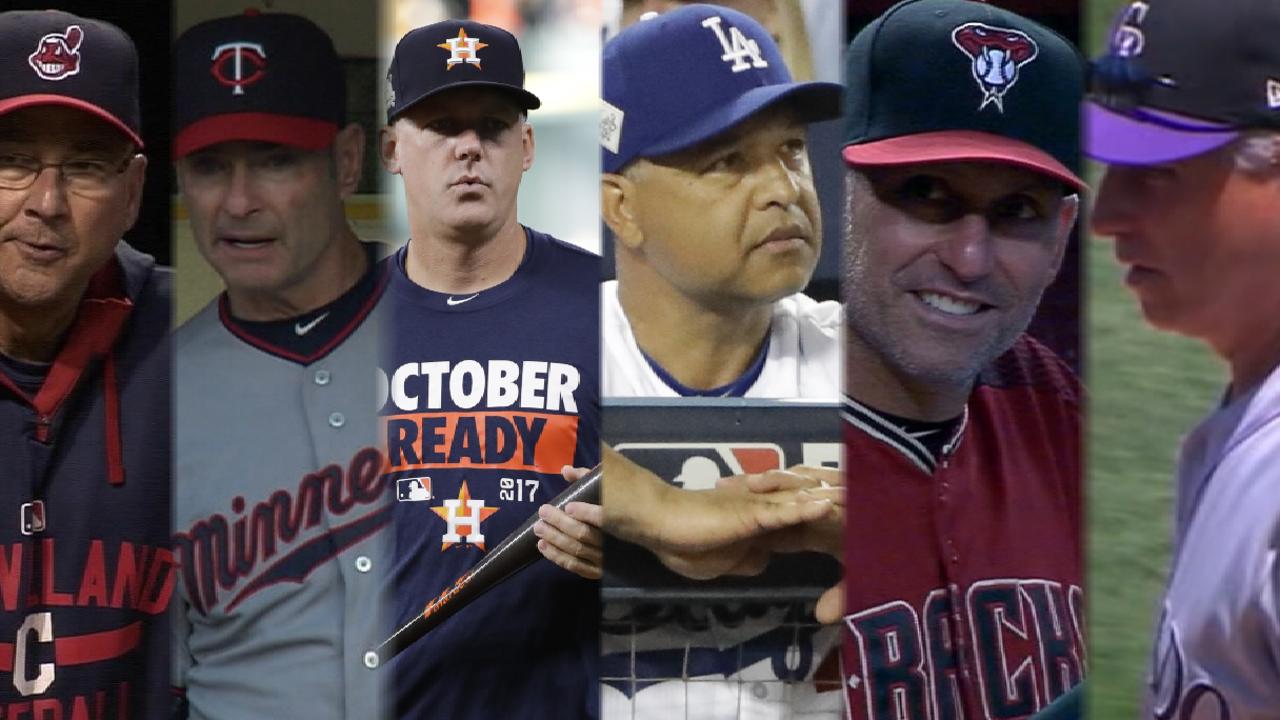 They deftly guided 100-win juggernauts and surprise postseason entrants. Now it's time for two of them to be recognized for their excellence at a tough job.
The American and National League Manager of the Year Awards will be announced today at 6 p.m. ET on MLB Network, with the results based on voting by the Baseball Writers Association of America.
The competition for each BBWAA award should be steep. In the AL, two-time winner Terry Francona led Cleveland to 102 victories -- including an AL-record 22-game winning streak -- and a division title. Houston's A.J. Hinch took his club from 84 wins and no postseason berth to 101 victories and an AL West crown, and Paul Molitor presided over the Twins' leap from 59 to 85 wins and their first postseason game since 2010.
The NL award is a three-way battle from the West. Reigning NL Manager of the Year Dave Roberts notched a Los Angeles Dodgers-record 104 victories, Torey Lovullo lifted the D-backs from 69 to 93 victories in his first year as a big league skipper, and Bud Black snapped a seven-season postseason drought in his first year with the Rockies.
Following the announcement, make your voice heard by voting for Best Manager in the Esurance MLB Awards, where baseball legends, media, front-office personnel and fans come together to pick the winners, with postseason accomplishments factored in. Then tune in Friday at 8 p.m. ET on MLB Network and MLB.com as this year's best stars and moments are revealed.
Here are some more facts and figures about the Manager of the Year Awards and the 2017 candidates.
Franchise histories
The Indians and Dodgers have both had three Manager of the Year winners, the most for the teams represented in this year's finalist field. Not only that, both notched their most recent award last year -- Francona and Roberts are the reigning Managers of the Year, and after both saw their clubs vault over the 100-win mark this season, either could take home back-to-back awards. If one or both win, their team will move into a tie for second-most Managers of the Year since the award's inception, and they will join Bobby Cox (2004-2005 Braves) as the only skippers to win consecutively.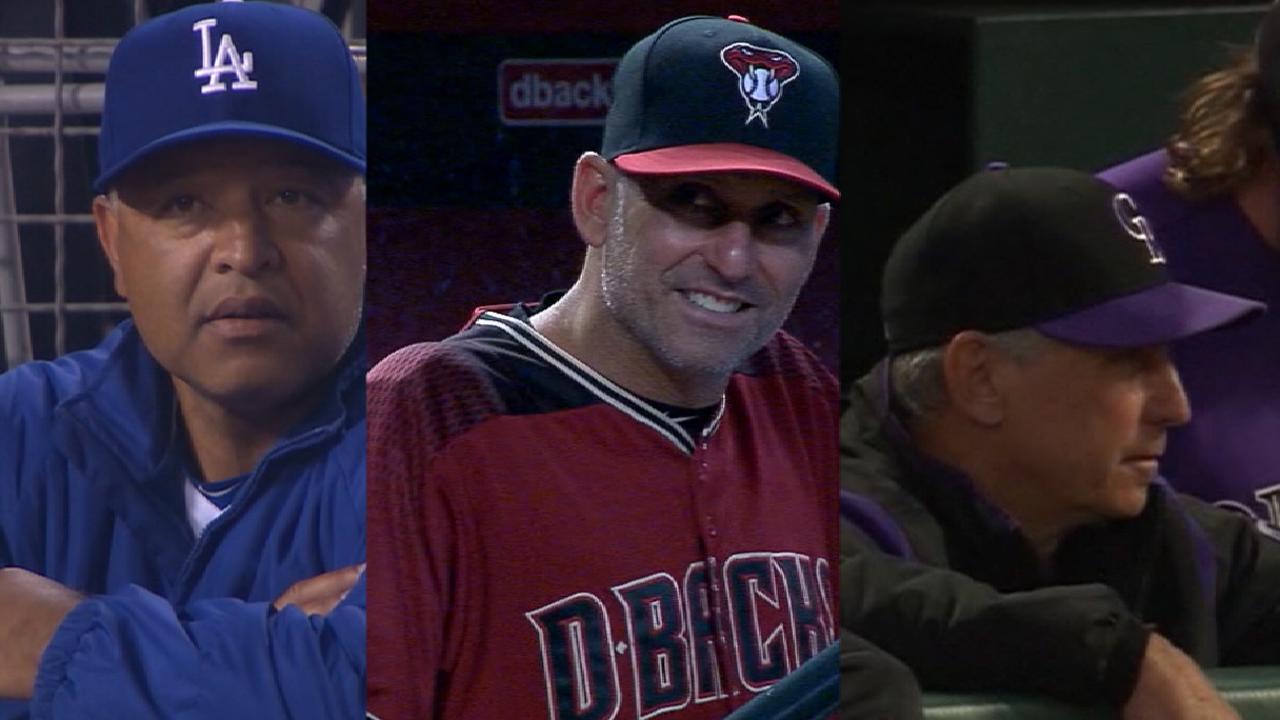 Most Manager of the Year wins by franchise
1. White Sox: 5
2-T. Cubs: 4
2-T. Nationals/Expos: 4
3-T. Indians: 3*
3-T. Dodgers: 3*
*Pirates, Giants, Braves, Rangers, Yankees, A's, Tigers and Orioles also tied with 3
Francona has already won the award twice for the Indians; Cleveland's other Manager of the Year winner was Eric Wedge in 2007. The Dodgers' Managers of the Year have been Roberts and Tommy Lasorda, who won twice, in 1983 and '88.
The other 2017 finalists' teams, the Astros, Twins, D-backs and Rockies, have had two Managers of the Year apiece. Larry Dierker in 1998 and Hal Lanier in 1986 won the award for the Astros, both while the team was still in the NL. The Twins' winners are Ron Gardenhire in 2010 and Tom Kelly in 1991, the D-backs' are Kirk Gibson in 2011 and Bob Melvin in 2007, and the Rockies' are Jim Tracy in 2009 and Don Baylor in 1995.
Winningest Managers of the Year
The Manager of the Year finalist field includes three candidates from 100-win teams -- Roberts from the 104-58 Dodgers, Francona from the 102-60 Indians and Hinch from the 101-61 Astros. Since the award was first given out, only seven Managers of the Year have come from 100-win teams. Both winners had notched 100 victories in the same season only once, in 1998, when Joe Torre led the Yankees to a 114-48 regular-season record (and then to the World Series) and Dierker's Astros went 102-60.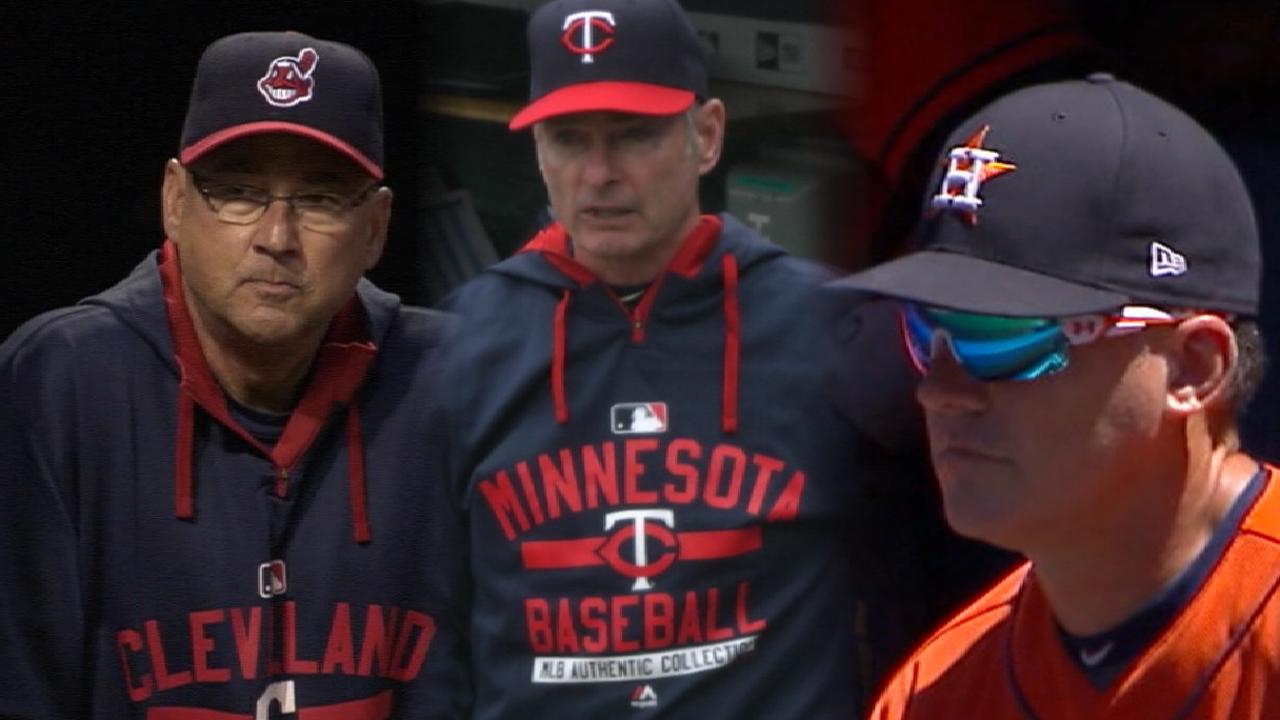 There hasn't been a Manager of the Year from a 100-win club since 2001, when Lou Piniella piloted the Mariners to an MLB record-tying 116 regular-season wins. That might well be about to change. In addition, if Roberts wins this year, he will set the NL mark for most regular-season wins by a Manager of the Year, a record currently held by Dusty Baker, whose Giants went 103-59 in 1993.
Most wins by Manager of the Year
1. Piniella, 2001 Mariners: 116-46
2. Torre, 1998 Yankees: 114-48
3-T. Tony La Russa, 1988 A's: 104-58
3-T. Sparky Anderson, 1984 Tigers: 104-58
5. Baker, 1993 Giants: 103-59
6. Dierker, 1998 Astros: 102-60
7. Whitey Herzog, 1985 Cardinals: 101-61
But while three of this year's finalists reached the century mark in wins, two also won fewer than 90 games -- Molitor's Twins won 85 and Black's Rockies won 87, as both teams exceeded expectations and made runs to the Wild Card Game in their leagues.
For a Manager of the Year, those win totals are uncommon. Only one Manager of the Year has had a losing record -- Joe Girardi with the 2006 Marlins, who went 78-84 (also the only time a Manager of the Year's team has finished fourth in its division). In a full 162-game season, four managers have managed the entire year, won 87 games or fewer and been named their league's Manager of the Year. If Molitor wins in the AL, he'd have the fewest victories by an AL Manager of the Year and be tied for the second fewest overall. If Black wins, he'd be tied for fourth- or fifth fewest, depending on whether Molitor also wins.
Fewest wins for a Manager of the Year (162-game season)
1. Girardi, 2006 Marlins: 78-84
2. Tony Pena, 2003 Royals: 83-79
3. Larry Bowa, 2001 Phillies: 86-76
4. Frank Robinson, 1989 Orioles: 87-75
5. Jeff Banister, 2015 Rangers: 88-74
Ballclub finishes
The NL West had a big year, with the Dodgers (104-58) winning the division, and the D-backs (93-69) and Rockies (87-75) snagging Wild Card berths. After Arizona defeated Colorado in the NL Wild Card Game, L.A. took down the D-backs in their Division Series.
Those three clubs also accounted for the three NL Manager of the Year finalists, in Roberts, Lovullo and Black. It's the first time a league's top three finishers have come from the same division since the AL and NL expanded to a three-division format in 1994, the beginning of the Wild Card era.
It's the AL side, though, that has this year's World Series winner as a Manager of the Year finalist. If Hinch wins, he'll be the first Manager of the Year to come from the World Series champion since the White Sox Ozzie Guillen in 2005.
Managers of the Year by club finish
Won World Series: 8
Won pennant but lost World Series: 7
Won division: 49 (23 NL, 26 AL)*
Made playoffs as Wild Card: 9 (4 NL, 5 AL)
Non-playoff team: 10 (6 NL, 4 AL)**
*31 since expansion to Wild Card playoff format in 1994 (14 NL, 17 AL)
**Including 6 2nd-place teams, 3 3rd-place teams and 1 4th-place team
Finalist fun facts
• Francona could become the eighth skipper to win Manager of the Year three times, and he would join Cox (Braves) and Baker (Giants) as the only ones to accomplish the feat for one team. Francona's five-year span for three awards (2013-17) would be the shortest of all time.
Most Manager of the Year Awards
1-T. Cox: 4
1-T. La Russa: 4
3-T. Baker: 3
3-T. Jim Leyland: 3
3-T. Joe Maddon: 3
3-T. Piniella: 3
3-T. Buck Showalter: 3
Shortest timespan for three MOY Awards
1-T. Baker: 8 seasons (1993-2000)
1-T. Maddon: 8 (2008-15)
3. Piniella: 14 (1995-2008)
4-T. Cox: 15 (1991-2005)
4-T. La Russa: 15 (1988-2002)
6. Leyland: 17 (1990-2006)
7. Showalter: 21 (1994-2014)
• As noted earlier, Cox, a Hall of Famer, is the only manager to win the award in consecutive years, having done so for the Braves in 2004-05. Either Francona or Roberts could become the second, and this could be the first time that both Managers of the Year repeat.
• Black was named NL Manager of the Year in 2010, when his Padres improved from 75 to 90 victories but fell one game shy of a Wild Card spot in the second to last season before the debut of the two-Wild Card system. A second award would make Black the 10th skipper to win one with multiple teams.
Won Manager of the Year with multiple teams
• La Russa (White Sox, A's, Cardinals)
• Showalter (Yankees, Rangers, Orioles)
• Cox (Blue Jays, Braves)
• Davey Johnson (Orioles, Nationals)
• Leyland (Pirates, Tigers)
• Maddon (Rays, Cubs)
• McKeon (Reds, Marlins)
• Melvin (D-backs, A's)
• Piniella (Mariners, Cubs)
• Lovullo is a finalist not only in his opening year with the D-backs, but also in his first as an MLB manager. He could become the eighth man to capture a Manager of the Year Award in his first full season on the job, although such a feat has become significantly more common of late. In fact, this would be the fourth consecutive year with a first-year winner.
Won Manager of the Year in first full season
2016 -- Roberts, Dodgers
2015 -- Banister, Rangers
2014 -- Matt Williams, Nationals
2011 -- Gibson, D-backs*
2006 -- Girardi, Marlins
2003 -- Pena, Royals*
1986 -- Lanier, Astros
*Took over in middle of previous season
• Unsurprisingly, there are several Hall of Fame managers with Manager of the Year Awards on their resumes. However, what's much more rare is for a Hall of Fame player to win that award.
Currently, the only example is Robinson, a two-time MVP Award winner who smashed 586 home runs and sailed into Cooperstown on the first ballot in 1982. Seven years later, in his ninth season as a big league skipper with his third organization, Robinson was named AL Manager of Year with the Orioles, who improved from 54 to 87 wins.
Now Molitor can follow in Robinson's footsteps again. He already did so as a first-ballot Hall of Famer (2004) after a 21-year career that included a .306 batting average and 3,319 hits.
• As mentioned, Manager of the Year voting takes place before the postseason and does not take playoff results into account. Even so, Hinch could be just the ninth skipper to win Manager of the Year and the World Series in the same season. That has not happened since 2005, the longest drought in the award's history.
Manager of the Year and World Series champion in same season
• Guillen, 2005 White Sox
• McKeon, 2003 Marlins
• Scioscia, 2002 Angels
• Torre, 1998 Yankees
• Torre, 1996 Yankees (Co-MOY)
• Kelly, 1991 Twins
• Lasorda, 1988 Dodgers
• Anderson, 1984 Tigers
Andrew Simon is a research analyst for MLB.com. Follow him on Twitter @AndrewSimonMLB. David Adler is a reporter for MLB.com based in New York. Follow him on Twitter at @_dadler. This story was not subject to the approval of Major League Baseball or its clubs.