MLB.com Columnist
Anthony Castrovince
History rooks! Judge, Bellinger unanimous
Sluggers' rapid rise makes them 4th pair to sweep ROY voting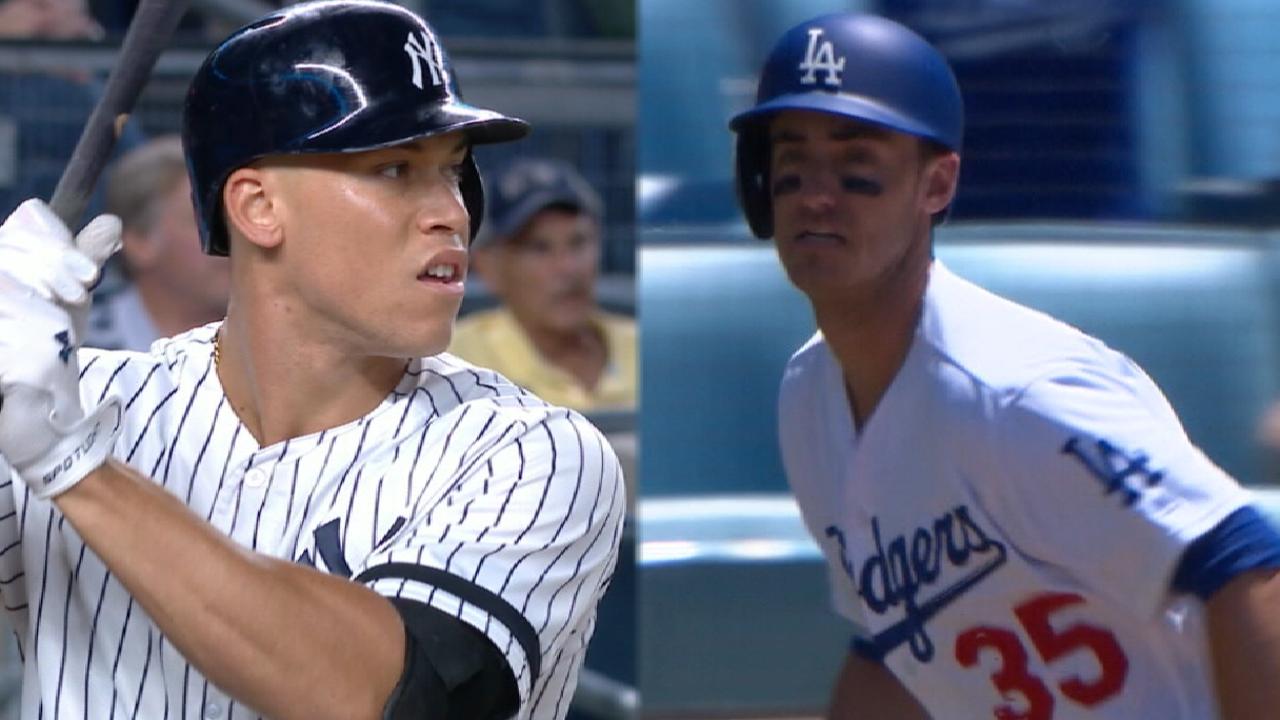 From relatively anonymous to understandably unanimous. That's the story of the Yankees' Aaron Judge and the Dodgers' Cody Bellinger.
Judge and Bellinger, who spent 2017 breaking rookie home run records and leading their teams to October, were unsurprisingly named the winners of the Jackie Robinson Rookie of the Year Award in the American League and National League, respectively, on MLB Network on Monday night. Also unsurprisingly, the Baseball Writers' Association of America voters were unanimous in their support of these two stalwarts, who became the 22nd and 23rd winners of the rookie prize to be listed first on every ballot.
• VOTE NOW: Esurance MLB Awards' Best Rookie
AL Rookie of the Year Voting
| | | | | |
| --- | --- | --- | --- | --- |
| Aaron Judge, NYY | 30 | | | 150 |
| Andrew Benintendi, BOS | | 23 | 6 | 75 |
| Trey Mancini, BAL | | 5 | 16 | 31 |
| Matt Olson, OAK | | 1 | 2 | 5 |
| Yuli Gurriel, HOU | | | 5 | 5 |
| Jordan Montgomery, NYY | | 1 | 1 | 4 |
| Name, team | 1st | 2nd | 3rd | Pts. |
"It was," Judge said, "an incredible year."
No voter could reasonably disagree. This marks the first time since 1997 (Scott Rolen and Nomar Garciaparra) and the fourth time overall that both Rookie of the Year winners were selected unanimously.
Known to prospect-watchers but not to the common fan, Judge and Bellinger were anything but can't-miss candidates for these honors when 2017 started.
Judge hit .179 and struck out in half of his 84 at-bats in an initial big league trial at the end of 2016, with opposing pitchers taking advantage of the 6-foot-7, 282-pound right fielder's large strike zone. He was no lock to stick with the club out of Spring Training this year.
• DYK: Judge, Bellinger forever linked in history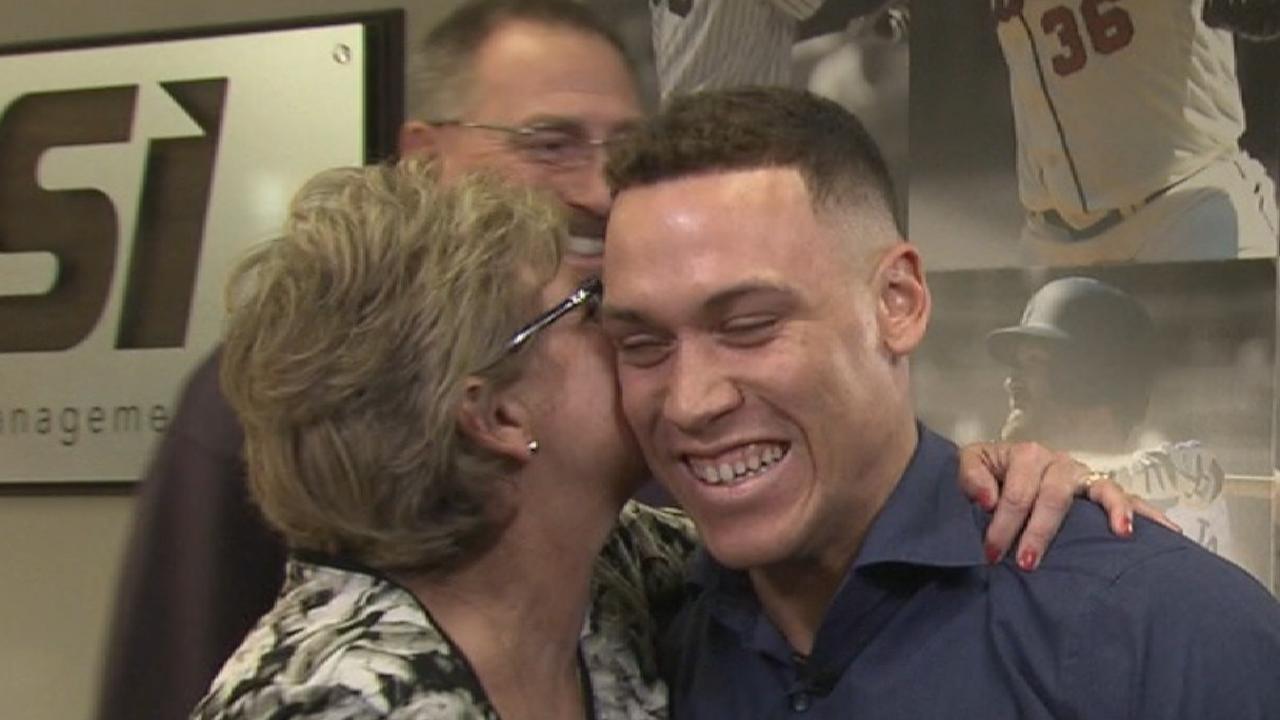 "Taking it back to Spring Training, fighting for a job, that's been my mindset every Spring Training," he said. "Even in the Minor Leagues, I thought, you have to go out and earn a spot. Nothing is ever given to you. It was the same when I was told I'd be the starting right fielder. You have to earn your job every day. Even going into next year, I'm still going to be fighting for that right-field job, fighting for my spot."
• All-time AL Rookie of the Year winners
Bellinger was not certain to crack the deep Dodgers' 25-man roster at any point before September roster expansion. It took an injury to Adrian Gonzalez to get him his opportunity in late April.
"I knew I wasn't making the team out of Spring Training, so I did what I could to prepare yourself for that season," Bellinger said. "Getting called up at the right time was huge, especially for the mental side, in terms of being able to achieve those goals."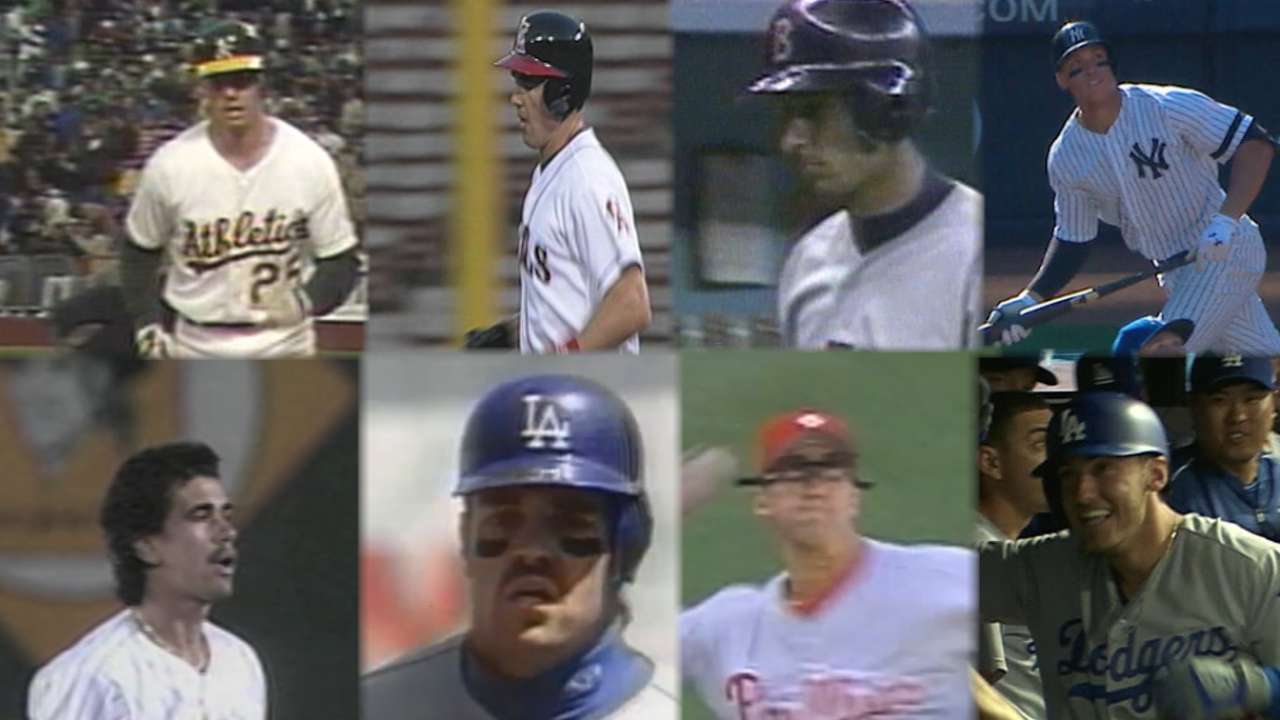 Both the 25-year-old Judge and 22-year-old Bellinger adjusted and amazed.
Judge broke Mark McGwire's 1987 rookie record for home runs with 52 and Ted Williams' 1939 rookie mark for walks, with 127. He also struck out more times than any rookie in history (208) yet nonetheless finished with the second-highest OPS (1.049) by a rookie in history (only Shoeless Joe Jackson's 1.058 mark in 1911 was higher). According to FanGraphs' Wins Above Replacement calculation, Judge, at 8.2, was the most valuable player in baseball, rookie or otherwise.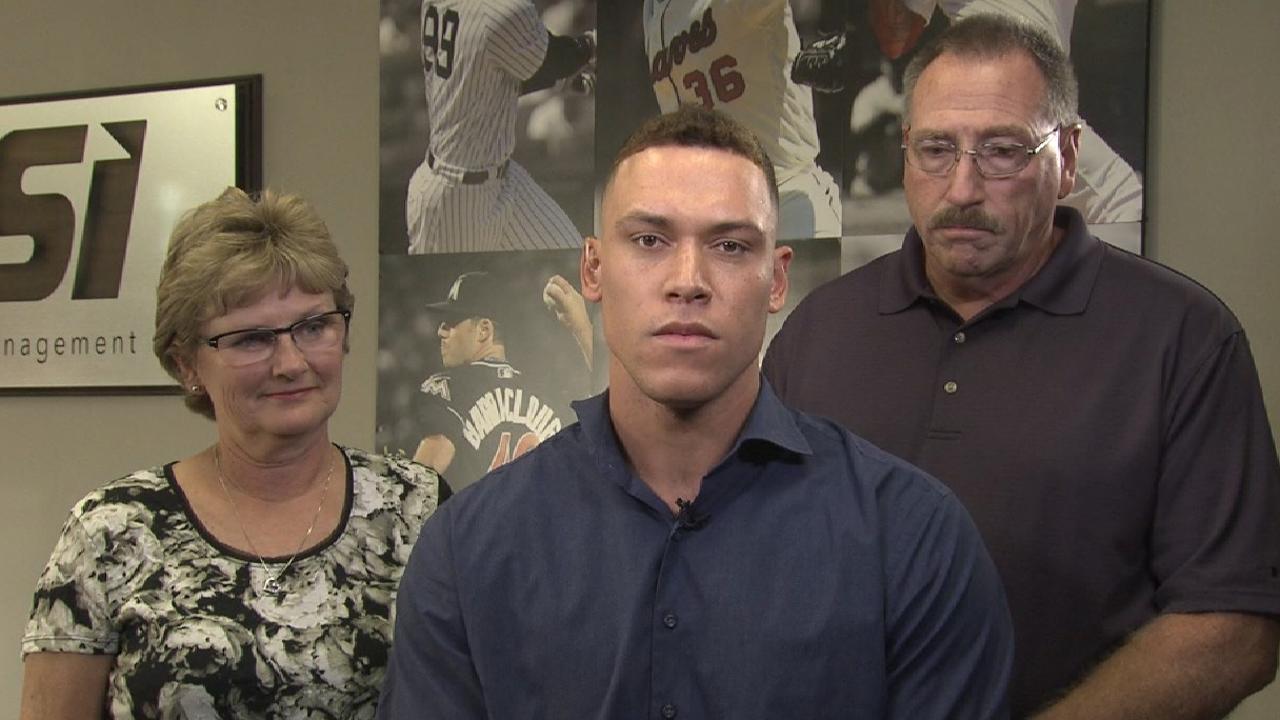 "I've always wanted to be a complete player," Judge said. "There will be times you go up to the plate and you just aren't feeling it. You have to find a way to impact the game somehow. That's something Alex Rodriguez told me in Spring Training: 'Have your moment.' Whether it's taking an extra base or making a good play, do anything you can do if you aren't swinging it that day."
Along with the Astros' Jose Altuve and the Indians' Jose Ramirez, Judge is a finalist for the AL Most Valuable Player Award, which the BBWAA will announce on Thursday.
• These Judge GIFs will leave you speechless
NL ROOKIE OF THE YEAR VOTING
| | | | | |
| --- | --- | --- | --- | --- |
| Cody Bellinger, LAD | 30 | | | 150 |
| Paul DeJong, STL | | 15 | 11 | 56 |
| Josh Bell, PIT | | 10 | 2 | 32 |
| Rhys Hoskins, PHI | | 1 | 9 | 12 |
| German Marquez, COL | | 2 | 4 | 10 |
| Manuel Margot, SD | | 1 | 2 | 5 |
| Kyle Freeland, COL | | 1 | | 3 |
| Luis Castillo, CIN | | | 1 | 1 |
| Ian Happ, CHC | | | 1 | 1 |
| Name, team | 1st | 2nd | 3rd | Pts. |
Though Bellinger was only expected to stay with the club for a few days after his April 25 callup, he quickly earned himself a permanent place in the starting lineup. His 39 home runs set a new rookie record in the NL, and his .581 slugging percentage was the fifth-highest in the NL this year. Bellinger's versatility was also an asset for manager Dave Roberts. He played 93 games at first base and 46 in the outfield.
"I love first base," Bellinger said. "Love being involved in the plays. But I also love the outfield. I played outfield my whole life growing up."
Neither Bellinger nor Judge is a stranger to the strikeout, and they wound up posting the two highest strikeout totals in a single postseason in history (Bellinger had 29 over the course of the Dodgers' run to Game 7 of the World Series, and Judge had 27 as the Yankees made it to Game 7 of the AL Championship Series). That speaks to the adjustment that awaits in their sophomore years, when they're bound to see a lot of breaking balls.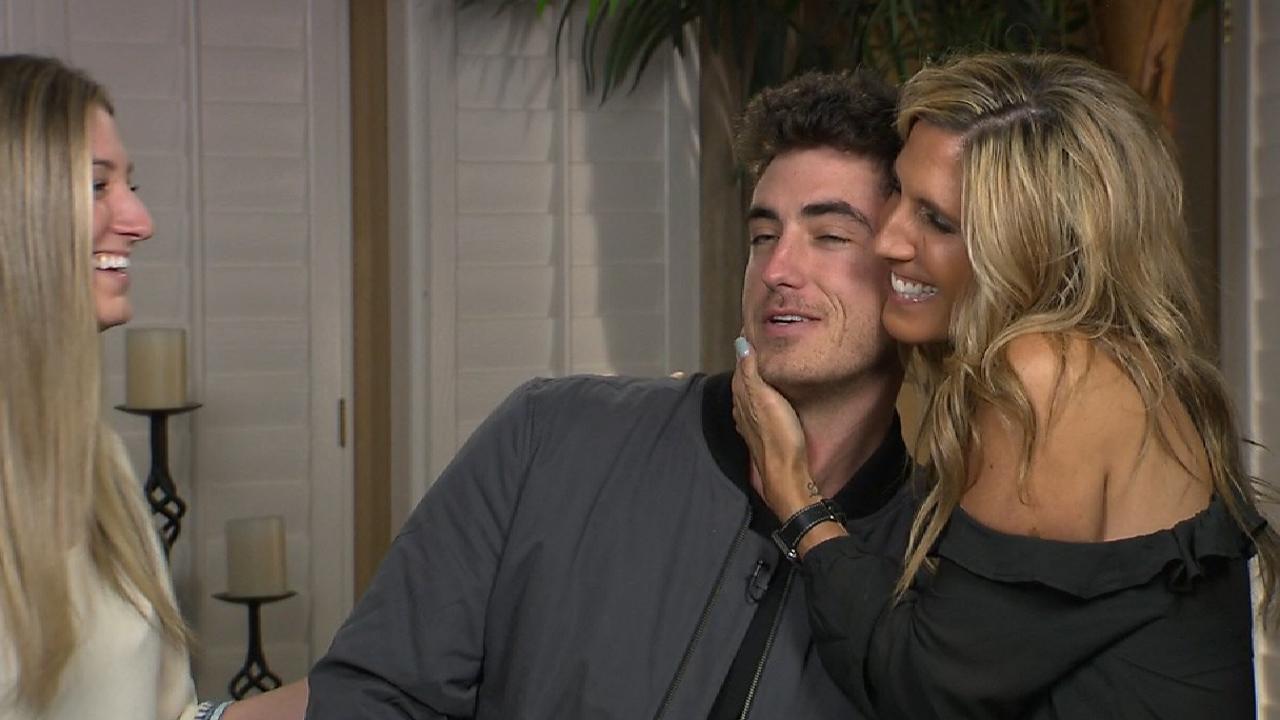 But the big K totals come with lofty power numbers. The combined 91 homers from Judge and Bellinger were by far the highest total for a pair of Rookies of the Year. The previous mark was 67 by McGwire and Benito Santiago (18) in 1987.
• All-time NL Rookie of the Year winners
The massive contributions of Judge and Bellinger overwhelmed what, in most years, would have qualified as a deep and dynamic field of candidates for the award. The Red Sox's Andrew Benintendi finished second in the AL, with the Orioles' Trey Mancini third. The A's Matt Olson, the Astros' Yuli Gurriel and the Yankees' Jordan Montgomery were also named on ballots. In the NL, the Cardinals' Paul DeJong finished second, the Pirates' Josh Bell was third, and others appearing on ballots were the Phillies' Rhys Hoskins, the Rockies' German Marquez, the Padres' Manuel Margot, the Rockies' Kyle Freeland, the Reds' Luis Castillo and the Cubs' Ian Happ.
• Check out these must-see GIFs of Bellinger
No teams have provided more Rookie of the Year winners than the Yankees and Dodgers. Bellinger is the Dodgers' 18th Rookie of the Year, joining teammate Corey Seager, who won it last year. Judge is the Yankees' ninth winner and first since Derek Jeter in 1996.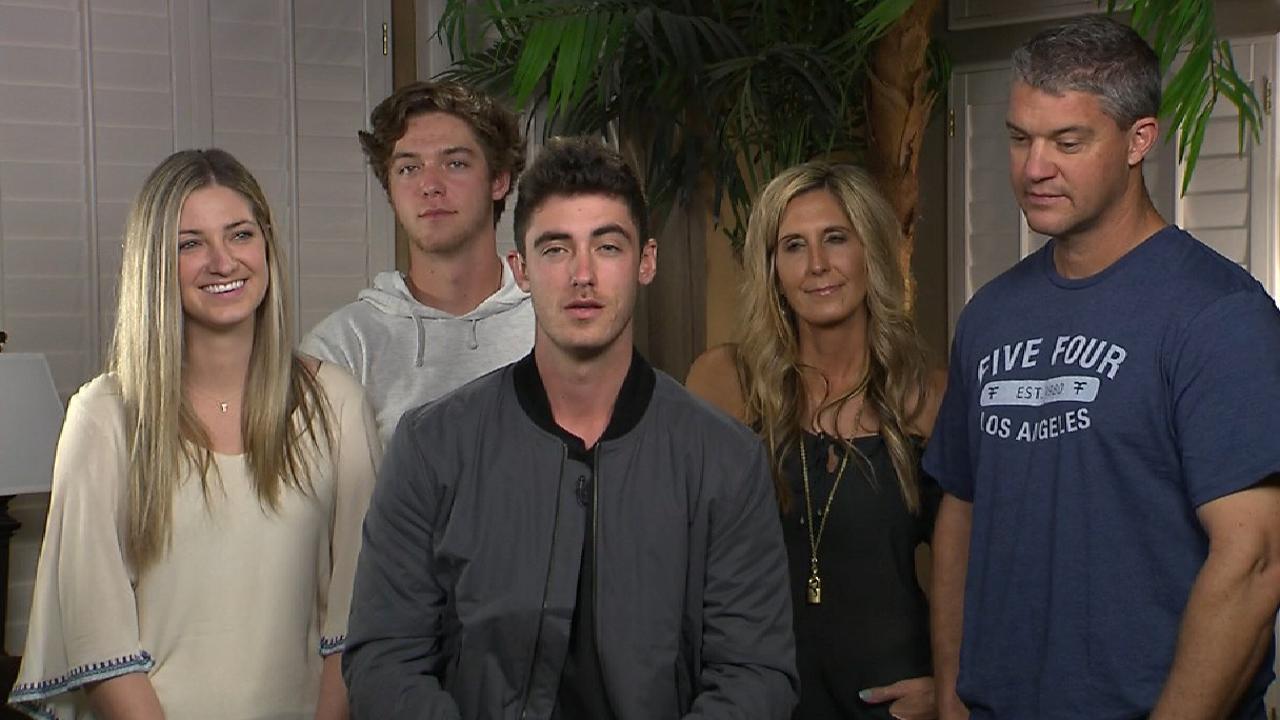 "Finally, now that the season is over, I'm trying to reflect on how crazy this season was," Bellinger said. "To have this award to top it off and be one of those big-name guys is pretty special to me."
Because of the special way they burst on the big league scene in '17, the names Judge and Bellinger will long be associated with each other. It's unanimous.
Anthony Castrovince has been a reporter for MLB.com since 2004. Read his columns and follow him on Twitter at @Castrovince. Reporter Joe Trezza contributed to this story. This story was not subject to the approval of Major League Baseball or its clubs.