Judge: 'I'm still a work in progress'
AL MVP, ROY candidate garners praise from teammates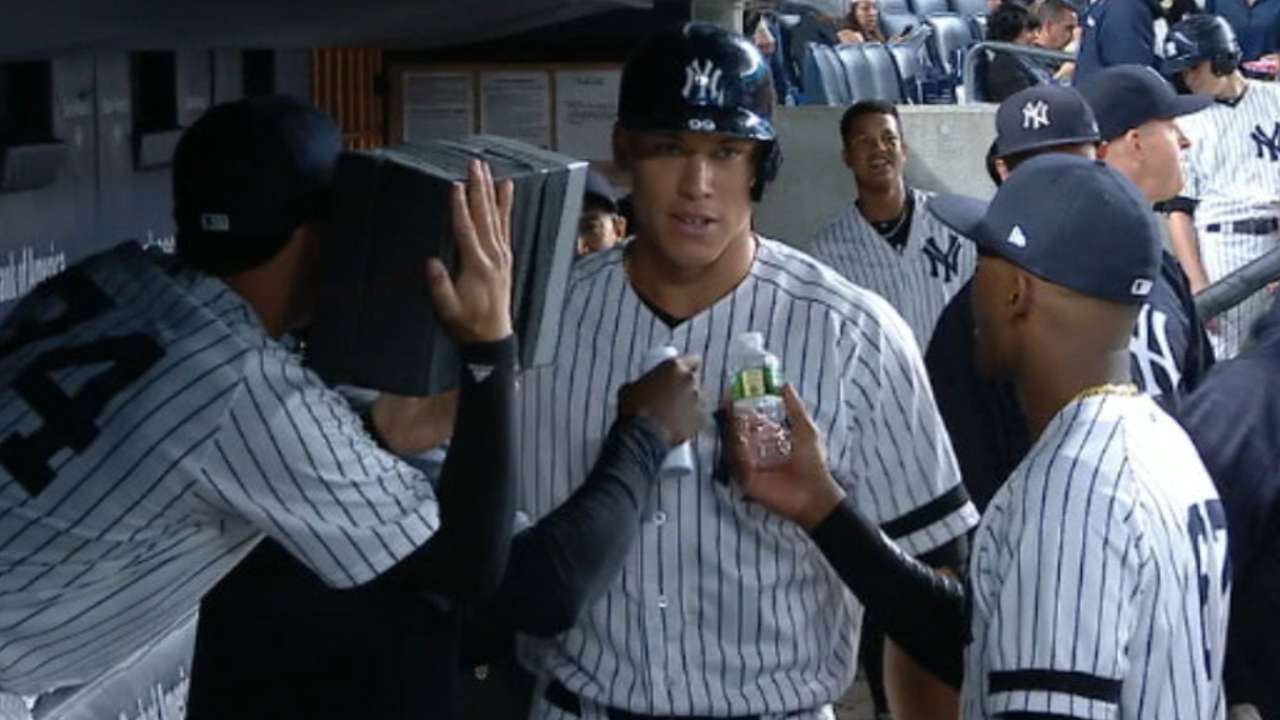 NEW YORK -- Even while trying to absorb the stinging realization that the Yankees' season had ended with a loss in Game 7 of the American League Championship Series, CC Sabathia glanced toward Aaron Judge's locker in the visiting clubhouse at Minute Maid Park and perfectly summed up how the outfielder's rookie campaign would be remembered.
"A great year. The best rookie season I've ever seen -- I think all of us have ever seen," Sabathia said.
While Andrew Benintendi of the Red Sox and Trey Mancini of the Orioles enjoyed fine debuts, Judge's performance almost seemed to be from another planet, with the remarkable summer of "All Rise" helping the Yankees finish one win shy of the World Series in what was widely expected to be a rebuilding year in the Bronx.
• VOTE NOW: Esurance MLB Awards
The gentle giant from tiny Linden, Calif., claimed the Big Apple as his own, shattering Mark McGwire's rookie record by belting an AL-leading 52 home runs. In 155 games, Judge compiled a .284/.422/.627 slash line, leading the AL in runs (128) and walks (127) while ranking second in RBIs (114), on-base percentage (.422) and slugging percentage (.627).
Judge joined Ted Williams (1939) as the only player to tally at least 100 runs, 100 RBIs and 100 walks in his rookie season.
"I'm still a work in progress; there's a lot of things I need to improve on," Judge said. "Defensively, hitting-wise, running the bases. There's always room to improve. That motivates me to get a little better every day."
There's a scary thought for big league hurlers. A four-time winner of the AL Rookie of the Month Award, Judge's dominance is even more evident when whittling his competition down to just his rookie class.
Judge led all AL rookies in games played, plate appearances, homers, runs, RBIs, walks, on-base percentage, wOBA (.430), wRC+ (173) and WAR (8.2), among other categories. No matter how you slice the numbers, new school or old school, he rose to the top.
"There's more to his game than home runs and walks," Brett Gardner said. "He plays really good defense out there in right field, too, and I think that's important. When you struggle at the plate, don't take things out on defense with you. I think he does a really good job of that."
After Judge's winning performance at the T-Mobile Home Run Derby in July, in which he crushed 47 homers -- if stacked end-to-end, they would have traveled 3.9 miles -- Commissioner Rob Manfred called Judge "the kind of player that can become the face of the game."
Appearances on "The Tonight Show" and the cover of Sports Illustrated only increased that profile. A flat slider thrown to Judge by the Orioles' Logan Verrett on June 11 was projected to have traveled 495 feet to the back of the bleachers in left field at Yankee Stadium, the longest hit in the Majors this season. Judge didn't bother to watch it.
"If they go 550 feet or 330 feet, they all feel pretty good," Judge said. "You don't even feel them touch the bat."
Despite a six-week swoon that saw Judge strike out in 37 consecutive games, he bounced back to make September his strongest month, cracking 15 homers before a postseason in which Yankee Stadium rattled like it was the late 1990s.
"It was incredible," Judge said. "That's what you play for. The opportunities like that, the crowd feels like they're right on top of you. The atmosphere is amazing, and it's win or go home. There's no better stage to play on."
Bryan Hoch has covered the Yankees for MLB.com since 2007. Follow him on Twitter @bryanhoch and on Facebook. This story was not subject to the approval of Major League Baseball or its clubs.