MLB.com Columnist
Mike Petriello
Statcast breaks down 2017 ROY finalists
Winners announced Monday on MLB Network at 6 p.m. ET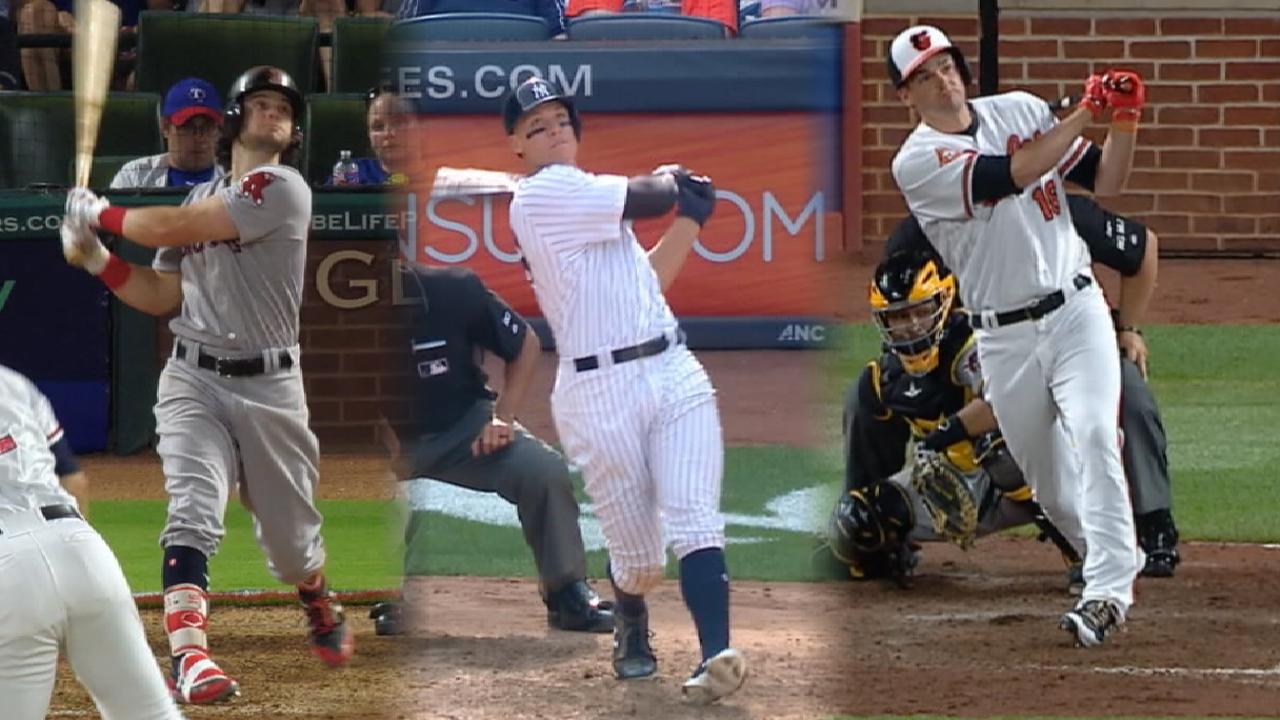 The six finalists for the BBWAA Rookie of the Year Awards were named last Monday, and when the winners are announced this Monday at 6 p.m. ET on MLB Network, we're likely to see two unanimous winners. The award has been given out in each league since 1949, and only three times since have two players swept the balloting in the same year: 1987 (Benito Santiago and Mark McGwire), 1993 (Mike Piazza and Tim Salmon) and 1997 (Scott Rolen and Nomar Garciaparra).
That seems likely to happen again this year, thanks to Yankees right fielder Aaron Judge and Dodgers first baseman Cody Bellinger.
But the other finalists -- Red Sox left fielder Andrew Benintendi, Orioles outfielder/first baseman Trey Mancini, Cardinals shortstop Paul DeJong and Pirates first baseman Josh Bell -- had impressive seasons. Let's see what Statcast™ has to say about it.
AMERICAN LEAGUE
Judge, obviously, is at the head of the class as far as 2017 rookies go, because it's easy to argue he had the best hitting season by a rookie that modern baseball has ever seen. Dating back to 1920, there have been 1,255 seasons in which a rookie hitter had at least 400 plate appearances, and Judge's 173 wRC+ (Weighted Runs Created Plus) mark was the best. (Weighted Runs Created Plus is a park- and league-adjusted stat that sets 100 as the league average for that year, making it ideal to compare across history.)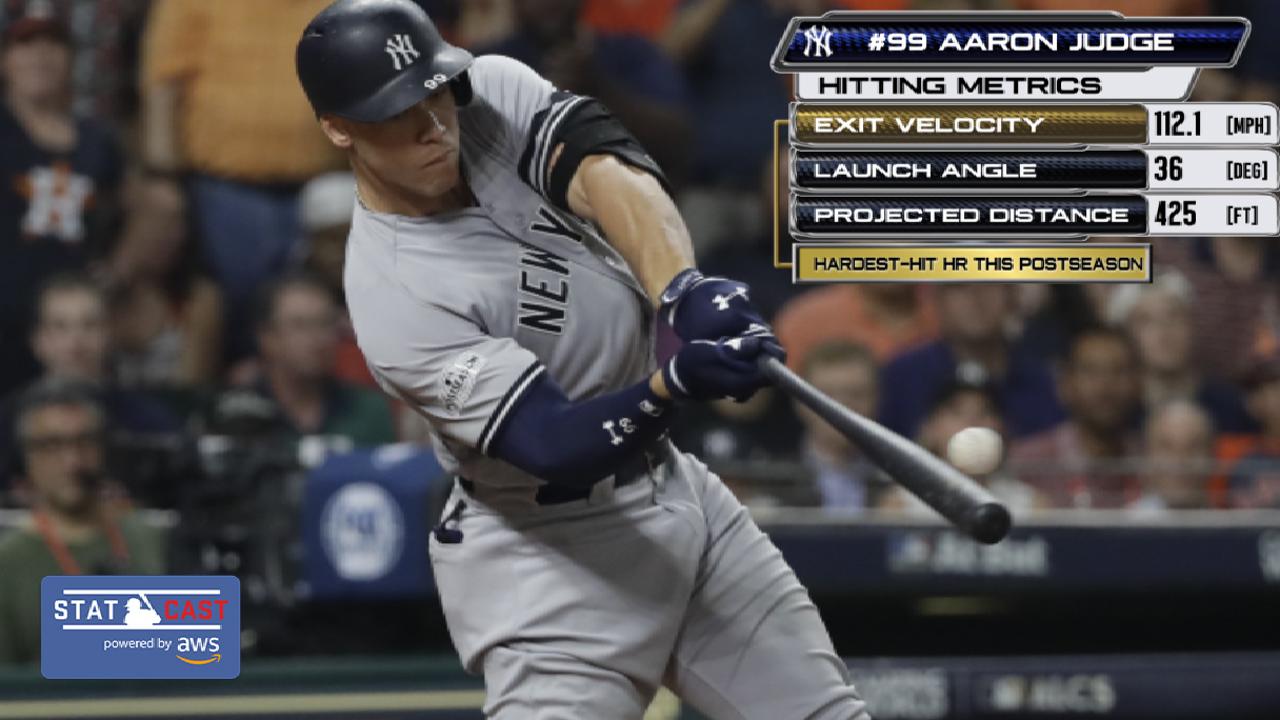 Unsurprisingly, Judge dominated the 2017 Statcast™ hitting leaderboards. Among the 301 batters who had at least 250 plate appearances, Judge was:
• First in Expected wOBA (.446), the most advanced quality-of-contact metric
• First in average exit velocity (94.9 mph)
Looking at players with 100 batted balls in play, Judge was:
• First in hard-hit percentage (55 percent)
• First in Barrels (87), setting a new single-season record for the three years of Statcast™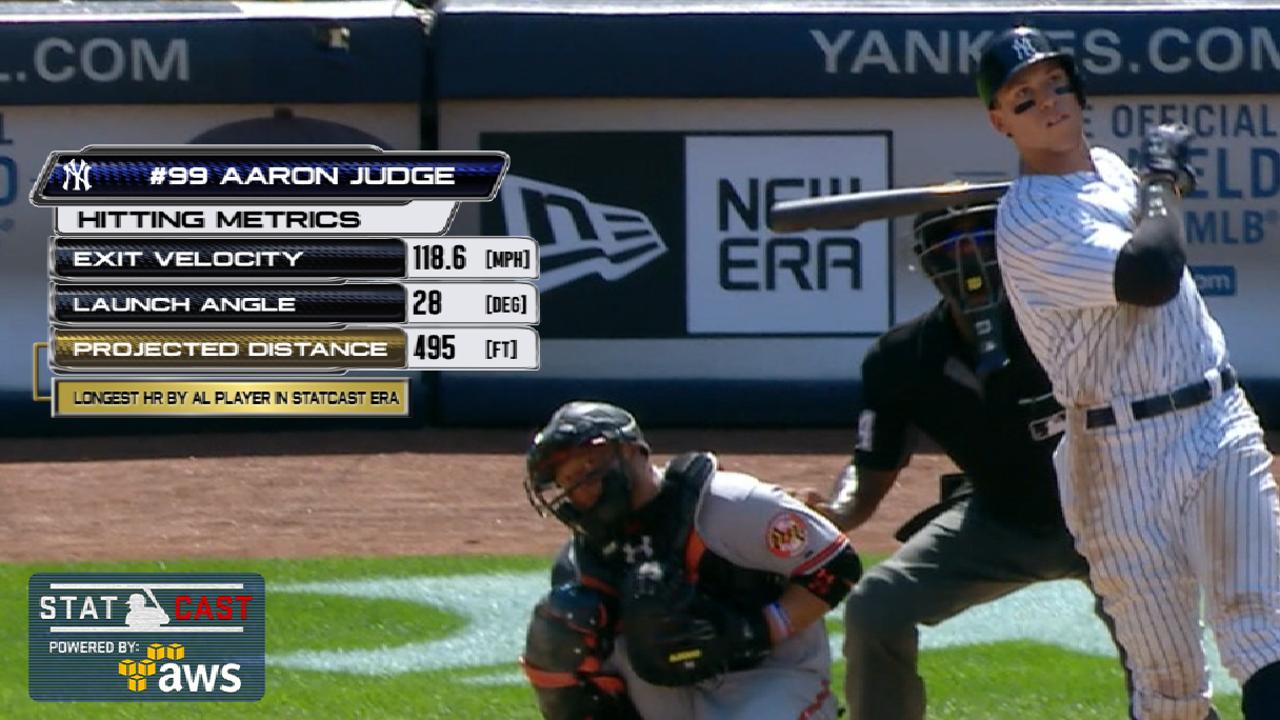 If we look at individual achievements, Judge had:
• Four of the five hardest-hit balls of the season (topping out on a 121.1 mph homer)
• Six of the 10 hardest-hit balls
• 10 of the top 25 hardest-hit balls
• Two of the five longest home runs, including 2017's longest, 495 feet on June 11
And, don't forget Judge's impressive stats when he won the T-Mobile Home Run Derby in Miami:
• 47 home runs, 16 hit at 115 mph exit velocity or more
• Four home runs of 500 feet or more, all four the longest Derby blasts tracked by Statcast™
Judge did all that despite putting up a .179/.346/.344 slash line from the All-Star break through the end of August, and leading the Majors in strikeouts with 208 for the season. Judge has defensive skills, too; he was one of only 13 outfielders with a throw tracked at 99 mph or harder last season. He also came in at a solid +6 Outs Above Average, making him one of the top 20 defensive outfielders in 2017.
If that seems overwhelming, well, that's why Judge is a finalist for the Most Valuable Player Award, too.
Still, Boston's Benintendi had a strong year, becoming just the 11th rookie in Major League history to post a 20-homer/20-steal season, achieving the stolen base mark, in part, because he displayed some of the best speed on the Red Sox. Benintendi's 28.2 feet/second Sprint Speed, measured as feet per second in a player's fastest one-second window, wasn't just above the Major League average of 27 feet/second, it was essentially tied with Xander Bogaerts for best among players who spent all season in Boston.
Benintendi also had a 454-foot home run that was the second-longest any Red Sox player hit all year, and his .400 average with two outs and runners in scoring position was the third-best in baseball and above his .340 Expected Batting Average, itself a top 10 mark.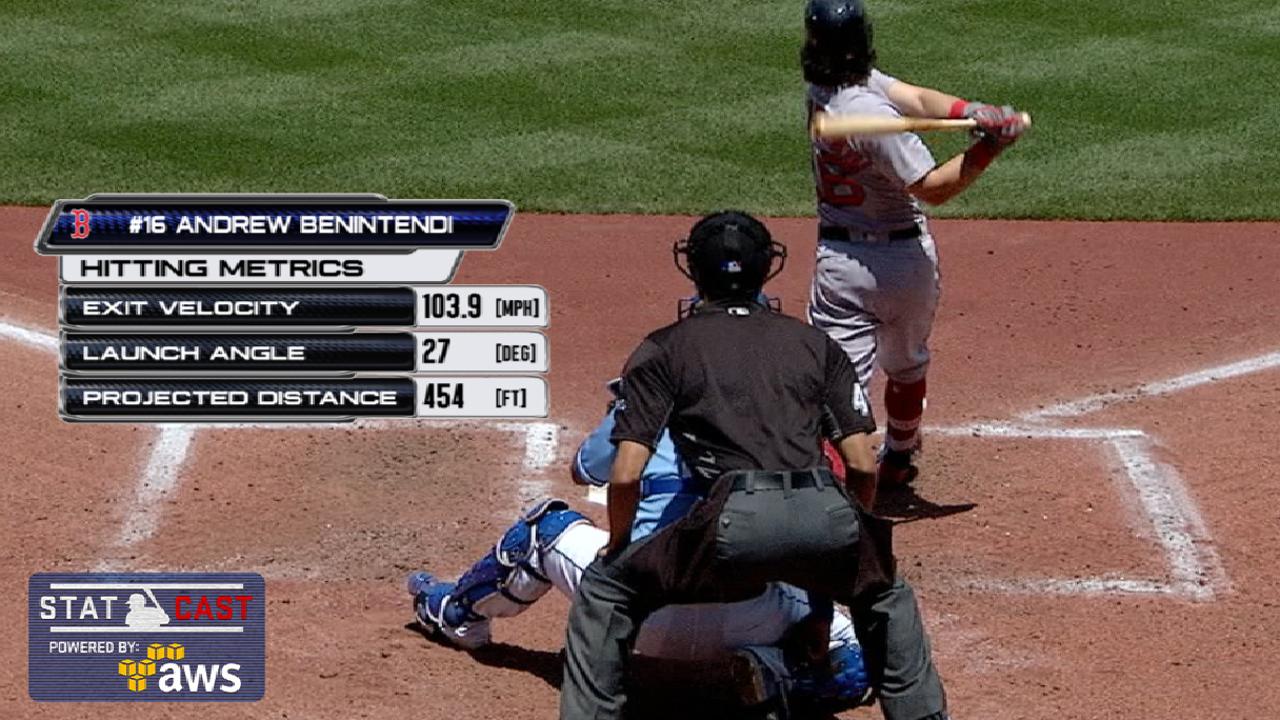 In Baltimore, Mancini's (.293/.338/.488) path to playing seemed blocked when Mark Trumbo returned to a roster that already had Chris Davis, but Mancini's first full season was ultimately a successful one, as his .338 OBP tied for the O's lead.
Despite his inexperience in the outfield -- a first baseman by trade, he'd never played the outfield before 2017 -- he even managed to contribute defensively with two four-star plays, defined as those with a Catch Probability below 50 percent.
Part of Mancini's success is due to him not missing mistake pitches, as his 1.130 slugging percentage on middle-middle pitches was the eighth-best in baseball, essentially the same as those of Giancarlo Stanton (1.136) and Bellinger (1.137).
All three AL rookies stepped it up in big spots, as each had top 25 marks in xwOBA with runners in scoring position, out of 164 players with 100 such plate appearances.
NATIONAL LEAGUE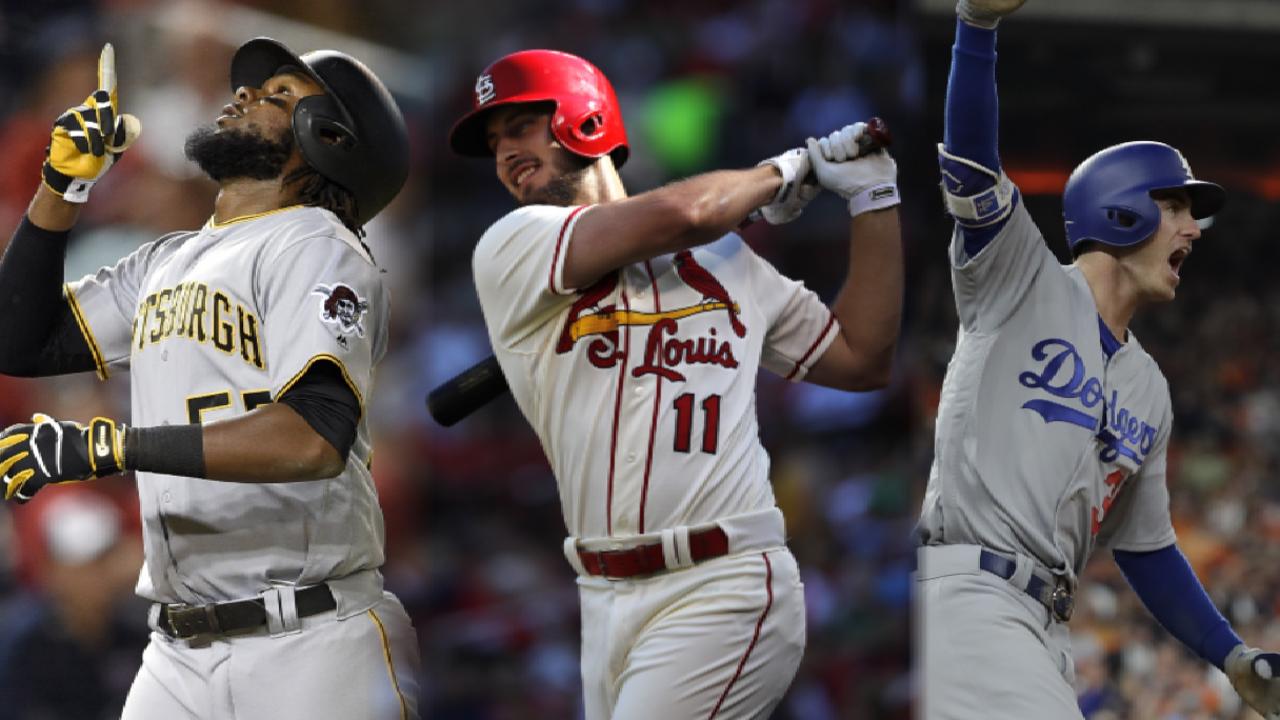 While Bellinger's numbers weren't quite as overwhelming as Judge's, he's a slam dunk for the award, having set a National League rookie record with his 39 home runs, even though his first one didn't come until April 29. Part of what made his year so impressive is that despite being a rookie lefty, he didn't struggle against lefty pitchers, hitting .271/.335/.568, with a 47 percent lefty-on-lefty hard-hit rate that was fourth behind only the Rangers' Joey Gallo, the Dodgers' Corey Seager and the Mets' Michael Conforto. He also had the hardest-hit ball by any Dodger this year, a 112.8 mph blast for a home run against the Padres in June.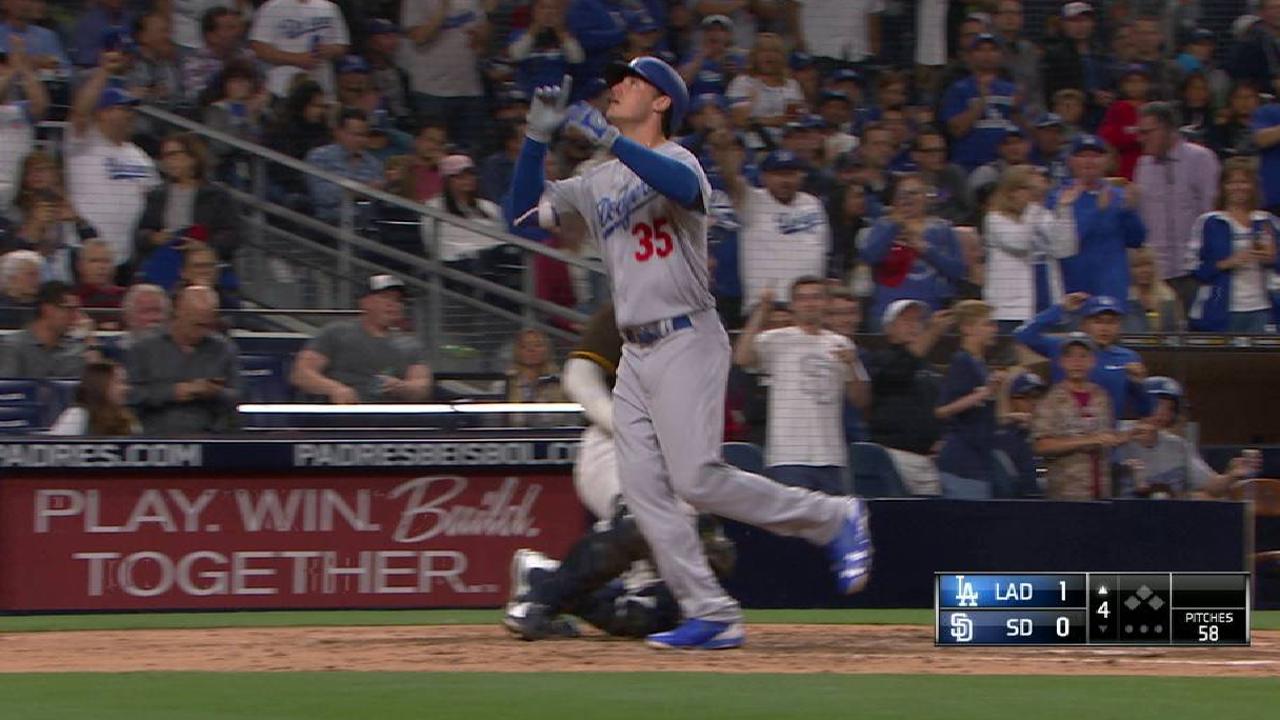 Like Judge, the Bellinger story is about more than just hitting. He was the second-fastest first baseman in the Majors this year, as his 28.4 feet/second Sprint Speed was just barely behind the Padres' Wil Myers' 28.6 feet/second, and Bellinger made an impression in the outfield too, most notably robbing the Pirates' Gregory Polanco in May by running 48 feet in 3.2 seconds for a fantastic 6 percent Catch Probability play.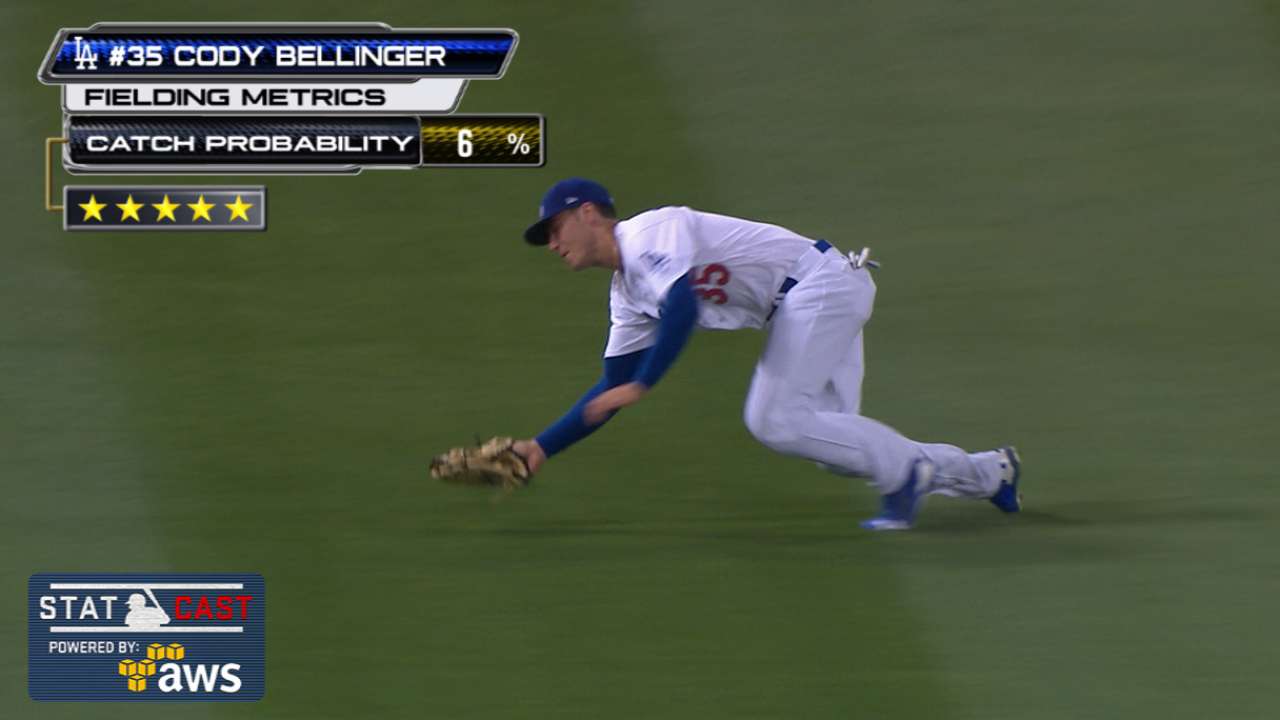 DeJong (.285/.325/.532), like Bellinger, got a late start, not even appearing in the Majors until May 28, when he memorably hit a home run on his first swing in the bigs. He'd already hit 13 in Triple-A before being called up, and he'd end up with 25 in the Majors. It might have been 26, had Leonys Martin not taken one away from him to end a Sept. 28 game and end the Cardinals' postseason hopes. The 102.4 mph exit velocity and 28 degree launch angle is a combination that's a home run more than seven of 10 times.
That helped to put DeJong in a favorable position among his fellow shortstops, as his 37.7 percent hard-hit rate was sixth among the 42 who put 100 balls in play.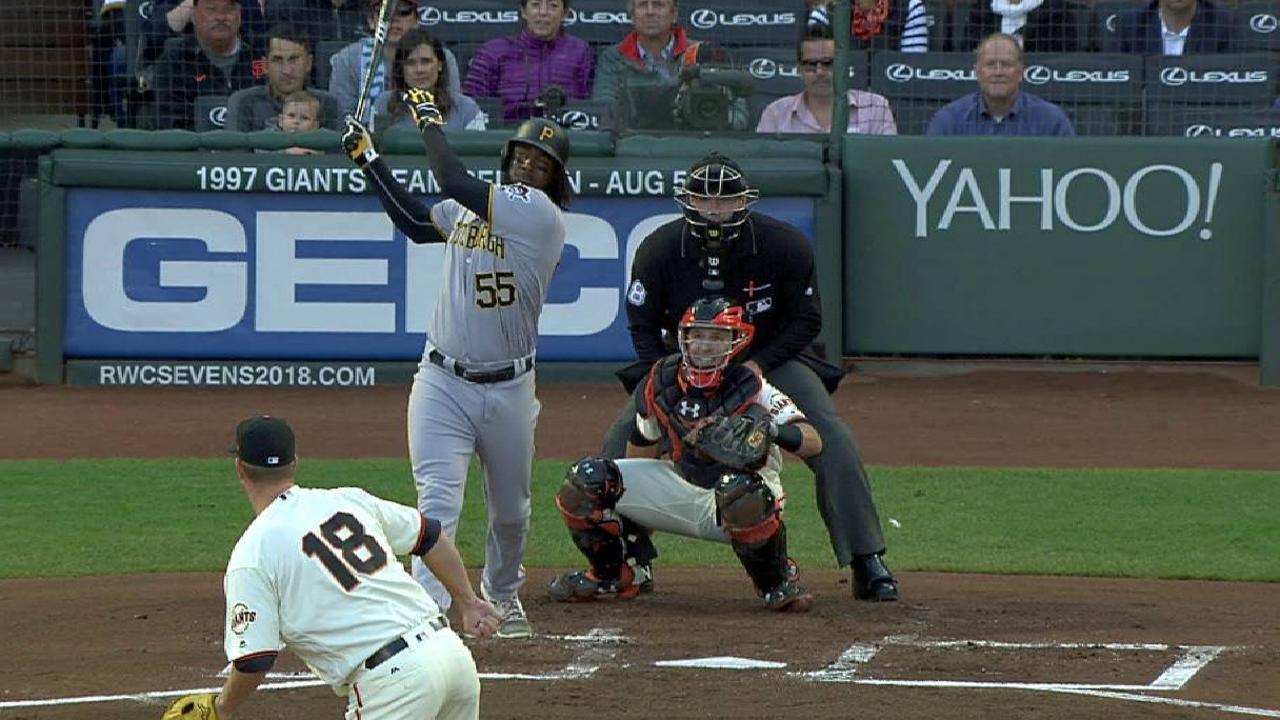 In Pittsburgh, Bell (.255/.334/.466) set a rookie home run record, as his 26 blasts were the most by an NL rookie switch-hitter, topping the mark Chipper Jones set in 1995. He had the hardest-hit ball by any Pirate all year, a 112.4 mph double in San Francisco on July 24. Bell had three of the five hardest-hit Pittsburgh balls and five of the top nine; his 100 balls hit at 100 mph or more were second on the club to Andrew McCutchen. He also had three of the seven longest projected Pirates homers, topping out at 441 feet on June 2.
Mike Petriello is an analyst for MLB.com and the host of the Statcast podcast. He has previously written for ESPN Insider and FanGraphs. This story was not subject to the approval of Major League Baseball or its clubs.