Dodgers hope to add depth for another run in '18
With roster in good shape following Fall Classic appearance, LA can zero in on specifics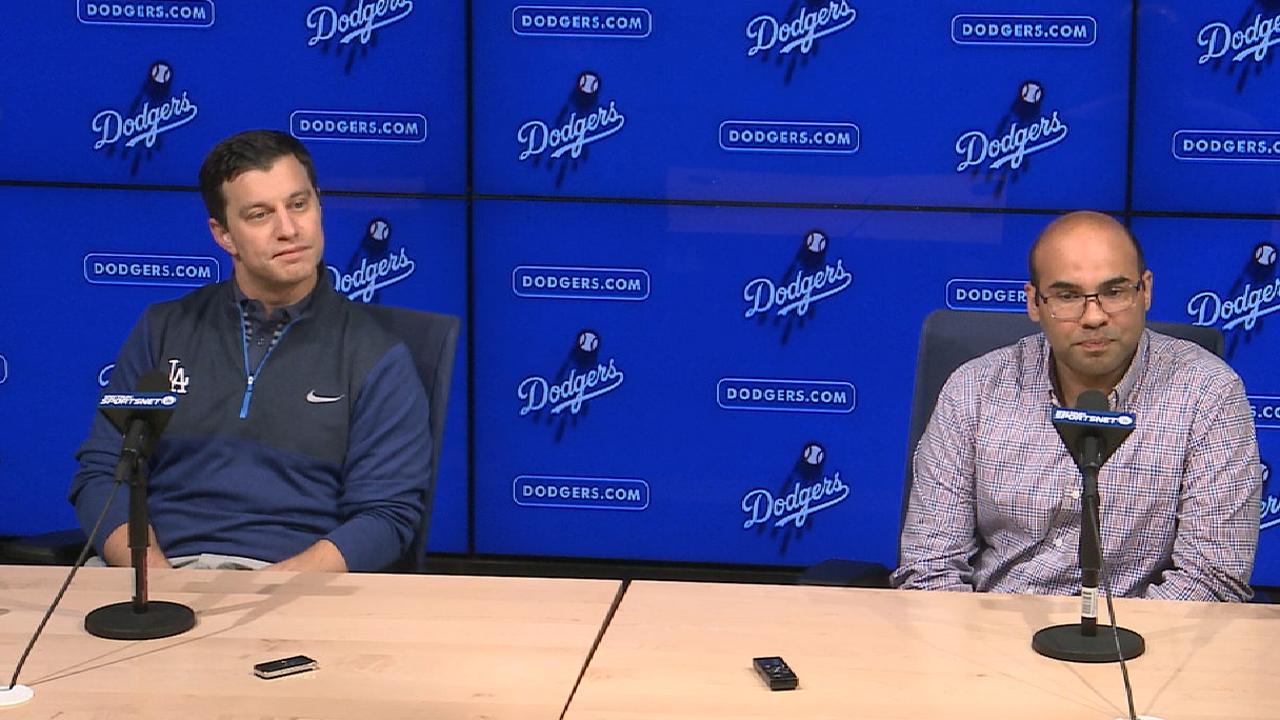 LOS ANGELES -- With the best regular-season record and a thrilling postseason run, the Dodgers proved to have a Fall Classic roster in 2017 and intend to preserve it for another shot at a ring in '18.
They won't be overhauling the clubhouse this offseason and don't face decisions about losing key free agents, as they did a year ago when they decided to re-sign Kenley Jansen, Justin Turner and Rich Hill.
This offseason should be a time for the Dodgers to improve around the margins and stockpile depth, at least as much through trades as signings.
Biggest needs
1. Right-handed-hitting left fielder: With each passing year, Ryan Braun's contract ($70 million for three more years) becomes more palatable, so those trade rumors are bound to resurface. Age, health and production are now issues, though. Fans will want a signing of free agents J.D. Martinez or Lorenzo Cain or, better yet, a trade for Miami's Giancarlo Stanton or Marcell Ozuna. A year ago, management aimed considerably lower and signed free agent Franklin Gutierrez for this role, and he was never healthy. Maybe some middle ground can be found, as committing nine figures in salary doesn't seem to be in the playbook. Enrique Hernandez inherited the role and had that three-homer night of his life at Wrigley Field in the clinching game of the National League Championship Series, so that's the fallback option.
Possible FA fits: Martinez, Cain, Melky Cabrera.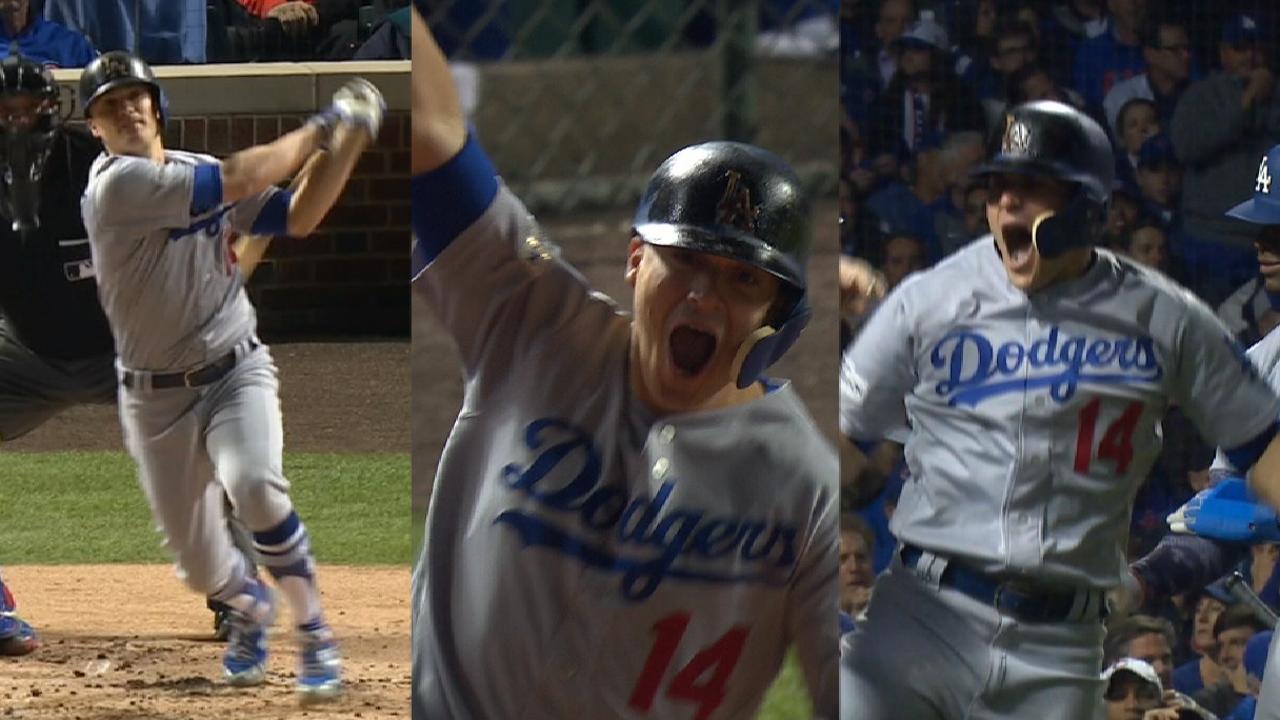 2. Setup reliever: It's an annual search to get the ball to Jansen, mostly because management's preferred option, Pedro Baez, keeps giving the job away. In 2016, the Dodgers took Joe Blanton off the scrap heap and he was lights-out until the postseason. This past year's reclamation project was Brandon Morrow, who proved to be a postseason workhorse and deserves to get paid for it, but he has a painful history of injuries.
Possible FA fits: Morrow, Steve Cishek.
3. Starting pitcher: Because the Julio Urias experiment didn't pan out, plus Scott Kazmir missed the entire season and Brandon McCarthy is unpredictable, a designed surplus of starters never turns out that way. Management chose McCarthy over Hyun-Jin Ryu for the World Series, and that went badly. At least Ryu gave the club 24 starts. Walker Buehler will be next year's Urias, with management tested to keep him healthier than Urias. The front office loves Yu Darvish, so his return wouldn't be as shocking as fans might think after his World Series performance. Alex Cobb pitched for Tampa Bay and has had Tommy John surgery, checking key boxes for Dodgers pitching acquisitions, but he was extended a qualifying offer and that's enough to scare away this regime. Michael Pineda is a Tommy John rehab without compensation attached.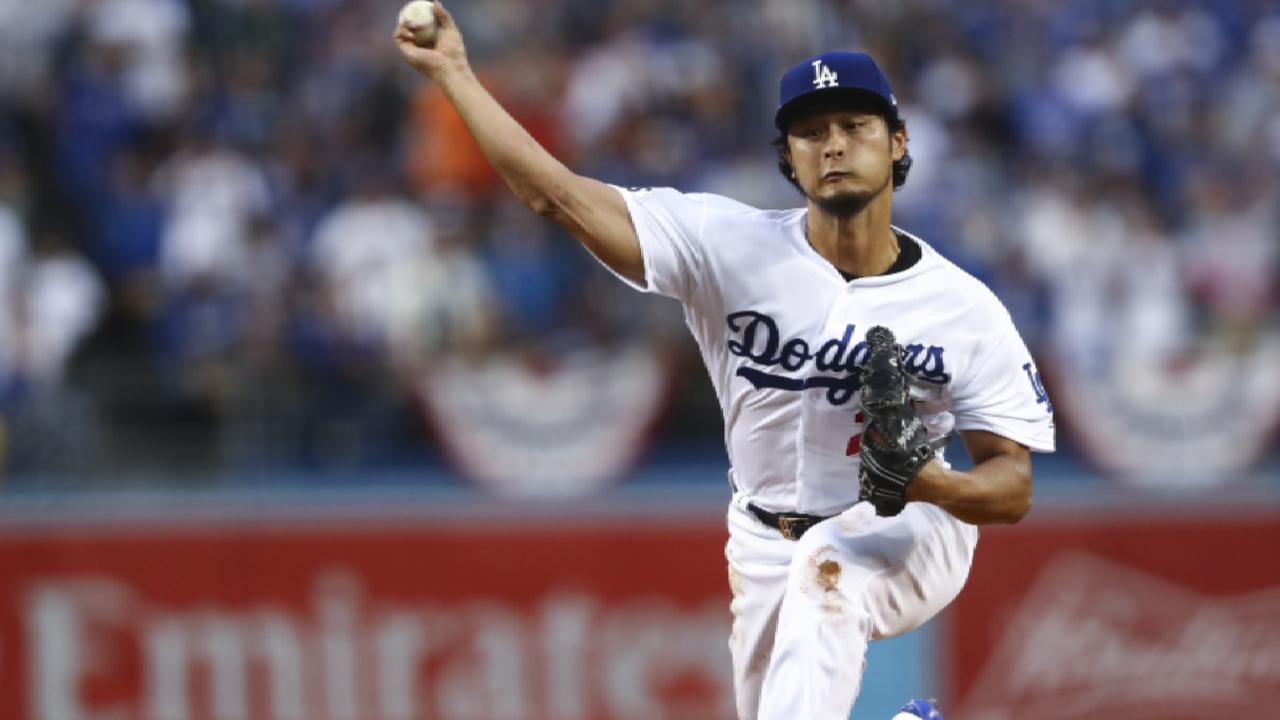 Possible FA fits: Cobb, Darvish, Pineda.
Gray areas
1. Left-handed reliever: Tony Watson is a free agent, Grant Dayton is out after Tommy John surgery and Adam Liberatore missed most of the past season with an arm injury. Tony Cingrani is back and so is Luis Avilan, who would have come in handy had he been on the World Series roster. If they don't bring back Watson, they'll need somebody like him.
2. Younger Chase Utley: Picking up the option of Logan Forsythe means the Dodgers have a second baseman to face left-handed pitching (he hit .290 against them), but he hit .190 against right-handers. Utley hit .247 against righties and that earned him 285 at-bats. So there's a real opportunity for a left-handed-hitting second baseman to help lengthen the lineup.
X-factors
1. Shohei Ohtani? He didn't hire CAA as his agent to stay in Japan. And the Dodgers didn't send a planeload of officials to watch him throw bullpen sessions in August if they didn't think they could maneuver around the red tape of posting fees and international signing limits. There are plenty of hoops to jump through, but it wouldn't be a shock to see the two-way star as the latest player from Asia in the Dodgers' clubhouse.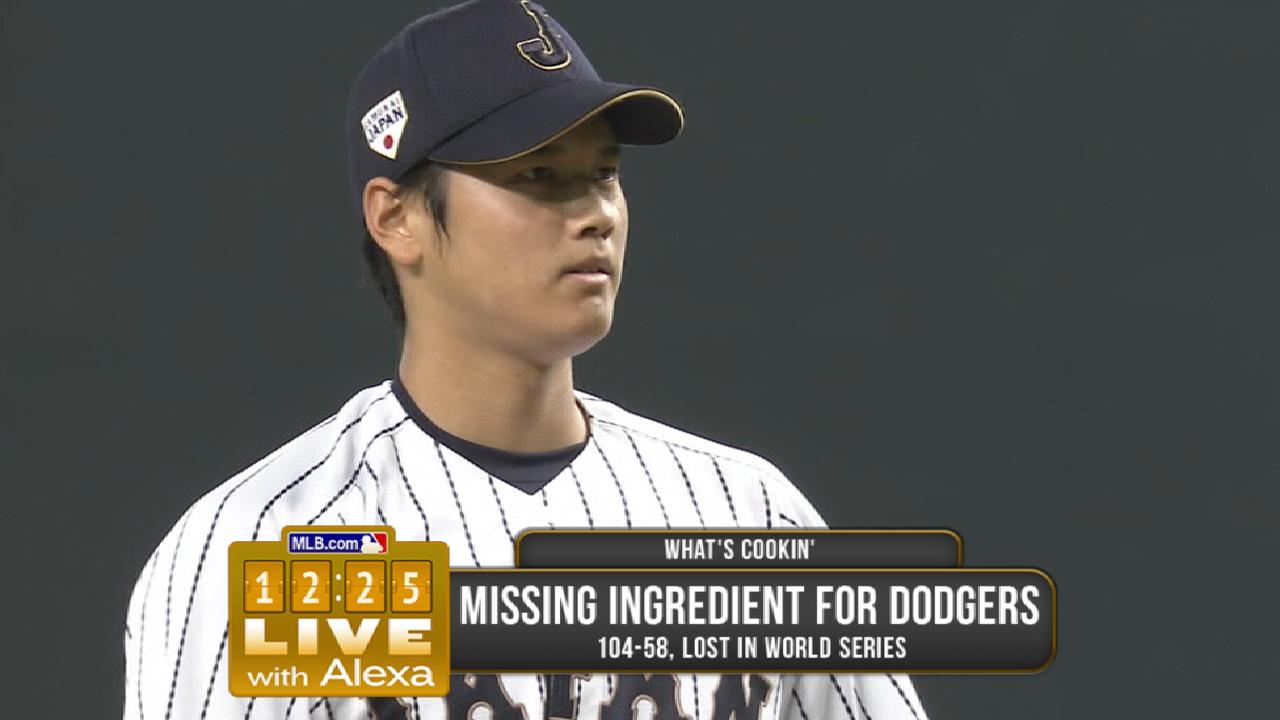 2. Money to burn? No owner has more money to burn than Guggenheim, but it burns it selectively. The Dodgers paid more than $200 million on Cuban free agents in recent years with little to show for it, then nearly another $200 million last year to keep free agents that helped get the team to the Fall Classic. Falling one win short of a title means there's no need to rebuild or win back a fan base by spending wildly this offseason.
Ken Gurnick has covered the Dodgers for MLB.com since 2001. This story was not subject to the approval of Major League Baseball or its clubs.