Reds to gauge market when GMs meet
Williams plans to learn other clubs' offseason directions
CINCINNATI -- Reds general manager Dick Williams and his front office will be on the scene in Orlando, Fla., next week for the annual General Managers Meetings that begin on Monday. While the GM Meetings are meant for executives to tackle industry business and topics, networking together can often lead to deals.
"We get a good idea of what other clubs are doing in the offseason, and if there is a fit for discussions," Williams said on Thursday. "We also inevitably talk to agents while we are there. Since all of the GMs are in one place, the agents come and want to talk about their free-agent portfolio."
Coming off a season in which both the rotation and bullpen struggled, the Reds would like add to their pitching staff with some reliable veterans. There is also some room allocated in the 2018 budget to make those additions. However, Williams feels good about what Cincinnati already has and doesn't feel compelled to pounce right away.
Rookie starters like Luis Castillo, Sal Romano, Robert Stephenson and Tyler Mahle ended the season strong. Veterans like Homer Bailey, Anthony DeSclafani and Brandon Finnegan are expected to be fully recovered from their various injury issues. The team also still likes young pitchers who didn't perform as well, like Cody Reed, Amir Garrett and Jackson Stephens.
The problem is that none of those pitchers can be assumed to compile 200 innings and 30 starts in 2018. The club's pitching depth also has been challenged the past two seasons by injuries.
"You've got a lot of opportunity there," Williams said. "If we have that whole group and good fortune with health, we think we have a really exciting group to start with. Anything we get from the outside would just be additive to that. If we have bad luck with health, we're going to hope to make sure we have a buffer of innings. I think going into this offseason, we're going to approach it very opportunistically. We don't feel we have to spend a certain amount of money. We do have resources, if we need to call on them, to make additions. But we also have a lot of exciting pieces coming back."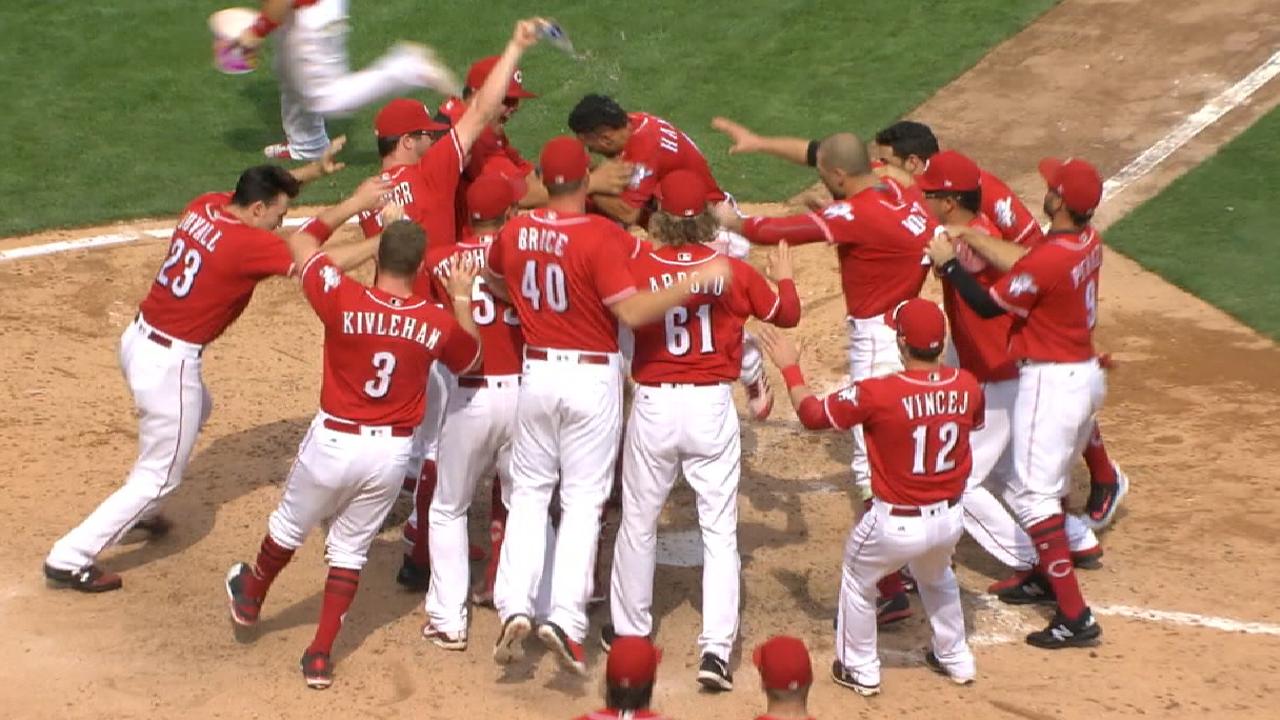 Last offseason, to supplement their pitching staff, the Reds signed free agent Scott Feldman to a one-year, $2.3 million contract. Feldman, originally expected to be a back-of-the-rotation or bullpen piece, wound up being at the front of the starting five until he needed season-ending arthroscopic right knee surgery in August.
Feldman is expected to be healthy for the start of the next season.
"That profile of pitcher, and him specifically, would be something we would consider," Williams said. "There aren't a ton of pitchers that can do both -- easily slide from one role to the other. Those do have a bit of incremental value. We'd be open to stuff like that."
Meanwhile, Williams and the Reds will keep an eye on another of the team's free agents, Zack Cozart. A qualifying offer of $17.4 million for 2018 was not made on Monday, freeing Cozart to sign anywhere without requiring Draft pick compensation for the Reds.
• The new qualifying offer rules, explained
"We have continued to express interest in trying to find something that works for both sides," Williams said. "But I wouldn't say there is a lot of active dialogue, mainly because at this point it makes sense for him to at least see what the interest is that's out there. We're going to have to play that by ear and continue to be open to it based on what the market ends up being."
Mark Sheldon has covered the Reds for MLB.com since 2006, and previously covered the Twins from 2001-05. Follow him on Twitter @m_sheldon and Facebook and listen to his podcast. This story was not subject to the approval of Major League Baseball or its clubs.