Kings of the hill: Breaking down FA pitchers
Arrieta, Darvish, Davis among top names on the market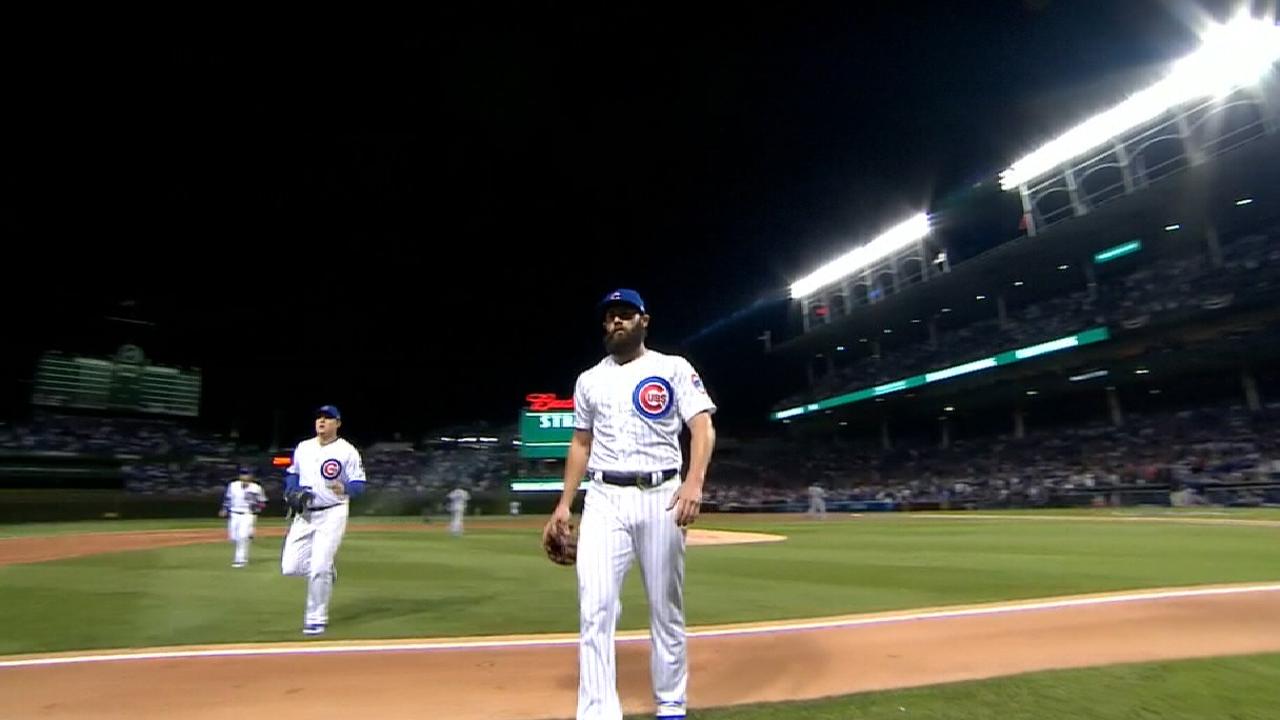 Even before Jose Altuve threw to Yuli Gurriel for the final out of the Astros' 2017 World Series championship, front offices for each of MLB's 30 clubs had likely mocked up several drafts of their free-agent wish lists. The Astros were the 12th champion in the past 17 years, showing competitive balance remains as strong as ever. Nearly every club could be one or two moves away from turning a disappointing 2017 into a triumphant '18.
So while this offseason's free-agent class may not be as loaded as the potential class for next offseason, there are still plenty of game-changing names available. Chief among them is Japanese sensation Shohei Ohtani, who still has procedural hurdles to clear before he can be made available to Major League clubs.
Teams will need to shop carefully, however, to make sure their money is going to the right places. With that in mind, here are some facts about some of this offseason's top free-agent pitchers that could convince teams to sign them, or walk away. The ages listed are as of Opening Day 2018.
Starters

Jake Arrieta, RHP, 32
Why teams would sign: Only Dodgers ace Clayton Kershaw (2.07) has a lower ERA than Arrieta's 2.71 mark over the past three seasons among 78 qualified starters (minimum 400 innings). Arrieta, who's gained a reputation for a meticulous fitness regimen, has also logged the eighth-most innings (594 2/3) in that span.
Why they could walk away: While still a quality starter, there's no denying that Arrieta has taken a step back since posting one of the most dominant second halves in baseball history in 2015. Arrieta's ground-ball and swinging-strike rates declined noticeably over the past three seasons, while his ERA climbed upward.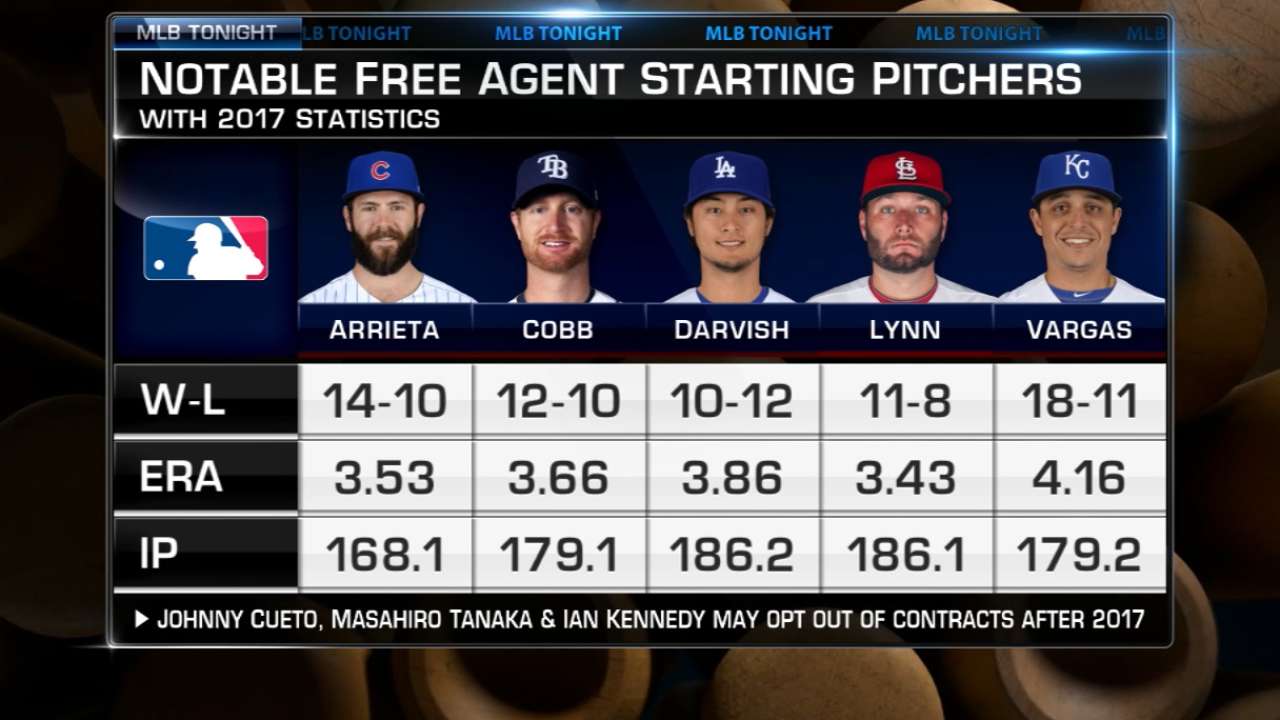 Alex Cobb, RHP, 30
Why teams would sign: Cobb responded well after missing nearly two full seasons to Tommy John surgery. The righty posted career highs with 29 starts and 179 1/3 innings pitched, while recording an ERA (3.66) that was 14 percent better than the Major League average.
Why they could walk away: Cobb's split changeup (nicknamed "The Thing") was one of the best pitches in baseball several years ago, but Statcast™ data shows it garnered a lower whiff-per-swing rate (22.6 percent) as compared to the last time we saw it pre-surgery in 2014 (33.2).
Yu Darvish, RHP, 31
Why teams would sign: Like strikeouts? Darvish's career 29.7-percent strikeout rate is the highest of any starter with at least 750 innings pitched. Darvish has also never posted an ERA that wasn't at least 12 percent better than league average in any of his first five Major League seasons.
Why they could walk away: Darvish's arsenal was not as deceptive in 2017. The right-hander posted his lowest strikeout (27.3 percent) rate since his debut 2012 season, and his 1.3 home runs allowed per nine innings marked the highest rate of his Major League career.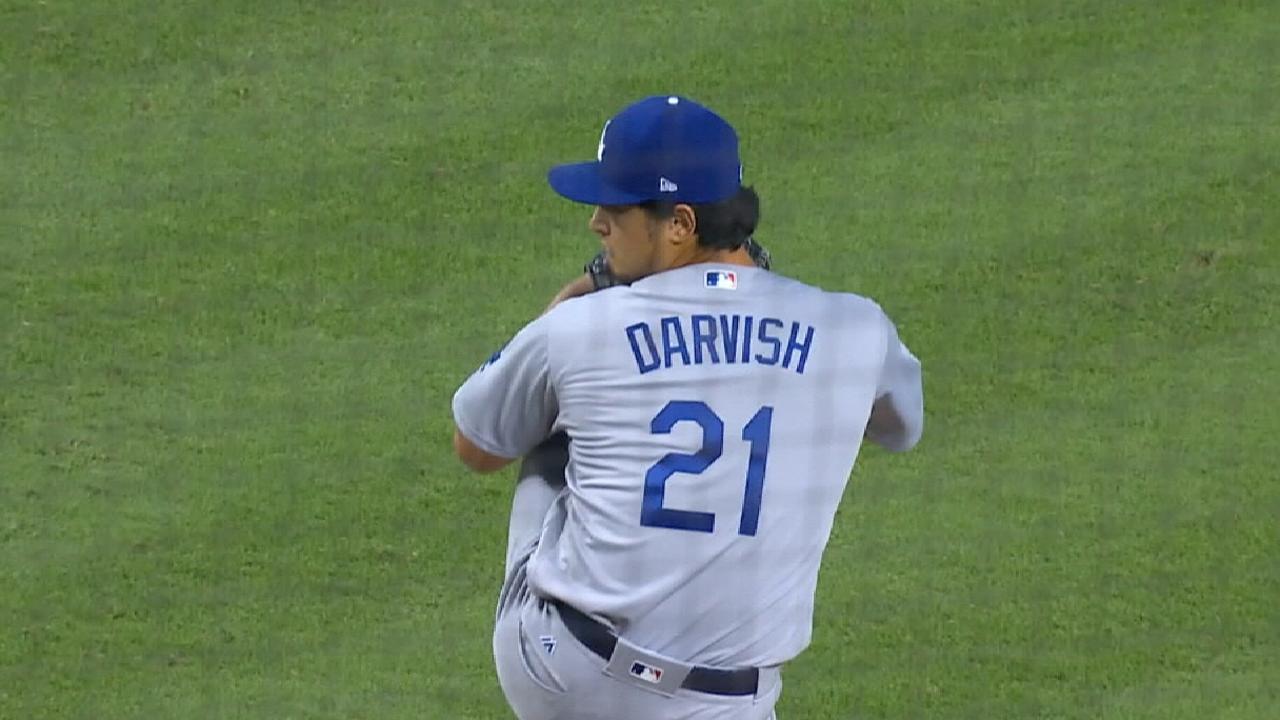 Lance Lynn, RHP, 30
Why teams would sign: Lynn bounced right back to his workhorse reputation after missing all of 2016 because of Tommy John surgery. Lynn's 33 starts tied for the National League lead in 2017, and the right-hander is one of only five pitchers to record at least five seasons with a sub-4.00 ERA over 29 or more starts since 2012. The others: San Francisco's Madison Bumgarner, Texas' Cole Hamels, Boston's Chris Sale and Washington's Max Scherzer.
Why they could walk away: While Lynn's 3.43 ERA in 2017 is appealing, other numbers under the surface suggest he was hit harder. Lynn's 4.82 FIP was by far the highest of his career, while his 19.7-percent strikeout rate marked a career low.
CC Sabathia, LHP, 37
Why teams would sign: Credit Sabathia for transforming himself from a high-velocity strikeout pitcher to one who used location and a superb mix of cutters and sliders to post an excellent 2017 campaign. Sabathia's 83.9-mph average exit velocity allowed ranked second-lowest among 139 pitchers who induced at least 300 batted balls.
Why they could walk away: Age is the biggest concern for Sabathia, who will turn 37 in 2018 and has pitched 3,317 career innings. A knee injury in August nearly ended Sabathia's season, and teams could be wary of similar breakdowns moving forward.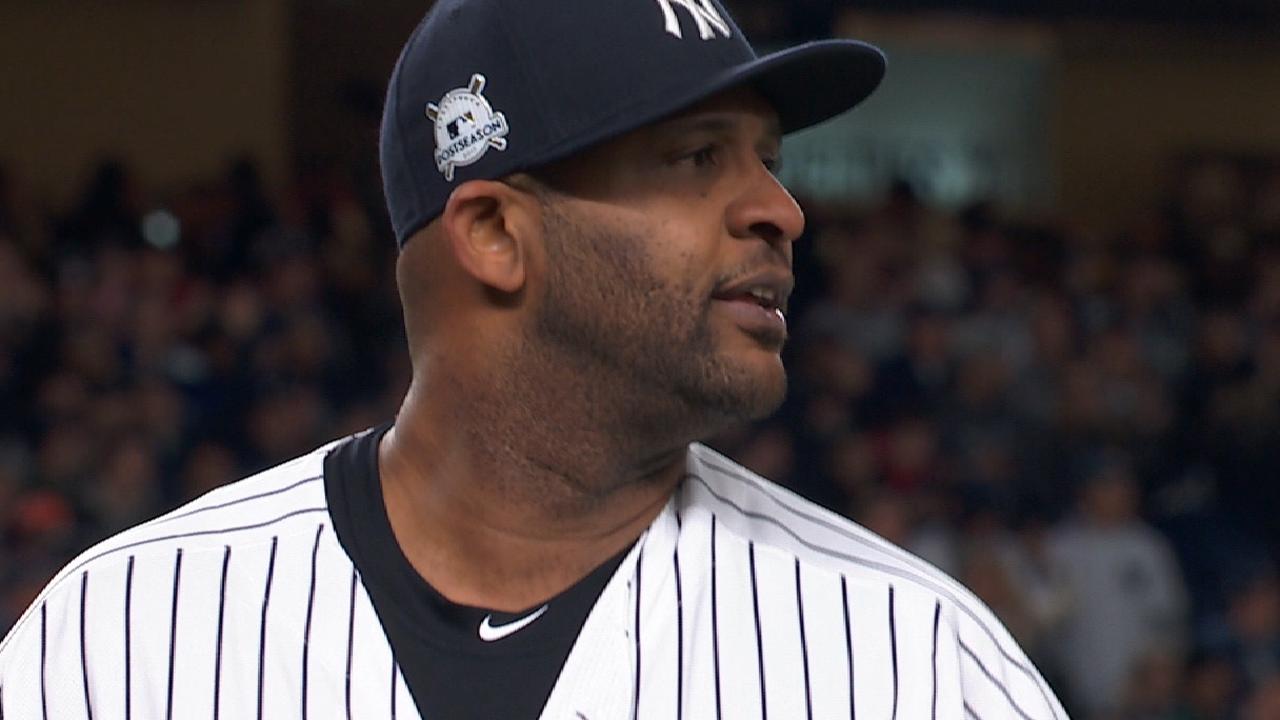 Relievers

Wade Davis, RHP, 32
Why teams would sign: Davis was mostly back to his dominant self in 2017 after missing parts of the previous year with arm problems. The righty converted 32 of his 33 save opportunities, while recording a 2.30 ERA in his first season as the Cubs' closer.
Why they could walk away: The six home runs Davis allowed in 2017 were three more than he'd allowed from 2014-16 combined. Davis is also not the same pitcher who could simply overpower hitters two years ago, as his average velocity on all fastballs dipped down to 92.8 mph in 2017, as compared to 95.4 mph in '15, per Statcast™.
Greg Holland, RHP, 31
Why teams would sign: The Rockies probably got more than they expected from Holland, who led the NL with 41 saves after missing all of 2016 to rehab from Tommy John surgery. That put Holland in position to decline his $15 million player option for '18 after he signed for just $6 million last offseason. He is also expected to reject Colorado's $17.4 million qualfiying offer.
Why they could walk away: Holland's slider helped him mask his diminished fastball velocity, but it failed him during a rough month of August, in which he posted a 13.50 ERA and allowed a .333 batting average to his opponents. Holland corrected himself in September (opponents went 4-for-35), but it's fair to wonder if his August slump was due in part to some fatigue.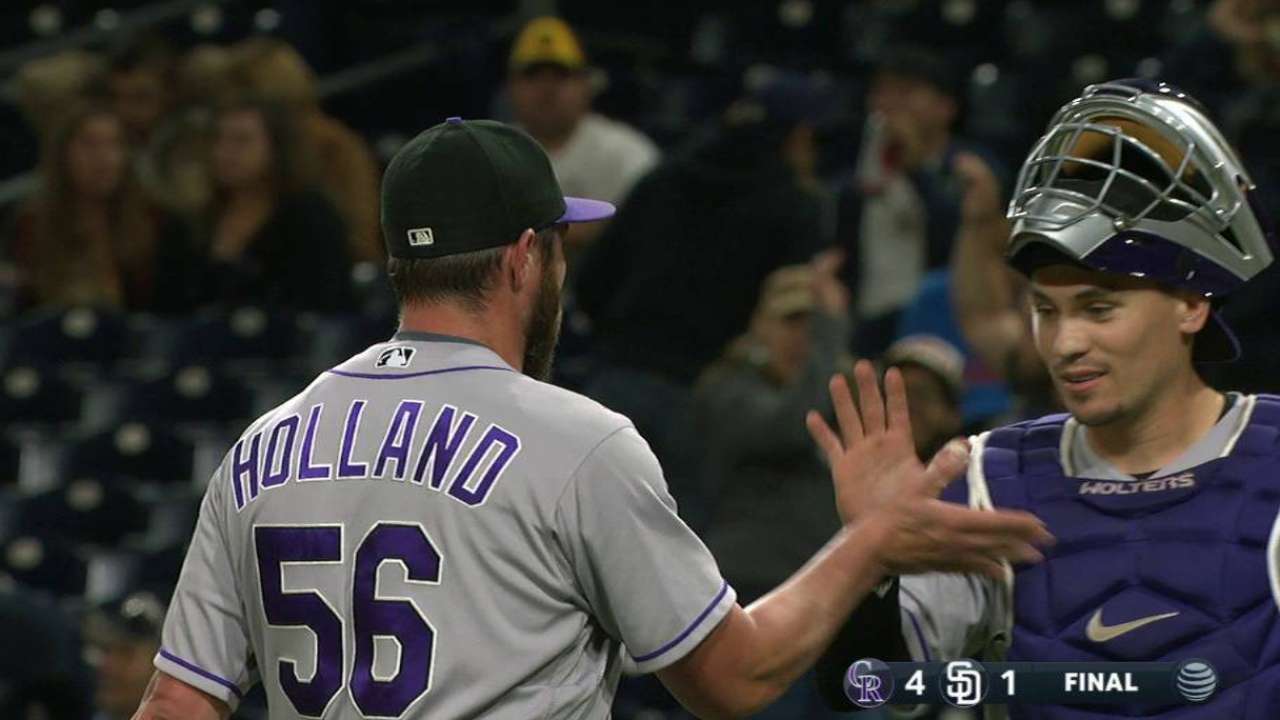 Brandon Morrow, RHP, 33
Why teams would sign: Morrow was nearly untouchable during the regular season, pitching 43 2/3 innings without allowing a home run. The converted starter averaged 97.9 mph on his four-seam fastball, per Statcast™, to make him one of the hardest throwers in the big leagues.
Why they could walk away: One must wonder if the postseason workload for Morrow, whose career is already checkered with injuries, will come to bear down the road. The righty became only the second pitcher to appear in all seven games of a World Series, and the strain was evident in Games 2 and 5. Whichever team signs Morrow must do so with a close eye on his innings in 2018.
Matt Kelly is a reporter for MLB.com based in New York. Follow him on Twitter at @mattkellyMLB. This story was not subject to the approval of Major League Baseball or its clubs.