O'Malley, Baron become Minor League FAs
Mariners have 36 players in farm system hit free agency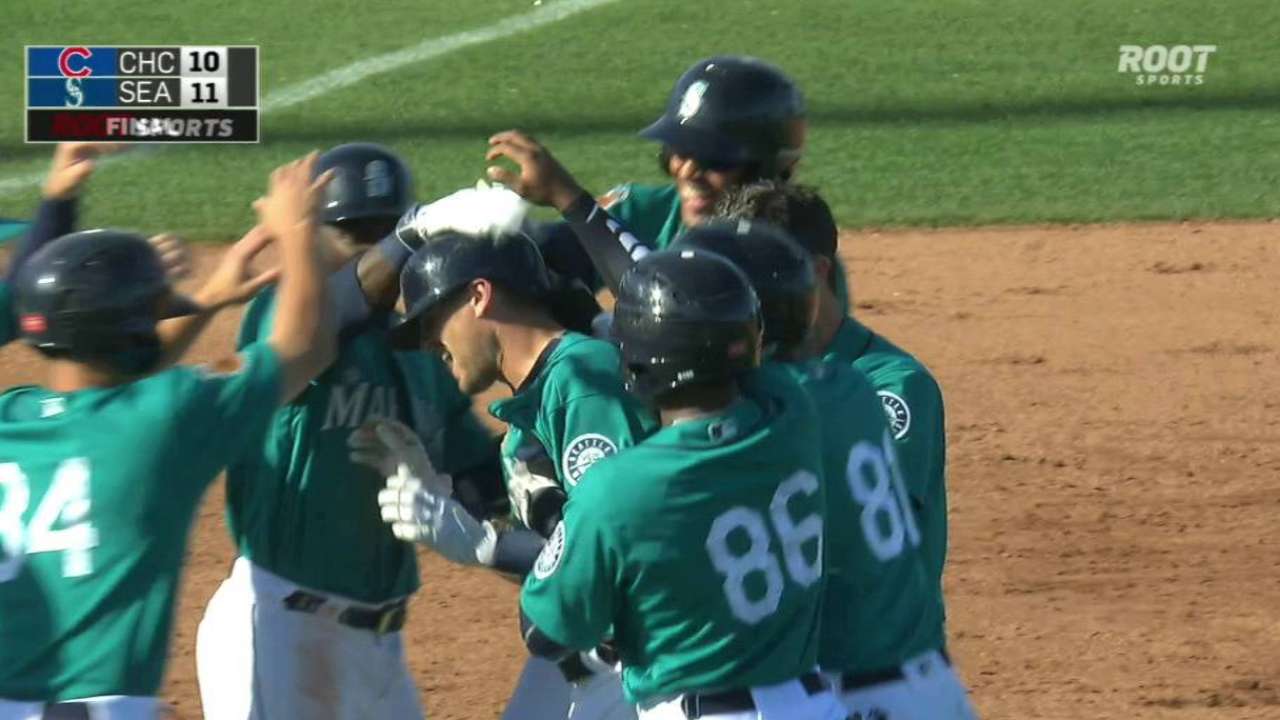 SEATTLE -- Players who aren't on 40-man rosters become free agents after fulfilling six years in the Minor Leagues, and the Mariners have a large group in that category this winter, including veteran utilityman Shawn O'Malley and catcher Steven Baron, a former first-round Draft pick.
According to Baseball America, the Mariners had 36 players become Minor League free agents on Monday, the most of any team in the Majors.
O'Malley, a 29-year-old from Richland, Wash., played 89 games for the Mariners in 2016, but missed all of 2017 after undergoing an appendectomy late in Spring Training and then having shoulder surgery.
Seattle has re-signed five Minor Leaguers who would have become free agents, including catcher Tuffy Gosewisch, who played 11 games for the Mariners last season. Also re-signed were second baseman Danny Muno, catcher Ryan Scott, left-hander Tyler Watson and right-hander Lindsey Caughel.
Among the players who became Minor League free agents were four right-handers who have pitched in the Majors for Seattle -- Jonathan Aro, Tyler Cloyd, Casey Lawrence and Evan Marshall -- as well as MLB veterans Micah Owings and Justin De Fratus and South African prospect Dylan Unsworth.
Other pitchers becoming free agents are right-handers Ralston Cash, Ronald Dominguez, Bryan Evans, Ryne Harper, Ryan Kelly, Tyler Knigge, Brian McAfee, Blake Perry, Fabian Roman and Aaron West, plus left-handers Aronny Cruz, Kyle Hunter, Dean Kiekhefer and Ashur Tolliver.
Baron, a first-round pick in 2009, is one of seven catchers in the organization who are now free agents. He's joined by Nevin Ashley, Alexander Capriata, Marcus Littlewod, Tyler Marlette, Arturo Nieto and Yojhan Quevedo.
In addition to O'Malley, position players who are now free agents are first baseman Ryan Casteel, second baseman Rafael Fernandez, Nelson Ward and Gianfranco Wawoe, shortstop Joey Wong and outfielders Willie Argo and Kyle Waldrop.
Marlette was the Mariners' No. 25 prospect, per MLBPipeline.com, Wawoe No. 26 and Waldrop No. 30.
Those players are among the 572 Minor Leaguers who became free agents on Monday. Players can re-sign with their former clubs, but they are now free to negotiate with any of the other 29 organizations as well.
Greg Johns has covered the Mariners since 1997, and for MLB.com since 2011. Follow him on Twitter @GregJohnsMLB. This story was not subject to the approval of Major League Baseball or its clubs.