No Gold Gloves for Judge, Gardner
NEW YORK -- On several occasions during the postseason, Brett Gardner marveled at Aaron Judge's defensive contributions in the Yankees' outfield, remarking how there was more to the standout rookie's game than just towering home runs.
"He's an athlete out there," Gardner said. "I know he's a big guy, but he covers a lot of ground and makes a lot of plays. He makes a difference on both sides of the ball. He never lets up. He's a game-changer."
Judge was equally complimentary of Gardner's game, at one point calling the veteran "a little ball of muscle" and the heart and soul of the roster.
The teammates were both recognized as finalists for the American League Rawlings Gold Glove Award, but both came away empty-handed when the winners were announced on Tuesday evening.
This year's Gold Glove Awards represent just one way the game's top performers will be recognized. Voting is underway for the Esurance MLB Awards, which annually honor MLB's greatest achievements as part of an industry-wide balloting process.
MLB Awards season will culminate on Friday, Nov. 17, when winners are announced live on MLB Network and MLB.com starting at 8 p.m. ET.
The Royals' Alex Gordon edged Gardner and the Angels' Justin Upton for the fifth Gold Glove of his career. Gardner brought home his first Gold Glove Award in 2016, becoming the first Yankees outfielder to win the award since Bernie Williams won four in a row from 1997 to 2000.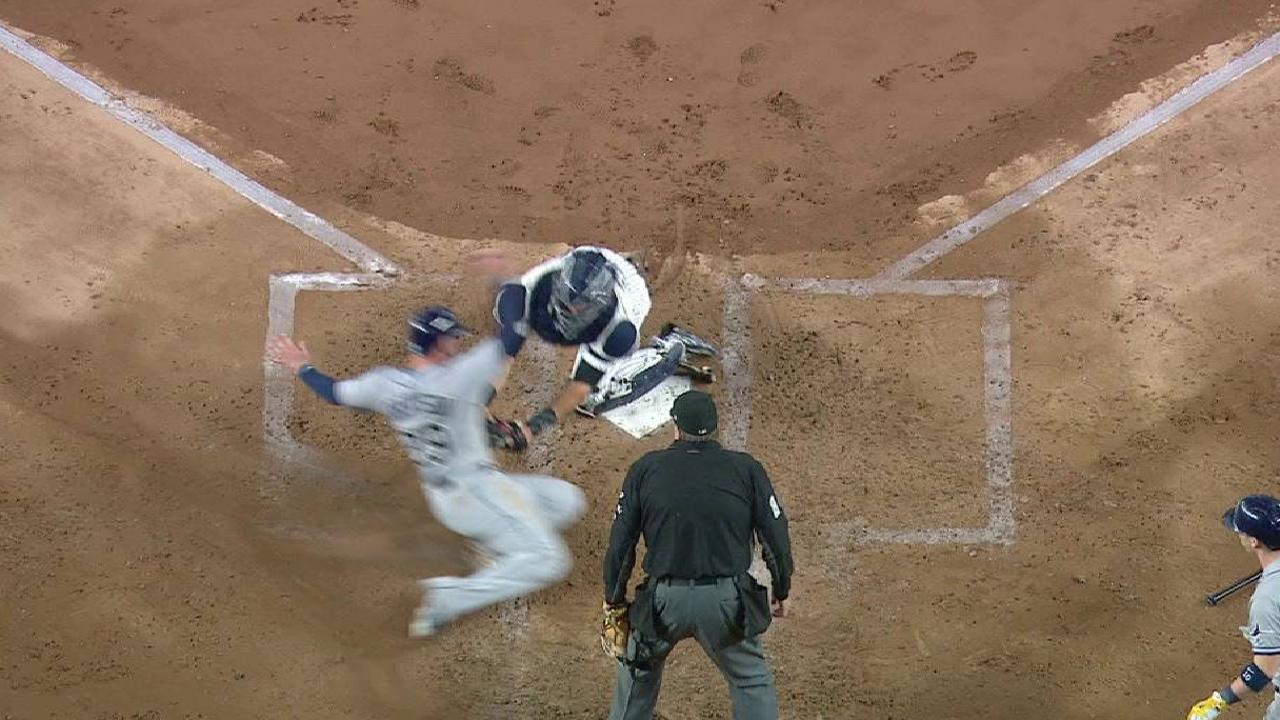 In 122 games, Gardner compiled 205 putouts, with 10 assists, no errors and one double play started. According to FanGraphs, his 17 Defensive Runs Saved (DRS) paced the AL, ahead of Gordon (nine) and Upton (eight).
Though he finished behind Mookie Betts of the Red Sox among right fielders, Judge will have more opportunities to add hardware to an incredible rookie campaign that included an AL-leading 52 home runs, breaking Mark McGwire's 1987 record for the most hit by a rookie. The 25-year-old is a near lock to win the AL Rookie of the Year Award and is among the candidates for the AL Most Valuable Player Award.
In 141 games, Judge compiled a .982 fielding percentage with 265 putouts, with five assists, five errors (three fielding, two throwing) and two double plays started. His nine DRS, according to FanGraphs, were second among AL right fielders to Betts' Major League-leading 31.
Major League managers and coaches, voting only within their league and unable to vote for players on their own teams, account for the majority of the selection process. There is also a statistical component.
Bryan Hoch has covered the Yankees for MLB.com since 2007. Follow him on Twitter @bryanhoch and on Facebook. This story was not subject to the approval of Major League Baseball or its clubs.