#AwardWorthy: Vote Best Postseason Moment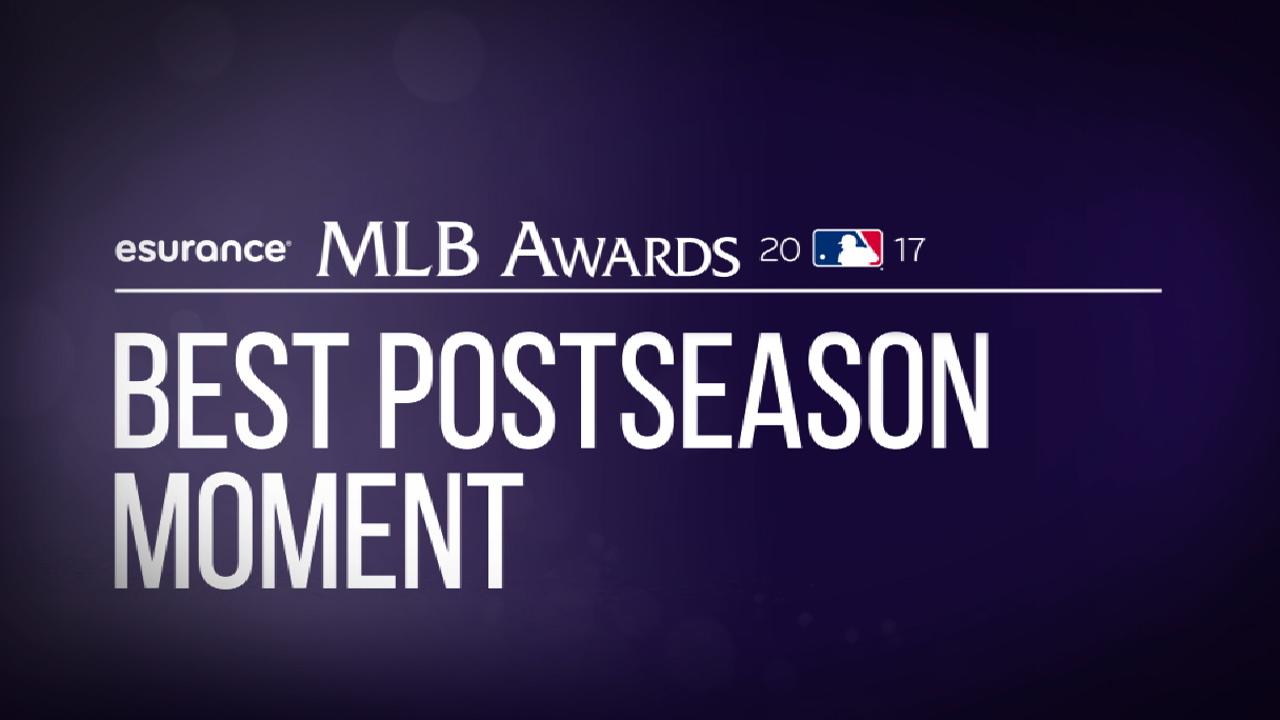 There were a record-tying 38 postseason games involving 10 teams, four series that went the distance, 1,746,109 fans through the gates (45,950 average), and millions more who watched and listened around the world over multiple media platforms.
There was a World Series that will be talked about for generations, a Game 5 that caused delirium, and an Astros team that flooded the streets of Houston with parade and pride after floodwater ruled two months earlier. Houston's victory made it a record 17 years in a row with a new champion in Major League Baseball, extending the longest active streak of competitive balance.
After all that, the players have moved on to some well-deserved offseason R&R, and now it is your turn to step up to the plate. Voting is underway at MLB.com for Best Postseason Moment in the ongoing Esurance MLB Awards; here is a closer look at your six nominees.
Lindor's game-changing slam
American League Division Series Game 2, CLE vs. NYY, Oct. 6
The Yankees may have eventually shocked the Indians in the ALDS, but the vanquished nevertheless shall have the "moment" to remember in this category. After a controversial hit-by-pitch went unchallenged by New York manager Joe Girardi, Francisco Lindor hit a grand slam, and Cleveland was on its way to a dramatic comeback victory in Game 2.
"The way everyone battled and everyone got together, that was pretty special to watch," Lindor said after hitting the fifth slam in Indians postseason history. "And [it was] one of the most amazing experiences of my life."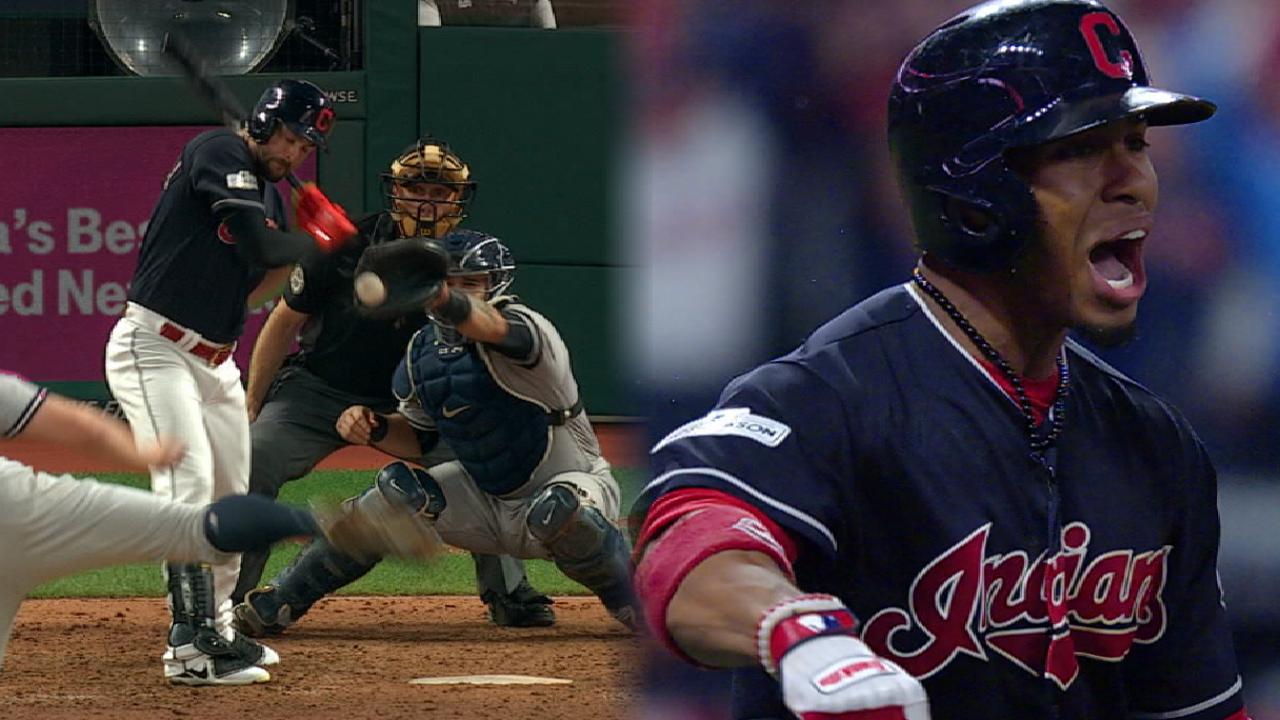 Turner walks it off
National League Championship Series Game 2, LAD vs. CHC, Oct. 15
After a spectacular season for a 104-win Dodgers team, Justin Turner was just warming up. He caused bedlam at Chavez Ravine with a walk-off homer against the defending World Series champion Cubs, and he did it on the 29th anniversary of Kirk Gibson's "miracle homer" in the same venue. That was the key blow in a series that gave the Dodgers their first NL pennant since that '88 campaign.
"That's something that, down the road, hopefully many, many years from now, I'll get to tell stories about," said Turner, who watched Gibson's feat as a 3-year-old on his grandmother's couch in Lakewood, Calif.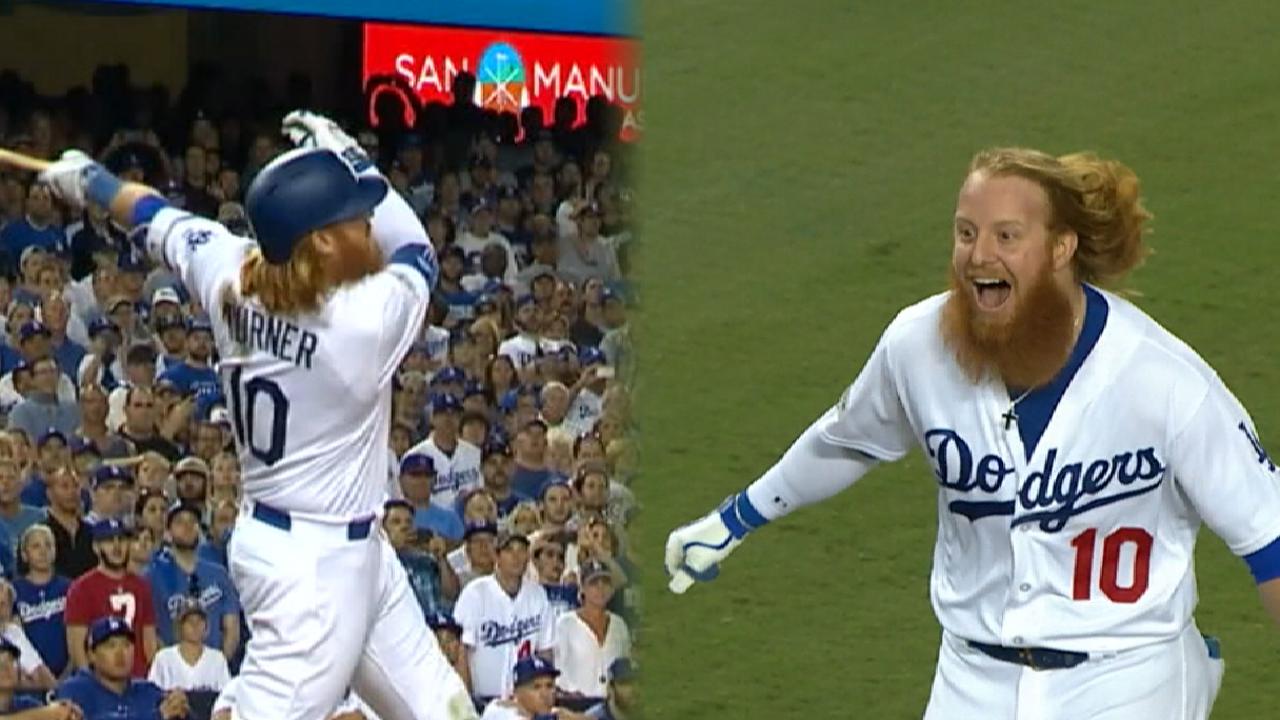 Astros' aggressive walk-off
AL Championship Series Game 2, HOU vs. NYY, Oct. 14
Jose Altuve went from first to home in just 10.27 seconds, according to Statcast™'s sprint speed measurement, scoring the Game 2 winner on Carlos Correa's double in the ninth inning. If this nominee wins, then Astros third-base coach Gary Pettis is going to need to share part of the hardware.
"Gary's out of his mind," George Springer joked of the bold decision to send Altuve home. "It worked. I love it. That was crazy."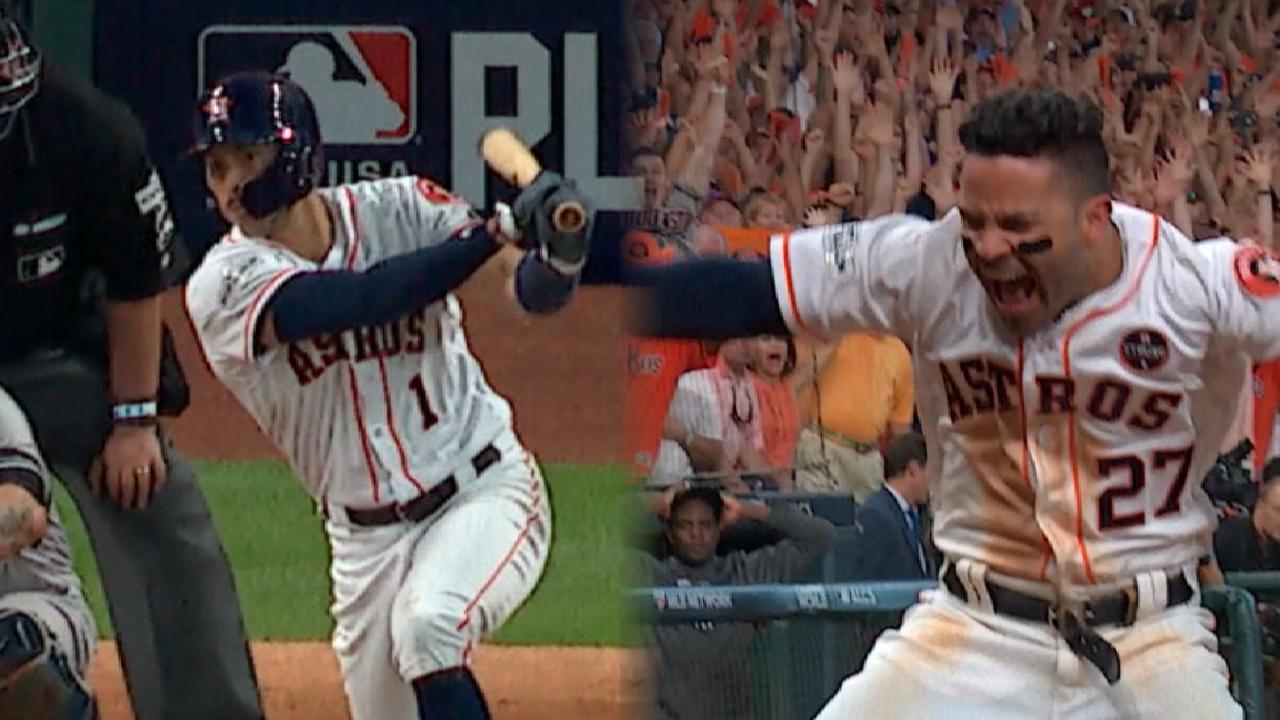 Bregman ends epic Game 5
World Series Game 5, HOU vs. LAD, Oct. 29
It will be remembered as one of the greatest postseason games ever, along with Game 6 of the 1975 World Series and others in an elite class. It featured one wild shift after another, men rising to the occasion seemingly at will and Houston surviving to take a 3-2 World Series lead. There were game-tying homers from Yuli Gurriel, Altuve and Springer, but it was Alex Bregman who had the final say with a 10th-inning knock that scored pinch-runner Derek Fisher.
The first walk-off hit of Bregman's career was also the fifth by a third baseman in World Series history, and the first since David Freese in 2011.
"It makes everything worth it; every weight that you lifted in the offseason, every swing that you took in the cage," Bregman said. "When you feel like you came through for your team, and you see the joy on their faces, there's nothing like it. It's such a special feeling that I'm so fortunate and blessed to feel."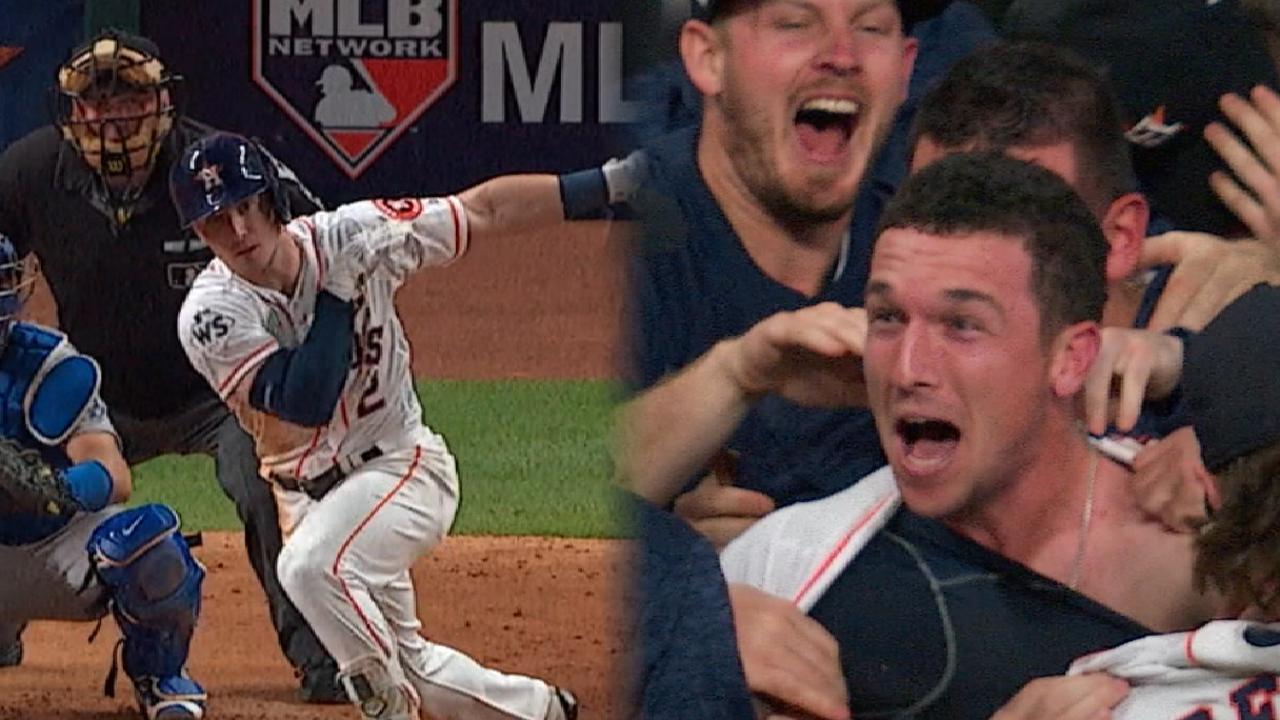 Springer's Fall Classic feat
World Series Game 7, HOU at LAD, Nov. 1
There were so many special performances in this Fall Classic, but on the final night, the World Series MVP Award winner was a no-doubter. Springer doubled off Yu Darvish in the first inning and scored, then chased him with a two-run homer in the second ... and the decisive game was never close thereafter. Springer became the first player to go deep in four consecutive World Series games and tied a record with his fifth overall homer of the series.
"This is a dream come true," said Springer during the postgame celebration. "It's an honor [to win Series MVP]. But you know what? It's about the Houston Astros tonight and our city and our fans. We're coming home a champion, Houston."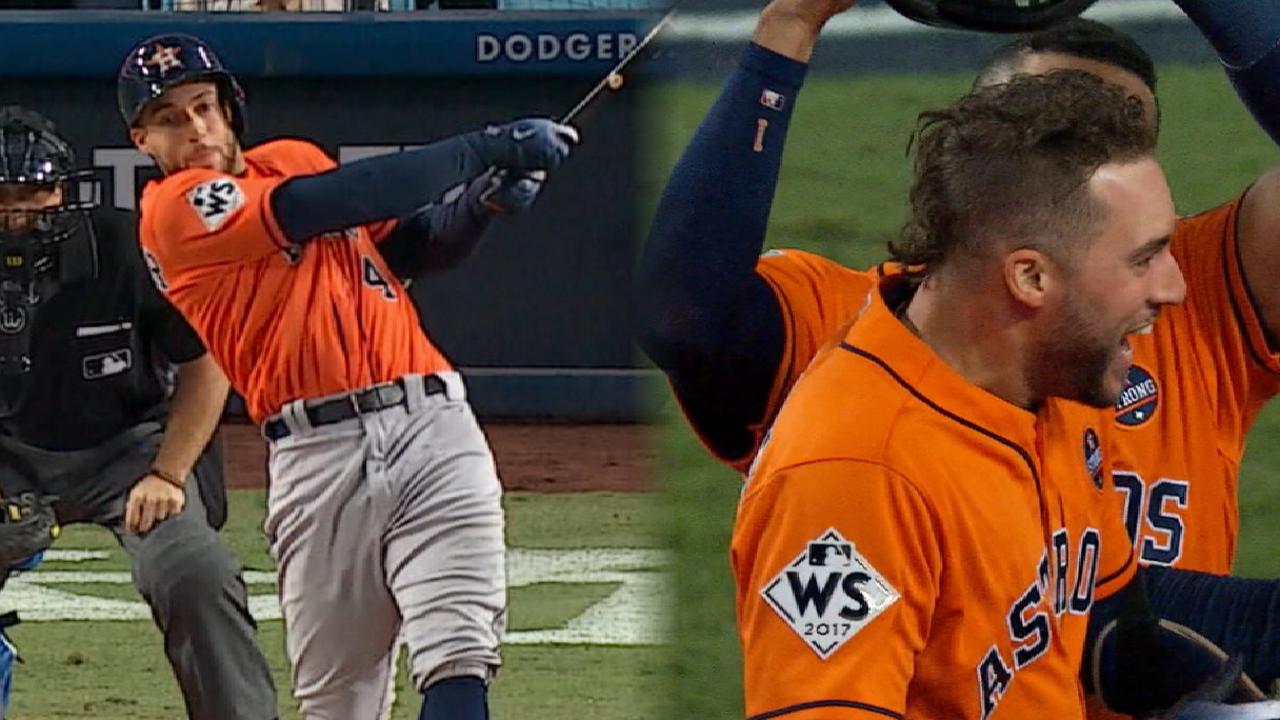 Correa's Classic proposal
World Series Game 7, HOU at LAD, Nov. 1
What can be better than helping your team to a World Series title and hoisting the Commissioner's Trophy and celebrating with your teammates? For Correa, there was a beautiful encore that no one will ever forget. He got down on one knee during the on-field ceremony and proposed to his girlfriend, Daniella Rodriguez. She said yes.
"I took a big step in my life," Correa said that night. "I just got engaged after winning the World Series."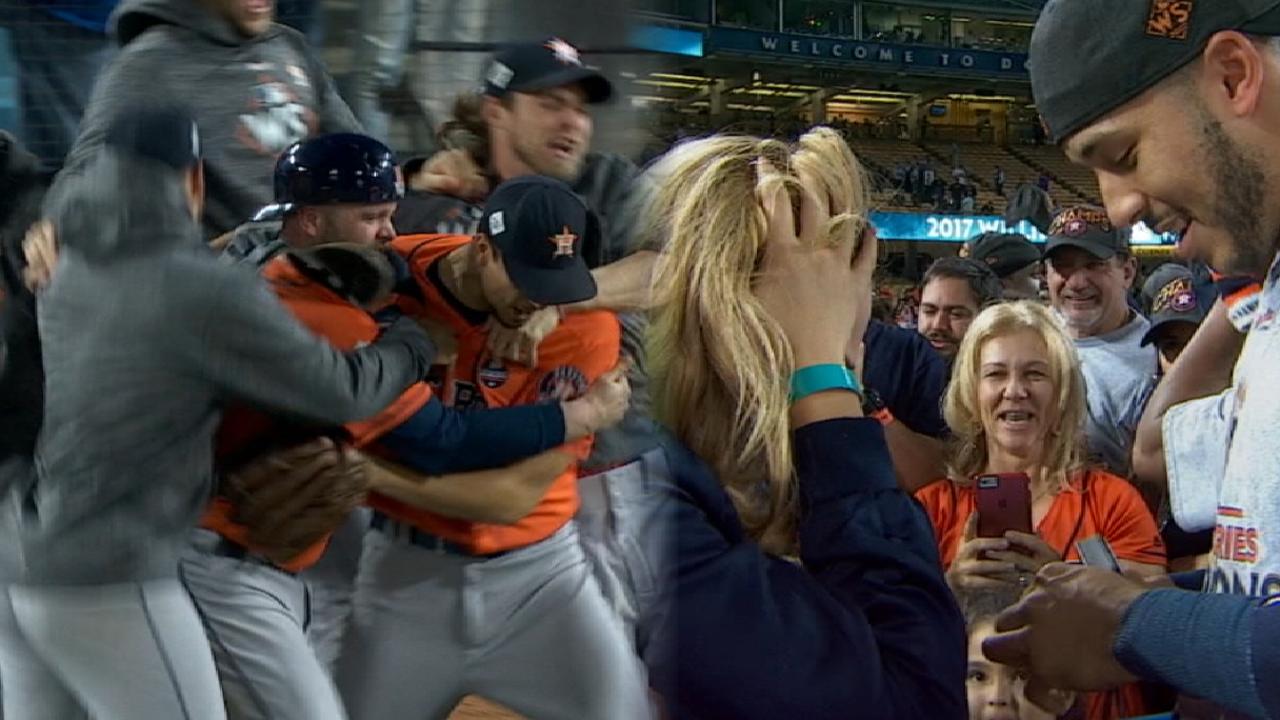 The Esurance MLB Awards annually honor MLB's greatest achievements as part of an industry-wide balloting process that includes five groups, each of which accounts for 20 percent of the overall vote: media, front-office personnel, retired MLB players, fans at MLB.com and Society for American Baseball Research (SABR) members.
The MLB Awards are an all-inclusive program, encompassing the top players and performances from both the American and National Leagues from Opening Day through the end of the postseason.
Voting led off with seven categories on Sept. 18 at mlb.com/awards, serving as the grand entrance of a program that unveiled nominees for Best Call, TV/Radio; Best Major Leaguer, Postseason; and Best Postseason Moment following the Fall Classic's final out. The ninth inning of voting will begin around BBWAA Awards week, which opens when the Jackie Robinson Rookie of the Year Award winners are unveiled on Monday, Nov. 13. Voting for the final five categories will begin at 7 p.m. ET on the following dates:
• Best Executive: Thursday
• Best Rookie: Monday, Nov. 13
• Best Manager: Tuesday, Nov. 14
• Best Pitcher: Wednesday, Nov. 15
• Best Major Leaguer: Thursday, Nov. 16
MLB Awards season will culminate on Friday, Nov. 17, when winners are announced live on MLB Network and MLB.com starting at 8 p.m. ET.
Last year, Rajai Davis won for Best Postseason Moment by virtue of his big hit late in the World Series Game 7 thriller against the Cubs.
"It was a moment that I'll never forget," Davis said at last year's indigo-carpet reception in New York after winning the award, and that sentence could easily apply to any of the nominees for the awards that are now ready for your perusal.
Mark Newman is enterprise editor of MLB.com and a baseball writer since 1990. Follow him on Twitter @Marathoner and read and join other baseball fans on his MLB.com/blogs hub. This story was not subject to the approval of Major League Baseball or its clubs.