MLB Buzz: Giants getting 'deeper' on Stanton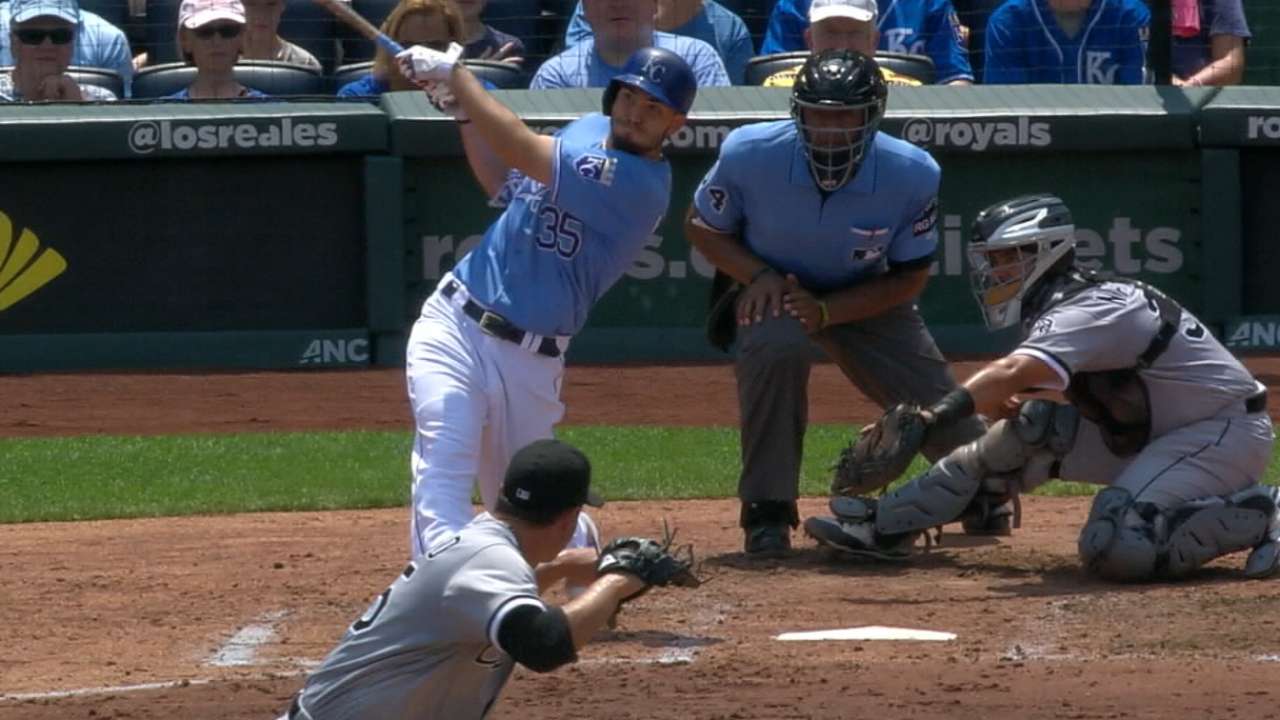 The Hot Stove is open for business. As the top free agents begin to ink new deals and clubs begin to make the moves they think will vault them into contention or put them over the top, MLB.com will have you covered with all the latest buzz right here.
"Deeper discussions" on Stanton
Talks of a trade involving Giancarlo Stanton are intensifying, as the Marlins and Giants have engaged in "deeper discussions" regarding a potential deal for the National League Most Valuable Player, a source told MLB.com's Mark Feinsand.
The Giants appear to be leading the sweepstakes to land the slugger, according to Feinsand, but the Cardinals remain in the running.
The Giants and Cardinals reportedly have submitted formal trade offers to the Marlins for Stanton, who crushed a Major League-leading 59 home runs this year. MLB Network Insider Ken Rosenthal reported the Giants' initial offer for Stanton while a source told MLB.com's Jon Paul Morosi that the Cardinals made their trade offer on Sunday.
According to Craig Mish of SiriusXM, the names discussed in a potential deal with San Francisco were Giants infielder Joe Panik along with outfielder-first baseman Chris Shaw and right-hander Tyler Beede, the club's Nos. 2 and 3 prospects as ranked by MLBPipeline.com. Second baseman Dee Gordon was mentioned as someone who could be accompany Stanton in a possible move to San Francisco, Mish reported. Neither the Giants nor the Marlins have commented on the reports.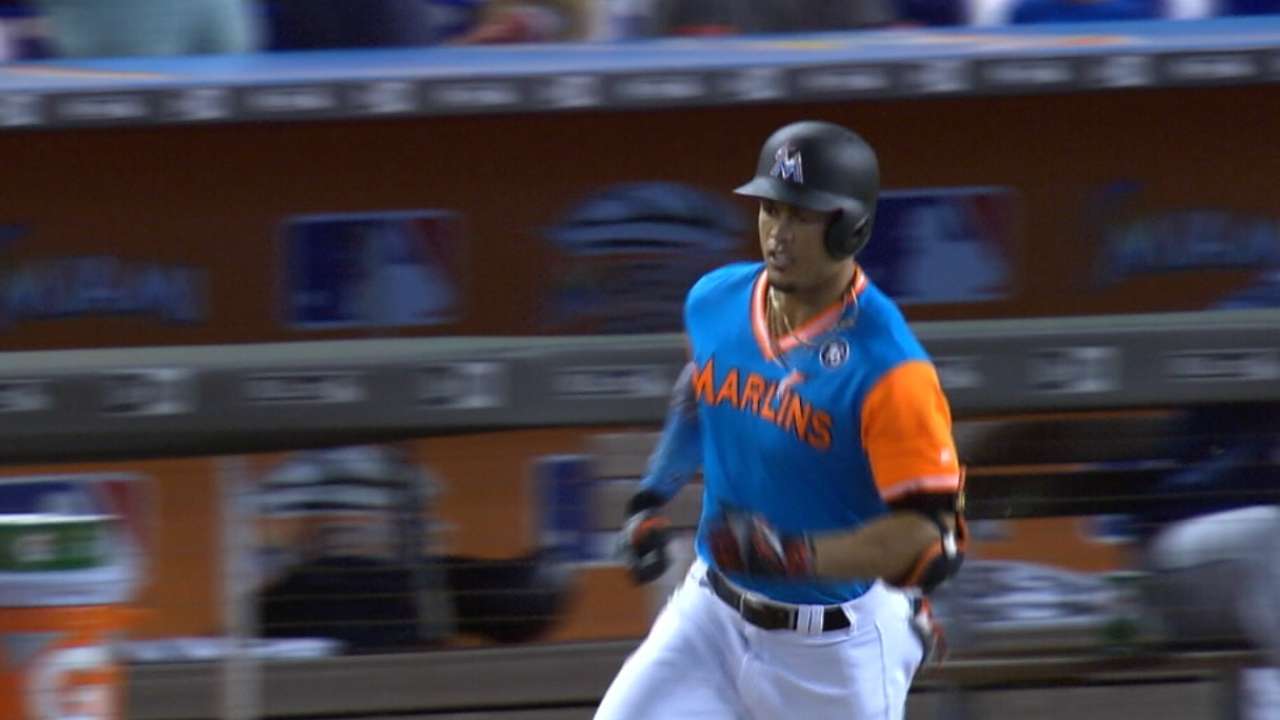 It's unclear exactly what the Cardinals offered in their attempt to acquire Stanton, but they have a plethora of young talent, including many outfielders the Marlins could use to replace Stanton. Dexter Fowler, Tommy Pham, Stephen Piscotty and Randal Grichuk could all make sense, plus organizational top 10 prospects Tyler O'Neill (No. 4), Harrison Bader (No. 5), Magneuris Sierra (No. 6) and Jose Adolis Garcia all appear ready to contribute at the Major League level in the near future.
The Cards have several Major League-ready pitchers to offer as well, with top prospect Alex Reyes (coming off Tommy John surgery), Jack Flaherty (No. 3) and Luke Weaver also potential rotation options.
Several teams have inquired about what the Marlins would want for their slugger, who has 10 years and $295 million remaining on his contract with an opt-out after the 2020 season. But it appears that the Giants and Cardinals are the most serious suitors to acquire Stanton.
However, Rosenthal also reported that the Red Sox have either submitted or plan to submit their first trade proposal imminently.
"I know what I want to do. I need to know what you can do," Marlins president of baseball operations Michael Hill said of the interest in Stanton at last week's General Managers Meetings in Orlando, Fla. "Until I know where you're at on the contract, the money, all that stuff, I can't engage."
Rosenthal noted that clubs' initial offers will not necessarily guarantee serious interest in making a deal, as teams may simply be trying to gauge what the Marlins hope to receive for Stanton. Several factors make any potential swap tricky; besides the enormous price tag, Stanton's contract also includes a full no-trade clause.
The Giants are willing to take on "a sizeable amount" of the money owed to Stanton, according to Rosenthal, though such a move would put San Francisco in danger of exceeding the luxury-tax threshold.
Twins exploring trade options for Cole, Odorizzi
Fresh off their first postseason appearance since 2010, the Twins appear to be looking to add another starter for their rotation. Minnesota has talked with the Pirates about a potential deal for right-hander Gerrit Cole, as well as with the Rays for right-hander Jake Odorizzi, according to a report from Mike Berardino of the Pioneer Press.
Acquiring a front-line starter is Minnesota's top priority this offseason, per Berardino, who says the Twins could also throw their hat into the sweepstakes for Japanese two-way star Shohei Ohtani. Both Cole and Odorizzi present affordable options for Minnesota; both are eligible for arbitration this winter and each pitcher will be under team control until 2020.
Cole, 27, went 12-12 with a 4.26 ERA for the Pirates last season, and finished fourth in the 2015 National League Cy Young Award vote. Odorizzi, also 27, finished 2017 with a 10-8 record and 4.14 ERA for Tampa Bay.
The Twins' search for a quality starter could extend further than Cole and Odorizzi. Minnesota has not contacted the Marlins about Dan Straily, but Berardino noted the righty could be a "great match" with three years of team control remaining on his contract. Berardino also reported that the Twins could try to acquire left-handed reliever Justin Wilson, who began 2017 with the AL Central rival Tigers before he was dealt to the Cubs at the non-waiver Trade Deadline.
Minnesota benefited from a solid season from Ervin Santana at the top of its rotation, as well as an encouraging sophomore season from youngster Jose Berrios. The rest of the Twins' 2018 rotation is more unclear. Bartolo Colon is a 44-year-old free agent, though he has already stated he'd like to return to the Majors for another season. Kyle Gibson recorded a 5.07 ERA over 29 starts, the second-most on the team. It's unclear what Phil Hughes can provide after he was ineffective to begin 2017 before he was sidelined with lingering issues from thoracic outlet syndrome.
Mets talking about Kinsler with Tigers
Veteran Tigers infielder Ian Kinsler has been the subject of preliminary trade negotiations between Detroit and the Mets, sources tell MLB.com's Jon Paul Morosi. Among the many other clubs interested in dealing for Kinsler are the Angels, as first reported by the Detroit Free Press' Anthony Fenech, and some of Kinsler's suitors may be interested in having the longtime second baseman play third base in a contract year next season, when he will make $11 million.
The Angels, who are looking for infield help, are also showing interest in Zack Cozart and Neil Walker, according to ESPN's Jerry Crasnick. Meanwhile, free-agent third baseman Mike Moustakas has the team atop his wish list. As currently constructed, the Angels are slated to start Luis Valbuena at third base and Kaleb Cowart at second, although they could use an upgrade as they ranked 21st and 28th in WAR at those positions, respectively.
Los Angeles' interest in Cozart would be contingent upon him being willing to move off shortstop, as it already has Gold Glover Andrelton Simmons entrenched there. Cozart has never played an inning away from shortstop in his seven-year career, but he did slash a career-best .297/.385/.548 with a career-high 24 home runs and seven triples in 2017.
Walker could play second or third but has largely stuck to second base in his career. He slashed .265/.362/.439 with 14 home runs for the Mets and Brewers last season -- similar numbers to another veteran infielder the Angels expressed interest in: Kinsler.
Moustakas, who was born in Los Angeles and went to high school in Chatsworth, would likely be the most expensive of the infielders rumored to be tied to the Angels. He set a Royals record with 38 home runs, finishing tied for fifth in the league in that category.
Iwakuma considering return to Seattle
Free-agent right-hander Hisashi Iwakuma is mulling an offer to return to the Mariners, he told reporters in Japan on Monday.
Iwakuma was sidelined for much of the 2017 season with shoulder issues. He underwent arthroscopic debridement surgery in late September and is hoping to recover in time for next season.
"Hopefully, I will be able to make a positive announcement soon," Iwakuma told the Japan Times.
Iwakuma, 36, has spent his entire six-year Major League career with the Mariners, going 63-39 with a 3.42 ERA through 150 games (136 starts). Seattle declined his $10 million club option for 2018, but has reportedly extended him a new contract offer. More »
Brewers interested in top-of-the-rotation starters
The Brewers are in the market for top-flight starters and have shown particular interest in free-agent right-hander Jake Arrieta, a source tells MLB.com's Jon Paul Morosi.
Arrieta, the 2015 National League Cy Young Award winner, is one of the best available starters on the market. The 31-year-old has been one of the top hurlers in the NL since he was traded from the Orioles to the Cubs in 2013. He went 68-31 with a 2.73 ERA in 128 starts for Chicago over the past five seasons with 793 strikeouts in 803 innings. He's made at least 25 starts in each of the past four years.
The Brewers have a need for a rotation upgrade after losing Jimmy Nelson for a portion of the 2018 season due to surgery on the right-hander's shoulder. It's unclear exactly how much time Nelson will miss, but he was a big part of the club's success in 2017. The 28-year-old had a breakout season that saw him go 12-6 with a 3.49 ERA and 199 strikeouts in 175 1/3 innings across 29 starts.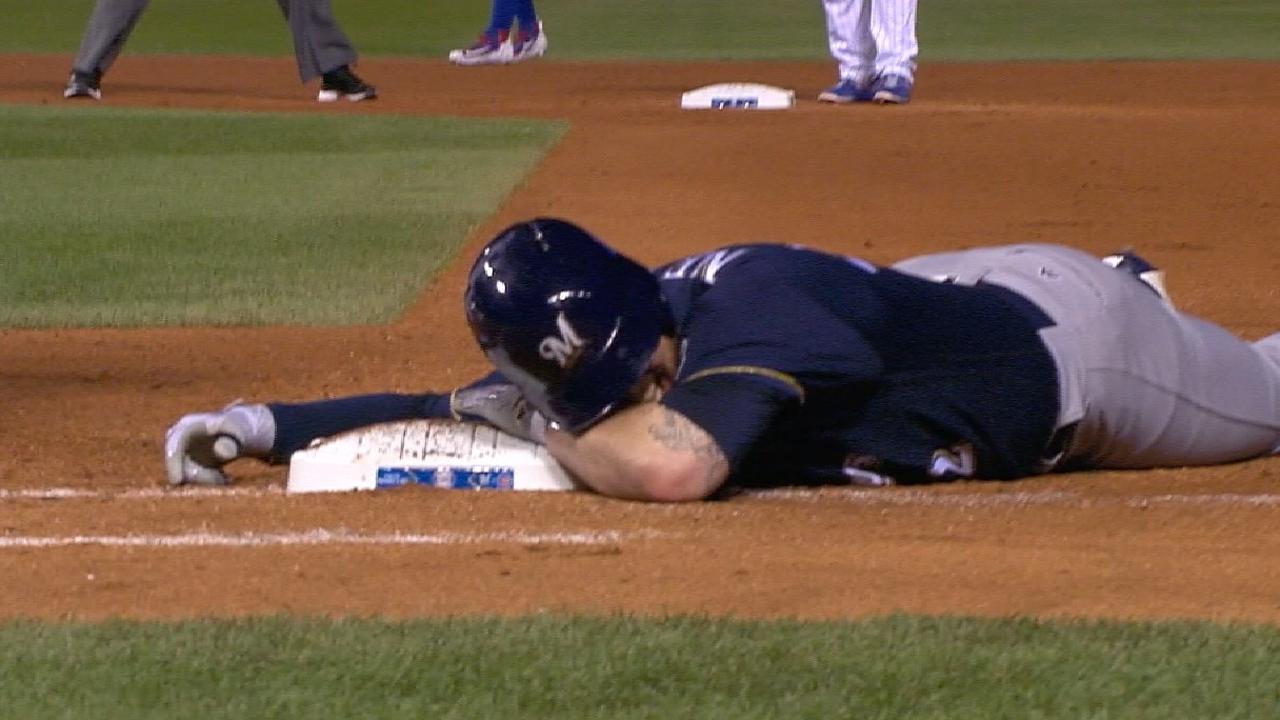 Former Rangers and Dodgers starter Yu Darvish is also available in free agency, but the Brewers have not been linked to the veteran righty, and its not clear whether they have interest in signing him. Arrieta and Darvish are the top two starters available on the free-agent market, but if the Brewers are unable to land one of them, it's conceivable they could target a pitcher like Alex Cobb or Lance Lynn at a lower price. More >
O's open to discussing 'pen pieces
Due to roster shortages and contract dilemmas, ESPN's Buster Olney is reporting that the Orioles are willing to listen to offers for their more expensive relievers.
Those pieces reportedly include elite closer Zach Britton and likely Darren O'Day and Brad Brach.
Due to the timing of Baltimore's need to move pieces of its bullpen, it's unlikely that the club can expect as much in return as it would like.
The Orioles were in talks with teams during last season's non-waiver Trade Deadline about Britton. One of the teams most interested during that time was the Dodgers, who have reportedly reached out again.
Britton made $11.4 million last season and is due for a raise in his third year of arbitration before becoming a free agent at the end of 2018.
The Royals were in a similar situation with reliever Wade Davis last winter. He was set to make $10 million in 2017 before hitting free agency. The club ultimately traded him to the Cubs for outfielder Jorge Soler The decision didn't pay off for the Royals. It's a gamble the Orioles may find themselves in if they choose to trade Britton soon. Yet if the offers aren't what they want, the club could keep him until the start of the 2018 season or swap him during the season.
Santana continues to draw interest from Red Sox, Phillies
The Red Sox and Phillies remain interested in free-agent first baseman/designated hitter Carlos Santana, according to MLB.com's Jon Paul Morosi. The two clubs were first reported to have interest in the 31-year-old slugger last week.
Santana slashed .259/.363/.455 with 23 home runs for the Indians in 2017. He also won the first defensive honor of his career, being named the Wilson Defensive Player of the Year at first base.
The Red Sox are looking to fill a void at first base with Mitch Moreland also on the free-agent market. The Red Sox are hopeful Hanley Ramirez can play first after undergoing left shoulder surgery, but Boston could also have Ramirez DH.
The Phillies, meanwhile, currently have Rhys Hoskins at first. Hoskins hit 18 homers in 50 games as a rookie last season. A first-base acquisition such as Santana would necessitate a move of Hoskins to left field.
Yanks move to top of Ohtani sweepstakes
The Yankees may be emerging as the favorites to land Shohei Ohtani, if the two-way Japanese phenom does indeed come to the Major Leagues this offseason as he hopes. According to a report from MLB Network Insider Jon Heyman on Friday, "many Yankee competitors are now viewing them as the supreme favorite" to sign Ohtani.
The Yankees' popularity worldwide could bring a player like Ohtani more global exposure. In addition, playing in the American League could give Ohtani an opportunity to both bat and pitch, thanks to the designated hitter.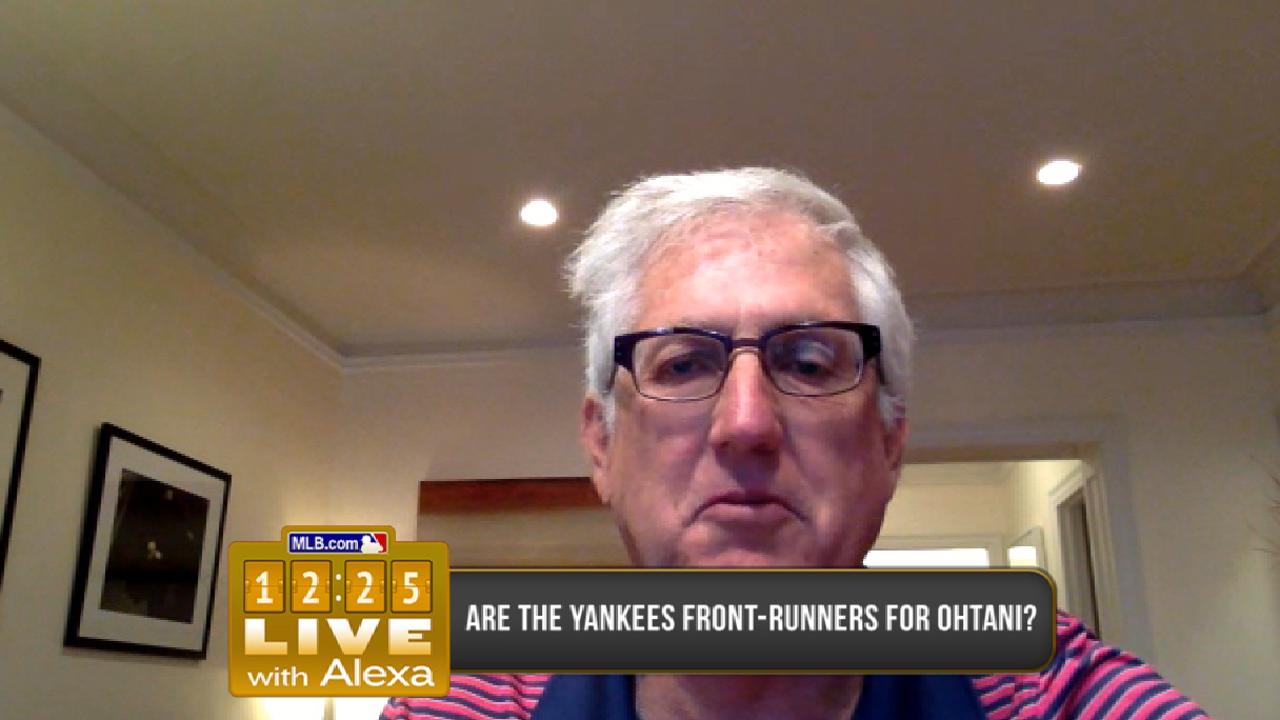 A National League executive told Heyman that "The Yankees are the favorite, there's no other way to look at it."
The Yankees and Dodgers play in MLB's biggest markets, but the Mariners and Rangers have also landed Japanese stars -- most notably Ichiro with the Mariners and Yu Darvish with the Rangers.
Still, New York and Los Angeles might hold an advantage for Japanese players, according to Heyman's report, due to the teams' reputation and their history of successful signings, including Masahiro Tanaka and Hideki Matsui for the Yankees and Kenta Maeda and Hideo Nomo for the Dodgers.
Cubs and Yankees finalists for Cobb?
Though several teams have been linked to free agent Alex Cobb so far this offseason, the market for the right-hander could come down to the Cubs and Yankees, according to GammonsDaily.com, which cites "industry consensus" that those two clubs would be finalists for Cobb's services.
Cobb, 30, went 12-10 with a 3.66 ERA for the Rays in 2017, and in six seasons with Tampa Bay, posted a 3.50 ERA and 1.22 WHIP. The Cubs and Cobb had previously been reported to have mutual interest, with Cobb having played for Cubs manager Joe Maddon when Maddon managed the Rays.
But the Yankees' interest in Cobb is a bit surprising given that starting pitching isn't really a need for New York, and signing Cobb could put the franchise over the luxury tax threshold.
Other teams that have been linked to Cobb include the Blue Jays, Orioles and Phillies.
Chatwood drawing widespread interest
Tyler Chatwood has posted sneaky good numbers the last few years for the Rockies and it appears he is about to be rewarded for it.
Now a free agent at age 27, the right-hander is drawing widespread interest from teams and is predicted to receive a multi-year deal, MLB.com's Jon Paul Morosi reports.
While Chatwood's 4.69 ERA and league-leading 15 losses in 2017 look less than stellar on the surface, the ground-ball specialist actually comes out as above average when accounting for Coors Field and the league-wide uptick in offense.
Chatwood's ERA-, which accounts for such factors, stands at 94, the same mark as Jhoulys Chacin, who finished the season with a 3.89 ERA pitching half his games at Petco Park.
The numbers look even better when isolating what Chatwood has done away from Coors Field in the last couple years. Since the beginning of the 2016 season, Chatwood's 2.57 road ERA ranks second in the NL in ERA, behind only Clayton Kershaw and ahead of Max Scherzer, the 2016 and '17 NL Cy Young winner.
Yankees pursuing Profar?
There doesn't seem to be an obvious place for Jurickson Profar given the Yankees' current roster alignment and the prospects to come on the horizon. But New York has nonetheless expressed interest in acquiring the former top prospect from the Rangers, according to MLB Network insider Joel Sherman. And the interest makes sense when you look below the surface a bit.
Once the top prospect in the game, Profar is still just 24 years old. He's disappointed at the big league level due to injuries and poor production, but he also has the ability to play anywhere on the field. The Yankees may be set in the infield and most spots in the outfield, whether it's with incumbents like Didi Gregorius and Starlin Castro, or prospects Clint Frazier and Gleyber Torres. But few players match the potential versatility Profar can bring: basically, an ability to back up at any position.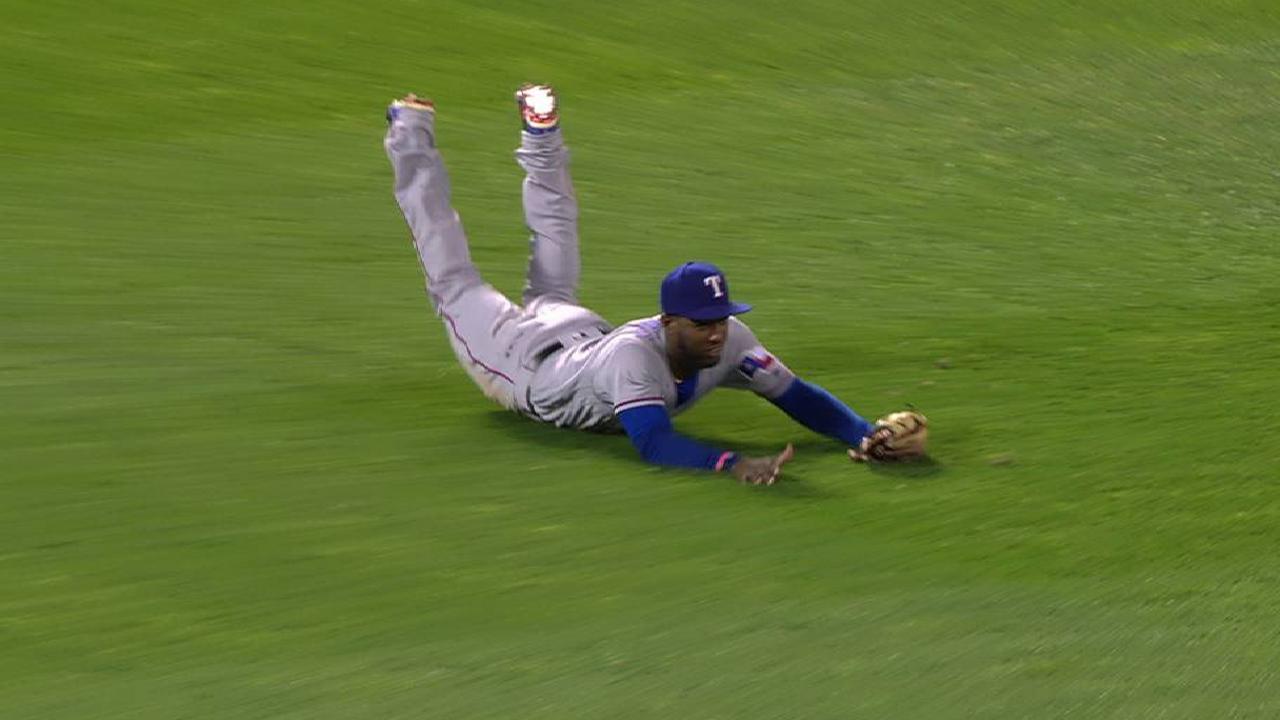 The Rangers are interested in the Yankees' abundance of young pitching, according to Sherman. That group includes Luis Cessa, Bryan Mitchell, Caleb Smith, Chasen Shreve, Jonathan Holder and others who have made limited impact at the Major League level. The Rangers consider starting pitching a priority this offseason.
And this might be the time for Texas to part ways with Profar if it feels he'll bring back a significant return. Profar is out of options, meaning he needs to make the 25-man roster next season or be exposed to waivers. If exposed, it stands to reason plenty of teams would take a shot at a player who was considered the best prospect in the sport as recently as four years ago.
But shoulder injuries derailed his development early, forcing Profar to miss the entire 2014 and '15 seasons. When he returned, Profar's production flatlined at the big league level (.660 OPS in 307 plate appearances) as a 23-year-old in '16. He managed just 70 plate appearances with Texas in '17, hitting .172 with no home runs.
Profar played mostly shortstop at Triple-A Round Rock last season, though he has experience at second base, third, first and the outfield. He played center field for the Netherlands in last spring's World Baseball Classic.
Rays show interest in Joey Bats
The Rays have faced Jose Bautista as a division rival for the last decade, but now they're interested in bringing him in as a free agent, according to MLB.com's Jon Paul Morosi.
The former Blue Jay hit a career-low .203 last season with a career-high 24.8 percent strike-out rate, but he did launch 23 home runs. He recently said he'd be willing to play any outfield or infield corner position and designated hitter instead of just his customary right field.
The Rays have open spots at first base and designated hitter, although left fielder Corey Dickerson could easily slide back to DH.
Morosi did note that the two parties have not had an extensive dialogue yet, but the teams did have discussions last winter when Bautista was a free agent before returning to Toronto.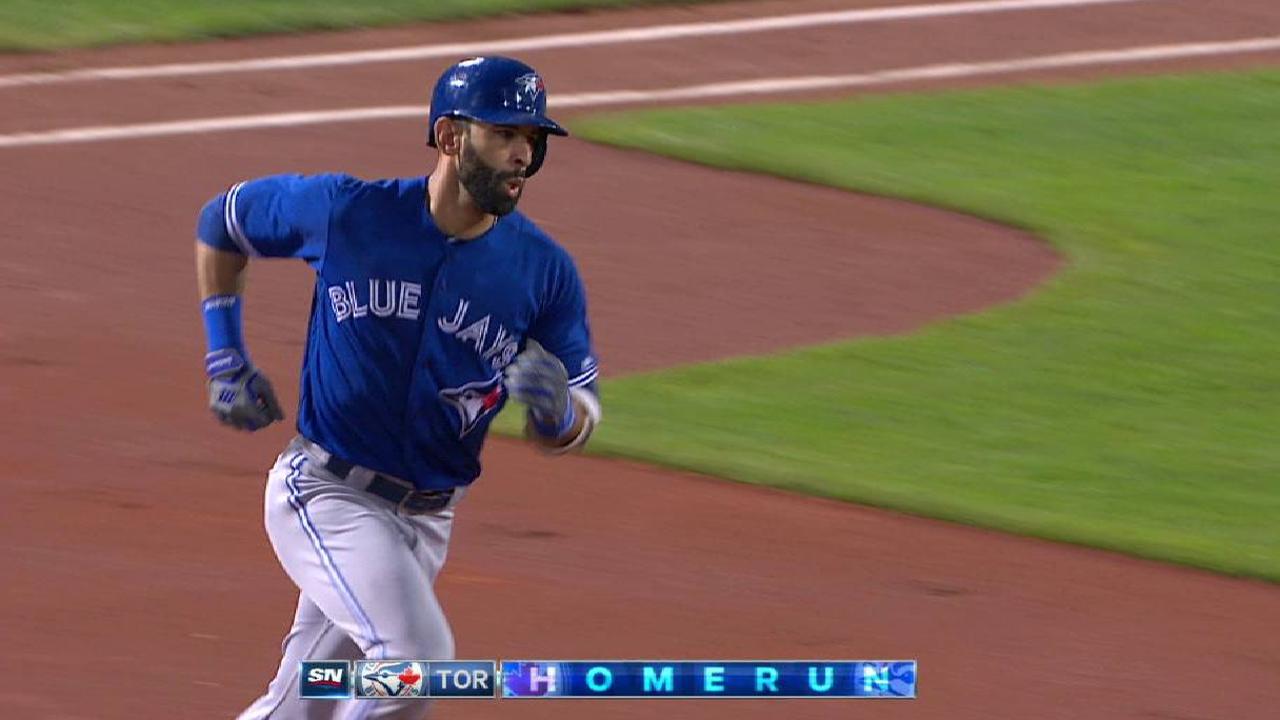 Walker reunion in Pittsburgh?
With some uncertainty in their infield, the Pirates are looking into a reunion with hometown hero Neil Walker, a source tells Morosi.
The Pirates are uncertain if third baseman Jung Ho Kang will be able to re-enter the country after his off-field troubles, so the team is considering other options.
A native of Pittsburgh, Walker was a first-round pick of the Pirates in 2004 and spent the first seven years of his career in black and yellow. Primarily playing second base, Walker slashed .272/.338/.431 with 93 home runs and 26 steals in 836 games.
Without Kang, the Pirates have Rookie of the Year runner-up Josh Bell entrenched at first base with Jordy Mercer penciled in at shortstop. Beyond that, Josh Harrison will man either second or third base. Pittsburgh's other internal options include David Freese, Sean Rodriguez and Adam Frazier.
Rays, Cardinals discussing Colome deal
The Cardinals, who are known to be in the market for bullpen help, are in talks with the Rays regarding a possible trade for closer Alex Colome, sources told MLB.com's Jon Paul Morosi.
St. Louis is looking for a closer, with Trevor Rosenthal out through the 2018 season following Tommy John surgery and with Juan Nicasio and Seung Hwan Oh departing the club in free agency.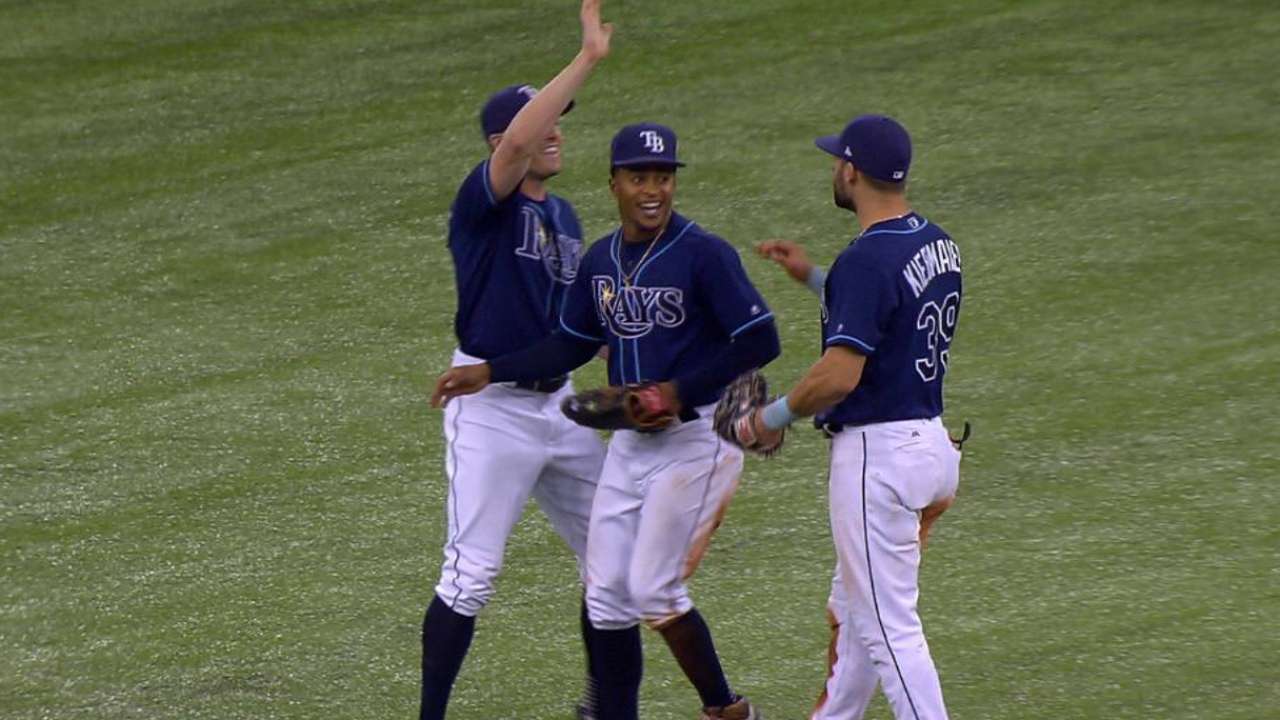 Colome, 28, led the Major Leagues with 47 saves last season while recording a 3.24 ERA in 66 2/3 innings. He was also an American League All-Star in 2016, when he locked down 37 saves and struck out 71 batters in 56 2/3 frames while pitching to a 1.91 ERA.
Colome is a particularly attractive target for the Cardinals considering he has three years left of arbitration eligibility.