'They deserve this': Astros, fans set for parade
Celebration begins 2 p.m. CT Friday in downtown Houston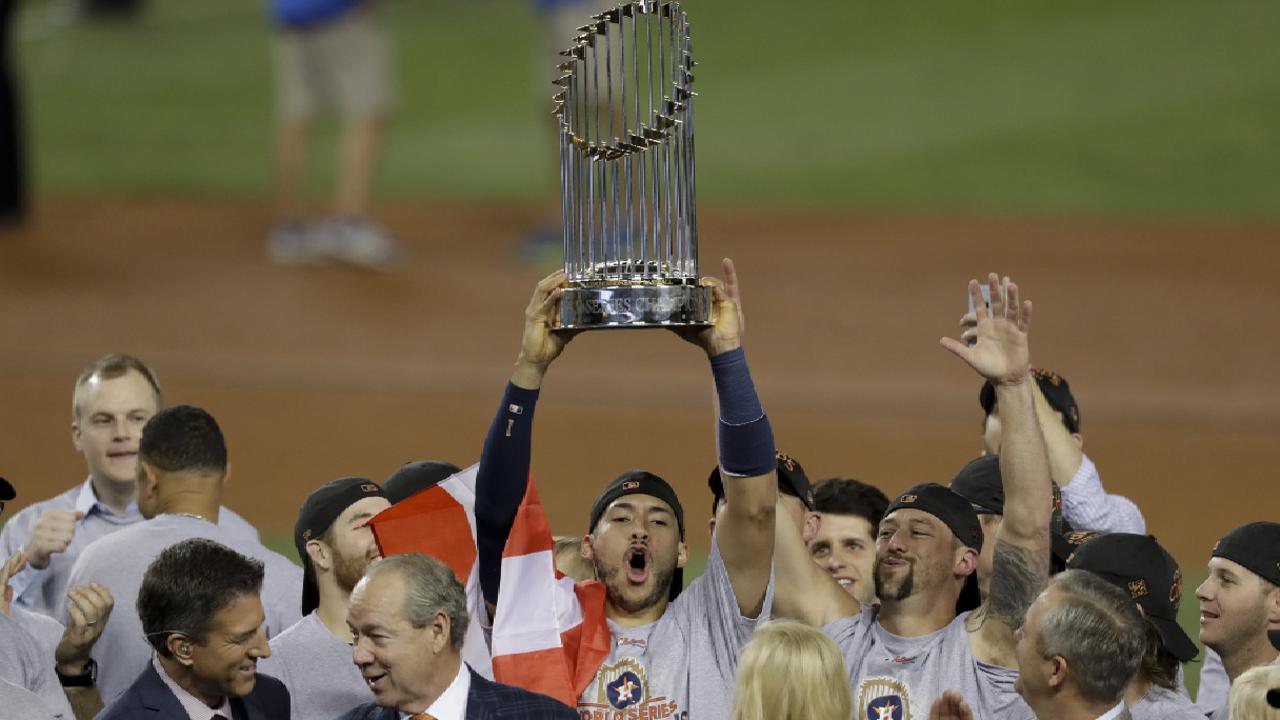 HOUSTON -- Who doesn't love a parade? Certainly not fans of the Astros, who will gather on the streets in downtown Houston on Friday afternoon for what figures to be one of the biggest parades in the city's history to celebrate the 2017 World Series champions.
The Astros, who beat the Dodgers, 5-1, in Game 7 of the World Series on Wednesday night at Dodger Stadium to win their first World Series championship, will be paraded through the streets of downtown, beginning at 2 p.m. CT. Live coverage of the parade can be seen on MLB Network and MLB.com beginning at 3 p.m. ET. MLB.com will also capture all of the excitement leading up to the parade with real-time photos and videos through its In Real Life coverage.
The parade begins and ends at City Hall, where Astros owner Jim Crane, manager A.J. Hinch, Houston mayor Sylvester Turner and members of the Astros will address the crowd following the parade on the steps of City Hall. The route begins at the corner of Smith and Lamar Streets just a couple blocks away from Sam Houston Park and will then proceed north on Smith Street before winding its way through downtown.
"I exhaled and I was really thrilled for our team," Hinch said after Wednesday's game. "It won't hit us until we get home in front of our whole city and we celebrate and we bring the trophy home. … We played pretty deep this year so we'll soak all this up."
The Astros celebrated in their hotel in downtown Los Angeles late Wednesday before flying home to Houston on Thursday with the Commissioner's Trophy in tow. Astros fans will get their first look at it during the parade. The Houston Independent School District canceled classes for Friday, and some other area districts are allowing kids to skip school with an excused absence to honor the champs.
• Springer tucks in trophy for flight
"They wanted everybody to be proud of us," Hinch said of the fans. "They wanted to win a championship as much as we did. They supported us in the good times. I know there were some lean years a few years back, but it will be long forgotten with a championship."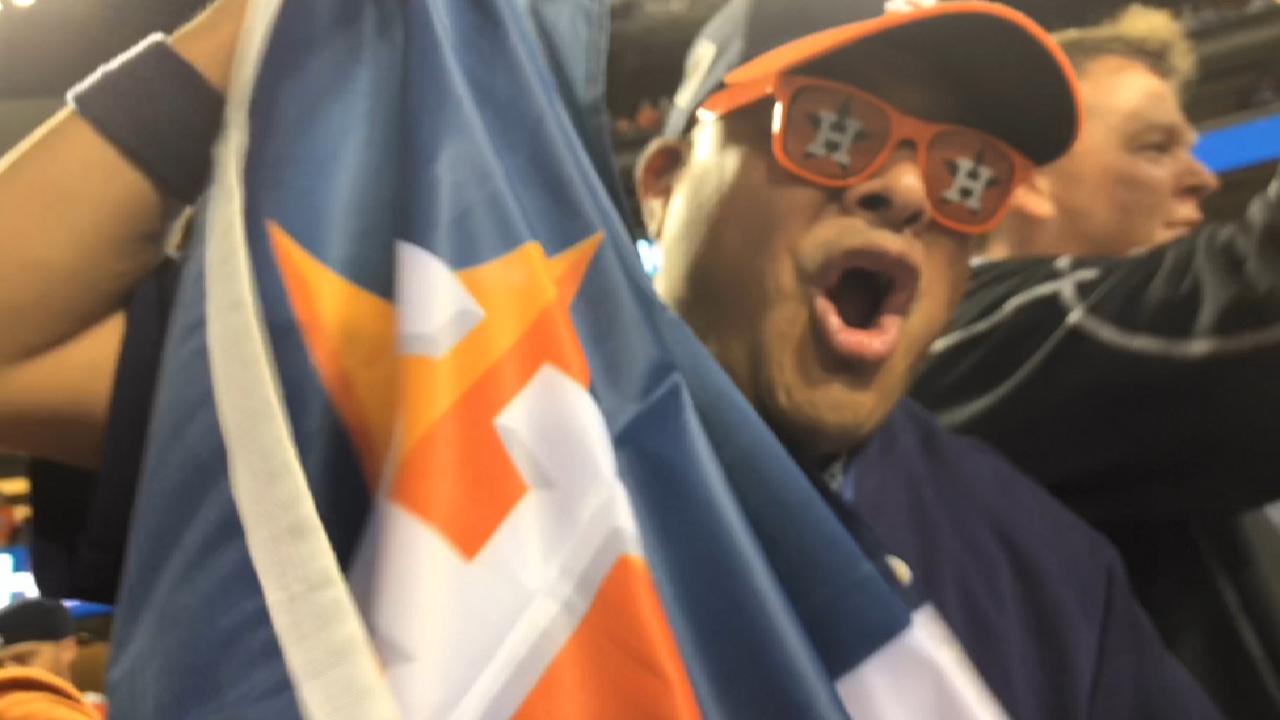 Indeed. The Astros lost at least 106 games in three consecutive seasons, bottoming out at 111 losses in 2013 -- their first year in the American League. As they continued to stockpile young talent through trades and the Draft, the wins started to come.
This year, Houston fans grew to love Jose Altuve, Carlos Correa, George Springer, Alex Bregman, Yuli Gurriel, Josh Reddick, Dallas Keuchel and, of course, Justin Verlander. It was the first World Series title for every player on the roster, and the first major sports title for the city of Houston since the NBA's Houston Rockets won back-to-back championship from 1994-95.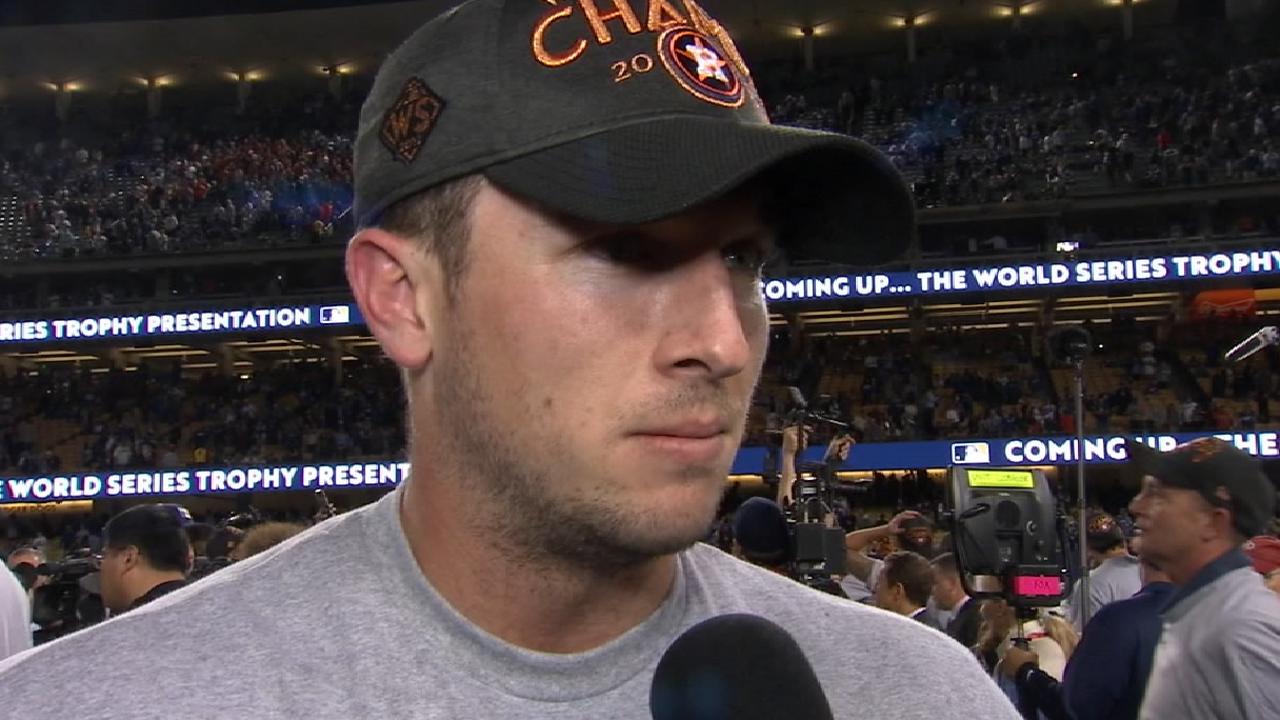 The fans rallied around the Astros following the August devastation of Hurricane Harvey, which caused widespread flooding and damage and killed more than two dozen people in the area in August. The Astros began wearing a "Strong" patch on their chests, and a city and a baseball team were joined forever.
• Fans celebrate at Minute Maid Park
After an unforgettable journey through October, Astros fans will get one final chance to cheer the champions on streets that will be filled with orange.
City @astros #WorldSeries Championship Victory Parade info here https://t.co/uuEnrbbAmX #EarnHistory #HistoryEarned pic.twitter.com/Ik4EgZDSx3

— City of Houston (@HoustonTX) November 2, 2017
"I don't think you can put it into words what it means to the people of Houston," Keuchel said. "We wear that patch and we wore it proudly. The people in Houston are never far from our minds. We know they're at Minute Maid watching, they're going crazy for us. … They deserve this as much as we do, man, and we're going to party hard."
Brian McTaggart has covered the Astros since 2004, and for MLB.com since 2009. Follow @brianmctaggart on Twitter. This story was not subject to the approval of Major League Baseball or its clubs.