Inbox: What could the Marlins get for Stanton?
Beat reporter Joe Frisaro answers questions from Miami fans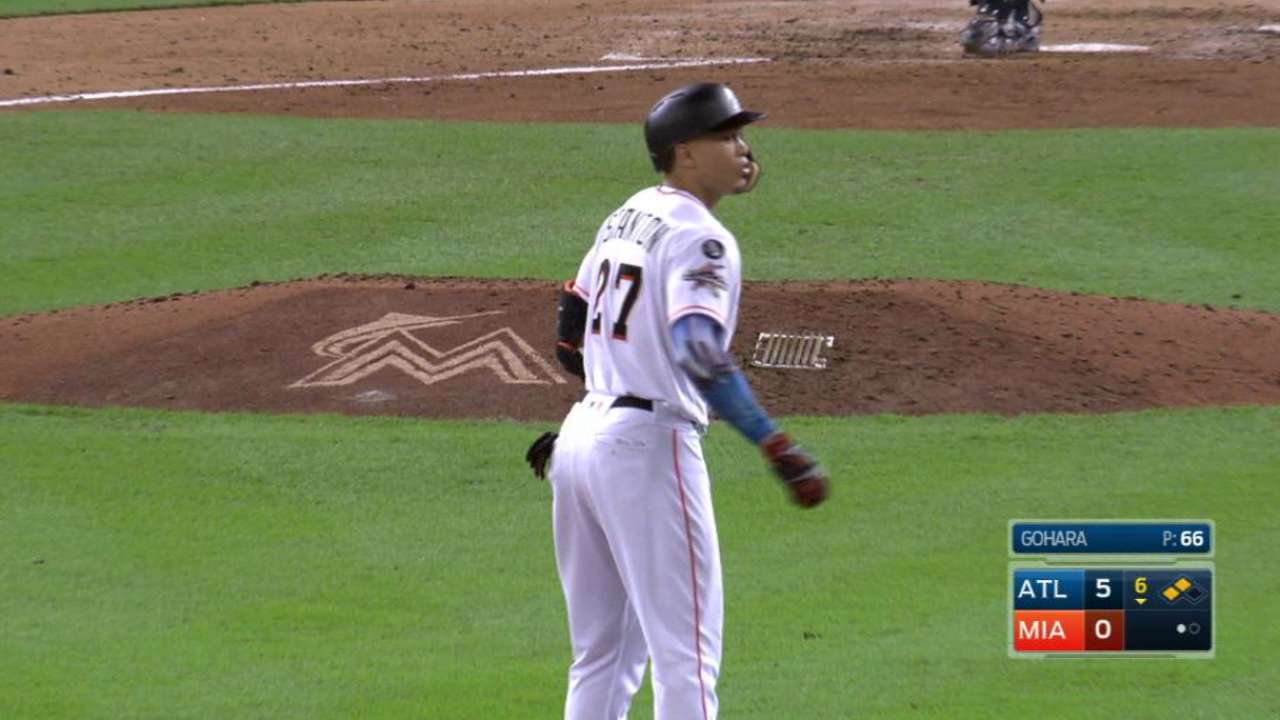 If Giancarlo Stanton is dealt, are the Marlins getting back prospects or big leaguers?
-- @JasonParness
What I've been told is that trading Stanton is a "realistic option." But -- and there's always a but -- because of the four-time All-Star's full no-trade and opt-out clauses, it will be an involved process. That's not saying that a deal couldn't be reached around the Winter Meetings, but it will take some work. Foremost, Stanton must sign off on any move, which he likely would do because he wants to be on a contending team. Stanton's salary rises to $25 million in 2018, and there is $295 million remaining on the entire deal.
My opinion is Stanton will be traded at some point. Maybe it will be before Spring Training, or maybe he could spend one more year -- or at least part of it -- in Miami if the right fit isn't in place. It will be difficult to get another club's top prospects unless Miami picks up at least some of the rest of the contract. That said, a trade still could be constructed, and if Stanton likes the fit, he could agree to lift the clause that allows him to opt out after 2020.
• Submit a question to the Marlins Inbox
Something else to consider is that the free-agent class next offseason includes stars like Bryce Harper and Manny Machado. Speculation is that both will strike deals worth more than Stanton's $325 million. So if Stanton is kept for another season, he could be considered a bargain to some clubs. The risk there is Stanton doesn't back up his MVP-worthy 2017 with another big year.
If/when a member of the outfield is traded, does Braxton Lee have a legitimate chance to be an Opening Day starter?
-- @PastyA_
When Lee was acquired from the Rays as part of the Adeiny Hechavarria trade, many in the organization said he reminded them of Brett Gardner. With all the Yankees' ties to the Marlins, maybe they will have a similar evaluation. If so, Lee could be a prominent player for Miami in 2018. A plus defender who can play all three outfield positions, Lee is a left-handed hitter who will represent the Marlins on Saturday in the Fall Stars Game at the Arizona Fall League. Whether Lee is a starter or fourth outfielder is something that still must decided. But if the Marlins like what they see from Lee so far, it could impact whether they pick up the $2 million club option on Ichiro Suzuki.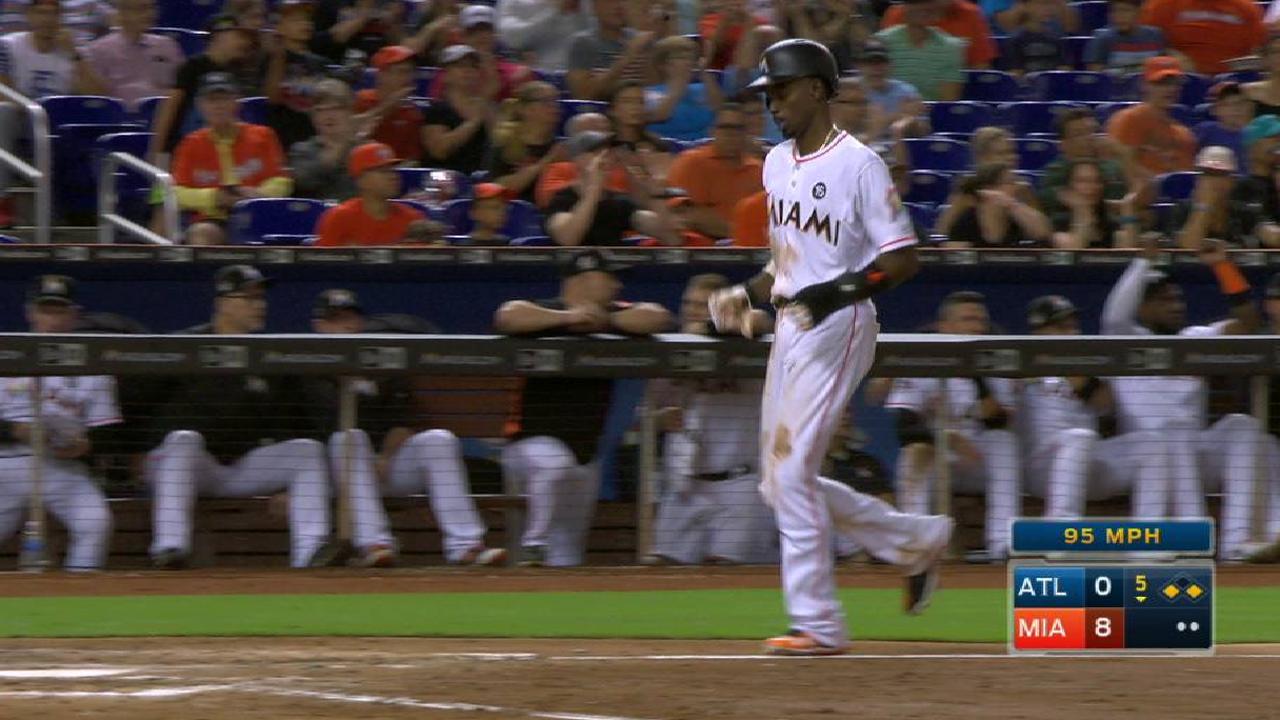 Hitting, power and average was great. How will they address starters without trading too much? The team also needs bullpen help.
-- @NoParty2016
This is the challenge. There is a recognition that the offense is productive. They scored 778 runs, which was 11th most in the Majors. The Dodgers were behind them, at 12th with 770, so the offense is ready to contend. To balance the scales and upgrade the pitching will likely mean moving at least part of the core position players. I don't expect all three outfielders -- Stanton, Christian Yelich and Marcell Ozuna -- to be back. But that doesn't mean two of them won't return. So a trade or two could be made for impactful starters.
Then the question would be payroll and what the true play is. There are reports that it will be $90 million, but that may not be the final figure on Opening Day. If there is a feeling the Marlins can trade off some parts and spend some to fill in the holes, they might still be able to contend in 2018 but with an eye on building a solid foundation for the near future. I don't think the intention is a long rebuild.
What is Derek Jeter's philosophy regarding analytics and its effect on the Marlins moving forward? In the future, will the Marlins hire a manager with analytics experience?
-- @drguava
From what I've gathered, the Marlins will lean more on analytics than in the past, but they will also rely on the opinions of their baseball people. So I see a blend of both. But it's hard to ignore the increased amount of information, and Jeter noted at his introductory news conference that the expansion of analytics is something he has to look more closely into. Manager Don Mattingly is certainly open to analytics. We saw a bit of that in 2017 with an increased emphasis on starters and how they fare the third time through the order, and that's just one example.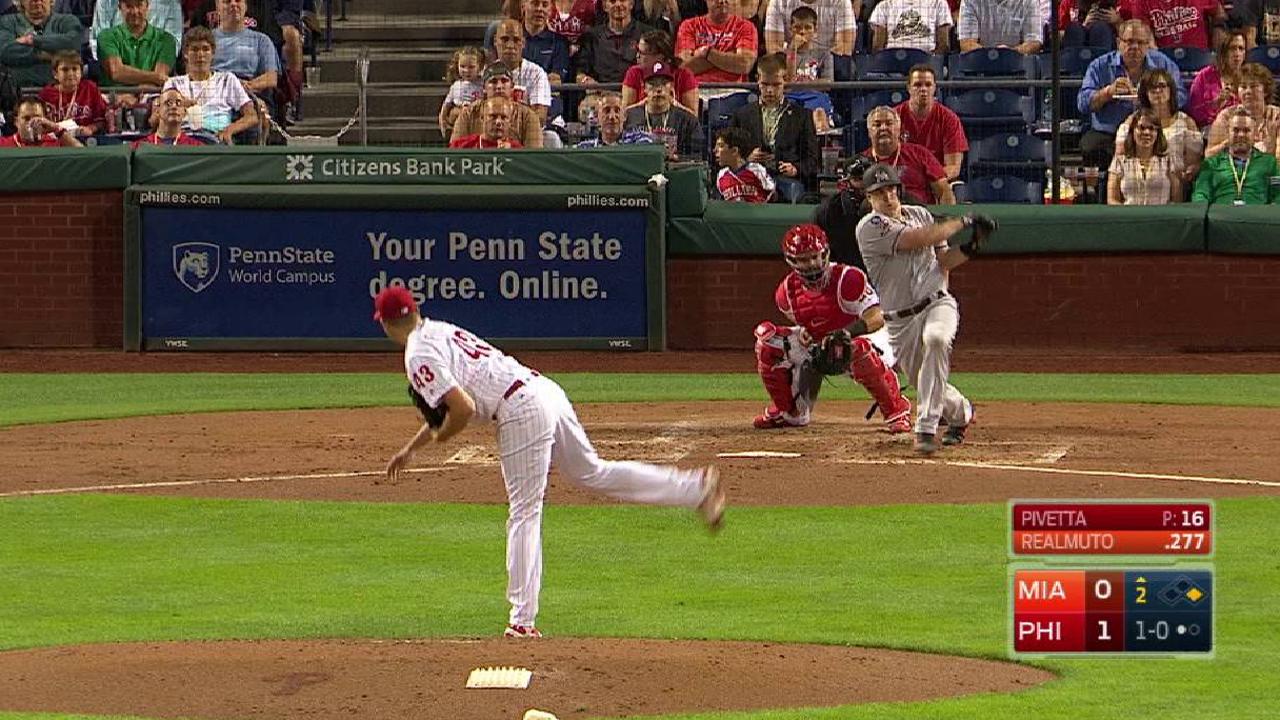 Do you think J.T. Realmuto is the long-term answer at catcher, or do you see him as a fielder going forward?
-- @ZachGluck
Yes, I see Realmuto catching. Obviously, his athleticism offers the option to play first base. But he is a premier catcher, and he will stay that way. Maybe later in his career, playing in the field could be more of an option.
Joe Frisaro has covered the Marlins for MLB.com since 2002. Follow him on Twitter @JoeFrisaro and listen to his podcast. This story was not subject to the approval of Major League Baseball or its clubs.