Astros, Dodgers set World Series G7 lineups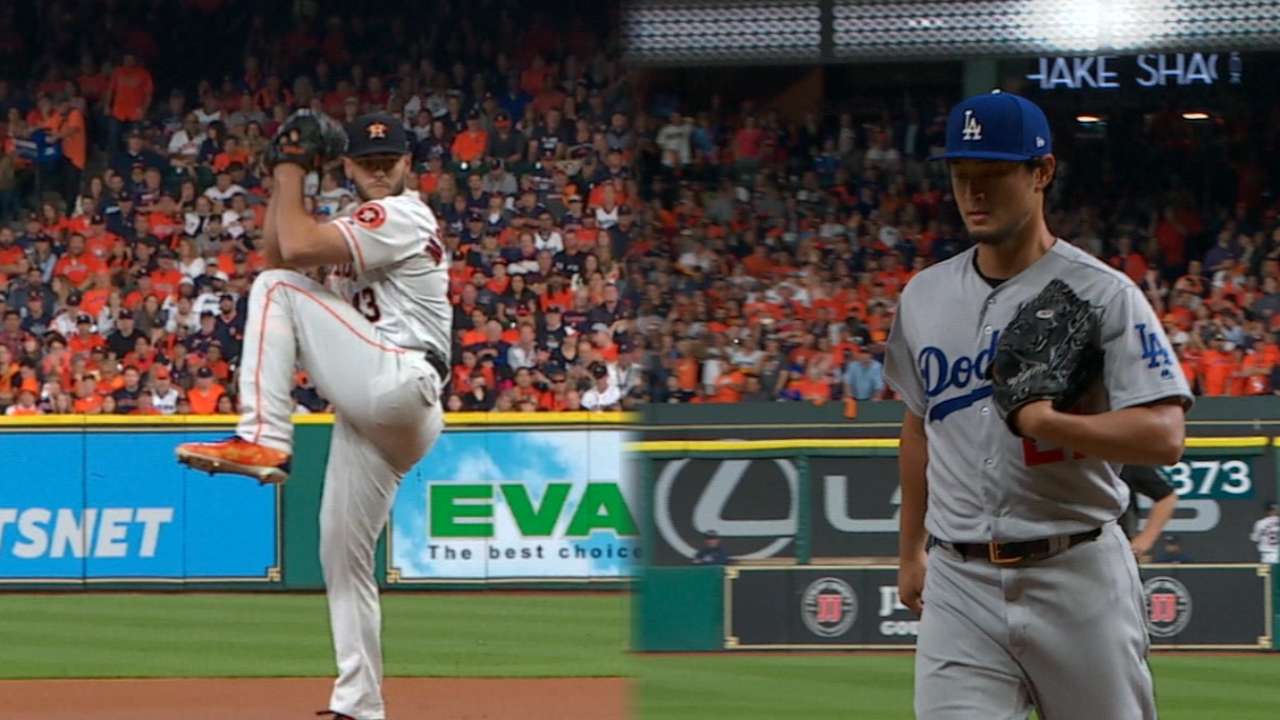 The Astros and Dodgers have announced their starting lineups for tonight's winner-take-all Game 7 of the World Series, and they will keep things the same from Game 6.
Game 7 at Dodger Stadium should be one for the ages, with six great games already in the books. In a rematch of Game 3 in Houston, the Dodgers will start right-hander Yu Darvish against Astros right-hander Lance McCullers Jr., although all hands will be on deck in the final game of the 2017 season.
• Gear up for the World Series: Astros | Dodgers
Here's how the lineups look for Game 7:
ASTROS
Astros manager A.J. Hinch will use the same lineup he has used in each of the three previous games in Los Angeles, although Houston only scored one run in both Game 1 and Game 6.
Although they are facing a right-handed starter, the Astros' first five hitters are all right-handed, as Dodgers lefty ace Clayton Kershaw is available to pitch.
Houston hitters are very familiar with Darvish, as the right-hander spent 4 1/2 seasons with the division-rival Rangers. During the regular season, George Springer has homered off of him twice, while Carlos Correa added another homer, but as a whole, the starting lineup only has a .198 average against Darvish in 131 at-bats.
During Game 3, the Astros hit Darvish hard and chased him after 1 2/3 innings, scoring four runs on six hits without striking out. Yuli Gurriel went deep off him, while Springer, Jose Altuve and Josh Reddick all doubled.
1. George Springer, CF
2. Alex Bregman, 3B
3. Jose Altuve, 2B
4. Carlos Correa, SS
5. Yuli Gurriel, 1B
6. Brian McCann, C
7. Marwin Gonzalez, LF
8. Josh Reddick, RF
9. Lance McCullers Jr., P
DODGERS
Dodgers manager Dave Roberts is sticking with his same lineup that won Game 6, a batting order which alternates right-handers and left-handers for the first seven spots in the order.
Los Angeles hitters have limited experience against McCullers -- Logan Forsythe, Yasiel Puig and Justin Turner are the only starters who had seen him before the World Series -- but they did some damage against him in Game 3.
Joc Pederson doubled and walked off the right-hander, while seven of the nine starters reached base against him. All told, the Dodgers scored three runs on four hits and four walks over 5 1/3 innings against McCullers.
1. Chris Taylor, CF
2. Corey Seager, SS
3. Justin Turner, 3B
4. Cody Bellinger, 1B
5. Yasiel Puig, RF
6. Joc Pederson, LF
7. Logan Forsythe, 2B
8. Austin Barnes, C
9. Yu Darvish, P
Ben Weinrib is a reporter for MLB.com based in Cleveland. Follow him on Twitter at @benweinrib. This story was not subject to the approval of Major League Baseball or its clubs.