MLB.com Columnist
Jim Duquette
Predicting destinations for top 25 free agents
Former MLB general manager projects market as free agency begins today at 5 p.m. ET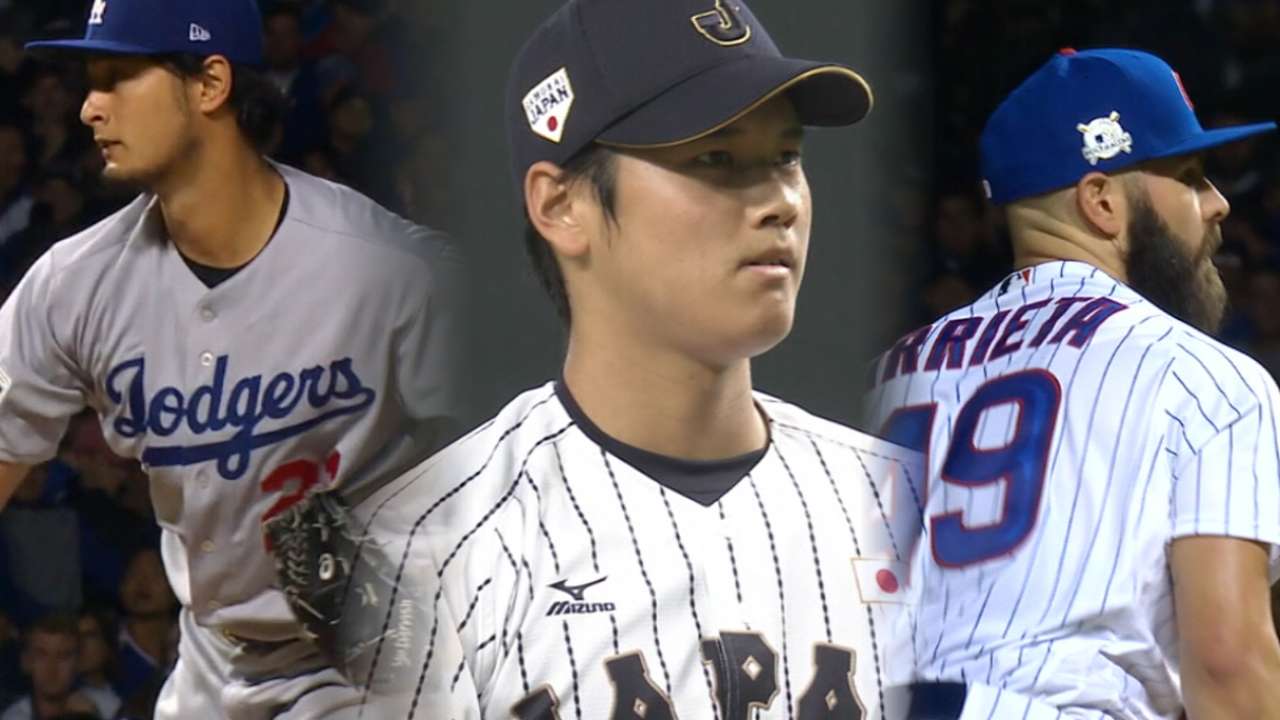 When the clock strikes 5 p.m. ET today, free agents are allowed to sign with all 30 teams, and that is when the Hot Stove fun really begins.
Below, MLB.com studio analyst and columnist Jim Duquette lays out his own ranking of the top 25 players, with his estimated predictions of the contract and signing clubs (based on comparable past signings and team needs). Ages listed are the player's seasonal age for next year, meaning his age as of July 1, 2018.
Note: Superstar Japanese starting pitcher/designated hitter Shohei Ohtani has long been expected to be made available to MLB suitors via the posting system, and he is included here. As of now, however, some details remain outstanding on the rules governing the transfer of players from Japan to North America, so Ohtani's move will have to wait until an agreement is reached by MLB, the MLB Players Association, Nippon Professional Baseball (the league in which Ohtani has played in Japan) and the Hokkaido Nippon-Ham Fighters -- Ohtani's current team.
1. Yu Darvish, 31, RHP
Darvish is the top starting pitcher available, and he should command top dollar, given his stellar stuff and longstanding track record of success. The right-hander showed the ability to adapt late in 2017, tweaking his delivery and pitch mix to spark a strong finish after struggling at times in July. He should command a contract in the range of six years, $140 million, despite his World Series struggles.
Interested teams: Dodgers, Rangers, Yankees, Mariners, Cardinals, among many others
Duquette's prediction: Mariners
2. Shohei Ohtani, 23, RHP/DH
Arguably the top player in the world not affiliated with a big league organization, Ohtani is an extremely intriguing option for multiple reasons. First, the two-way star would be subject to the new CBA's international amateur free-agent rules that would make him one of the best bargains MLB has seen in quite some time. Given his elite arm and bat in Japan, Ohtani could sign as a starting pitcher who serves as a DH or plays the outfield a couple of days between starts. But even if he does not bat with great regularity, Ohtani would look to join Darvish and Masahiro Tanaka as front-of-the-rotation hurlers who successfully transitioned to the Majors after reaching great heights in Japan. But as mentioned earlier, Ohtani's move to North America may be put on hold, as the associated stakeholders continue to negotiate the framework of a potential deal.
Interested teams (once he is available): Yankees, Red Sox, Dodgers, Cubs, Blue Jays, Rangers
Duquette's prediction: Yankees
3. J.D. Martinez, 30, OF
The best acquisition at the non-waiver Trade Deadline, Martinez now tests the free-agent market as the top right-handed power bat available, sporting the highest OPS (1.066) of this year's class. Martinez has shown consistency as a middle-of-the-lineup slugger over the past four seasons, and he can handle either corner outfield position. As a result, he should land a five-year deal in excess of $100 million.
Interested teams: Cardinals, D-backs, Giants
Duquette's prediction: Giants
4. Jake Arrieta, 32, RHP
A severe hamstring strain limited Arrieta to just three starts in September, leaving him shy of 180 innings for the first time in the past three years. But the righty impressed after a slow start to the season, working to a 2.90 ERA with 92 strikeouts in his final 105 2/3 regular-season innings. While his age and declining fastball velocity -- he's lost 2 mph off his fastball since 2015 -- will limit the length of his contract, his quality stuff, impressive postseason track record and durability in previous seasons should help him to earn a five-year deal north of $100 million.
Interested teams: Cubs, Dodgers, Rangers, Orioles, Mariners, Angels
Duquette's prediction: Rangers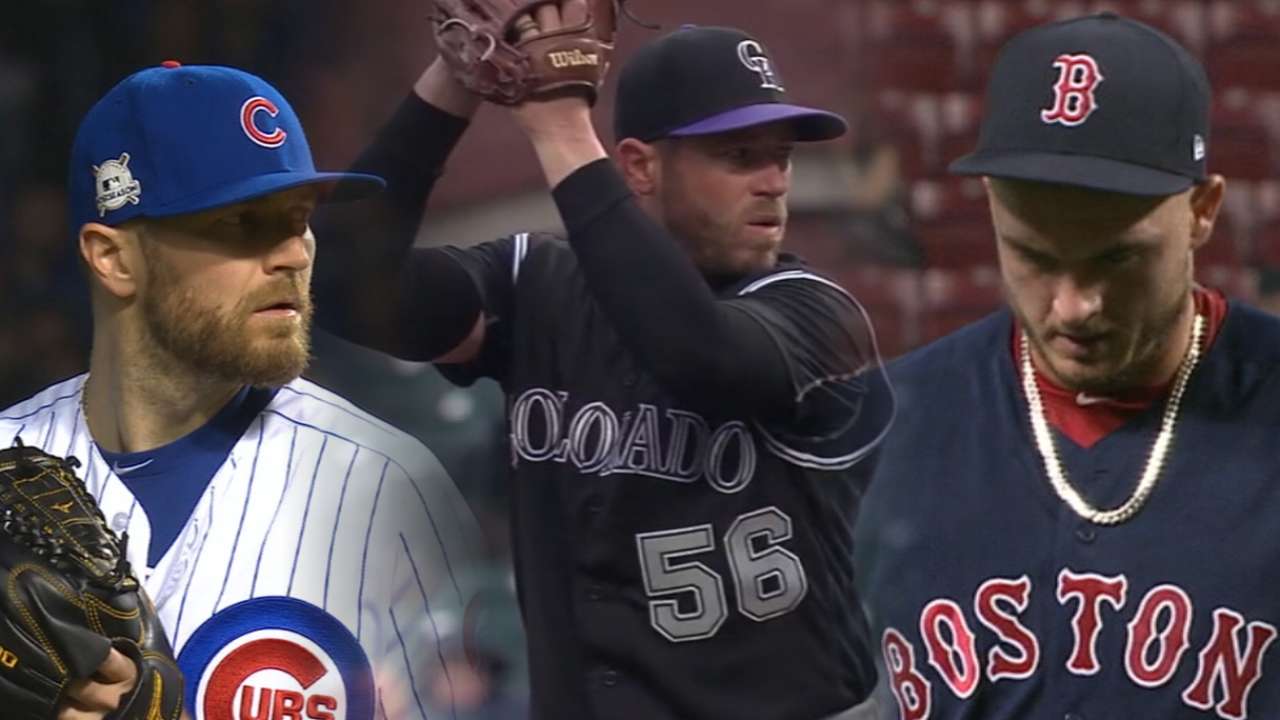 5. Eric Hosmer, 28, 1B
Hosmer celebrated his 28th birthday on Oct. 24, meaning he enters free agency as one of the youngest talents available. Hosmer enjoyed a career year at the plate, posting a 135 wRC+ (35 percent better than the league average) and tallying 25 homers for the second consecutive season. Any team looking for a vocal leader with postseason experience, as well as a middle-of-the-order bat, should have interest in Hosmer. Given his age relative to the rest of the class, he'll likely get a longer deal, possibly seven years at $20 million per season.
Interested teams: Red Sox, Royals, Mariners, Mets
Duquette's prediction: Royals
6. Wade Davis, 32, RHP
After a record-breaking 2016 free-agent class for relievers in terms of money spent, Davis will now get his turn to earn top dollar as the best closer on the market. He was virtually unflappable in Chicago, recording 32 saves with a 2.30 ERA. While his walk rate was the highest of his career (4.3 BB/9), Davis posted a strong 12.1 K/9 rate and stayed healthy for the whole season, lessening concerns after a pair of disabled-list stints in 2016. His deal this offseason should be similar to Mark Melancon's four-year, $62 million contract from a year ago.
Interested teams: Cubs, Twins, Phillies, among others
Duquette's prediction: Cubs
7. Mike Moustakas, 29, 3B
Moustakas belted a Royals-franchise-record 38 homers in 2017 and finished with an .835 OPS -- also a career high. While he has some shortcomings in the on-base percentage department (.314 in 2017, .305 career), his power, solid defense and age will serve him well on the open market. A lack of demand for third basemen hampered Justin Turner's earning power to some extent last offseason, but Moustakas should command a sizable contract in the $100 million range over five or six years.
Interested teams: Royals, Cardinals, Yankees, Phillies, Mets, Angels
Duquette's prediction: Royals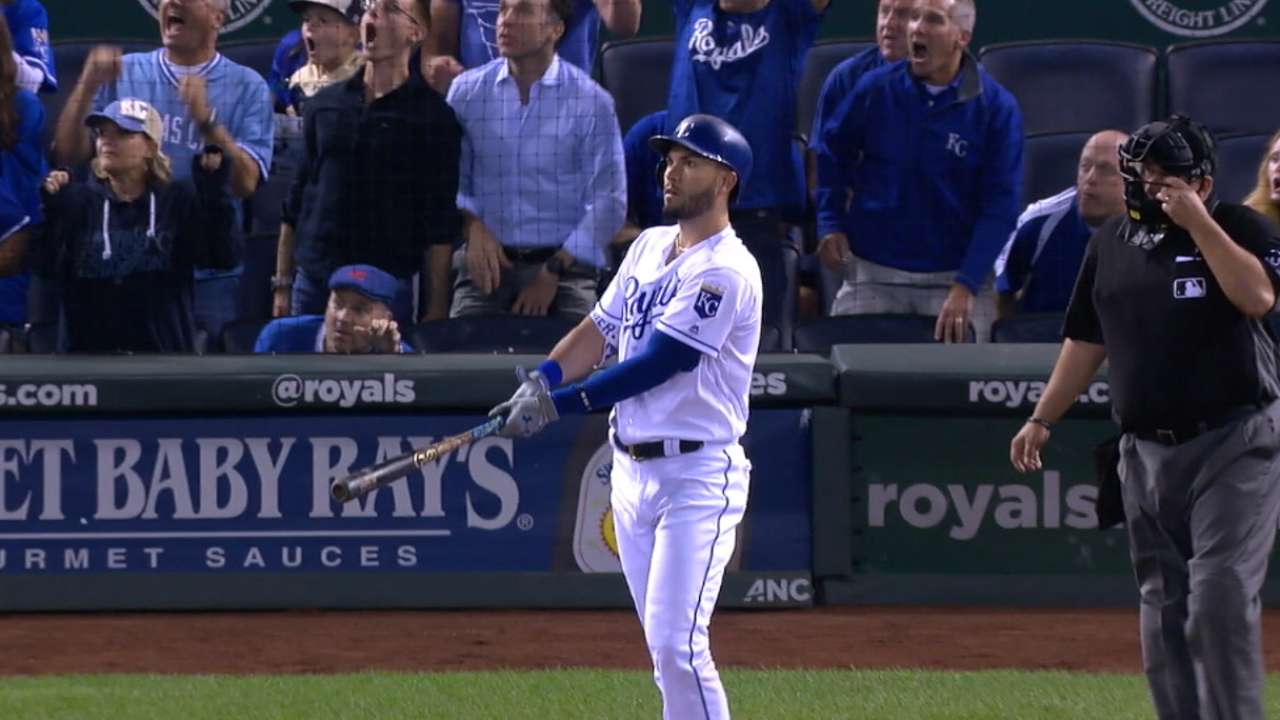 8. Greg Holland, 32, RHP
Holland had an impressive season for the Rockies, rebounding after missing the 2016 campaign while recovering from Tommy John surgery. His fastball and slider were terrific, and his 11.0 K/9 put him in elite company. He was also seemingly unaffected by the effect of pitching at Coors Field, which boosts his stock further.
Interested teams: Cubs, Twins, Rockies
Duquette's prediction: Rockies
9. Jay Bruce, 31, OF
With 69 homers and a .255 ISO over the past two seasons, Bruce should appeal to any club looking for a left-handed power bat. While he would be better in the American League, where he might be able to negotiate an extra year out of a team, he'll likely end up with a contract north of Josh Reddick's $52 million dollar deal last offseason, regardless of where he lands.
Interested teams: Rangers, Phillies, Mets, Giants
Duquette's prediction: Phillies
10. Lorenzo Cain, 32, OF
With strong speed, solid plate skills and a great glove in center field, Cain will pique the interest of a large number of teams in free agency. The 2017 season marked the second in the past three years in which Cain recorded 15 or more homers with 25 or more stolen bases, and he's hit .300 since the outset of 2014. Cain does everything well and should be compensated handsomely in free agency as a result.
Interested teams: Royals, Giants, Phillies, Mets
Duquette's prediction: Giants
11. Lance Lynn, 31, RHP
A mainstay in the Cardinals' rotation since 2012, Lynn returned from Tommy John surgery to log 186 1/3 innings with a 3.43 ERA in 2017. While his strikeout, walk and home-run rates were all career worsts, Lynn proved that he can again be relied upon as a durable rotation workhorse. Pitching is typically acquired at a premium, and a healthy return to the mound has Lynn poised for a sizable payday in the neighborhood of $80 million over five years.
Interested teams: Cardinals, Cubs, Rangers, Blue Jays, Yankees, Orioles
Duquette's prediction: Rangers
12. Alex Cobb, 30, RHP
After posting a 3.66 ERA over a career-high 179 1/3 innings in 2017, Cobb enters free agency at the perfect time. The right-hander got stronger as the year progressed, recording a 3.14 ERA in his final 12 starts. With a track record of success in the AL East, look for Cobb to command a deal comparable to Lynn's.
Interested teams: Rangers, Phillies, Orioles, Yankees, Cubs
Duquette's prediction: Cubs
13. Zack Cozart, 32, SS
Cozart had a terrific season, despite two DL stints, recording career highs in homers (24), wRC+ (141) and WAR (5.0) over 122 games. While there could be a limited number of teams looking for starters at shortstop, where he is a plus defender, Cozart could increase interest by showing a willingness to move to second or third base. He should top the three-year, $40 million extension that J.J. Hardy signed with the Orioles in October 2014.
Interested teams: Reds, Rays, Royals, Pirates, Padres
Duquette's prediction: Pirates
14. Yonder Alonso, 31, 1B
Alonso turned in a breakout 2017 season, recording an .866 OPS that was boosted by a hefty .501 slugging percentage. While he'll have to convince teams that his career year was not an aberration, his impressive campaign has likely created some believers. Look for a contract similar to Mark Trumbo's three-year, $37.5 million deal with the Orioles last offseason.
Interested teams: Rays, Mariners, Indians, Mets
Duquette's prediction: Mariners
15. Logan Morrison, 30, 1B/OF
After having a breakout season that included 38 homers and a 13.5 percent walk rate, the left-handed-hitting Morrison should have no problem earning a multiyear contract this offseason. Like Alonso, Trumbo's deal should be his target.
Interested teams: Rays, Mariners, Indians, Mets
Duquette's prediction: Mets
16. Carlos Santana, 32, 1B/DH
Santana has long been a strong presence at the plate, posting a lifetime .363 on-base percentage with a 123 wRC+. He also showed improved defense at first base in 2017, recording a +10 mark in Defensive Runs Saved and earning a Gold Glove Award nomination. As a result, the switch-hitter should have plenty of suitors.
Interested teams: Rays, Mariners, Indians, Mets
Duquette's prediction: Rays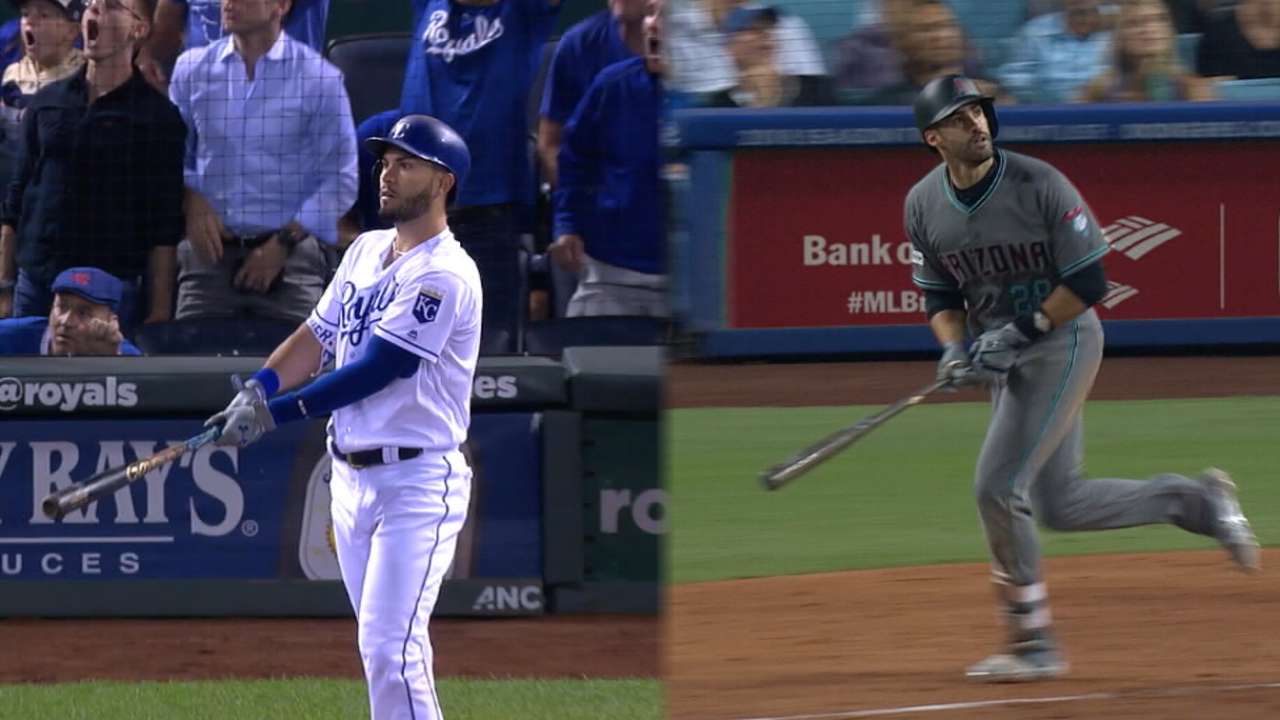 17. Carlos Gonzalez, 32, OF
Gonzalez is coming off a down year, turning in a .762 OPS that included a .606 mark away from Coors Field. He did heat up in the month of September and isn't far removed from belting 65 homers across 2015-16, but he may still be better off signing a one-year "pillow" contract and re-entering the market again next offseason.
Interested teams: Rockies, Giants, Royals
Duquette's prediction: Rockies
18. Jason Vargas, 35, LHP
A proven innings-eater who knows how to mix his pitches effectively, Vargas made the 2017 AL All-Star team on the strength of a 2.62 first-half ERA. Although he struggled after the Midsummer Classic, he should secure a two-year deal worth $24 million.
Interested teams: Orioles, Mariners, Royals, Padres, Rangers, Twins
Duquette's prediction: Orioles
19. Addison Reed, 29, RHP
Reed is the youngest free-agent pitcher on this list, and youth and talent usually add up to a long-term deal. The righty has been one of the most effective setup men in baseball over the past two seasons, and he also has experience as a closer (125 career saves). With the ability to handle both left-handed and right-handed batters, Reed should command a four-year, $30 million contract.
Interested teams: Tigers, Mets, Rangers, Braves, A's, Dodgers, Red Sox
Duquette's prediction: Braves
20. Brandon Morrow, 33, RHP
Morrow came a long way in 2017, beginning the season in Triple-A and finishing it as one of the Dodgers' most trusted relievers. The right-hander has a significant injury history, but a creative front office may take a calculated risk and look at him as their closer in '18, like the A's did with Ryan Madson in 2016. He could secure a three-year deal for $27 million.
Interested teams: Tigers, Mets, Rangers, Braves, A's, Dodgers
Duquette's prediction: A's
21. Anthony Swarzak, 32, RHP
Swarzak is coming off a fantastic season, recording the best ERA (2.33), K/9 rate (10.6) and K/BB ratio (4.14) of his career over a personal-high 70 appearances, and he pitched in a pennant race after being traded to the Brewers in July. Like Morrow, he should command a three-year contract, albeit at a lower rate (around $18 million).
Interested teams: Tigers, Mets, Rangers, Braves, A's, Brewers
Duquette's prediction: Braves
22. Eduardo Nunez, 31, 2B/SS/3B/OF
Nunez offers great speed and defensive versatility, and he's hit double-digit homers in each of the past two seasons as well. With the ability to play all over the diamond and hit almost anywhere in the lineup, Nunez could ink a four-year, $40 million contract.
Interested teams: Giants, Angels, Pirates, Cardinals, Mets
Duquette's prediction: Cardinals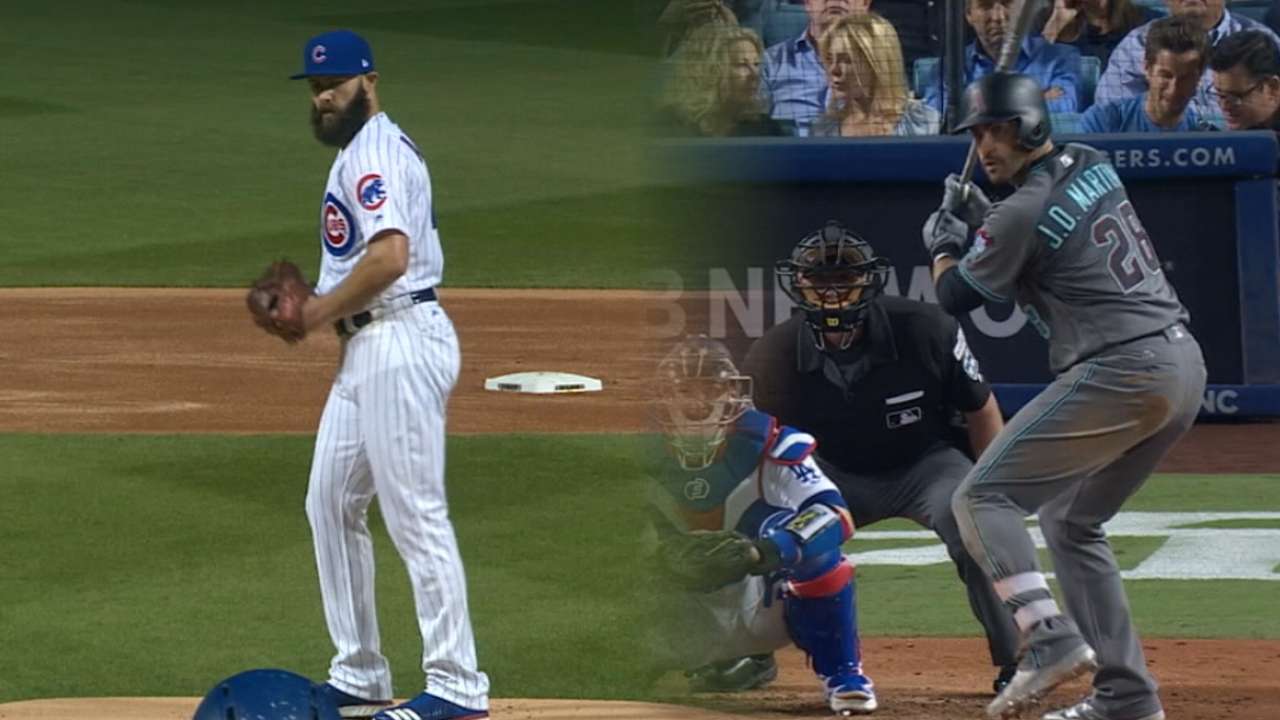 23. Todd Frazier, 32, 3B
While he's hit just .220 over the past two seasons, Frazier is one of the more intriguing options on the free-agent market, as his power numbers, solid defense and clubhouse leadership make him a great fit for some teams. He may get two-year offers in the $26 million range, but could also decide to take a one-year contract and return to free agency again next year.
Interested teams: Mets, Cardinals, Angels, Giants
Duquette's prediction: Mets
24. Jonathan Lucroy, 32, C
Lucroy saw his power numbers decline in 2017, but he turned in a career-low 10.6 percent strikeout rate and continued to show solid on-base skills (.345 OBP). He's also an experienced receiver who can help guide a young pitching staff. The contract Matt Wieters signed last offseason -- two years, $21 million, with the second year being a player option -- seems like a good standard for Lucroy to follow.
Interested teams: Rockies, Angels, Nationals
Duquette's prediction: Rockies
25. CC Sabathia, 37, LHP
Sabathia has reinvented himself in the face of declining stuff, and he'll enter free agency after posting a 3.69 ERA in the regular season and a 2.37 mark in the playoffs for the Yankees. He should receive two-year offers for roughly $28 million, but his recent knee problems and age will prevent teams from offering more than that.
Interested teams: Yankees, Orioles, Angels, Mariners
Duquette's prediction: Yankees
Jim Duquette, who was the Mets' GM in 2004, offers his opinions as a studio analyst and columnist for MLB.com. This story was not subject to the approval of Major League Baseball or its clubs.