MLB.com Columnist
Jonathan Mayo
Inbox: When will Padres' Tatis Jr. arrive?
Jonathan Mayo answers fans' questions about baseball's biggest prospects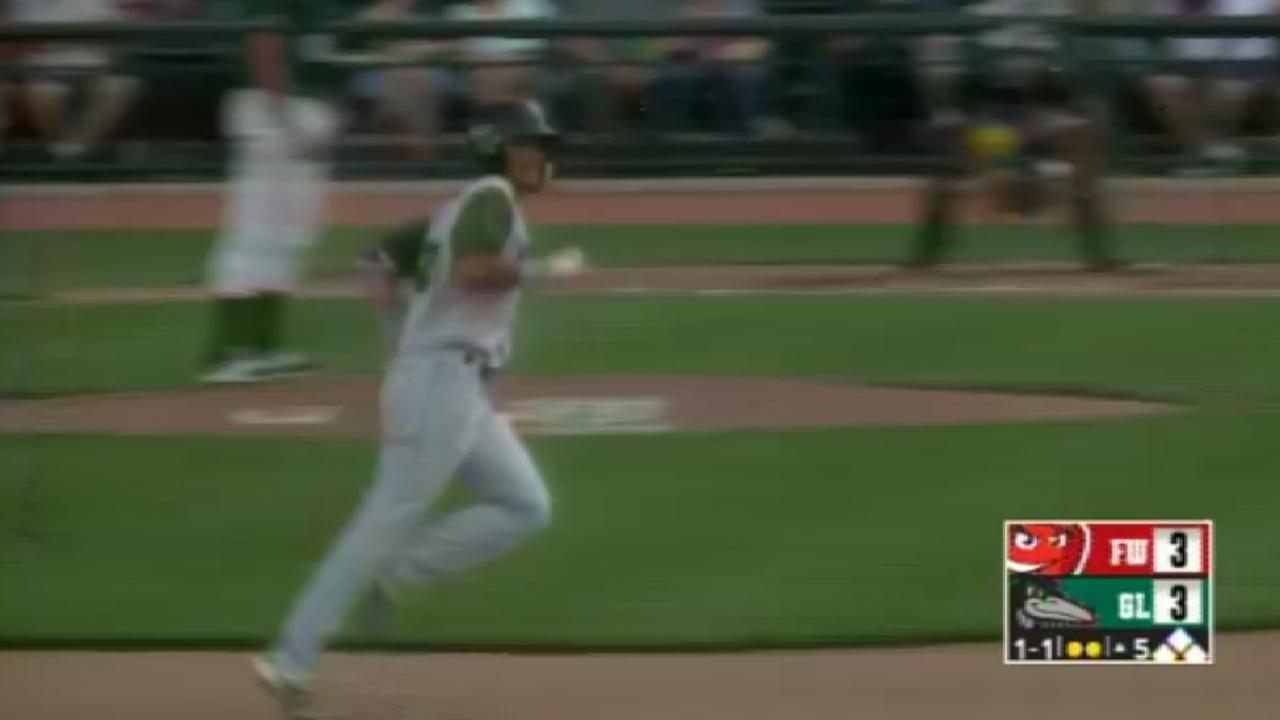 One of the best parts of what we do at MLBPipeline.com, at least for me, is to watch the guys we covered as prospects rise to the big stage. So while I don't have a particular rooting interest in this year's World Series, I can look up and down both rosters and see guys that I talked to "before they were stars."
• Submit a question to the Pipeline Inbox
Of course, there's so much more out there about these guys as amateurs and Minor Leaguers, that label doesn't totally work anymore. But even looking at Game 1 between the Astros and Dodgers, I can automatically think about interviewing Chris Taylor during the 2013 Arizona Fall League. Or how Alex Bregman was one of the players mic'd up during the 2016 Futures Game (yes, that was just last year). Or how off-camera on that Saturday, we sat with Bregman and talked about how badly he wanted to get up to Houston.
When I go back even further into my memory bank, I recall talking to a very young Clayton Kershaw with the Great Lakes Loons during his first full season in the Midwest League in 2007. I'd link to that interview, but it wasn't usable. The teenaged version of the ace wasn't so media savvy and swayed back and forth throughout the whole interview. A year later, we were back in the Midwest League and I saw Kenley Jansen as an All-Star catcher. His conversion to the mound would come later.
The list goes on and on. But rest assured, the guys we talk about in this week's Inbox and beyond will be the guys we're seeing on the game's biggest stage in the future.
How soon do you see Tatis making it to the bigs? Where does Mackenzie Gore open the season in 2018?

- Dustin Mills (@dustinmmills) October 24, 2017
Tatis Jr. open the 2018 season as a top 20 prospect?

- Padres All Day (@padres_faithful) October 24, 2017
People love Fernando Tatis, and who can blame them? He's immensely talented and is one of many prospects off to strong starts in winter ball (he's hitting .400/.571/.650 over his first seven games). Since he's so popular, I made him the focus of my video answer above.
As for Gore, I think with his advanced feel for pitching, he breaks camp in full-season ball. So get your tickets for the Fort Wayne TinCaps now.
Which 2017 HS draft prospect has helped his stock the most since entering pro ball?

- Alone in my mind (@advancedstats23) October 24, 2017
This answer comes with the obligatory caveat that the first summer of pro ball should not be given too much weight, with the understanding that pro debuts are really all about acclimating to a higher level of competition.
OK, with that out of the way, you certainly can look at certain performances and recognize that players enhanced their "prospect stock" with how they played during that debut. So I'll throw out one high school hitter and pitcher as guys who certainly didn't hurt themselves.
On the offensive side of things, I'll go with Heliot Ramos, the Giants' first-round pick. Now, it's extremely possible we had Ramos under-ranked/valued leading into the Draft. I'll own that, especially since I'm the one who writes up guys from Puerto Rico. So there's some correction to be made on that front to begin with. Then the Giants' No. 4 prospect (as of now) went out and hit .348/.404/.645 in 35 rookie-level Arizona League games. That included 23 extra-base hits and 10 stolen bases. The 48 strikeouts in 138 at-bats will be something to keep an eye on, but considering he didn't turn 18 until early September, there's plenty of time for that.
On the mound, how about Rangers second-round pick Hans Crouse? He's now their No. 7 prospect and was certainly a high-profile guy with a track record of success for Team USA. But his stock had faded a tiny bit because of effort in his delivery, command issues and what some perceived to be too much emotion on the mound. Many see a future in the bullpen. Now, that hasn't been disproved just yet after 20 innings in the AZL, but boy were they good innings. The right-hander gave up just one earned run on seven hits (.109 batting average against), seven walks and 30 strikeouts. It's certainly enough to want to see what he does for an encore in 2018.
Kyle Lewis came back in the AFL yesterday, is his grade hurt by his time missed? Or is he still progressing well even with injury?

- Ethan Hickey (@ethanhickeybsb) October 24, 2017
Lewis was one of the top college bats, and all-around players, in the 2016 Draft class, and he ended up going No. 11 overall to the Mariners. His summer debut was cut short by a serious knee injury and it kept him off the field for much of the 2017 season as well. A tireless worker with plus makeup, Lewis did get in 49 games and 187 at-bats. He was delayed in his AFL debut because he was working on strengthening his knee before he went out there. Once he did, on Monday, he went 3-for-4 with a pair of doubles.
As far as his grades or his rankings, he did take a bit of a hit when we re-ranked our Top 100 in late July. At the start of the 2017 season, we put him at No. 29 overall. He's now No. 41. We didn't want to knock him too much because of the injury, but we also had to recognize how long the road back would be for him.
We will no doubt keep an eye on whether the knee continues to be an issue that keeps him off the field. I'm not overly concerned about it impacting his speed. Even if he can't play center long term, his other tools will play just fine in an outfield corner. So it's really all a matter of health. If he can use the AFL as a springboard to a healthy 2018 season when he gets a lot of reps, I think you'll see him start moving quickly and live up to whatever ranking he's given.
Will Albert Abreu join the Top 100 anytime soon?

- Eddie Sapienza (@Eddie_Sapienza) October 24, 2017
There's a good chance, yes.
OK, I'll elaborate. Abreu began the year, his first in the Yankees organization after coming over in the Brian McCann deal, as the Yankees' No. 11 prospect. He's now at No. 7, with an up arrow next to his name. Elbow and lat injuries caused him to notch just 53 1/3 innings during the regular season. He did strike out 10.3 per nine in that span and has the stuff to certainly be a Top 100 caliber prospect.
What he's doing thus far in the Arizona Fall League certainly won't hurt. He was just named the AFL Pitcher of the Week, and for good reason. He received the honor for his outing on Oct. 17, when he tossed five shutout innings and struck out eight. He followed that up with five more solid innings on Tuesday, and for the AFL season, the 22-year-old right-hander has now allowed two runs on nine hits and three walks over 15 innings. That's a .180 BAA and a 0.80 WHIP, and he's struck out 15, which puts him in a tie for third with organization-mate Justus Sheffield.
Jonathan Mayo is a reporter for MLBPipeline.com. Follow him on Twitter @JonathanMayo and Facebook, and listen to him on the weekly Pipeline Podcast. This story was not subject to the approval of Major League Baseball or its clubs.