MLB.com Columnist
Mike Petriello
A look at numbers behind Marwin on Judge's 2B
Game-tying hit in eighth inning traveled a projected 377 feet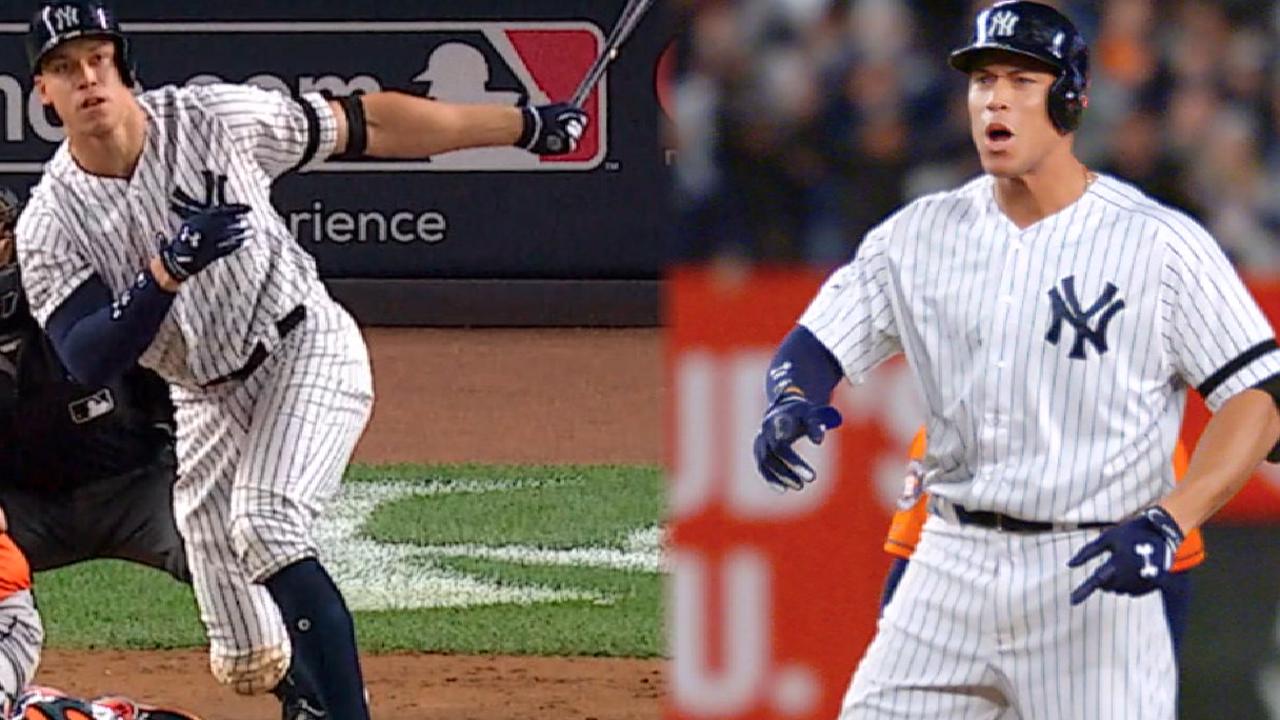 The real turning point of the Yankees' 6-4 win over the Astros on Tuesday in Game 4 of the American League Championship Series came in the eighth inning, when Aaron Judge clocked a 102.4-mph laser off the left-field fence, and a fan's hands, for a game-tying double against Houston closer Ken Giles, and that's more than just an opinion.
When Judge -- who finished the game 2-for-3 with a home run, walk, two RBIs and two runs -- stepped to the plate, the Yanks' win expectancy was 45 percent. After pinch-runner Jacoby Ellsbury scored to tie the game at 4-4, it was 65 percent. The play turned the game from one New York was likely to lose into one it was likely to win. Two batters later, Judge scored the go-ahead run on Gary Sanchez's two-run double, and the Yankees never looked back, evening the best-of-seven ALCS presented by Camping World at 2-2.
Needless to say, Judge's liner was a crucial play, one that could have had the game end differently had it been made. While the tying run would have still scored, the winning run wouldn't have reached base. Is it fair to wonder if Judge would have been retired at second base had the Astros had an elite defender in left field? And what about the impact of the fan who made contact with the ball? There's a few things to unpack here.
It's a question worth asking, because for all its other strengths, left field is a position where Houston has been heavily mixing and matching throughout the season. There's no better way to illustrate that than to point out that the Astros player who spent the most time in left field this season is still Norichika Aoki, who was traded to Toronto at the Trade Deadline. In the playoffs, the left-field duties have fallen primarily to Marwin Gonzalez, who had a fantastic season at the plate (.303/.377/.530) but is more of a utility player in the field, having made double-digit starts at five positions. Cameron Maybin started just three games in left field after he was acquired from the Angels on Aug. 31.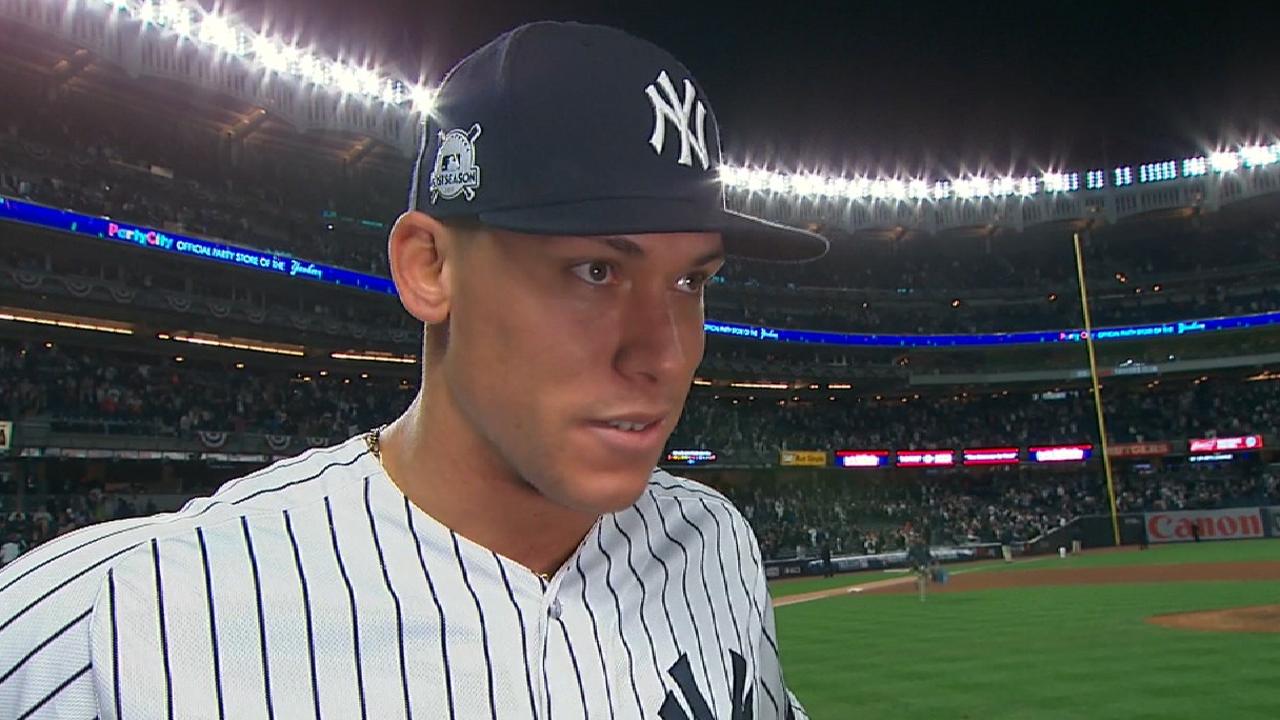 With that as a backdrop, it was the second day in a row that an ALCS game changed on a ball to left field. In Game 3, it was in the fourth inning, when Maybin inexplicably let what looked like an routine fly ball off the bat of Greg Bird land for a double. Since Charlie Morton retired the next two hitters, the inning would have been over if Maybin made the catch. Instead, the next two runners reached, and Judge crushed a Will Harris pitch into the bleachers for a three-run home run to give the Yankees an 8-0 lead.
We saw this come up earlier in Game 4, too, when Gonzalez had also taken what seemed like an indirect route in the seventh inning on Didi Gregorius' triple. So when Gonzalez not only didn't come down with Judge's hit but didn't even come close, it was natural to wonder if it was the kind of ball another outfielder would have had. Gonzalez can sleep easily, however. We couldn't find another similar batted ball at Yankee Stadium this year that had turned into an out.
Judge's hit had a projected distance of 377 feet, so we looked for all similarly hit balls in the Bronx in 2017. And 65 percent of balls that went that far or further were a home run, of course, so we excluded homers and looked at balls that didn't leave the park and went between 372-382 feet. A majority were to center field, and unsurprisingly were all outs, and there was one fan-interference triple to right. Most relevant for our purposes, the two balls of that distance to left field both fell for doubles.
No one's been able to turn a ball like this at Yankee Stadium into an out, so it's fair to say that would have been true regardless of which Astros player was patrolling left field. Besides, Gonzalez has been able to get on the defensive highlight reels this October thanks to his strong arm. In Game 4 of the AL Division Series presented by Doosan, he protected a 2-1 Astros lead by firing home a 93.6-mph laser to get Mitch Moreland. Also, in Game 1 of the ALCS, he hit 97.4 mph to nail Bird at the plate.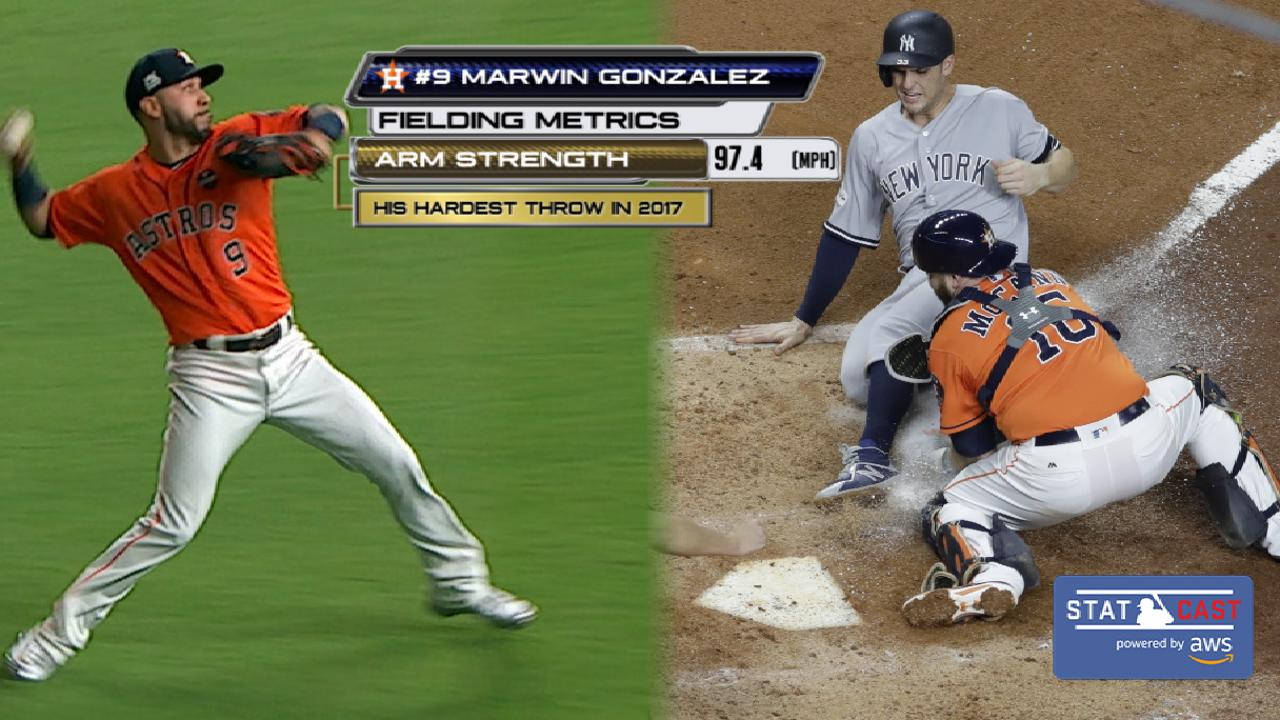 Now what about the fan? Let's say that Gonzalez managed to get to the wall and up in the mere 4.7 seconds of time he had to get there from his starting depth of 300 feet. (If Gonzalez did anything wrong, it may have been that, since left fielders play Judge an average of 310 feet from the plate at Yankee Stadium this year.) It was pretty clear that the fan interfered and may have prevented Gonzalez from making the catch anyway if he had been in position at the wall.
"If spectator interference clearly prevents a fielder from catching a fly ball, the umpire shall declare the batter out," declares the official rule governing the play, which would have meant that Judge would have been out.
There's the matter of the runner, of course, and the rule specifies what happens there too, saying that "batter and runners shall be placed where in the umpire's judgment they would have been had the interference not occurred." Given the fact that Ellsbury was already on third and would have easily scored on a sacrifice fly with one out in the inning, the umpire almost certainly would allow the runner to score in that situation.
So even with the fan, the outcome wouldn't have changed. Gonzalez didn't get to the ball, because no outfielder was going to get to that ball. Even if any could get to it, the impact of the fan likely wouldn't have changed the expected outcome from a game-tying sacrifice fly, anyway. The second this ball left Judge's bat, the runner on third was going to score. Despite the various ways this play could have gone after impact, that much was always clear.
Mike Petriello is an analyst for MLB.com and the host of the Statcast podcast. This story was not subject to the approval of Major League Baseball or its clubs.