Cubs' Bote named AFL Player of the Week
Mesa second baseman leads Fall League in average, homers, total bases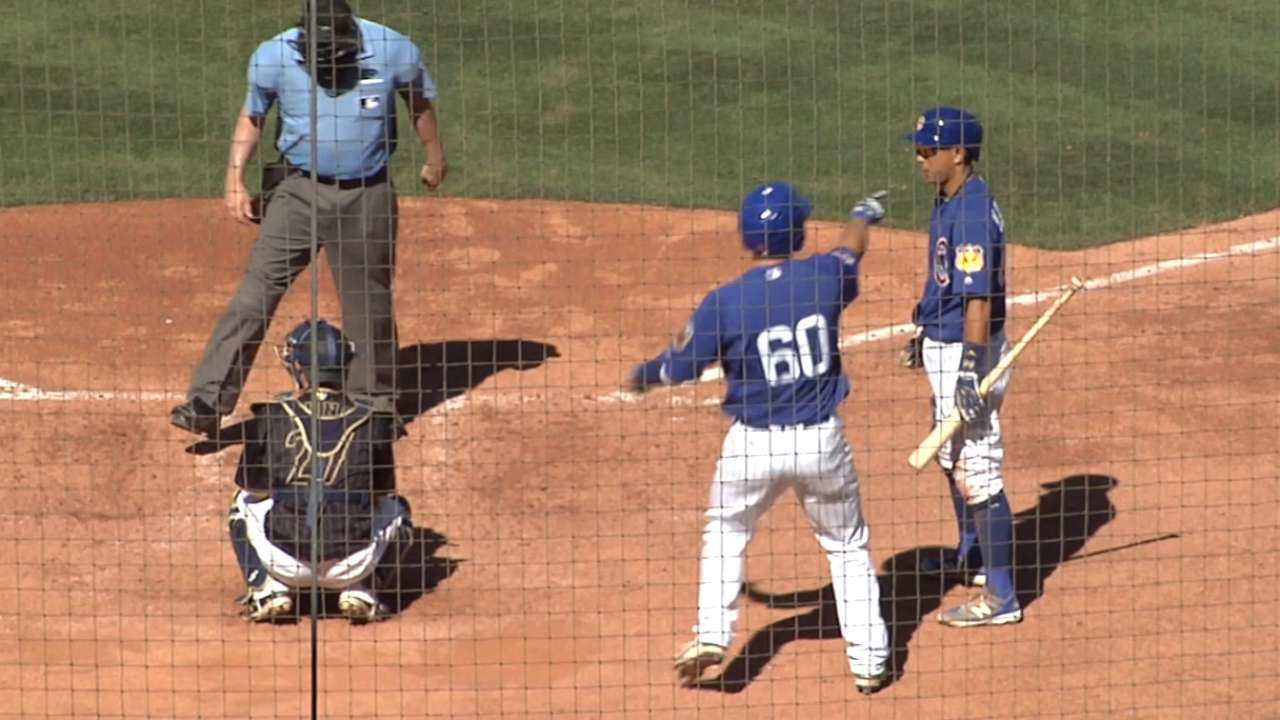 It's been a long and hard-fought journey for Mesa Solar Sox second baseman David Bote to reach the Arizona Fall League. And it's been worth every minute.
Bote earned AFL Player of the Week honors for the league's first five days of the season after leading the circuit in average (.500), hits (eight), home runs (three), total bases (17) and slugging percentage (1.063). He started off the new week with a bang, too, coming off the bench for Mesa to go 2-for-2 with a double, raising his average to .556.
"It's a humbling experience, it's something that I'm excited about and there's a great group of guys I'm here with," Bote said. "It's fun to play on this team and it's a great opportunity."
Bote was drafted in 2012 by the Chicago Cubs in the 18th round after walking onto the Neosho County Community College team in Kansas. When scouts came to his games, they came to see Bote's teammates. He didn't allow himself to feel mentally defeated, he said, because he kept an attitude of focusing on what he could control and had a mindset of "try to be the best I can."
It has paid off. And he is having fun in the process, thanks to a little assistance.
"It's a great group of hitting coaches here, too," Bote said. "We got Mike Hessman and Jacob Cruz. … It's fun to come to the park. It's a fun game to play and you take that and you try to put good at-bats together, get good pitches you can hit and try and not be so result oriented."
Bote said the key is "going out there and having fun, trusting your preparation, trusting that you're gonna put yourself in the best position and yeah, just go out there and see what happens."
The Colorado native has played at each level of the Minor Leagues for the Cubs. He has played at three different levels in three of his six seasons and made his Triple-A debut with Iowa in 2014 as a 21-year-old. Bote slashed .272/.353/.438 in 127 games with Double-A Tennessee in 2017 and believes that jumping between levels has helped his game.
"It's good to be around different coaches, different hitting coaches at each level and playing for different managers and see the different competition," Bote said. "Definitely has helped my career and it's been hard at times, too, but you try to make the best of every opportunity you get in every situation."
Even though Bote is in the Fall League for the first time and seemingly close to making his Major League debut, he tries not to get consumed by the thought of his future.
"It's something I can't control at all," Bote said. "My control is my preparation, what I want to do in my work and everything like that. Obviously, you catch yourself daydreaming about it but it's more of a like 'see it happening' versus a 'dwelling on it.'
"It's just … about control. What I can control."
Omar Soussi is a senior journalism student at Arizona State University. This story is part of a partnership between MLB.com and ASU's Walter Cronkite School of Journalism and Mass Communication. This story was not subject to the approval of Major League Baseball or its clubs.