Oct. 13 Justin Verlander pregame interview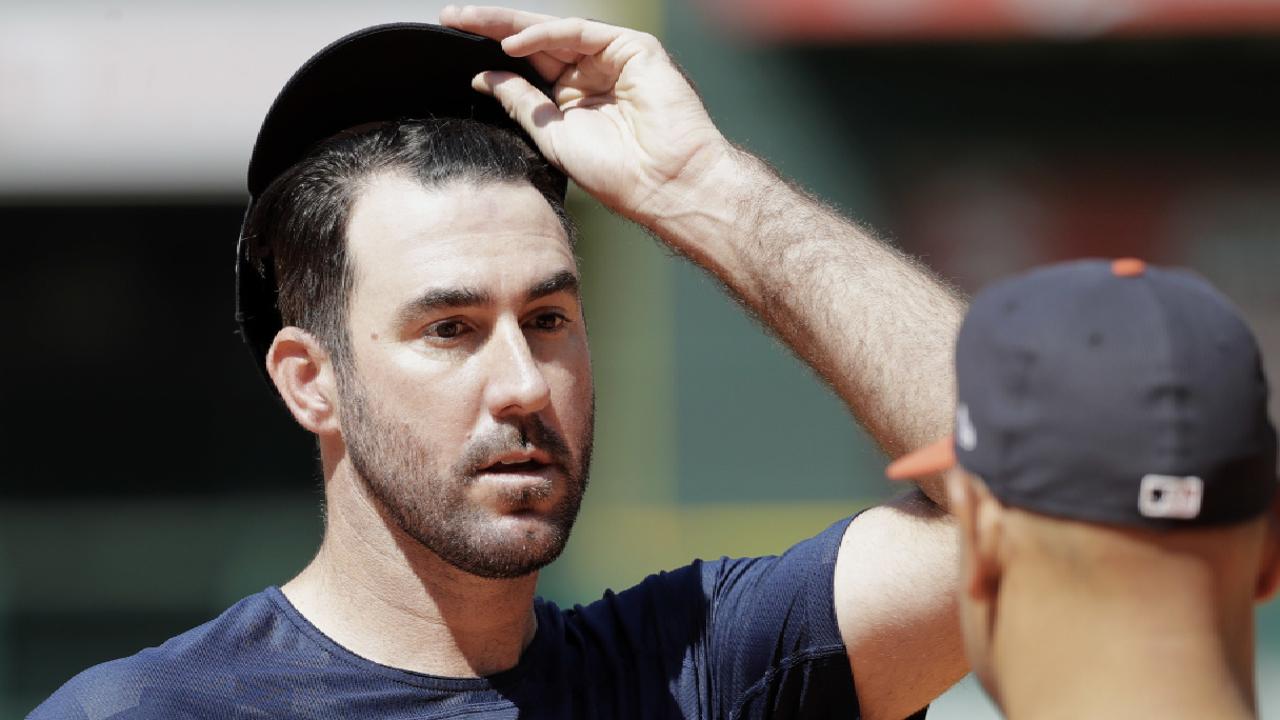 Q. I think you said recently every one inning of playoff pitching is like two in the regular season. How do you kind of deal with that and how does adrenaline help you get through that and how do you kind of manage that aspect?
JUSTIN VERLANDER: It's just one of those things you just deal with. I think that this is what you work so hard in the off-season for and throughout the season is so you're strong mentally and physically at this time. And when you're out there it's just, I think the in between innings is a little more important, you kind of have that time to reset, not just physically but mentally as well, where it's a little bit different in season that's just normal. This is a little bit more of a mental grind as well.

So that in between innings you really just kind of decompress a little bit and kind of recharge for the next inning.

Q. Two-part question. One, the impact at about 11:53 on August 31st when Dallas Keuchel called you as the clincher. And number two, what's it like when you're warming up and you see your hero, Nolan Ryan, sitting there watching you?
JUSTIN VERLANDER: Yeah, so the phone call, the first question, the phone call from Dallas, I was in the middle of a whirlwind night, and to have him reach out and I was actually -- I have actually apologized to him since -- I was pretty quick off the phone because I told him, I said, Dallas, I thank you so much for the phone call, but I've got a lot of other calls I need to make right now and talk to my family and stuff. And he completely understood, he said, But before you go, just one last thing, he goes, You won't regret this decision if you decide to join the Houston Astros.

And that kind of resonated with me and that stuck with me. And he was one of the first calls I made after I made the deal and waived my no-trade clause and agreed to come here, I called him and let him know that I was coming to join the Astros and that his call meant a lot to me.

The second part, in the first game here I was probably in the 3rd or 4th inning and just in between innings was warming up and just happened to glance up and see Mr. Ryan sitting right behind home plate, and if you don't know, he was my idol growing up, and you couldn't get me to sit still for anything but if a Nolan Ryan game, classic game or anything like that came on TV, I was glued to the TV for however long he was pitching, which was often pretty long.

So to see him back there and for me to be on a big league mound in the playoffs in a Houston Astros uniform, man, it was a pretty humbling and pretty kind of full circle moment for me.

Q. Do you ever think about how you would have done in Nolan's era when guys could throw 300 and get 383 strikeouts in a year. Because you're kind of an old-school mentality anyway but just missed that era. Do you wonder how you would do and what it would take physically to do what he did?
JUSTIN VERLANDER: I do often wonder that. I think that I've been really fortunate to just be blessed with good mechanics and the right type of, I don't know, muscular, whatever, so I don't hurt very easily, I don't get hurt very easily, knock on wood, throughout my career. So I think those are the type of guys that excelled back then. You go out there and you just pitched, and your body adapts to what you ask it to do. If I would ask my body to throw every four days, I think I could do it.

As it is now, I went from college every seven days to pro ball every five days. It took me a year or so to get used to that but once I got used to it, it was okay, I can do this. I think the way baseball is now, you see a lot of injuries because the minor leagues and early in guys' careers you don't weed out, the guys aren't weeded out that are injury prone because pitchers are babied. Don't throw too many pitches, don't do this, don't do that.

So now you get guys that are names and they have established themselves in Major League Baseball and then they're blowing out as opposed to kind of the filtering out process in the minor leagues. Now it's a different age and a different time in the game, I'm not saying that's the wrong way to do it.

But to answer your question, to come back to it, I do often wonder how I would have been back then. I think it would be a pretty cool time to play baseball.

Q. To follow up, you've always been well-known as a guy who doesn't have to throw max effort all the time, saving your best for later on. Does any part of that have to do with your longevity and success now into your mid 30s? Because not every pitcher has that mentality, but you always have.
JUSTIN VERLANDER: I don't know. I guess it wasn't intentional, it became intentional later in my career a few years ago, but it wasn't in terms of longevity; it was just strictly trying to get later into baseball games. I was having a lot of trouble with foul balls, and I found that if I kind of slowed down a little bit and pitched to contact I could get some quicker outs earlier in the game, and that would save my better stuff for later in the game. And hopefully 7th, 8th, 9th inning, instead of 5th, 6th, 7th.

As far as like an intentional saving of my arm, that was never the intent.

Q. As this team continues to advance in the playoffs, do you think that it could be a boost to the city as it still continues to recover from the hurricane?
JUSTIN VERLANDER: Absolutely. Yes. I think that a lot of things have happened in the world since Hurricane Harvey, but I mean, it's going to take a long time for this city to recover, and I think it's easy for people to forget. But I know who's not forgotten is a lot of people in this city who are still struggling and still have a long way to go before they're back and on their feet and living a normal life in their home.

So to answer your question, yes, I think that this could go a long way in helping people kind of forget and give them something to be happy about when it's really hard on them right now.

Q. You were talking about getting adjusted to something. You did something the other night in that series that you never done in relief, and we saw Scherzer do it last night, we have seen other pitchers do it. What are the risks and rewards of a starter doing that? And how much of a challenge is it for somebody? What kind of adjustments do you have to make to get into that situation?
JUSTIN VERLANDER: Risks, I don't know, physical risks or --

Q. Just anything.
JUSTIN VERLANDER: I felt fine physically, so I can only answer for me. I don't think there are any additional risks physically.
I wish, going back in time, that I had a little more experience doing that. If I was starting and I ever came out to a mound the way it was, I would have said, Hey, hold on, like I did the next inning, and said, Hey, come fix this before I throw on it. That was the risk of getting hurt was slipping all over the place.

But really, coming out of the bullpen, that was all -- I'm such a routine person, you just kind of got to throw your routine out the window and say, I'm just going to pitch. Once I gave up the homer and just kind of, like, got out of that inning and then was able to go in the dugout and sit down, I just treated that like I had just pitched the first inning and we were behind by a run and okay, just shut the door and give our guys a chance to come back. And thankfully was able to do that.

Q. You uplifted the Tigers' franchise during your time there. You identified strongly with that franchise, the franchise identified strongly with you. The Tigers forever probably are going to be celebrating moments that involved you. You have that opportunity now with a new franchise, a second franchise, one that has only made the World Series one time. Have you spent time entertaining those thoughts, thinking about that, that you could have an iconic moment for a second franchise?
JUSTIN VERLANDER: Not really. I'm being honest here, I haven't really had time to think about any of that. It's kind of thrown into the fire and go pitch and try to win and try to win a World Series.

I think that -- and even with my time in Detroit, none of those moments in the moment struck me as this is something that's going to be iconic and will be replayed for the organization for years to come. As I progressed and maybe got into the off-season or just years later I started to realize what some of those things meant.

So I would love to create some moments here, but I don't look for them, I just -- those just happen naturally.

Q. A few of your Tigers' teams took the maximum five games to win the Division Series, just like the Yankees. From your recollection, with those teams, was there more exhilaration or exhaustion, just how you felt moving forward after winning those long series?
JUSTIN VERLANDER: I was exhausted because I pitched two of those game 5's. I remember being pretty exhausted.

But as a team we're used to playing every day, and just in the game of baseball in general. So I don't think going five games is detrimental whatsoever. Maybe your pitching doesn't line up quite as nice as you would like it to sometimes.

But if you're talking about being tired, I think in baseball sometimes we can go the other direction. I've been a part of two World Series teams that we had swept the Championship Series going into the World Series and the other teams played six or seven games, I believe. And I felt like we were at a disadvantage. Baseball's a unique sport where time off and having everybody feel fresh isn't necessarily the best thing because we haven't felt fresh since April.

Q. You're a baseball fan, you've seen that a lot of the starters, these players haven't gone really deep, that's the nature of the postseason at times. And also how much pressure do you put on yourself and you know you got to give a lot more innings. You're in that position coming out of relief.
JUSTIN VERLANDER: I want to go as deep as possible. Every time I take the mound I have the mentality of trying to go nine. But, hey, I know the playoffs are different. I would like to have the ability to do that, I would like to be rolling and have our team score some runs and A.J. just kind of let it ride and let me stay out there. I don't know if that's the case.

I know this last time around after Game 1 I know that he had thought about bringing me back on short rest if need be. So we scored a bunch of runs and instead of going back out for the 7th inning he took me out.

So it's kind of a dying breed that the postseason starter going nine innings, especially with the chance of coming back on short rest. I think that's what's being protected. But that's what I want to do, that's my mentality, and I go out there until the manager takes the ball out of my hand, and sometimes I don't like it but that's why he's the manager.

Q. You faced the Yankees a lot in your career but the lineup's changed a little bit since you last saw them. Wondering what your thoughts are on guys like Sanchez, Bird, Judge, guys you haven't faced before.
JUSTIN VERLANDER: I haven't faced any of them. I don't know my thoughts. It's kind of a wait and see and once I make my pitches to them then you just kind of adjust on the fly.

They have scouting reports on me, I have scouting reports on them. I think we all know our strengths and weaknesses. But you never know what a guy's going to see well or what he's not going to see well. You just don't know that until you get out there. So that's one of those things that we'll have to figure out in the game tomorrow.

Q. 13 years in Detroit. Have you ever had a colorful teammate in the clubhouse, more colorful than Josh Reddick?
JUSTIN VERLANDER: (Laughter.)

That's one of the things I love about baseball is that so many different personalities and teammates you come across. Red was somebody that I didn't expect him to be the person that he is, and I think you get that pretty often. He's such a competitor on the field and he's so focused on what he's got to do to help his team win, that you don't see that personality from the other dugout. But it was a lot of fun coming over here and getting to know him and some of my other teammates as well.

But specifically, I mean, there's been so many different characters, I feel like one team always has kind of that guy on it. He's been a lot of fun to get to know.

Q. Dallas has talked about talking pitching with you and how much he's enjoyed that. What have you learned from him even though you're different, totally different styles of pitchers?
JUSTIN VERLANDER: Well, honestly, I think that we talk pitching a lot and I think that our different styles, I think makes for good conversation. Things that we see that I don't innately look for nor does he in his pitching style, I think we pick up on one another more, if I'm being too aggressive, if he's not being aggressive enough, what his mindset is when he's trying to get guys out front or what he sees the hitter trying to do to him what I see the hitter trying to do to me.

I mean, really, it's been some really good conversations. I think that the differing styles have contributed positively to those conversations.

Q. What have you noticed from Altuve that maybe you didn't notice when he was an opponent, when you see him every day what sort of things you notice? And what's the best case you make for him as the MVP of this league?
JUSTIN VERLANDER: I think that the one thing I noticed, I didn't notice with him was actually how good he is, if that makes sense. I think I touched on this last series, you may not have been here, but having the opportunity to play with a Hall of Famer like Miguel Cabrera for a long time, the players that came over, and it never failed, they would come over and after a couple, two, three weeks they would say, Man, I knew he was really good, but God, I didn't know he was that good.

And that's the same thing that I've experienced with Altuve. He has exceeded my expectations of how good of a ballplayer he is. And that says a lot, when your peers know that you're great and then you exceed that expectation, I think that's the greatest compliment you can give.

For him to be a MVP, I think the little things that he does every day, I think hitting .350 is something that people don't really do in baseball any more. I think the number of times he's on base, I think how he can maneuver the base path, I think all the things he can do on defense. Basically when it comes down to it, is all around I think he provides our team with maybe a fuller package on ways we can beat you. And look, I'm not taking anything away from Judge, the guy had an unbelievable year and I respect him as a ballplayer, but seeing what Jose has done for this organization and for this team since I've been here, he's got my vote for sure.