Baker's future Nats' biggest offseason question
Washington not losing many players to free agency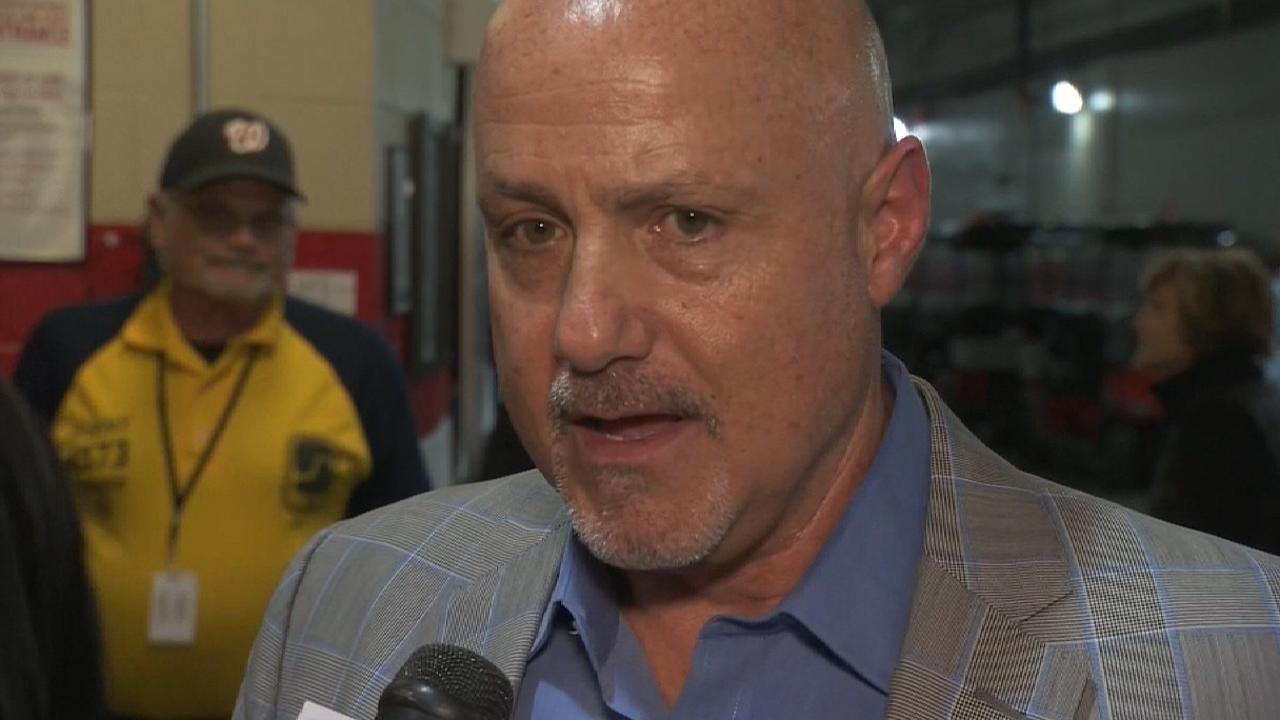 WASHINGTON -- As the Nationals begin this offseason -- which came much sooner than they expected -- the biggest question looming will be the status of manager Dusty Baker.
Washington will not stand to lose much to the free-agent market, with nearly all the crucial members of the team under contract for next season. The exception is Baker, who just reached the end of his initial two-year contract. Baker has said he wants to continue managing. Nats general manager Mike Rizzo said before the start of the postseason that he expected Baker to return next season and that they would work on a deal once the season was over.
So even following the Nationals' heartbreaking 9-8 loss to the Cubs in Game 5 of the National League Division Series presented by T-Mobile, it seems to be not a question of if Baker will return, but a matter of working out the details for him to continue as the Nats' manager.
No one can argue with the results from Baker's first two regular seasons in Washington. He won 95 regular-season games in 2016 and 97 in '17, resulting in back-to-back NL East titles. He has twice brought the Nationals to a decisive Game 5 of the NLDS, both of which were played at Nationals Park, where they lost each time.
These Nats should be in position to make another postseason run next season. Outside of their manager, their biggest losses in free agency will be franchise stalwart Jayson Werth and some of their newest acquisitions, such as Howie Kendrick, Brandon Kintzler and Adam Lind. The Nationals have outfield depth in the organization to replace Werth, especially with the emergence of Michael A. Taylor this season to go along with Adam Eaton and Bryce Harper. Brian Goodwin made strides in his rookie season, and top prospect Victor Robles could be ready to take the next step.
• Werth in disbelief after possible Nats farewell
The Nationals will still have Harper and Daniel Murphy under contract for one more season, with Trea Turner, Anthony Rendon and a resurgent Ryan Zimmerman to join them. Their top four starting pitchers will all return after Max Scherzer had another Cy Young Award-worthy season and Stephen Strasburg finally ended the season healthy. Two midseason bullpen acquisitions, Ryan Madson and Sean Doolittle, both return.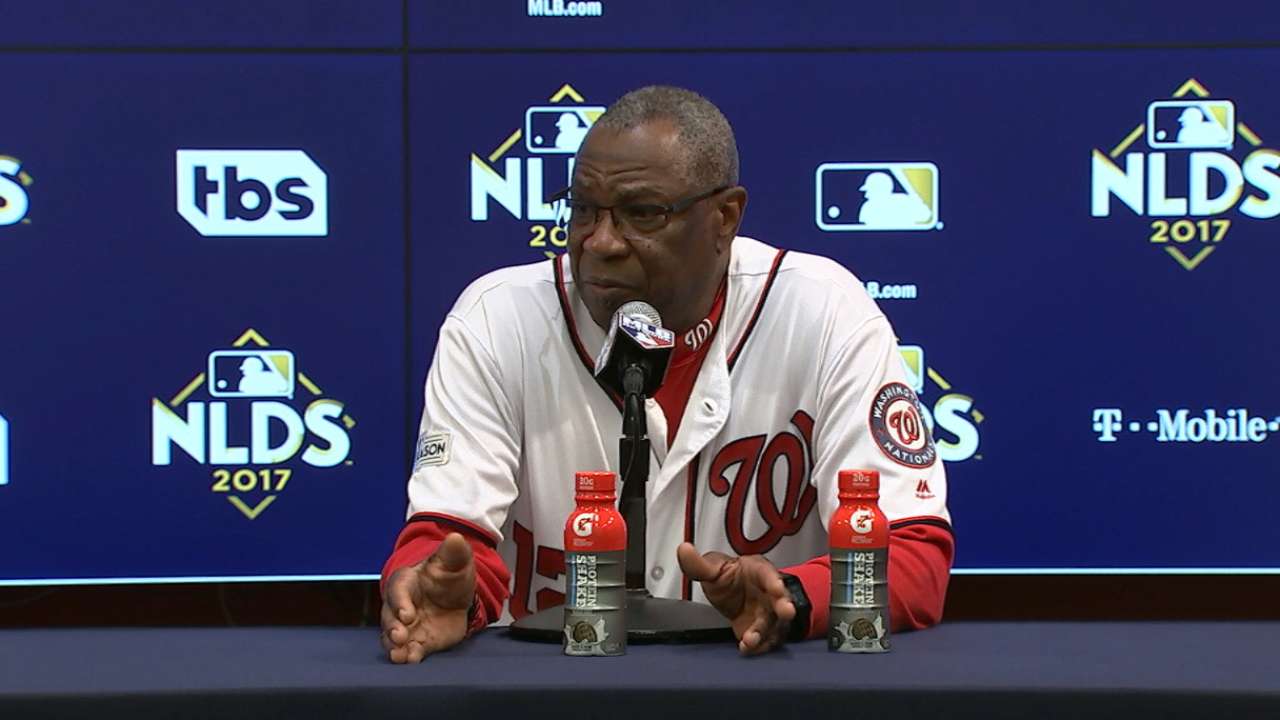 "We have a good core of guys here on the current club, a good core of guys in the farm system to supplement us," Rizzo told MLB.com's Mark Feinsand. "We feel good about the future."
• Feinsand: Nats left waiting for next year
The biggest question remaining for these Nationals is the uncertain future of their manager, who still has the support of the clubhouse.
"I think Dusty's great," Zimmerman said. "The whole coaching staff. Those guys worked their butt off to get us ready. They do such a good job of making sure they relate to us. That's a great group of guys in there. They're just as much deserving of the success we've had as we are. They probably work harder than us, to be honest with you. So it's a pleasure to be part of that staff. I think everyone in this room would love to have them back."
Jamal Collier covers the Nationals for MLB.com. Follow him on Twitter at @jamalcollier. This story was not subject to the approval of Major League Baseball or its clubs.