By George: Houston's leadoff star
The Astros slugger talks about his team's stellar season and his competitive family roots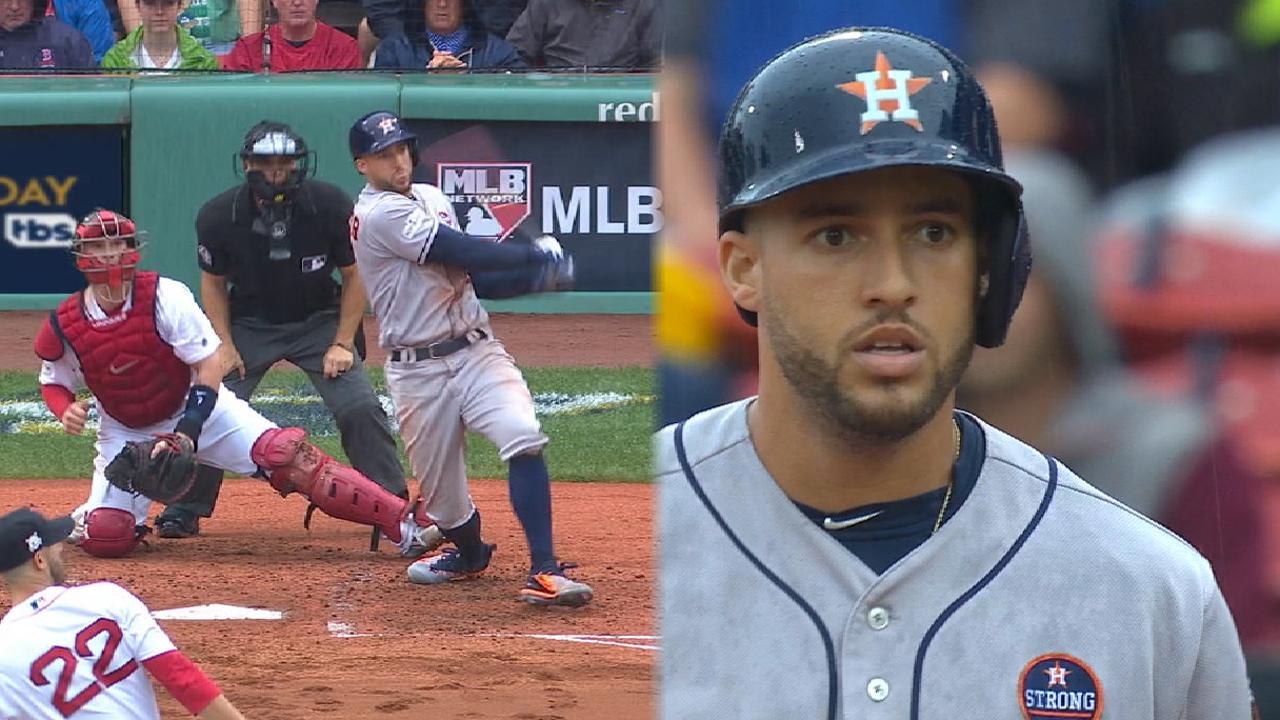 George Springer, the Astros' high-flying center fielder, has endeared himself to fans in Houston with his up-tempo style of play since making his Big League debut in 2014, and this year he's emerged on the national stage, too. After playing in all 162 games in 2016, Springer was selected to the American League All-Star team for the first time this year, starting in left field.
As the leadoff hitter for the team that held the best record in the AL for much of the season (until the Indians won 20-plus straight games, at least) and won the AL West in runaway fashion -- the Astros' first division title since 2001 -- Springer is the ignition switch for one of the most dangerous lineups in the game. He possesses a devastating speed/power combination that boosts his team more than most superstars can.
Life is pretty good away from the field, too, as the 28-year-old Springer has recently gotten engaged to his long-time girlfriend and tries to live a quiet life away from the ballpark, which means he stays off social media as much as possible. When he's at the yard, the smiling, dancing Springer makes it clear he's having the time of his life in Houston, a point made crystal clear when we caught up with him in the final weeks of the season.
The Astros led the AL West the entire season and had opened up a big lead by the end of May. How did the team manage to stay focused on its goals?
The goal was obviously to win the division, win each series, and just keep playing hard.
What kind of impact has a veteran like Carlos Beltran had on you and some of the other younger players?
He's been everything, from his experience to his knowledge to his calm demeanor. He's helped me tremendously, and I know he's helped all 25-plus guys in here.
The Astros have a young core -- you, Carlos Correa, Alex Bregman, Jose Altuve -- that could be together for a long time. How exciting is it to be a part of that?
It's an honor, man. It's awesome. It's fun. The talent that's in this room is, I believe, a special group of guys. To have a shot to be part of it, I'm happy.
What was it like making your first All-Star team and having so many teammates with you in Miami in July?
It was awesome. It's a pretty indescribable feeling to be out there playing in a game that I've watched my whole life, especially with five or six of my teammates - three of them starting. That was an unbelievable experience.
Have you felt like you've emerged as a leader in the clubhouse for the Astros, and is that a role you have now come to embrace?
I show up every day and be myself, and if that helps somebody, great. If not, I understand. I just like to be myself.
You have been known to run into walls to make a catch. Are you just as adventurous in your everyday life?
In a controlled environment, yeah. I don't put myself in harm's way, but I like to have fun.
You came from a very athletic family. What was that experience like growing up?
(Springer's father, George Jr., played in the 1976 Little League baseball World Series and played football at UConn; his mother, Laura, was a top-level gymnast; both of his sisters played softball in college.)
Constant competition. Every single day there was something between me and my sisters or me and my parents. It was a constant competition in our household.
How did that help you get to where you are now?
You're used to competition every day. You have that fight, you have that desire to go out and beat whoever it is you're competing against, even if at the time it was my sister.

You've said you looked up to Torii Hunter while growing up. Is it daunting to know there are young kids looking up to you?
I actually haven't even thought about that. It is humbling to see kids wearing anybody's jersey. I think that's awesome. It's my job to go out there and set a good example. I'm happy to do so.
You got engaged to your girlfriend, Charlise, and proposed to her on the beach in Cabo San Lucas, Mexico. How has she inspired you?
She's awesome. She's the humbler, the rock. She's there for me when I need her. She's at every game. It's been fun.
As a former softball player, does she analyze your game?
At times I feel she knows the game a little too well because she lets me know if I do anything wrong or whatever the case (laughs). She understands the game and how hard it is to play, but she also knows the stuff a player has to do to play every day, whether it's getting an extra hour of sleep, eating healthier or sitting down on the couch and chilling. She's a very selfless person. She lets me do what I have to do, and I don't really think I can ask for anything more.
We've seen you dancing in the dugout. Where did you get those moves?
Just let your body do what it wants to do. Sometimes you can't contain yourself.

You've been very open about your stutter and started a charity bowling event a few years ago. How gratifying has it been to help so many kids?
It's awesome. It means a lot to me. It's something that's very near and dear to my heart. I'm glad I can help some kids come out of their shell and embrace life.
The Astros led the AL all season long. Have you felt this year that anything short of winning the World Series would be a disappointment?
I think every team's goal every year is to win the World Series. Anything less, yeah, is obviously disappointing. But we'll cross that bridge when we get there.
This article appears in the League Championship Series Program. To purchase a copy, visit mlbshop.com.
Brian McTaggart has covered the Astros since 2004, and for MLB.com since 2009. This story was not subject to the approval of Major League Baseball or its clubs.