Astros carrying 12 pitchers for ALCS
Right-hander McHugh added to staff for series vs. Yankees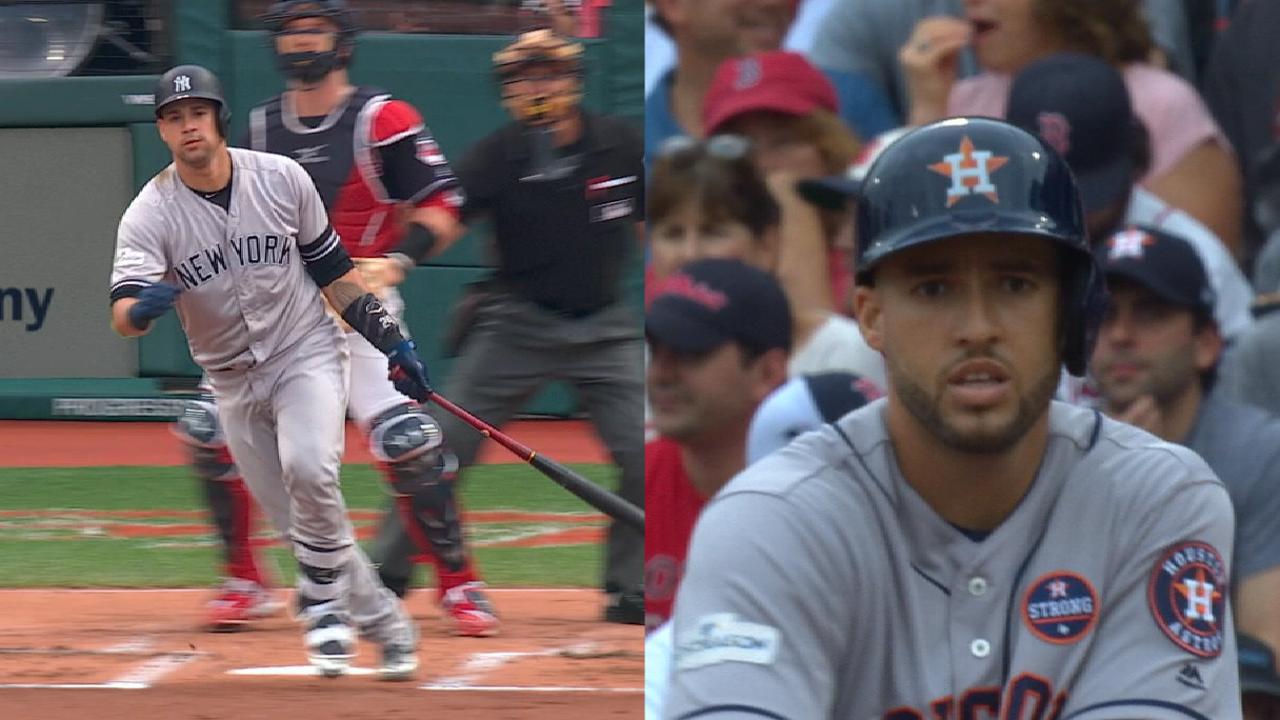 HOUSTON -- The Astros, as expected, added a 12th pitcher to their roster on Friday for the American League Championship Series presented by Camping World.
Veteran right-hander Collin McHugh will be available for the series against the Yankees, which begins tonight at 8 ET/7 CT on FS1. He takes the place of Tyler White, who was the only player on the Astros' AL Division Series roster who did not see any action.
• Dress for the ALCS: Buy Astros postseason gear
Astros manager A.J. Hinch said Thursday he would likely add a 12th pitcher to the ALCS roster because of the possibility of playing games on three consecutive days in the best-of-seven series.
McHugh, who missed nearly half the regular season with a posterior impingement of his right elbow, looked great down the stretch as Houston attempted to lock up home-field advantage throughout their run to the World Series. The 30-year-old won each of his final five decisions of 2017 while allowing 11 runs (10 earned) in 35 2/3 innings (2.52 ERA) across seven starts. He could join the rotation and push Brad Peacock to a long-relief role.
"It's been a while, but like I said, you've got to go get your innings, go get your outs," McHugh said of potentially pitching in relief. "Whenever that time is called and you're named is called, you've got to get the job done, especially in playoff baseball. You've seen top starters coming out of the bullpen, and seen anything and everything so far. I expect more of the same."
Here is a glance at Houston's ALCS roster:
Rotation: Keuchel, Lance McCullers Jr., Charlie Morton, Peacock and Justin Verlander
Keuchel and Verlander, a pair of former AL Cy Young Award winners who combined for all three of Houston's ALDS victories, give the Astros a formidable 1-2 punch, but how the rest of the rotation will shake out is unclear. Peacock and Morton each started a game in the ALDS, but McCullers could work his way into a start after throwing three innings of relief in Game 3 of the ALDS in Boston. McHugh is also a candidate to rejoin the rotation.
Bullpen: Chris Devenski, Ken Giles, Luke Gregerson, Will Harris, Francisco Liriano, McHugh, Peacock and Joe Musgrove
Two of the three Astros pitchers who threw the most innings in relief in the ALDS -- McCullers and Verlander -- are starting pitchers by trade. Giles, the closer, threw three innings, including a pair in Monday's clincher at Fenway, and Devenski (three games), Gregerson (two games), Musgrove (two games) and Liriano (two games) each pitched in multiple games in the ALDS. Harris pitched only two-thirds of an inning in the ALDS. Peacock or McHugh will work in long relief, depending on which one doesn't make the rotation.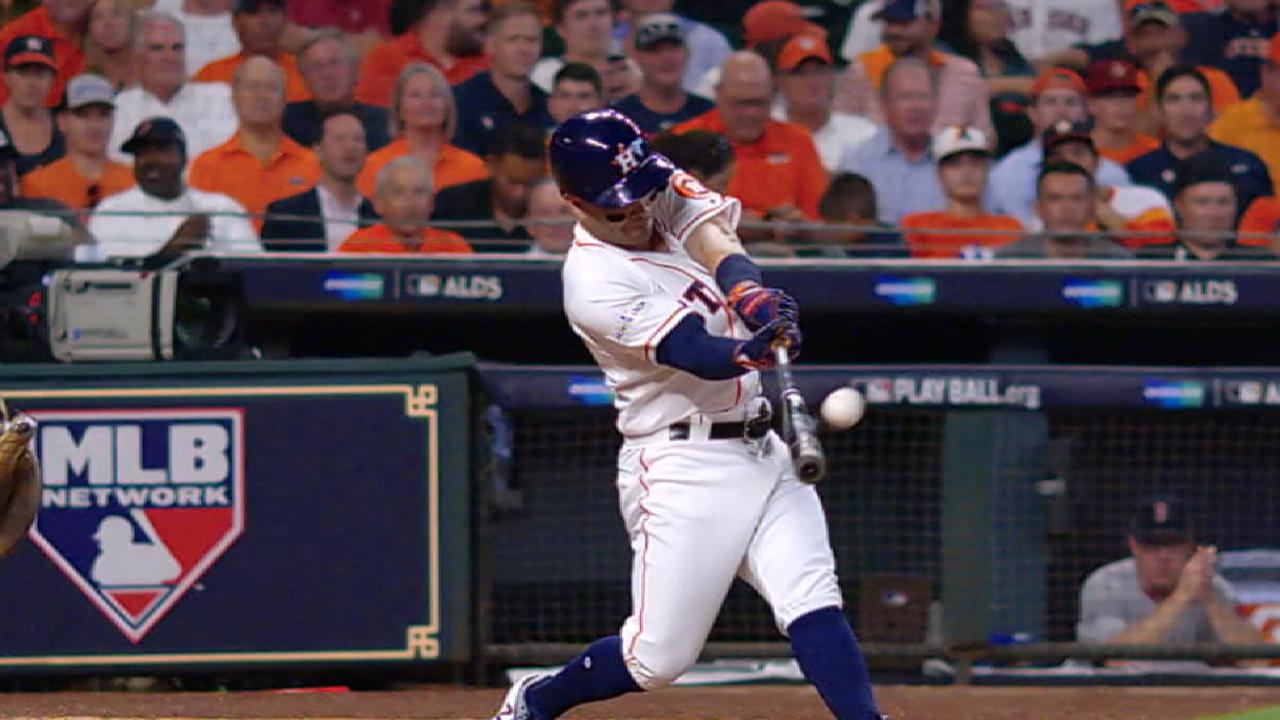 Infield: Jose Altuve, Alex Bregman, Carlos Correa, Marwin Gonzalez and Yuli Gurriel
It was a fantastic year offensively for the Astros, as the club finished atop the Majors in runs scored (896), hits (1,581), batting average (.282) and OPS (.823). The club's 1,087 strikeout total was also by far the fewest in the big leagues. Led by Altuve, who is one of the favorites for the AL Most Valuable Player Award, Houston piled up runs in the ALDS as well, averaging six per game. Altuve became the ninth player in MLB history to hit three home runs in a postseason contest, doing so in Game 1. Bregman and Correa each launched two long balls as well throughout the series.
Outfield: Carlos Beltran, Derek Fisher, Cameron Maybin, Josh Reddick and George Springer
The men who man the outfield turf at Minute Maid Park were no slouches during the Astros' run to the top of the AL West, either. Reddick hit .314 with 13 homers, Gonzalez batted .303 with 23 homers, and George Springer hit .283 with 34 deep flies. The potent collection of batters produced vs. the Red Sox, too, particularly Springer and Reddick, who combined to go 13-for-33 (.394) with seven runs scored.
Catchers: Juan Centeno, Evan Gattis and Brian McCann
None of the club's three backstops put up especially notable numbers during the regular season, but they were a respectable group. Working in a platoon, Gattis batted .263 with 12 home runs in 84 games, while McCann hit .241 with 18 homers in 97 games. The 31-year-old Gattis carried the trio over the past week, going 4-for-10 (.400) with two doubles and two runs scored against Boston.
Brian McTaggart has covered the Astros since 2004, and for MLB.com since 2009. Follow @brianmctaggart on Twitter. This story was not subject to the approval of Major League Baseball or its clubs.