Yankees, Astros announce ALCS G1 lineups
First time in postseason history that both clubs have shortstop batting cleanup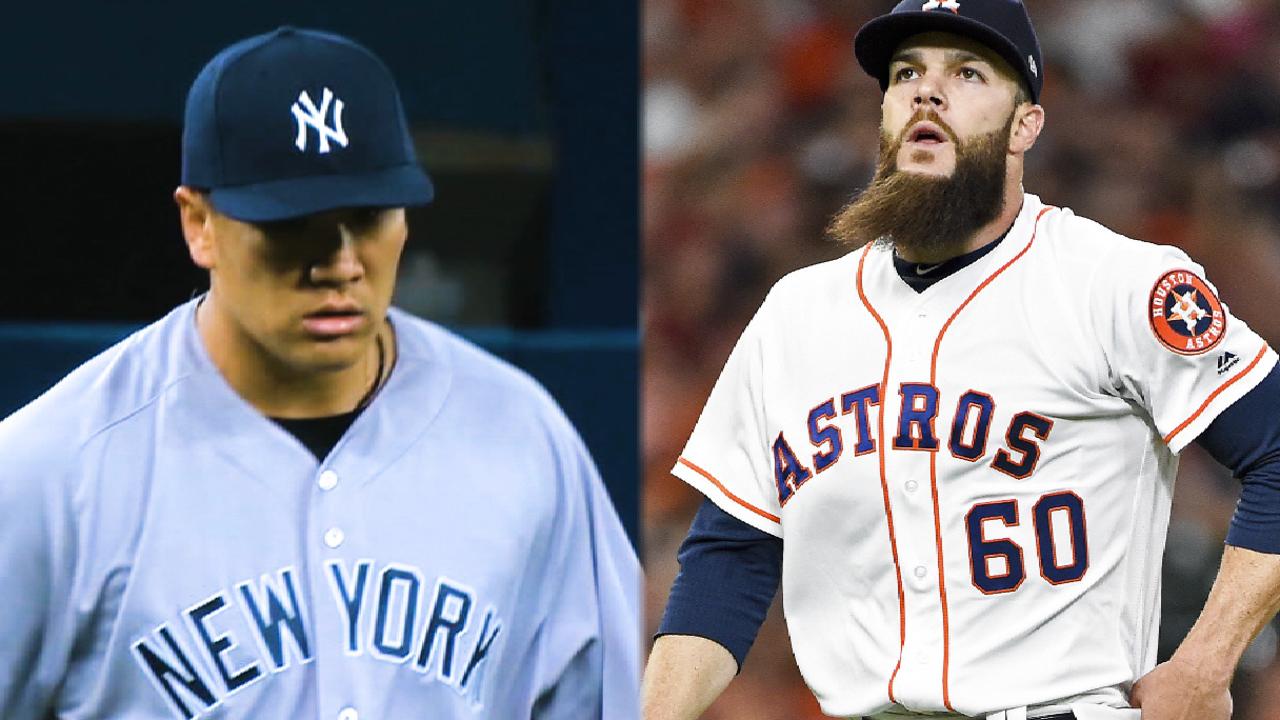 The Yankees and Astros have announced tonight's starting lineups for Game 1 of the American League Championship Series presented by Camping World.
Masahiro Tanaka, who beat the Indians in Game 2 of the AL Division Series presented by Doosan, will return to the mound, this time opposite Dallas Keuchel, who last faced the Yankees in a postseason game in the 2015 AL Wild Card Game, hurling six scoreless innings en route to a 3-0 victory.
Manager Joe Girardi is going back to a similar lineup he used in the club's Game 4 win over Cleveland in the ALDS, with a few tweaks. Right-handed-hitting Matt Holliday is slotted in at designated hitter in lieu of Chase Headley (the Game 4 DH) and Jacoby Ellsbury, who is hitless in eight at-bats this postseason. It will be Holliday's first time in the batting order for the Yanks in the 2017 playoffs. He'll hit eighth.
Brett Gardner, who is leading the Yankees with a .320 batting average so far this postseason, continues to bat leadoff, while Aaron Hicks, second on the team with a .318 mark and the only Yanks starter to homer off Keuchel in his career, hits sixth.
Aaron Judge will bat second ahead of the right-handed Gary Sanchez, with lefty Didi Gregorius, who is coming off a two-homer game vs. Corey Kluber, batting fourth.
Starlin Castro and Todd Frazier, the lone Yankees regulars without a homer this postseason, will bat fifth and ninth, respectively, with Greg Bird hitting seventh to round out the order.
For the Astros, veteran Carlos Beltran gets the nod at DH after knocking home a run with a pinch-hit double in Houston's ALDS-clinching win over Boston in Game 4. Beltran, who is 2-for-2 with a double in his career against Tanaka, is batting seventh.
Didi Gregorius and Carlos Correa make this the 1st postseason game in MLB history with both starting shortstops batting in the cleanup spot

— James Smyth (@JamesSmyth621) October 13, 2017
The top five guys in the order for manager A.J. Hinch -- George Springer, Josh Reddick, Jose Altuve, Carlos Correa and Marwin Gonzalez -- will all hit in their usual spots, with Yuli Gurriel sliding in at sixth ahead of Beltran.
Alex Bregman bats eighth and Brian McCann, batting ninth, will do the catching for Keuchel. McCann has just one career at-bat off his former teammate Tanaka, resulting in a strikeout.
Each of Altuve, Bregman and Reddick has gotten to Tanaka for a home run in their career, while Correa and Springer have taken the Yanks hurler deep twice.
YANKEES
1. Brett Gardner, LF
2. Aaron Judge, RF
3. Gary Sanchez, C
4. Didi Gregorius, SS
5. Starlin Castro, 2B
6. Aaron Hicks, CF
7. Greg Bird, 1B
8. Matt Holliday, DH
9. Todd Frazier, 3B
Masahiro Tanaka, P
ASTROS
1. George Springer, CF
2. Josh Reddick, RF
3. Jose Altuve, 2B
4. Carlos Correa, SS
5. Marwin Gonzalez, LF
6. Yuli Gurriel, 1B
7. Carlos Beltran, DH
8. Alex Bregman, 3B
9. Brian McCann, C
Dallas Keuchel, P
Oliver Macklin is a reporter for MLB.com based in Washington, D.C. Follow him on Twitter at @basebollie. This story was not subject to the approval of Major League Baseball or its clubs.