MLB.com Columnist
Jonathan Mayo
Inbox: Early reports from the Arizona Fall League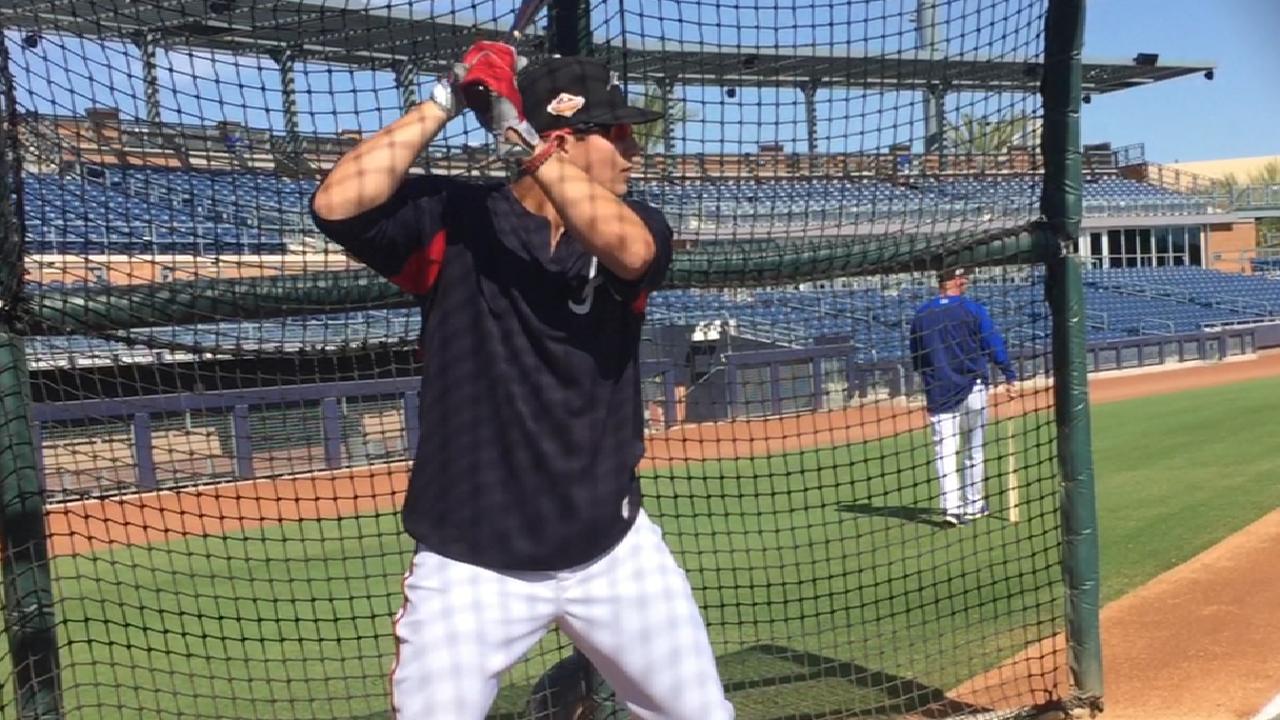 While the postseason rages on at the big league level, guys hoping to be on that stage in the future got going in the 26th season of the Arizona Fall League this week. This much baseball, at different levels (don't forget that instructional league play is still going on), makes this one of the best baseball weeks of the year.
I've been in Arizona all week, seeing as many of these prospects as possible, talking to a bunch of them along the way. So it made sense to ask for AFL-related questions for this week's Pipeline Inbox. And you guys responded with some good ones.
Outside of the prospects in the top 100 already, who do you feel can jump in to the top 100 with a good fall?

- Todd Egglefield (@teggle14) October 11, 2017
This is a good time for the annual AFL disclaimer about sample size. It is important to not put too much weight into Fall League performance, good or bad. It's a small number of at-bats or innings, guys are often working on something specific rather than worrying about putting up numbers at all, and it tends to be a very hitting-friendly league.
OK, now that we have that out of the way, it is also fair to say that a strong performance here can indeed help a player take a nice jump in the rankings. We try not to overdo it, but say, for example, a really young player who hasn't played above A ball comes in and absolutely dominates en route to an MVP award. Yes, that was Gleyber Torres a year ago. And he jumped close to the top of our Top 100 at the start of the 2017 season (and now finds himself at No. 1).
While there are some guys at the bottom of the current Top 100 who could make a nice jump higher up the list, like the Yankees' Estevan Florial (No. 78) and Red Sox prospect Michael Chavis (No. 92), the question asks about guys not on the list who could make it on. There are three names, all hitters, who first come to mind.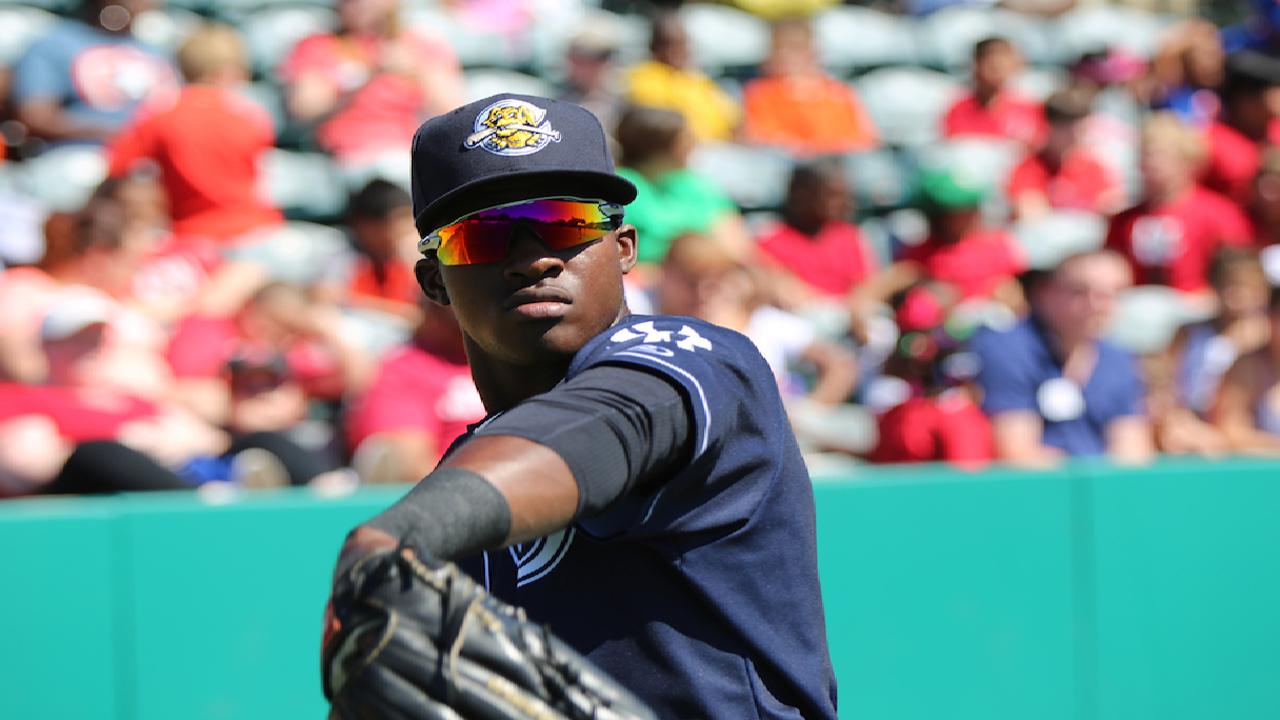 I think I'd start with Braves third baseman Austin Riley, who went 3-for-5 with a homer and four RBIs here on Thursday. He's No. 10 on the Braves' Top 30 list currently, and there are some very good arms ahead of him (and behind him -- more on that below). The power is legit, and Riley hit very well following a promotion to Double-A this past season, his second year in a row performing better in the second half than the first. Perhaps the most encouraging sign is the fact his walk rate went up and his strikeout rate went down.
Giants outfielder Chris Shaw is a second name to watch. The Giants' No. 2 prospect spent most of his second full season in Triple-A, batting a combined .292 with a .525 slugging percentage. Shaw finished the year with 24 homers and isn't far from knocking on the door in San Francisco. If the average-plus power continues and we see an improvement in plate discipline, he could sneak onto the list.
The last guy I want to mention is Brewers outfielder Monte Harrison. Now, he's just No. 14 on Milwaukee's Top 30, so I understand that this would be quite a leap to make. And Harrison might be the kind of guy who isn't on the Top 100 at the start of the season but uses the AFL as a springboard to get there while he attacks the upper levels. It took a while for the toolsy outfielder to get things moving in the right direction, but he played across two levels of A ball this past season and turned in a 20-20 season. That's exciting stuff if it continues.
What do you think of Justus Sheffield?

- Yankees Corp. (@YankeesCorp) October 11, 2017
Umm, I like him? In all seriousness, there is a lot to like from the left-hander the Yankees got in the Andrew Miller deal in 2016. I was at Sheffield's first AFL start when he tossed five innings like he was in midseason form and all the hitters were in Spring Training.
Sheffield missed a chunk of the season because of an oblique muscle issue, and he told me he's loving just being back on the mound competing again after making it back in time for Double-A Trenton's playoff run. He has a four-pitch mix, all of which are at least Major League average. Sheffield's ability to mix those pitches and throw them for strikes will be key. He was doing that here on Tuesday. Sheffield's competitiveness and swagger will help him and I could see him being a mid-rotation starter when all is said and done.
Is Taylor Hearn a future option for a rotation spot or better suited in the bullpen?

- Austin Bechtold (@AustinRBechtold) October 11, 2017
Hearn is a different kind of lefty than Sheffield, that's for sure. The 6-foot-5 southpaw did some good things in his first full season with the Pirates. Though his season ended in July because of an oblique issue, he did strike out 11 per nine and held hitters to a .203 batting average in 89 1/3 innings. The walk rate still needs work, but Hearn's 3.7 per nine in 2017 was an improvement on his 4.0 per nine rate from 2016.
The Pirates' No. 11 prospect is making up for some innings here, and Hearn did come out of the bullpen on Wednesday, the same day Mitch Keller dominated his start. Hearn tossed a perfect inning, striking out one and getting two groundball outs. I can't lie, it looked pretty good in that shorter stint, though I haven't seen him start. I would keep letting Hearn develop as a starter to see if the command and the secondary stuff can continue to improve. If I had to guess right now, he ends up in short relief, where his power stuff from the left side could make him an Aroldis Chapman-lite.
Re: That 16-strikeout performance by the four Braves prospect pitchers. How many of them are truly elite? #AFL

- David Jenkins (@DavidAJ4325) October 11, 2017
In the long run do you see Touki Toussaint as a SP or late inning RP?

- Kris Lambert (@klambert0810) October 11, 2017
That was about as good a Fall League pitching performance as you're going to see. I think "truly elite," would be a stretch, but the two to really keep an eye on are the first two who pitched, lefty Max Fried and Toussaint, a right-hander.
Fried struck out seven over three shutout innings. He had missed nearly two years following Tommy John surgery, then jumped back on the map with a big return in 2016. A double-jump to Double-A this season didn't go well for Fried, especially in terms of his command, though he didn't pitch poorly in 26 big league innings. The Braves' No. 9 prospect still has the stuff to be a solid big league starter as long as he can rediscover his ability to find the strike zone and command the ball within it consistently.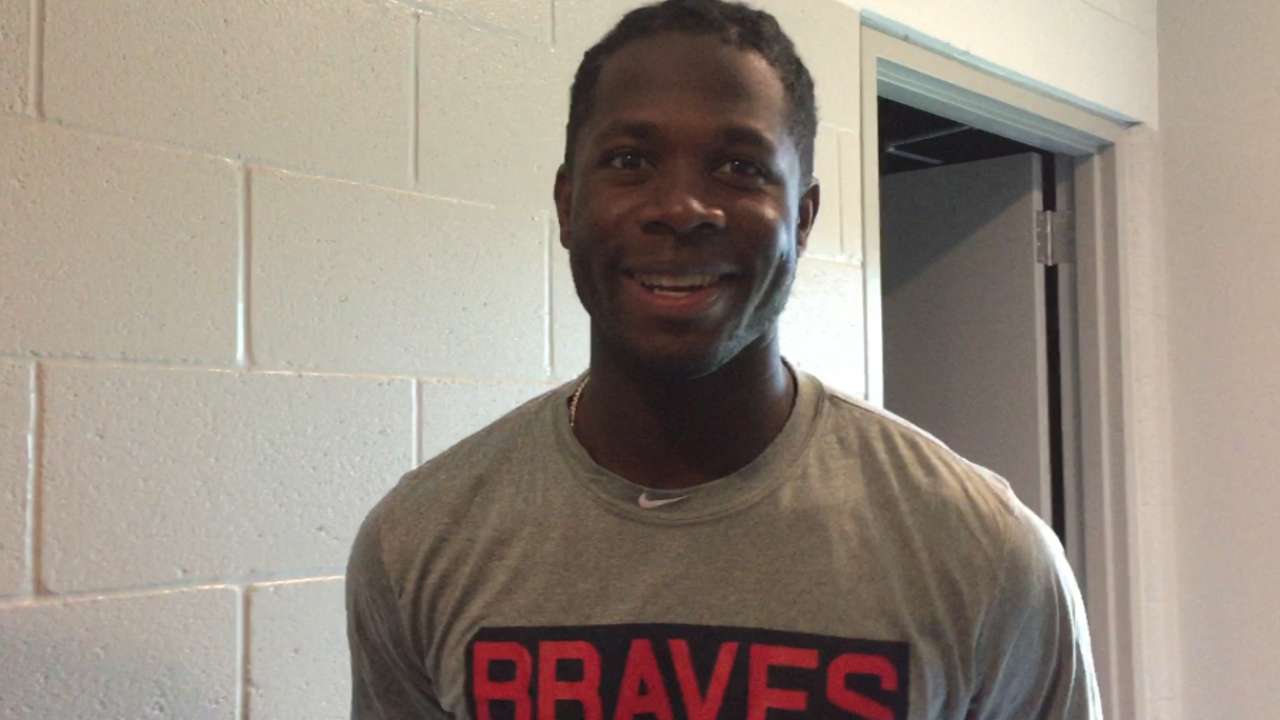 After a year that saw him throw 145 innings, it's a little surprising to see Toussaint here in the Fall League. There were some good things from his 2017 season, like his 10.4 K/9 rate, something he maintained across the Florida State League and the Southern League. Toussaint's 4.0 BB/9 rate was actually a big improvement (though it was 5.0/9 in Double-A), and that's where the issue is in terms of his long-term potential. He has the pitches to be a starter, and while his 2017 was uneven, he showed durability. That's a combination that makes you want to let Toussaint keep developing as a starter, especially since he's just 21 years old. He threw two hitless innings on Tuesday, walking just one and striking out four. Toussaint's fastball-curve combination would undoubtedly play up in shorter stints, and he'd get to the big leagues faster. I'd send him out as a starter in 2018 in Double-A and see how it goes, shortening him up during the year if there's a need.
Jonathan Mayo is a reporter for MLBPipeline.com. Follow him on Twitter @JonathanMayo and Facebook, and listen to him on the weekly Pipeline Podcast. This story was not subject to the approval of Major League Baseball or its clubs.