Despite ALDS loss, Red Sox had strong 2017
Boston won consecutive AL East titles for first time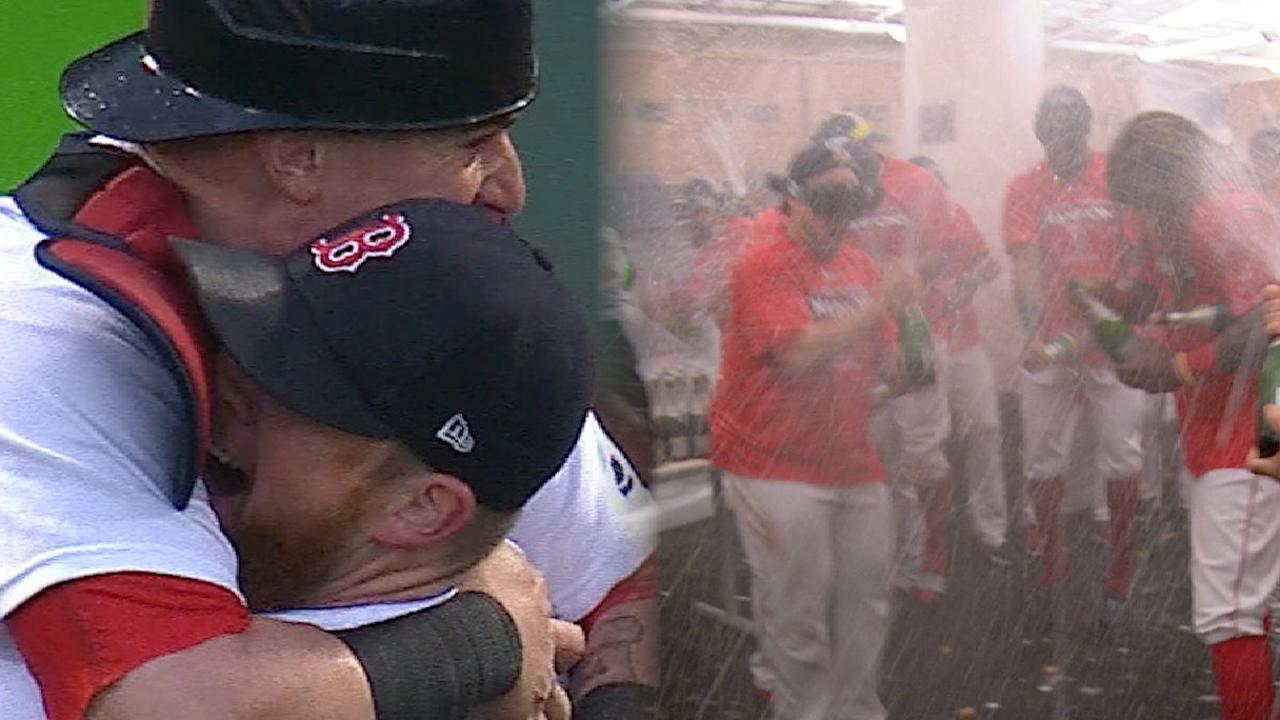 BOSTON -- The path to get there was much different, but the Red Sox matched their 93-win total from a year ago and won back-to-back American League East titles for the first time in club history.
Unfortunately, history also repeated itself in the postseason. After getting swept by the Indians in the 2016 American League Division Series, the Red Sox lost to the Astros in four games in the ALDS presented by Doosan this year.
"I haven't gotten past the ALDS, so I'm not sure what it takes," right fielder Mookie Betts said. "We did better this year than last year, so hopefully we can continue to get here. I know it's tough getting here. As long as we continue to put ourselves in this position, something is going to break through."
• Boston's clear '18 goal is longer October run
Despite the tough ending, the Red Sox formed a lot of good memories in 2017.
Sale's electric season
Considering all the hype bestowed on ace Chris Sale when the Red Sox traded for him last December, it's amazing that the left-hander lived up to it. His starts became events at Fenway Park, as he turned in the best overall season by a Boston starter since Hall of Famer Pedro Martinez. Though Sale had some struggles late in the season, he had Fenway Park rocking in Game 4 of the ALDS with four innings of dominance out of the bullpen, before tiring in in the eighth.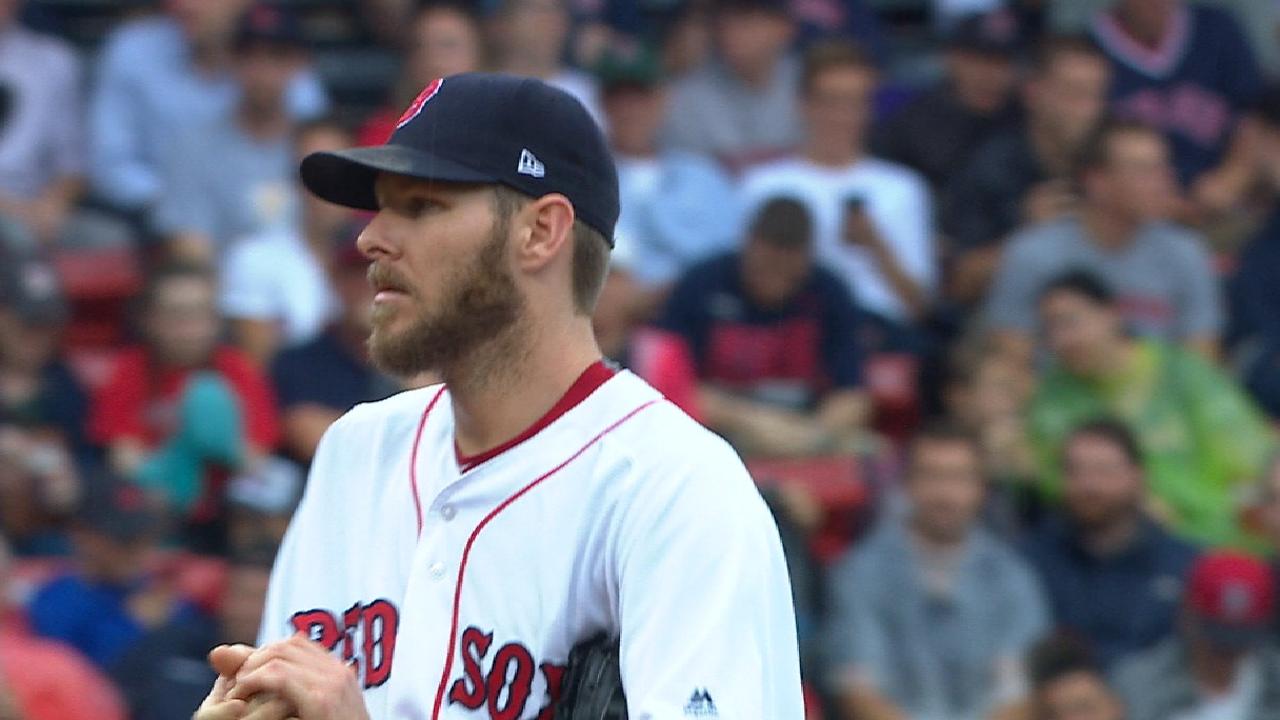 In November, Sale will be in the conversation for the AL Cy Young Award, though Indians ace Corey Kluber is probably the favorite. Sale had the 35th 300-strikeout season in MLB history (dating back to 1900), and he led the Majors with 10 scoreless starts. The only other Red Sox starters with as many as 10 scoreless starts in a season? Martinez and Babe Ruth.
Kimbrel's dominance
In just about any other year, Sale wouldn't have any competition for best pitcher on the staff. But closer Craig Kimbrel was every bit as dominant as Sale. The fireballer led Major League relievers in WHIP (0.68), and his strikeouts per nine innings ratio (16.43) underscores that simply making contact against Kimbrel was a victory for opposing hitters.
Not only did Kimbrel have power, but he also had impeccable control. According to Elias, Kimbrel became the fourth reliever to reach 100 strikeouts before issuing his 10th walk.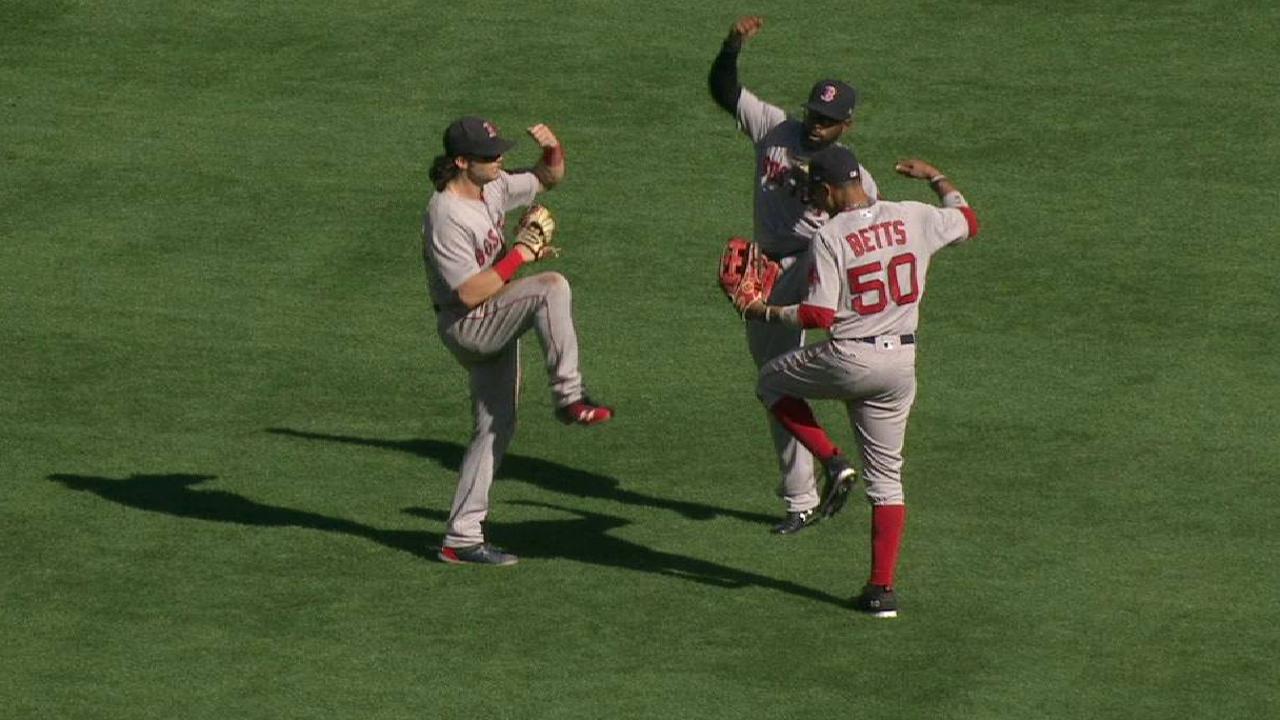 Game of the Year
The Red Sox took over first place in the AL East for good on Aug. 1. Perhaps it's no coincidence that was also the date they won a game as entertaining as any played in MLB this season. It ended with Christian Vazquez hitting a majestic three-run, walkoff homer to center with two outs in the bottom of the ninth. The Sox trailed, 5-0, then later tied it. They later came back from deficits of 7-5 and 8-7 before the surreal 10-8 win.
"Yeah, it was a PlayStation game, you know? You keep bouncing back and forth. It was like PlayStation," Red Sox shortstop Xander Bogaerts said. "It was good that we came out on top."
Devers against Chapman
If you're looking for the one moment that brought the most joy to Boston's dugout, flash back to Aug. 13. The Red Sox were down, 2-1, in the top of the ninth against the Yankees, and 20-year-old rookie Rafael Devers was facing flame-throwing closer Aroldis Chapman. Devers turned around a 102.8-mph fastball from Chapman for a game-tying homer to left-center that stunned Yankee Stadium.
It was the hardest pitch hit for a homer since MLB started tracking pitch velocity in 2008. It was the first time Chapman had been taken deep by a left-handed hitter since 2011. And it was a glimpse of how no situation seems to faze Devers.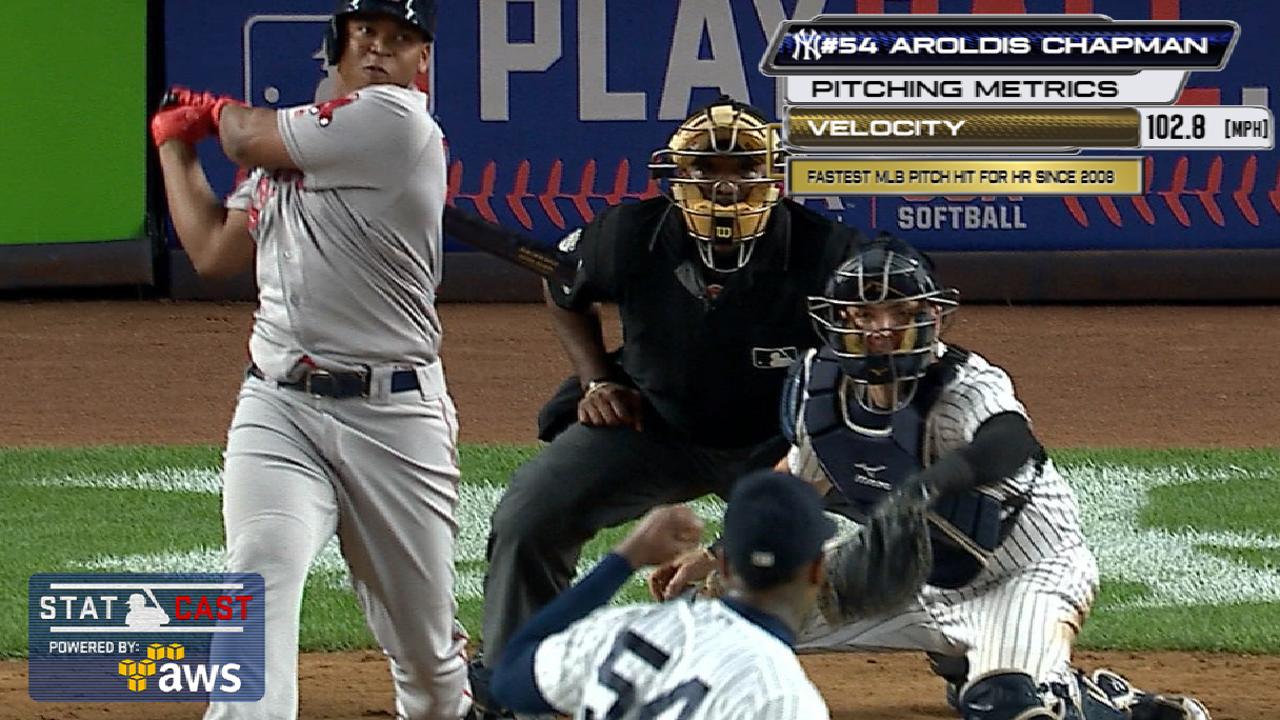 Extra, extra
Red Sox fans were kept up late quite often in 2017, but they were usually rewarded for sticking it out until the end. Boston went 15-3 in extra-inning games. The tone was set in the second game of the season, Sale's first start for the Red Sox, which ended when unlikely hero Sandy Leon crushed a three-run homer in the 12th to beat the Pirates.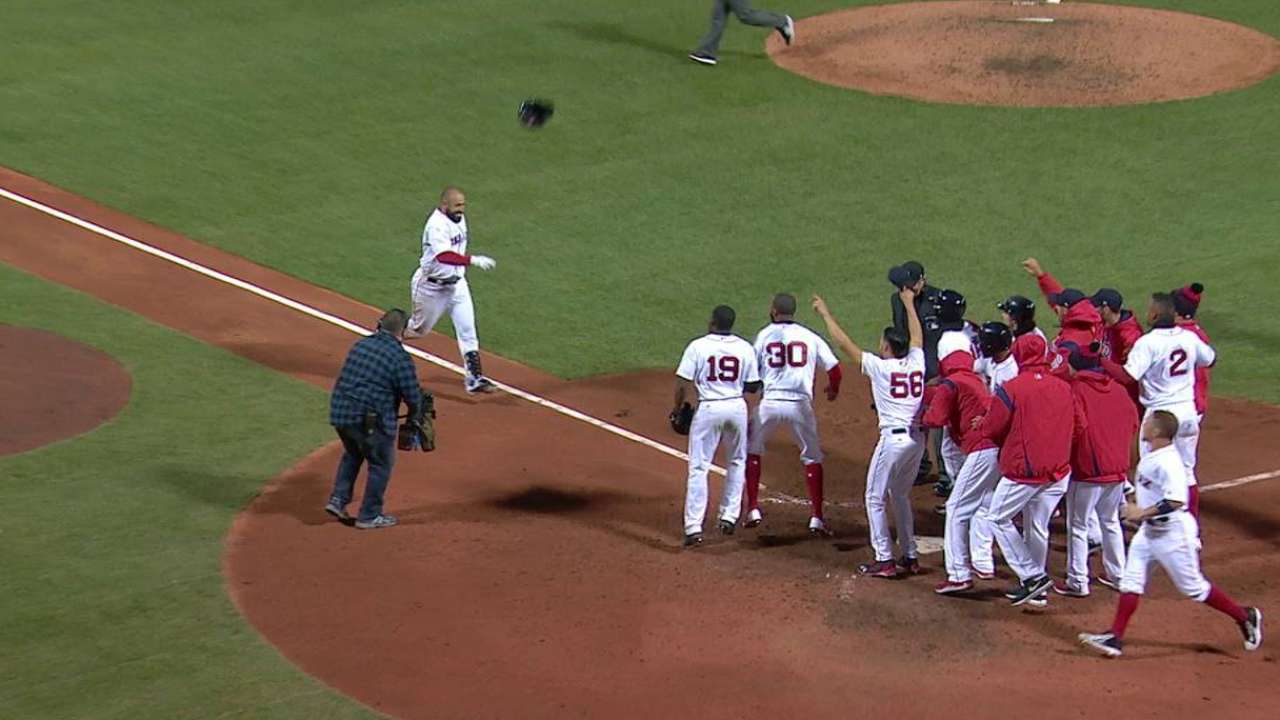 On May 17 at St. Louis, an early 4-0 deficit turned into an eventual 5-4 win in 13 innings.
The Sept. 5 contest at Fenway against the Blue Jays seemed like it would never end. But it finally did in the 19th, when Hanley Ramirez blooped a single to center that scored Mookie Betts.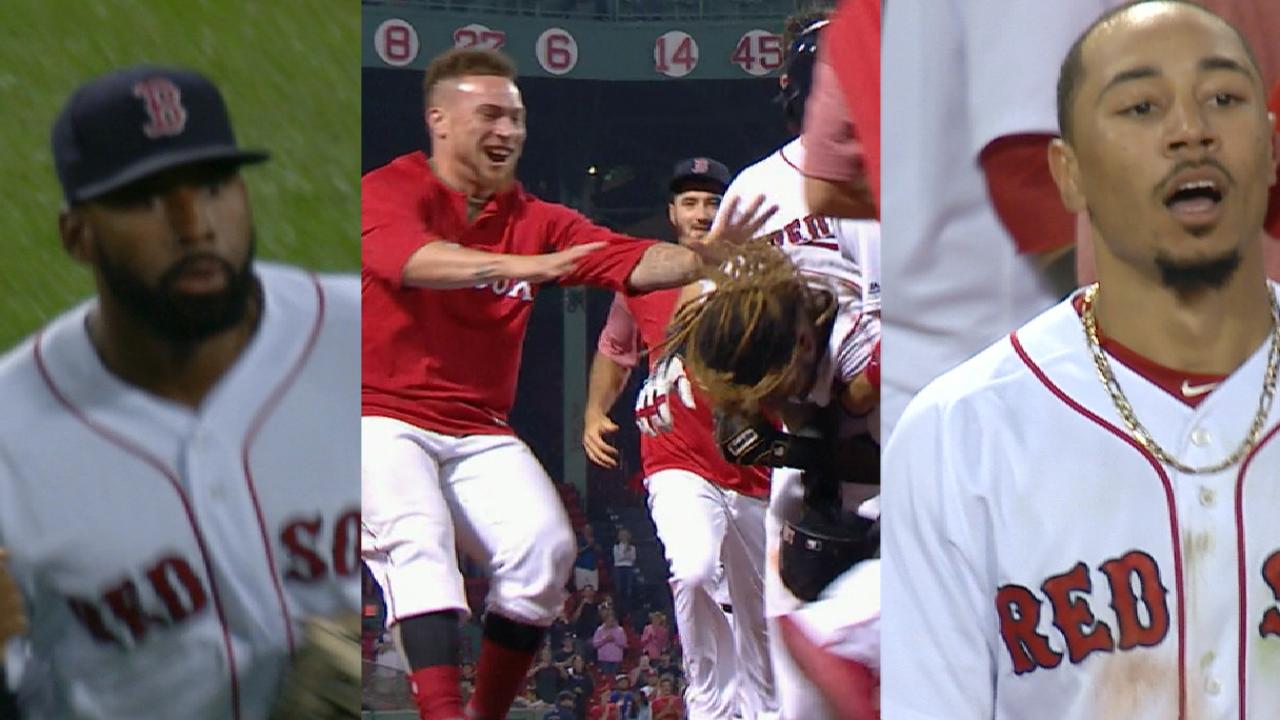 It sure seemed like the Sox were down and out on Sept. 15, when they trailed the Rays, 5-2, at Tropicana Field heading into the ninth against closer Alex Colome, who had 44 saves at the time. After turning the tables on Colome to tie it in the ninth, Boston struck for seven runs in the 15th.
The Red Sox's strong showing in extras was as big a factor as any in the club edging the Yankees by one game for the AL East title.
Ian Browne has covered the Red Sox for MLB.com since 2002. Follow him on Twitter @IanMBrowne and Facebook. This story was not subject to the approval of Major League Baseball or its clubs.