Inbox: Are the Marlins planning to rebuild?
Beat reporter Joe Frisaro answers questions from fans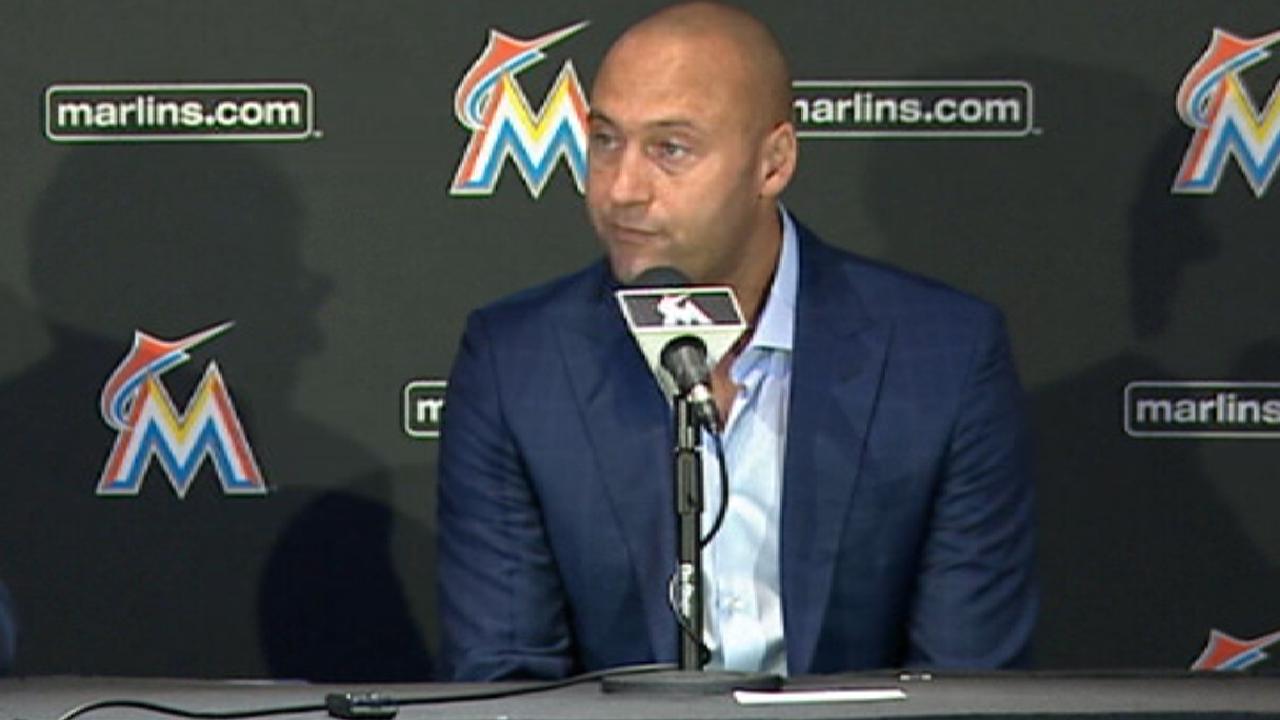 What will the new ownership do to get the city and its citizens more invested in the team and get attendance up? -- @josi_elder
At his introductory news conference last week, Marlins chairman and principal owner Bruce Sherman said: "We have to engage the community. We recognize that. With Derek [Jeter]'s leadership, it's going to be a great opportunity to do that. We know it's a long-term process. We want to win [over] the community, and mostly the fans, not for just the short-term, but the long-term. This is a long process. We're prepared. We want to win."
Sherman and Jeter, the new chief executive officer, have a challenge to win over the community. I think it starts with building a compelling product on the field, and achieving sustainable success. Off the field, it will be interesting to see their marketing plan.
I've long felt Spring Training is a starting point to engage fans in Miami-Dade and Broward counties. The Marlins' Spring Training home at the Roger Dean Stadium complex in Jupiter, Fla., is roughly an hour to 90-minute drive from Fort Lauderdale and Miami. Why not set up weekend trips, or travel packages to Jupiter? Putting more Spring Training games on TV also would give fans more time to get acquainted with the team. Making the players more visible and available in the community, either at events or for interviews, also would raise the profile in the market.
• Submit a question to the Marlins Inbox
Will they tear it down or just move a few pieces and build around Giancarlo Stanton? -- @legsanity
From Jeter: "I don't like the word[s] 'tear down.' Moving forward, there are going to be, at times, unpopular decisions that are made on behalf of the organization. Just understand every decision that we make is for the betterment of this organization."
Jeter added that retooling shouldn't necessarily mean settling for losing.
We've seen complete rebuilds in the past, like 2006, when the Marlins used more than 20 rookies over the course of the season. I wouldn't be surprised if this is more of a layered rebuild. I could see the club holding on to some of its core, perhaps even Stanton, and seeing if they can spend some money on pitching and give this core one more year. Or they could move Stanton, and the remaining $295 million on his contract, and say, build around Marcell Ozuna, Christian Yelich, J.T. Realmuto, Dee Gordon and others.
If they go that route, and the team still isn't contending, they could adjust accordingly and make trades in the next year or two.
The obvious question: Are the Marlins going to try to move Giancarlo Stanton? If so, what's the larger priority: moving the contract or prospects? -- @gregmaturin28
Stanton very well could be the biggest name on the market this offseason. I think the Marlins absolutely should explore trade possibilities, but remember, Big G holds all the cards. He has a full no-trade clause, so he has a say in if he stays or goes. He's already said publicly he doesn't want to go through a rebuild. On the other hand, he's a star player and fan favorite -- the type of player you want to build around. I think you have to see what the trade options are, and if it makes sense for the club, and Stanton signs off on a deal, then a trade could be possible. If not, you retain him, and hope the market rallies around that and attendance picks up.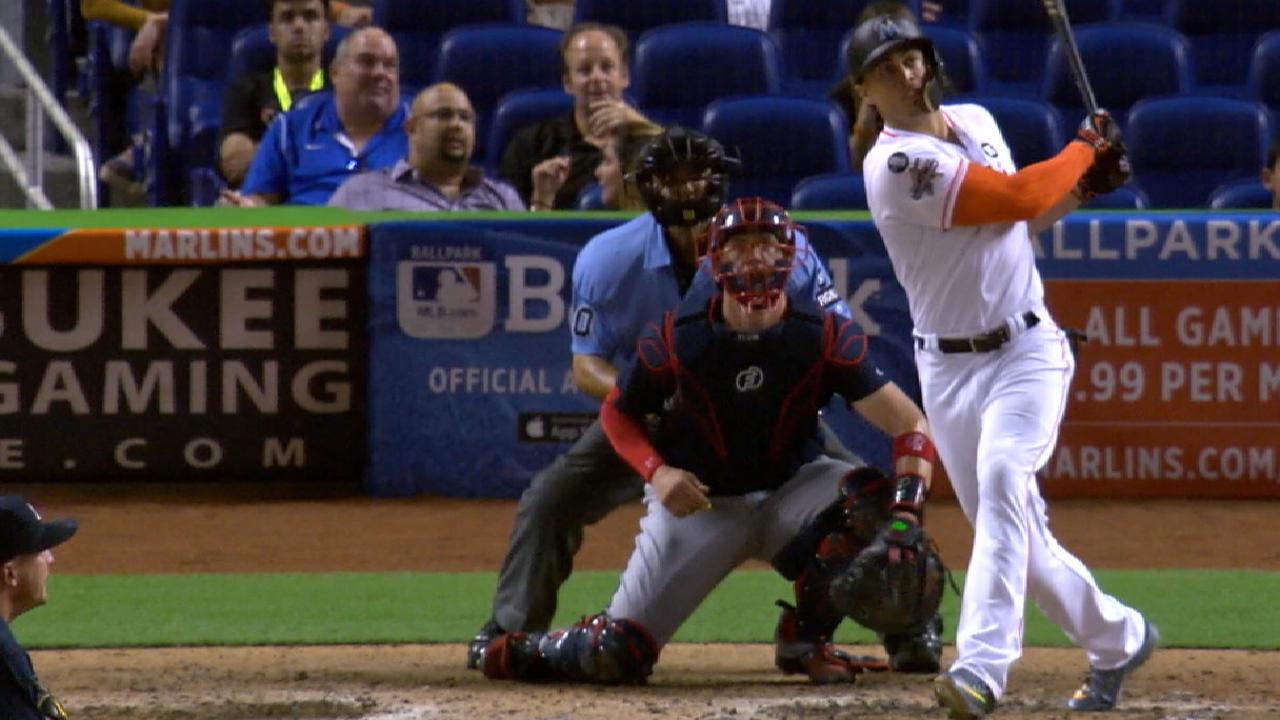 Your second point is really interesting: Do you move the contract or aim for the prospects? In the past, the Marlins tended to be more interested in moving large contracts and taking on lesser prospects. We don't know what this ownership will do. My hope would be to also get the best return possible, even if it means taking on some money.
I heard Derek Jeter talking about rebuilding the farm system. Does that mean trading players like Marcell Ozuna and Christian Yelich? Or maybe Giancarlo Stanton? -- @aldo122
To me, there's no question, the system needs to be deeper and stronger. At what cost? From what I hear, fans should be very excited with the hiring of Gary Denbo to a high-level front-office position, which was announced Wednesday. Denbo is considered a game-changer in terms of executives. His handprints are all over the Yankees' loaded farm system. Keep this in mind, every Yankees farm team, except one rookie league franchise, made the playoffs this year.
How do the Marlins go about patching up the rotation and bullpen? The bullpen seemed very overworked this year? -- @CoolKidJoeXBL
This is the big challenge. To me, signing free-agent pitching is highly risky and costly. We've seen it with Wei-Yin Chen. The Marlins signed Chen for five years at $80 million a couple of years ago, and he threw 33 innings this year. In 2016, he had 22 starts and logged 123 1/3 innings.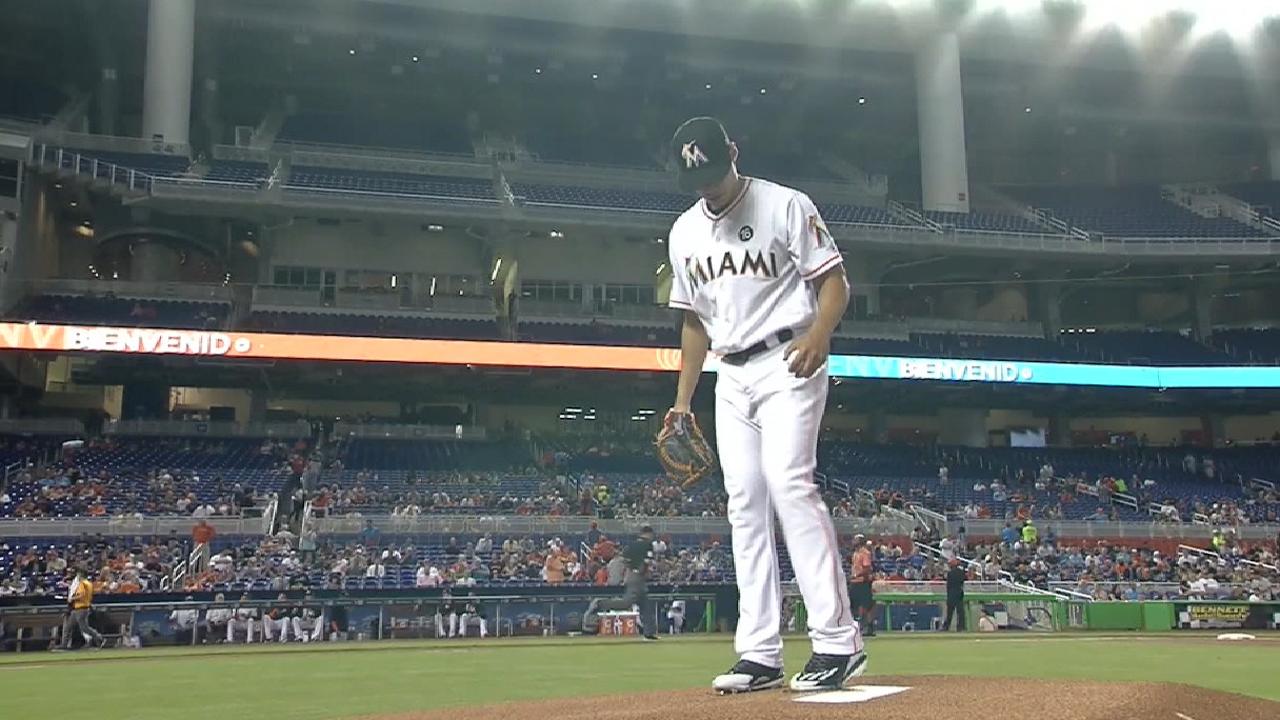 The best way is trying to trade for controllable pitching, and then drafting and developing pitching. It's not a quick solution. If there is a complete rebuild, stockpiling pitching would likely be the top priority.
Joe Frisaro has covered the Marlins for MLB.com since 2002. Follow him on Twitter @JoeFrisaro and listen to his podcast. This story was not subject to the approval of Major League Baseball or its clubs.