Cubs' repeat quest heads to Los Angeles
Defending World Series champs to face Dodgers in NLCS, beginning Saturday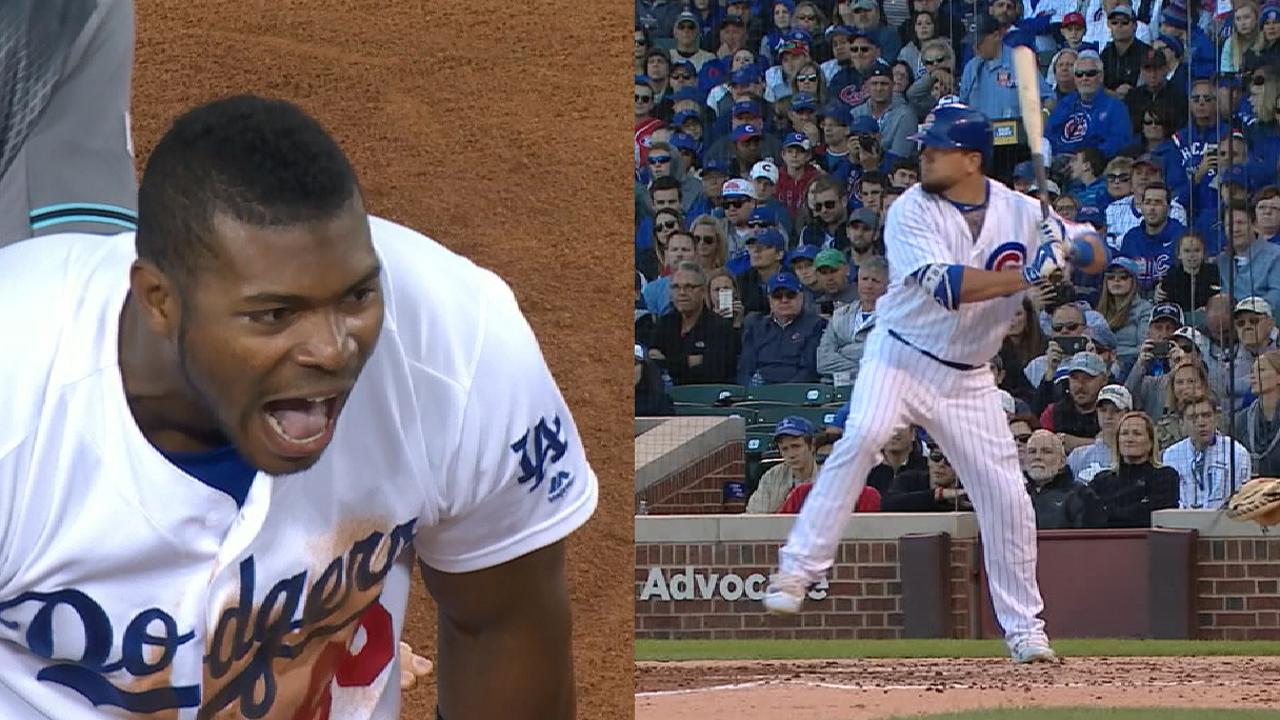 WASHINGTON -- In late August, the Dodgers had the best record in the Major Leagues, and Cubs manager Joe Maddon was asked about the possibility of facing them in the postseason. The Cubs were waiting for some of their injured players to get healthy and had a slim lead in the National League Central.
"I'm very confident playing against them -- absolutely," Maddon said at that time. "I like the way we match up against them -- a lot, not a little bit."
• NLCS Game 1: Saturday, 8 p.m. ET/7 CT on TBS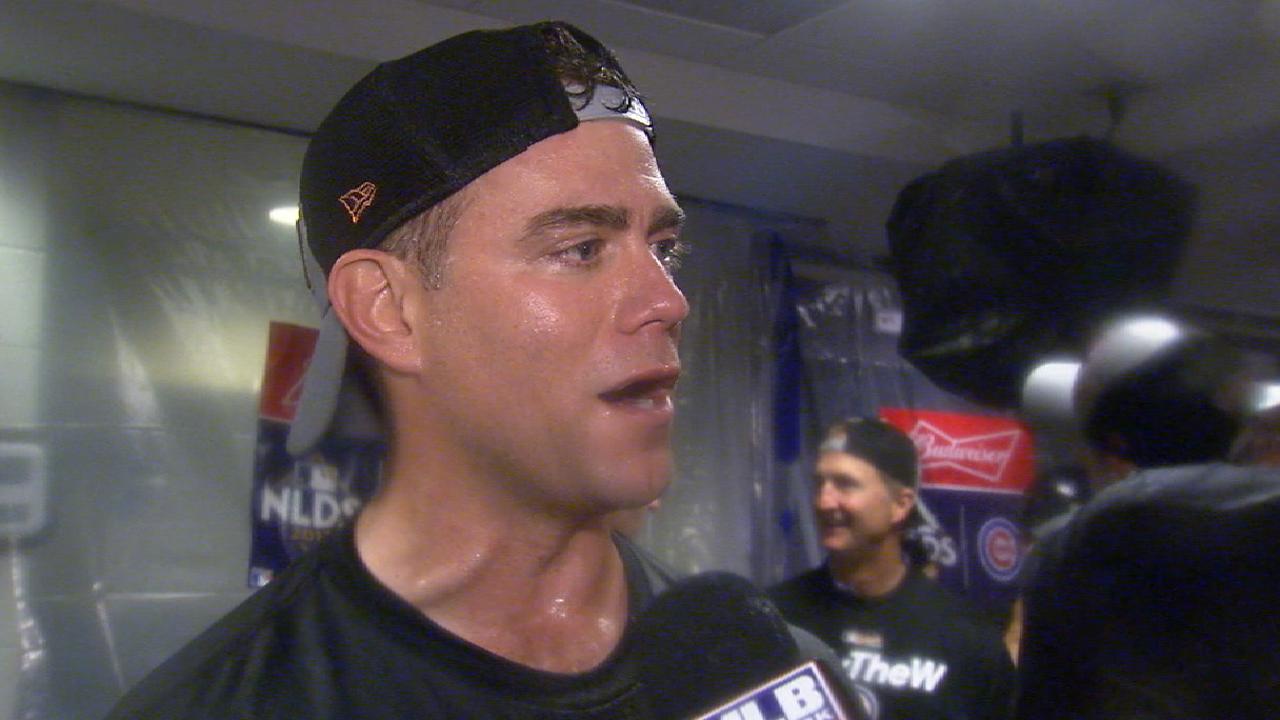 The comments were not meant to denigrate the other potential playoff teams, but they turned out to be prophetic. After Thursday's 9-8 win over the Nationals in Game 5 of the NL Division Series presented by T-Mobile, the Cubs now face the Dodgers in the NL Championship Series presented by Camping World, a rematch of last year's NLCS.
Game 1 of the best-of-seven series will be played Saturday at Dodger Stadium. After the Nationals extended the NLDS to five games, it's not clear who will start the NLCS opener for the Cubs. The Cubs planned to talk about their options once they got to Los Angeles. John Lackey and Jose Quintana are both among the Cubs' choices for the start.
A few players volunteered as they celebrated their third straight trip to the NLCS.
"Can I [start]? Yeah," Jon Lester said. "I'll be there. I'll be in L.A. I think the plane tonight is going to L.A., so I'll be there."
Said Kyle Hendricks, who started Thursday: "We'll figure it out. I don't know."
The Cubs beat the Dodgers in six games in last year's NLCS, with Hendricks and Aroldis Chapman combining on a two-hitter in Game 6, a contest many thought was one of the Cubs' best games of the postseason. Hendricks went 7 1/3 innings in the 5-0 win at Wrigley Field, sparked by home runs by Anthony Rizzo and Willson Contreras off Clayton Kershaw.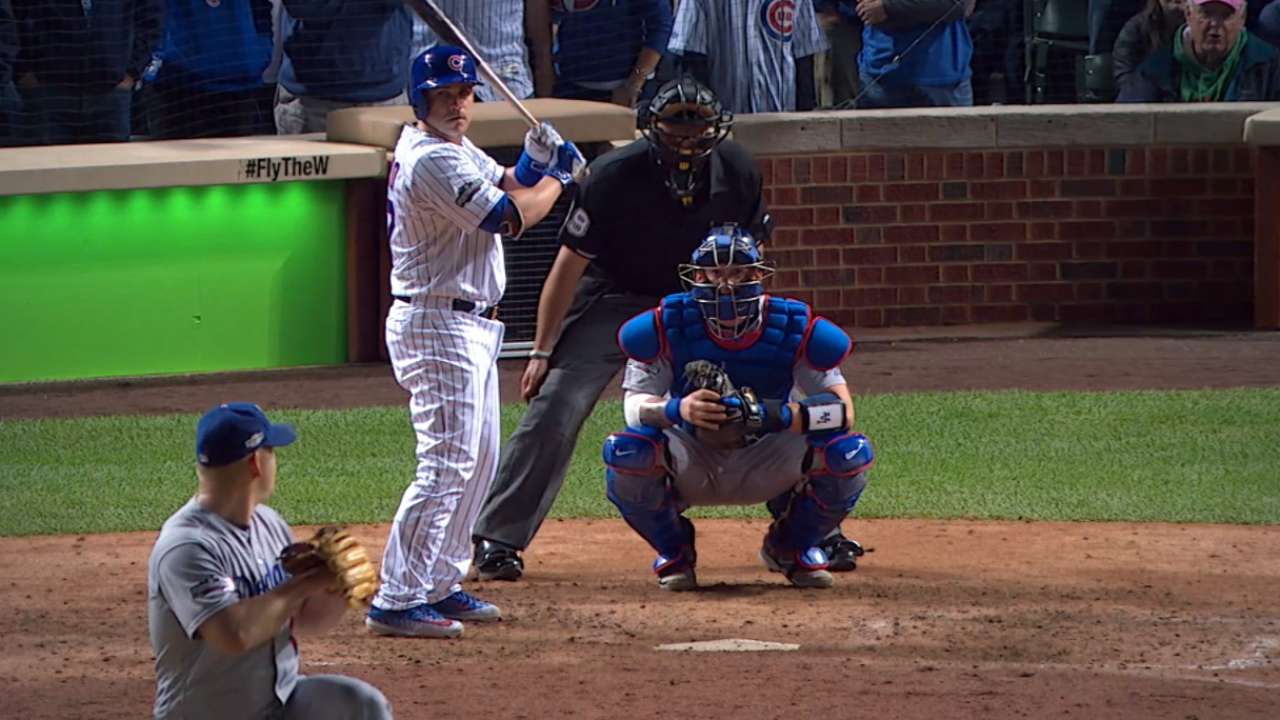 The 2016 LCS win was a little payback after the Dodgers swept the Cubs in the '08 NLDS.
The Cubs went 2-4 against the Dodgers this season, winning two of three in the opening home series at Wrigley, April 10-13, before being swept at Dodger Stadium, May 26-28. Kershaw pitched twice in the 2016 NLCS, winning Game 2 but losing Game 6.
Kershaw is 5-3 with a 2.64 ERA in nine career starts against the Cubs, including an outing May 28 in which he gave up four runs on 11 hits over 4 1/3 innings and did not get a decision.
Whether it's the Dodgers or the 1927 Yankees, Maddon feels his team is ready.
"I often say you have to beat the best to be the best," he said. "The question could've been about any team. Pick the '27 Yankees, pick the '64 Cardinals, the Big Red Machine, the 'We are Family' [Pirates]. You just want to believe your guys will match up against anybody."
We meet again: All-time LCS rematches
ALCS
1970 Orioles def. Twins, 3-0
1971 Orioles def. Twins, 3-0
1973 A's def. Orioles, 3-2
1974 A's def. Orioles, 3-1
1976 Yankees def. Royals, 3-2
1977 Yankees def. Royals, 3-2
1978 Yankees def. Royals, 3-1
2000 Yankees def. Mariners, 4-2
2001 Yankees def. Mariners, 4-1
2003 Yankees def. Red Sox, 4-3
2004 Red Sox def. Yankees, 4-3
NLCS
1977 Dodgers def. Phillies, 3-1
1978 Dodgers def. Phillies, 3-1
1991 Braves def. Pirates, 4-3
1992 Braves def. Pirates, 4-3
2004 Cardinals def. Astros, 4-3
2005 Astros def. Cardinals, 4-2
2008 Phillies def. Dodgers, 4-1
2009 Phillies def. Dodgers, 4-1
Carrie Muskat has covered the Cubs since 1987, and for MLB.com since 2001. She writes a blog, Muskat Ramblings, and you can follow her on Twitter @CarrieMuskat. This story was not subject to the approval of Major League Baseball or its clubs.