Yanks tab Tanaka for ALCS Game 1 in Houston
Righty hopes to match ALDS gem as he faces Astros' Keuchel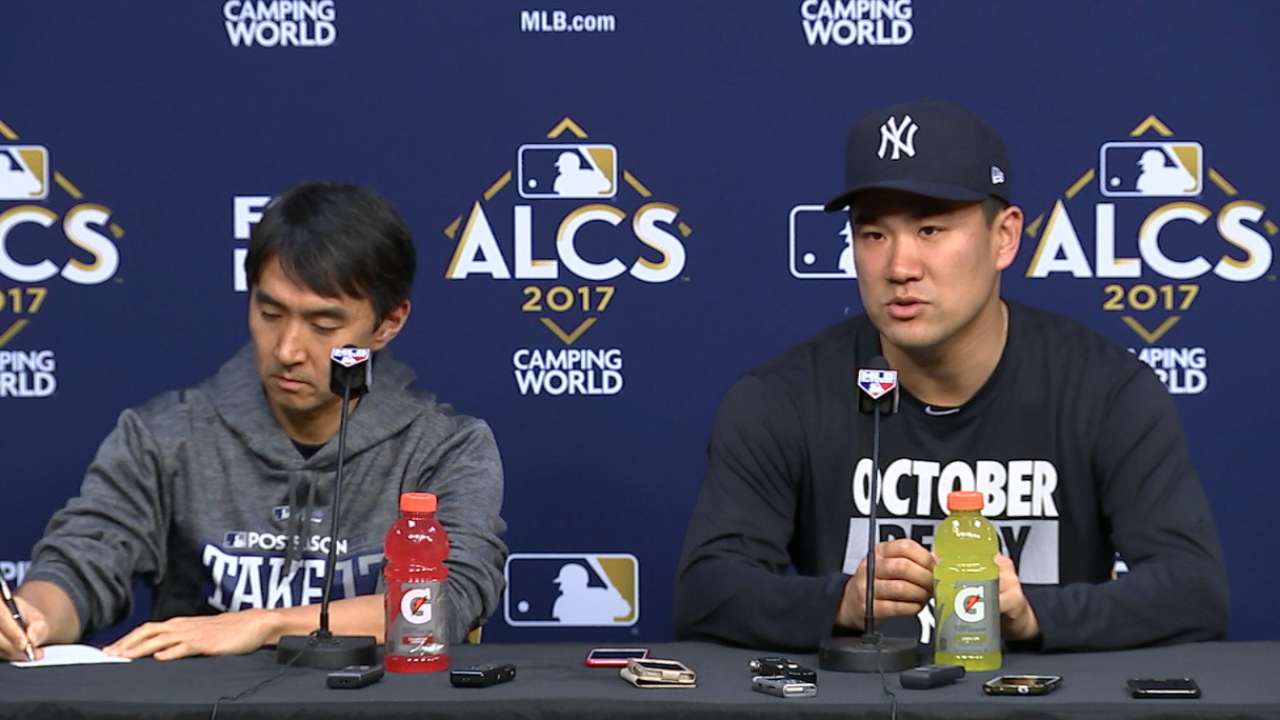 HOUSTON -- Fresh off arguably the biggest start of his career, right-hander Masahiro Tanaka will start Game 1 of the American League Championship Series presented by Camping World on Friday against the Astros, the Yankees announced on Thursday. Game 1 will air at 8 p.m. ET on FS1.
Tanaka provided a huge boost in Game 3 of the AL Division Series presented by Doosan, scattering three hits over seven scoreless innings in a 1-0 win over the Indians on Sunday at Yankee Stadium. Saturday's Game 2 start will go to right-hander Luis Severino, who worked seven innings of three-run ball, striking out nine, in New York's Game 4 win over Cleveland. CC Sabathia will start Game 3 on Monday when the series shifts to New York, and the veteran lefty will be followed by Sonny Gray in Game 4 on Tuesday.
• Dress for ALCS: Get Yankees postseason gear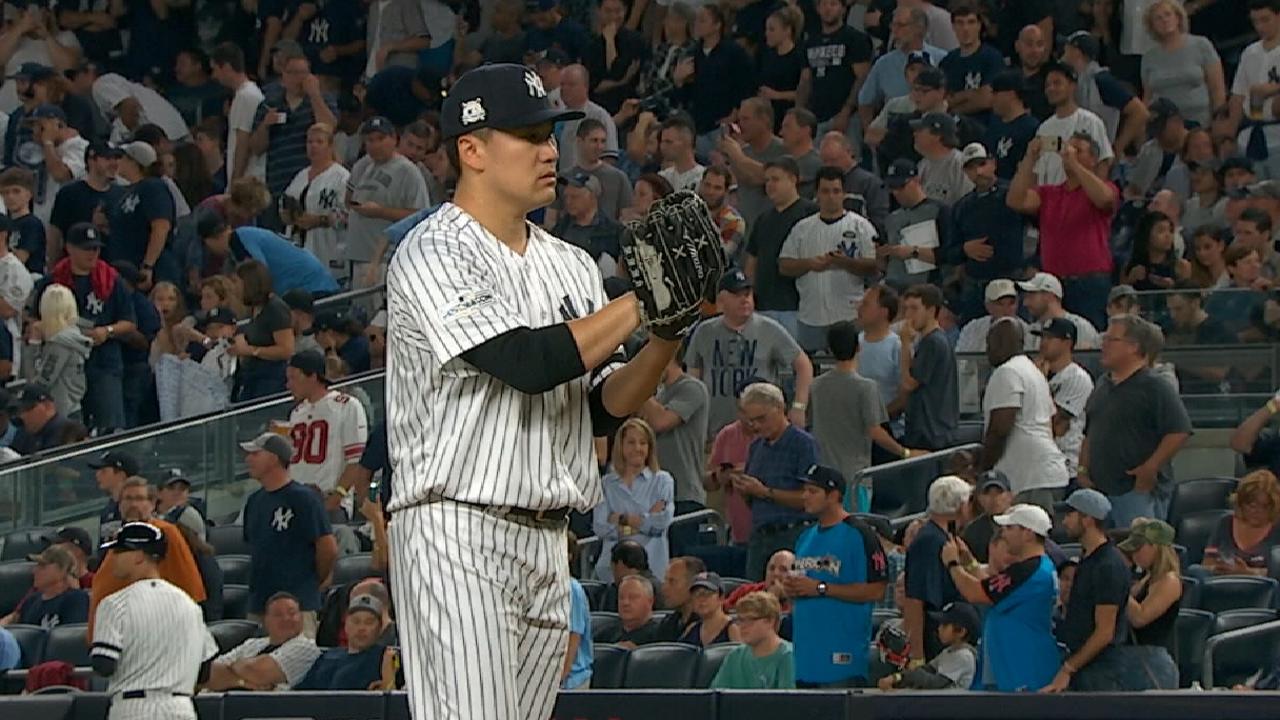 "Obviously, it's the first game of the series, which is an important game, so we want to go in there and take this first game," Tanaka said through a translator. "I feel like I'm a different pitcher than from earlier in the season."
Tanaka, in his fourth year with the Yanks, had an uneven regular season, posting a 4.74 ERA with 35 homers allowed in 30 starts, but he finished the year strong, with a 3.59 ERA over his final 10 starts, including a 15-strikeout performance against the Blue Jays in his final start before the postseason on Sept. 29. That coupled with his strong showing in the ALDS gave him the nod to start Game 1 on normal rest.
"His stuff was great the other day, he's had some really big starts, his last two starts have been outstanding," Yankees manager Joe Girardi said. "And there's a lot of times that he really gets on a roll and he puts a bunch of them together, and we're going to need a good one from him tomorrow."
Tanaka's splitter has been particularly effective recently, including against the Tribe. Of Tanaka's 92 pitches, 36 were splitters, with 26 of them going for strikes, including 12 whiffs. He also changed speeds well, as his fastball averaged 93.7 mph, his splitter averaged 91.7 mph and his slider averaged 83.8 mph.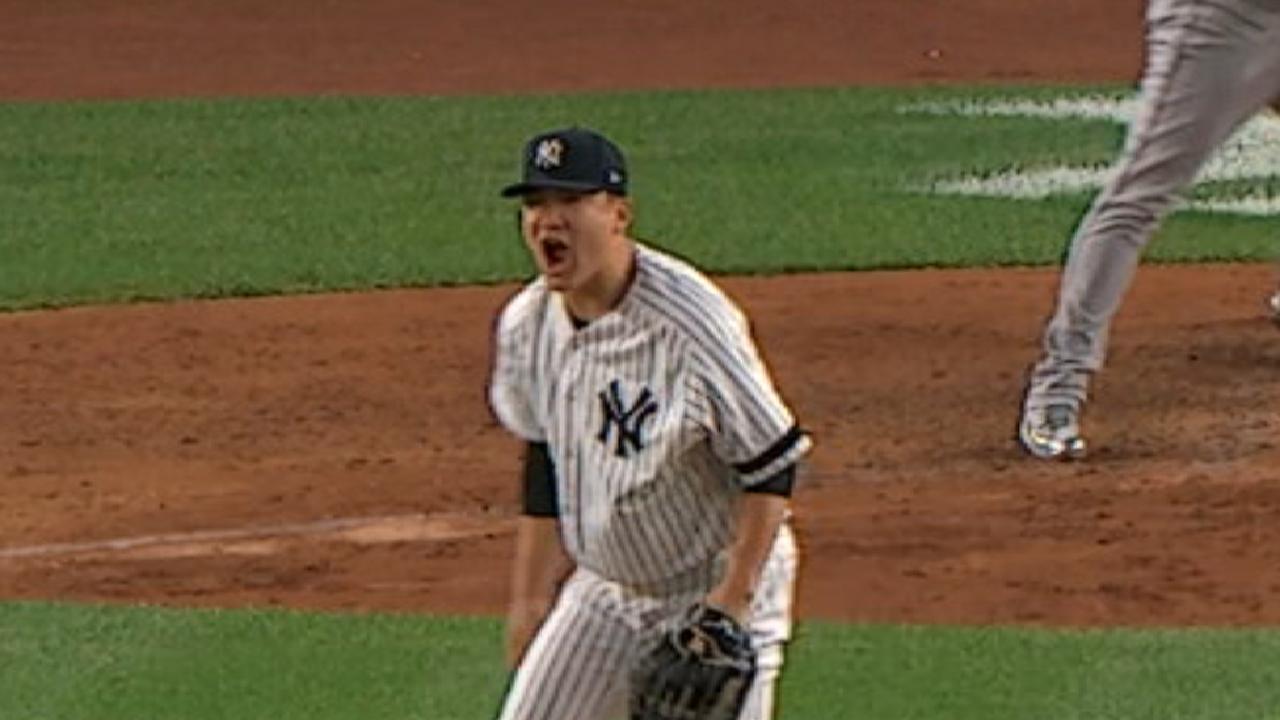 "I look at his velocity, the difference between his fastball and his split, and the sharpness of the split and slider," Girardi said. "Those are the two things that I look at when he's on his 'A' game."
Tanaka, though, will have his hands full, however, as Houston scored the most runs in the Majors, and Jose Altuve, Carlos Correa and George Springer have hit him well in a small sample size. The trio has combined to hit .359 with five homers and nine RBIs in 42 plate appearances against him.
"It's a versatile and tough lineup to navigate through," Tanaka said. "The important thing for me is to just keep executing pitches. At the end of the day, that's all I can do."
Tanaka has also struggled on the road this year, posting a 3.22 ERA in 15 starts at Yankee Stadium, but a 6.48 ERA in 15 starts away from New York. Girardi, though, downplayed those numbers, and the manager said giving him a start in Game 1 means he can start a potential Game 5 at home on Wednesday.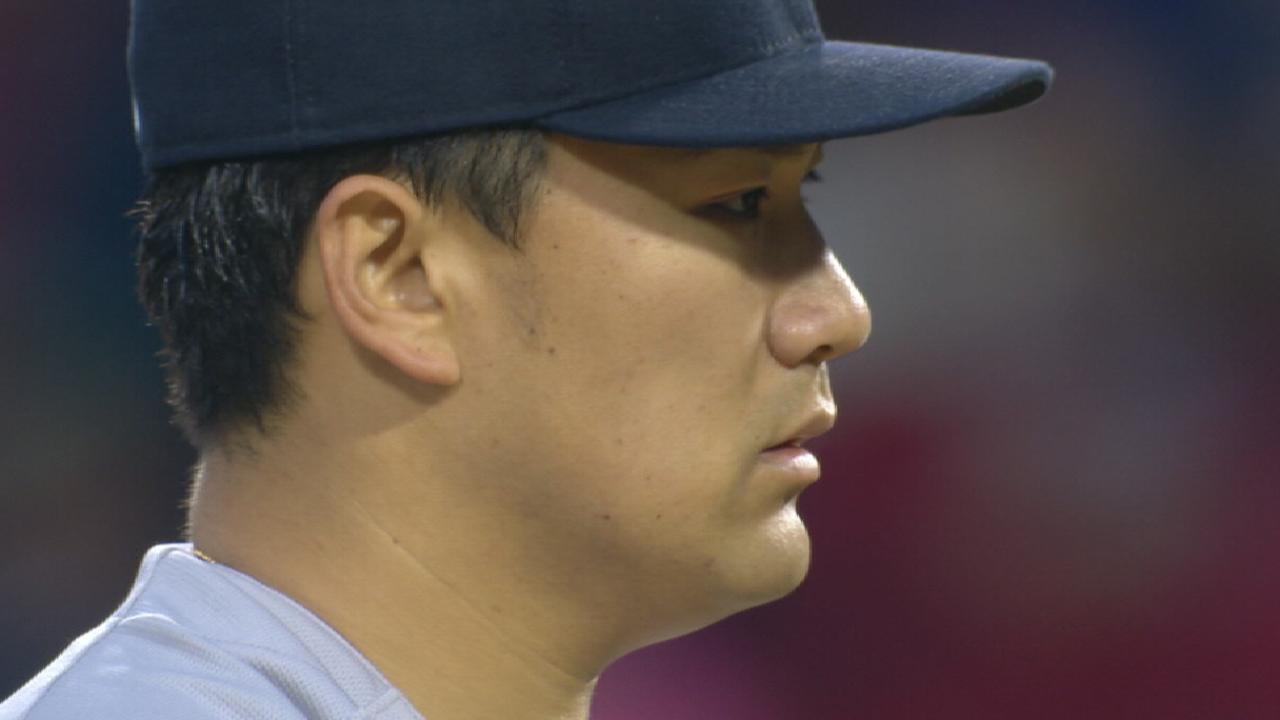 "I have a ton of confidence in him," Girardi said. "When you think about the way he's been pitching lately, you think about him having the possibility of making two starts in a series. So if I wait until Game 3, you don't know if you're going to get there. Then his next start would be Game 7. So one way of guaranteeing him one start at home is [Games] 1 and 5. So that's why we chose to do it, and we loved what he did his last start."
Rhett Bollinger has covered the Twins for MLB.com since 2011. Follow him on Twitter @RhettBollinger and Facebook. This story was not subject to the approval of Major League Baseball or its clubs.