Max Scherzer Q&A: Maximum Intensity
Nationals Cy Young candidate draws on past postseason experience to fire him up for October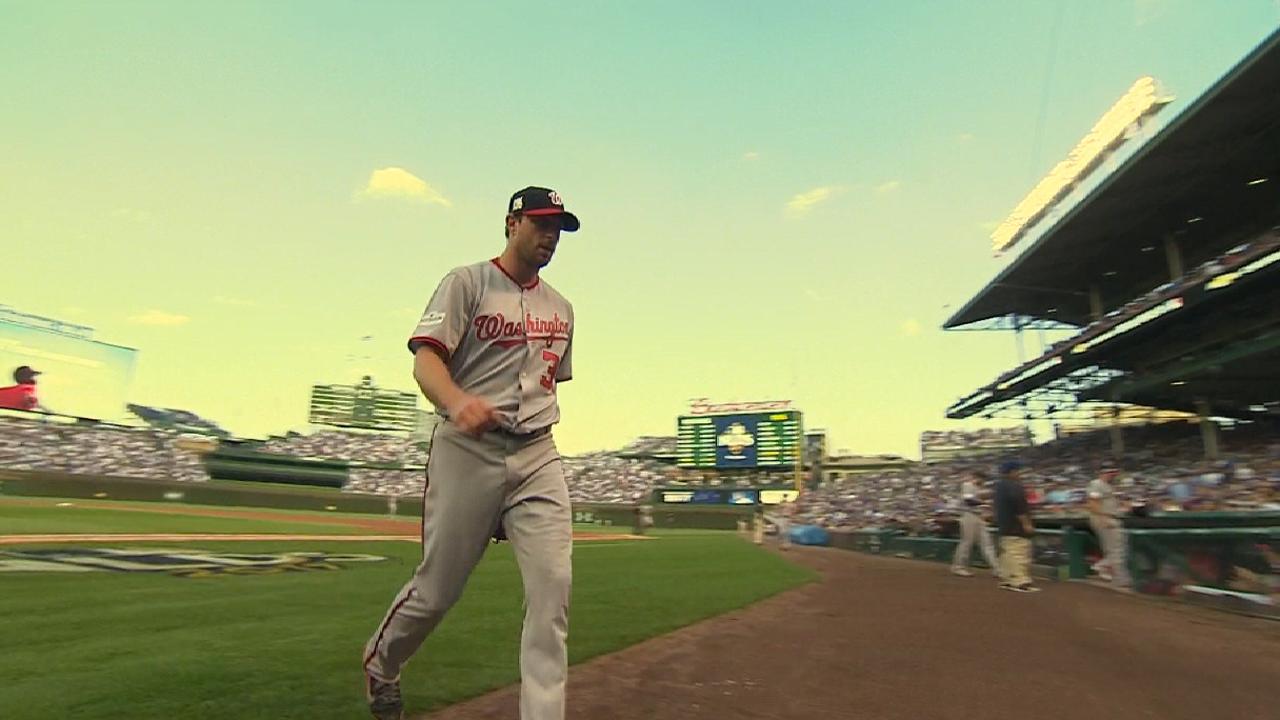 There is perhaps no pitcher who brings as much intensity to the mound with each start as Nationals ace Max Scherzer. He stomps around the mound, often talking or swearing to himself in between making opposing hitters uncomfortable with his arsenal of pitches.
Scherzer only gets more amped when he's in the postseason, as he hurled six-plus no-hit innings in Game 3 of the NLDS. It's the fourth time in six seasons that the Nats have reached the playoffs and the first time in team history they made appearances in consecutive seasons. Scherzer played an integral part in getting them to that point, following up a year in which he won the 2016 National League Cy Young Award with an even better 2017 campaign, putting him in position to possibly capture the honor for the second consecutive season.
Scherzer shared some of his thoughts on the postseason, including the Nats' crushing defeat against the Dodgers in Game 5 of the National League Division Series last October, his first playoff start six years ago, and how his current club stacks up compared to the previous teams on this run of division title success.
Back-to-back years in the postseason for the Nationals. How much were you looking forward to returning?
I mean, I was so looking forward to it. Last year left a bad taste in our mouths, not in terms of the effort that we put out there. The fact that we lost a really gut-wrenching playoff series against a very good team in the Dodgers, everybody -- in this organization, team, clubhouse -- wants to win a playoff series and keep winning. We know we have the team to be able to do it.
How much did you think about Game 5 of the NLDS last year, and when were you able to move past that?
I just learn from it. Losses like that, we had nothing to be ashamed of. We laid it on the line. Everybody in the clubhouse, I was so proud of how everybody handled it and performed that day. That's baseball; sometimes you lose. It's not like football or basketball where the better team wins. I'm not taking anything away from the Dodgers in saying this, I'm just saying look, we laid it on the line, and we easily could've won that ballgame. We didn't. And you want another shot at that. You want another shot at the postseason because I know if guys bring that type of effort and play with that type of intensity, we can win the whole thing. I've been there, I haven't won it, but man, that's what greatness looks like.
You called that Game 5 last year the biggest start of your career.
It was the biggest start of my career.
Why? You have pitched in a World Series (with the Tigers in 2012), and you have pitched in other big postseason games.
Elimination games. That's a whole different animal. It's win or go home. This is it, the day of judgment. Granted, I've pitched in the World Series when we were down 3-games-to-none. That's different than pitching in an elimination game. I've pitched in some big moments, coming out of the 'pen, but I could feel it. I'll still look back on it and say that was the biggest start of my career walking into it.
What did you learn about yourself from that start?
Just the level of intensity that I have inside of me to be able to pitch at that level. You think you have an idea of how much you can pour into a start. I was very happy with my effort and intensity level and staying within the moment, using the adrenaline the right way to pitch my way into the seventh.
Did you ever get nervous before a postseason start?
No, I remember my first playoff start was at Yankee Stadium, and I tried to really slow everything down. I went out there not myself because you always hear people say you've got to slow it down. I am not that person. I went out there that first inning, walked two or three, and I was like, "I'm not myself." I am a high-intensity guy. So, you have to feed off the atmosphere and the situation, and that's what I've learned the most about pitching in the postseason is just to let the energy feed you.
Is there a balancing act at all for you? You get amped for starts, but then the postseason is another level.
You've got to know when to hit the gas pedal and when not to. You can't go out there and just be in sixth gear the whole time and run the car to death. You do have to manage your intensity level, but, man, when runners get on base, that's when you've got to throw it in full gear.
This year, you've had to pitch through a lot of little nagging injuries (finger stress fracture, neck stiffness, calf soreness). How has it been battling through the season dealing with that?
I've had a lot of nicks and bumps throughout the whole season besides those. It's just something that you've got to deal with. You have to make up your mind if you can compete at 100 percent or not, and sometimes you might not feel the best. But if you go out there and say you're going to compete at 100 percent, a lot of times those things don't get in the way of how you perform. That's probably something that's going to happen as you keep getting older: You're going to have more nicks and bumps, more little things hurt and you just have to deal with it.
That being said, when you have been on the mound, you've still been the pitcher you expect to be. What has been the thing you are the most proud of or the thing you point to this season showing how you've grown as a pitcher?
Really solidifying the cutter and how I've been able to use it to lefties. This is year three of that pitch, and I've always said it takes three years to learn a pitch. I'm much more comfortable and consistent about executing and having finish on my glove side, inside on the lefties. I'm getting a lot of feel for how to throw it for a strike, how to throw it for a strikeout, and being able to utilize that pitch so I can really open up both sides of the plate with all the offspeed pitches and both sides with the fastball. Lefties are always my nemeses, but I feel like I've grown with how I can combat lefties. And I continue to grow and refine all the pitches so I can execute at a high level.
Having a postseason series with you and Strasburg at the top of the rotation for the first time, it's something we haven't seen before.
This could be the best team that we've had since I've been here. I really believe we can compete with anybody here in the Major Leagues. I know there are other good teams, so I'm not taking anything away from them, but man, I look around and we have every piece that we feel like we need.
Jayson Werth talked about that after you guys clinched the NL East, that you all felt like you addressed all your needs this year. Do you share the same feeling?
You've got to give credit to (GM) Mike Rizzo for that. He's the architect of this team, and he's assembled one heck of a team. In terms of every little piece that we need, we have that in our clubhouse, and that's the result of ownership, him and the rest of his staff assembling what we need at this level. At this level, I mean, a postseason team that can compete and try to be able to win it all and not have a glaring hole -- I feel like we've done a heck of a job in addressing that. Now, it's on us to go out there and do it.
This article appeared in the League Championship Series Program. To purchase a copy, visit mlbshop.com.
Jamal Collier covers the Nationals for MLB.com. Follow him on Twitter at @jamalcollier. This story was not subject to the approval of Major League Baseball or its clubs.