All DS clinches on road -- good sign for Cubs?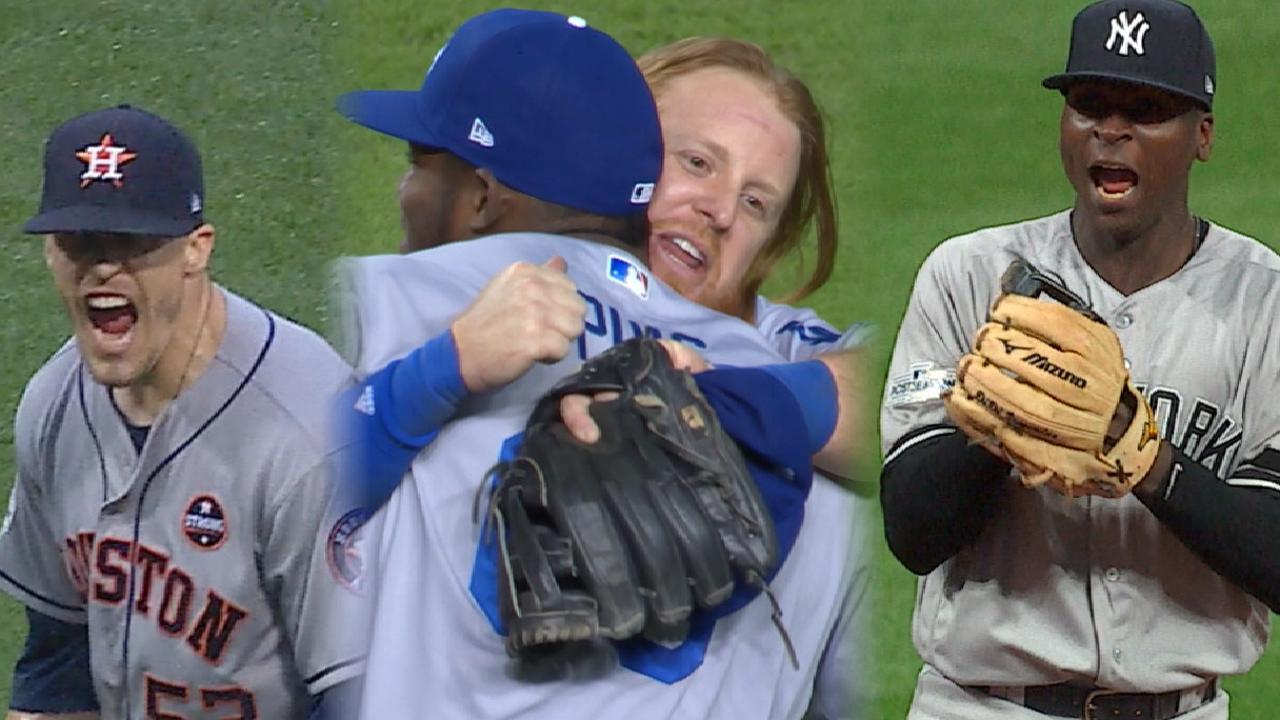 The field for this year's Championship Series is nearly set with only one Division Series remaining in the National League between the Cubs and Nationals.
That series will come to an end tonight in a winner-take-all Game 5 matchup at Nationals Park, where one club will advance to face the Dodgers in the NL Championship Series.
All three of the teams that already punched their tickets to the next round clinched their Division Series on the road, a trend that bodes well for the visiting Cubs in their quest to repeat as World Series champions.
The Astros and Dodgers each advanced earlier this week with wins on the road Monday. Los Angeles completed a three-game sweep of the D-backs in Phoenix, while the Astros eliminated the Red Sox in four games with a victory at Fenway Park.
The Yankees followed suit Wednesday, pulling off a historic series comeback with a 5-2 victory over the defending American League-champion Indians in Cleveland. New York won three straight elimination games to become the 10th team to advance after trailing 0-2 in a best-of-five postseason series.
Division Series history is on the Cubs' side as they attempt to make it 4-for-4 in tonight's bout at Nationals Park. With the Yankees' win Wednesday, road teams are now 18-13 in Division Series Game 5s, including a 15-6 record since 2002.
And the Cubs are no strangers to winning elimination games on the road. They beat the Indians in Cleveland in Games 6 and 7 of last year's World Series en route to their first championship since 1908. They also defeated the Pirates as visitors in the 2015 NL Wild Card Game at PNC Park.
"It's one game and you go home," Cubs first baseman Anthony Rizzo said. "Backs against the wall. You've got to go to their place and do it. Elimination game. Anything can happen. You have to roll with it, and hopefully we're on the winning side."
• Cubs accustomed to playing must-win games
The Cubs went 44-37 away from Chicago in the regular season, which ranked as the third-best road record in the NL behind only the Dodgers (47-34) and Nationals (50-31). Chicago and Washington split their four regular-season matchups at Nationals Park, where the Nats went 47-34 this year, and each took a game there to start this series.
"Nothing makes a difference except what happens [today]," Nats first baseman Ryan Zimmerman said. "We've beaten this horse to the ground. If you want to say experience helps or hurts, then you can say whatever you want. We've got to show up and play a good game [today]. If we don't, we'll lose, and if we do we'll play well."
Chad Thornburg is a reporter for MLB.com based in Los Angeles. This story was not subject to the approval of Major League Baseball or its clubs.