Oct. 11 Didi Gregorius postgame interview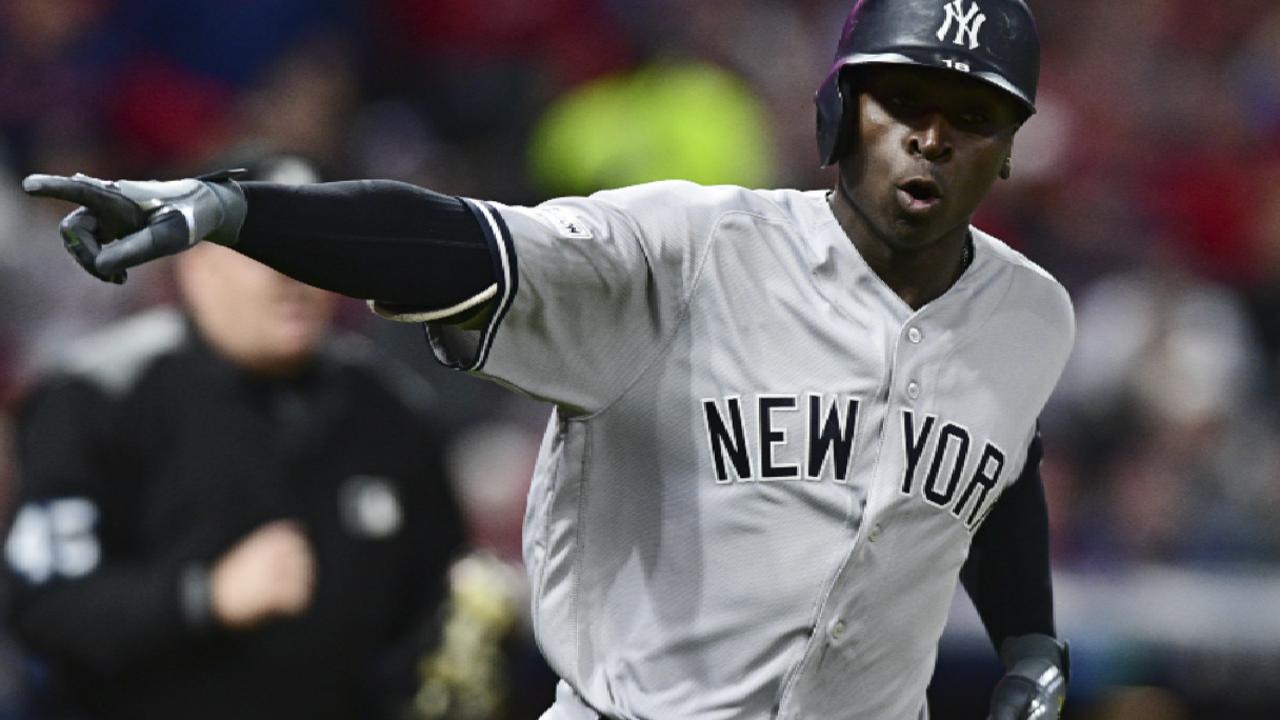 Q. Didi, Joe just told us he spoke with you guys before Game 3 and said, Just win one game. He also said he owned his mistake from Game 2. How meaningful do you think that meeting was, just to get things focused?

DIDI GREGORIUS: I mean, like you say, he talked to us for a little bit. Have a quick meeting. He admitted, like you say, he admitted to it. It just shows everybody is United. Everybody has accountability. That's the best thing. If you made a mistake, you admit it. You pass it on. That's in the past.
All he told us, Hey, let's play one game at a time right now, and that's all we can control right now. Whatever happened in the past happened in the past. We, as a team, we always have each other's back.
Q. I know it's about the team and that focus. I know you're going to tell me that. But for you as a kid growing up, dreaming about playing in games like this, could you ever imagine a night like this for you and your team?
DIDI GREGORIUS: I mean, like you say, as a kid, we always want to play in a big situation. The first thing, you want to make it to the big leagues, watching everybody play in the big leagues, see all the players, awesome careers that they're having. I wanted to be also a major league player when I was growing up. Then I worked for it.
Now that I'm here, being in this unbelievable, unbelievable organization, everything, all the history and everything that's been here with the team, and guys are helping each other, backing each other up, everybody is protecting each other, it's the best thing because everybody is together and the team is really united.
For me to be here with these guys is just unbelievable, amazing, young team that we've got.
Q. Didi, you hit two home runs tonight off Corey Kluber. What did you do in those at-bats? What pitches were you looking for? Take me through the two at-bats.
DIDI GREGORIUS: Not taking anything away from the possible Cy Young winner, but I'm always -- when I'm going up to it, I'm always looking for a fastball. So I'm trying to stay ready for the fastball and off-speed pitches. If you see it in the first at-bat, he threw me a really nasty cutter, swing and miss.
Then after that, he tried to come in with another fastball with two strikes, and I ended up putting a really good swing on it. It put us up in the first inning.
Then my next at-bat, I was like if they threw me the nasty cutter the first pitch, I might swing. Then he threw it actually and I fouled it off. I said, all right, get back to fastball away, and then I think he threw me a curveball or slider or cutter inside again, and I ended up putting a good swing on it and it went out.
Q. Didi, you come in, you replace a guy named Derek Jeter. That had to be a tremendous amount of pressure on you. Can you talk about where you were then compared to having a night like tonight?
DIDI GREGORIUS: Well, question never gets old. To be honest, I mean, it was just after he played his long, successful career here in New York, I'm the guy to follow him up. It's amazing for me to be in this organization and just being awesome with all these guys. Everybody's here helping each other. I'm going to keep saying that so many times. If you guys get tired of it, let me know.
Everybody helps each other out here. Everybody wants each other to be good. I think that's the motto since I got here, since '15. First day, I was really comfortable with all these guys. I got a warm welcome from everybody. It just shows how together everybody is going to be.
So it was really amazing for me, after a couple years I'd had in the major leagues, playing with the Reds and the Diamondbacks, to be here, get traded over. It's been an awesome run with all these guys.
Q. Didi, you've evolved into a middle-of-the-order type-hitter, which I don't know that a lot of people thought you were going to be that player when you first came up. How much do you enjoy that and how does that kind of happen to where you've kind of become a power threat and an RBI by when you were supposed to be more of a defensive player when you came to the big leagues?
DIDI GREGORIUS: Well, this is the thing. Everybody, I mean, there's a lot of times guys put label on a person without letting the person develop, let a person -- they always predict something before everything. This guy can only play defense or this guy can only play offense. But you don't know how hard a guy works to get where he wants to be, to stay where he wants to be and to keep making adjustments every year to try to get better.
I'm not going to say every player in the big leagues is going to hit .300, because it's hard. I'm not going to say every player in the big league is going to hit 30 homers because it's not easy to hit 30 homers. I didn't expect to hit 25 homers after missing a month. I'm playing the game. If I hit a home run, I hit a home run. I'm not going out to try to hit home runs every time.
For me, I always believed in myself. There's always people that are going to doubt you, people that are going to do everything. At the end it's up to you how hard you want to work. And not promoting, try to do everything, hey, look at me, I'm doing this and that so other people can see. If you work out in the dark or whatever, it just shows up during, for me, during like the season.
If you keep making improvements, people see, okay, he's working on something. You don't have to do everything for other people. For me, everything starts for myself. If I believe in myself, that I can be a good player, why am I going to change my mind?
So, for me, just try to be a really good player, try to take advantage of everything. That's the one way I look at it.