Taylor fulfills promise with against-all-odds slam
Nationals' center fielder puts exclamation point on Game 4 victory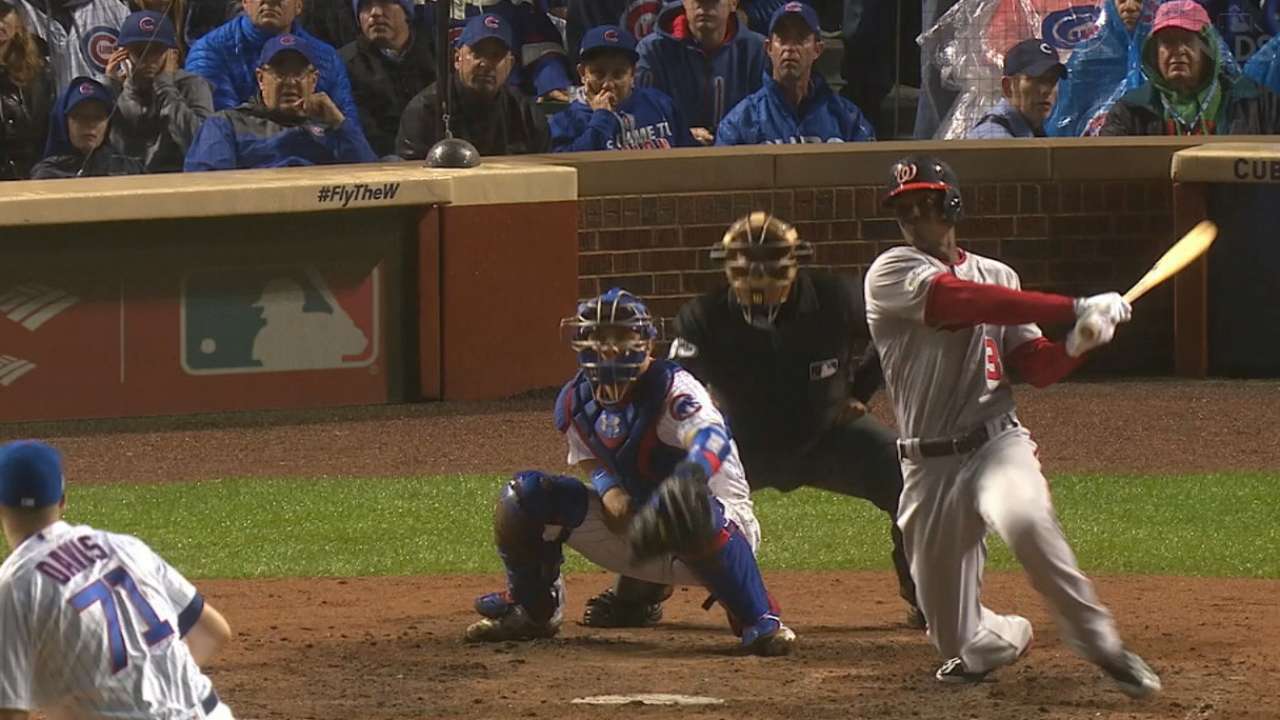 CHICAGO -- Michael A. Taylor has been described as both an impressive five-tool talent and a late bloomer. Over the course of the past year, he has displayed the power of perseverance and proven he still should be considered a significant future asset for the Nationals.
Had everything gone according to plan this year, Taylor might not have had the opportunity to savor the moment he experienced while helping the Nationals extend their season with Wednesday night's 5-0 win over the Cubs in Game 4 of the National League Division Series presented by T-Mobile. The easygoing and likable outfielder overcame Mother Nature's brutal elements and humbled All-Star closer Wade Davis with what was an unlikely grand slam in more ways than one.
• Shop for Nationals postseason gear
"Yeah, the wind was tough today," Nationals outfielder Jayson Werth said. "This was like a pretty typical day at Wrigley Field. To leave the way he did, that just shows you how far and how hard he hit that ball. On a different day, with a different wind, I would like to have seen how far that ball would have went. Pretty cool. Great moment for us. We get to go back home and play more baseball."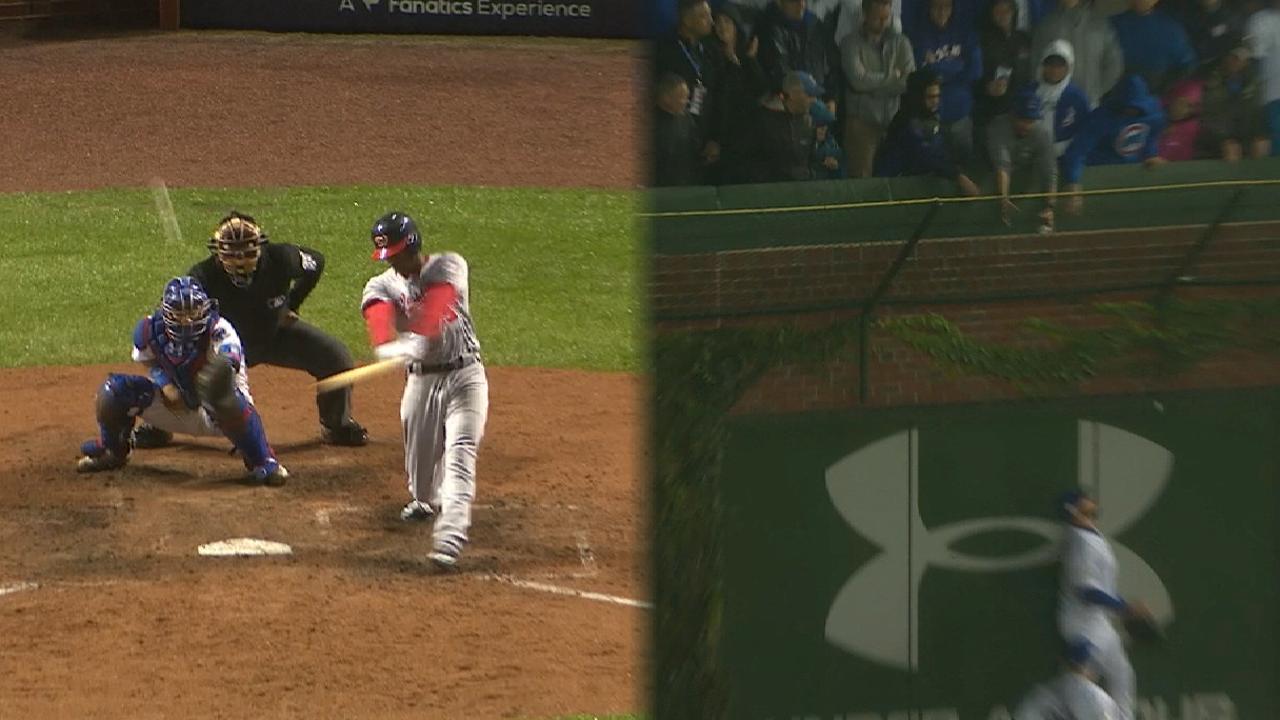 Grand slams mean 40% off pizza
Stephen Strasburg's seven gutty and nearly flawless innings combined with Trea Turner ending his hitless streak in timely fashion set the tone for the night. But the late comfort was supplied by Taylor, whose slam may have provided a little more excitement as the Nationals exited a chilly and windy night at Wrigley and flew back to Washington to prepare for Thursday's night decisive Game 5.
"He centered that ball," Nationals second baseman Daniel Murphy said. "That took a man to hit it through that wind tonight. He hammered it. Addison Russell hit one really good in, like, the second inning, I think, and he took it pull side, too. Mikey cut it through the wind the other way like that."
After right-handed reliever Carl Edwards Jr. issued consecutive walks to load the bases and then fell behind Taylor with a 1-0 count, the Cubs turned to Davis, who hadn't allowed a run over his past 22 2/3 postseason innings, or a home run in any of the 29 1/3 postseason innings he'd worked as a reliever.
Taylor defied the odds, when he hit Davis' elevated 94.1 mph fastball the other way with a game-high 106.1 mph exit velocity. As the ball neared the right-field wall, it seemed likely the wind would knock it down just like it had every other ball that had been hit deep on the evening. But the swing proved powerful enough for the ball to land in the basket above the right-field wall and account for the first postseason grand slam in Nationals franchise history.
"Afterwards, I was kind of numb, just running around the bases," Taylor said. "Honestly, I didn't think it was going to get out the way the wind was blowing in."
It was fitting for Taylor to enjoy this moment near the end of a year in which he wasn't expected to get much playing time. He had produced a sub-.300 on-base percentage both of the past two seasons, and his struggles led the Nationals to use two of their top pitching prospects to acquire Adam Eaton from the White Sox in December.
Eaton suffered a season-ending knee injury in early May and steadily Taylor became the reliable center fielder the Nationals always envisioned he could become. The 26-year-old produced 19 homers, produced a .806 OPS and prepared himself for moments like Wednesday night, when he once again proved he is capable of defying the odds.
"It's never been about the talent with Michael," Nationals first baseman Ryan Zimmerman said. "He's had so much talent and he's learned to slow it down this year. He's still 26 years old, so he's still relatively young. Some guys, it takes a year or two to learn. Sometimes, it takes three or four years to learn. This year, it seems like he's been able to just slow everything down a little bit and just let his tools take over."
Mark Bowman has been an Atlanta-based reporter for MLB.com since 2001. This story was not subject to the approval of Major League Baseball or its clubs.