Lester notches rare pickoff in strong relief stint
Cubs lefty nabs Nats' Zimmerman in NLDS Game 4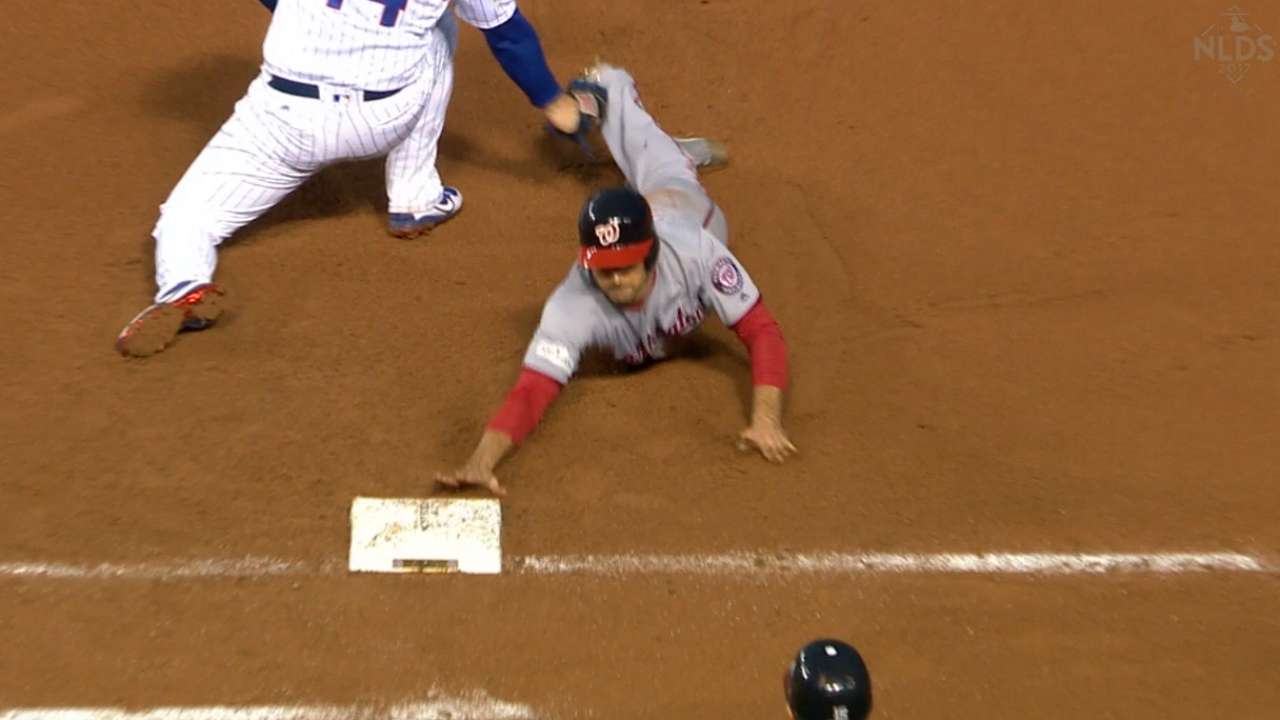 CHICAGO -- Before Game 4 of the National League Division Series presented by T-Mobile began on Wednesday, manager Joe Maddon plotted the Cubs' pitching plan. If the series saw a Game 5, as it will Thursday night at Nationals Park, then he would designate Jose Quintana to back up starter Kyle Hendricks. He wanted Jon Lester to be ready Wednesday in relief of Jake Arrieta.
The plan went into action earlier than expected, as Arrieta worked only four innings. Then came Lester, pitching out of the bullpen for the first time since Game 7 of last year's World Series. The veteran lefty worked 3 2/3 strong innings to keep the Cubs in the game and picked off Ryan Zimmerman at first base, a rarity. But he gave up a hit that sparked a four-run eighth inning in the Nationals' 5-0 win at Wrigley Field that sent the NLDS to a decisive Game 5 on Thursday in Washington.
• Shop for Cubs postseason gear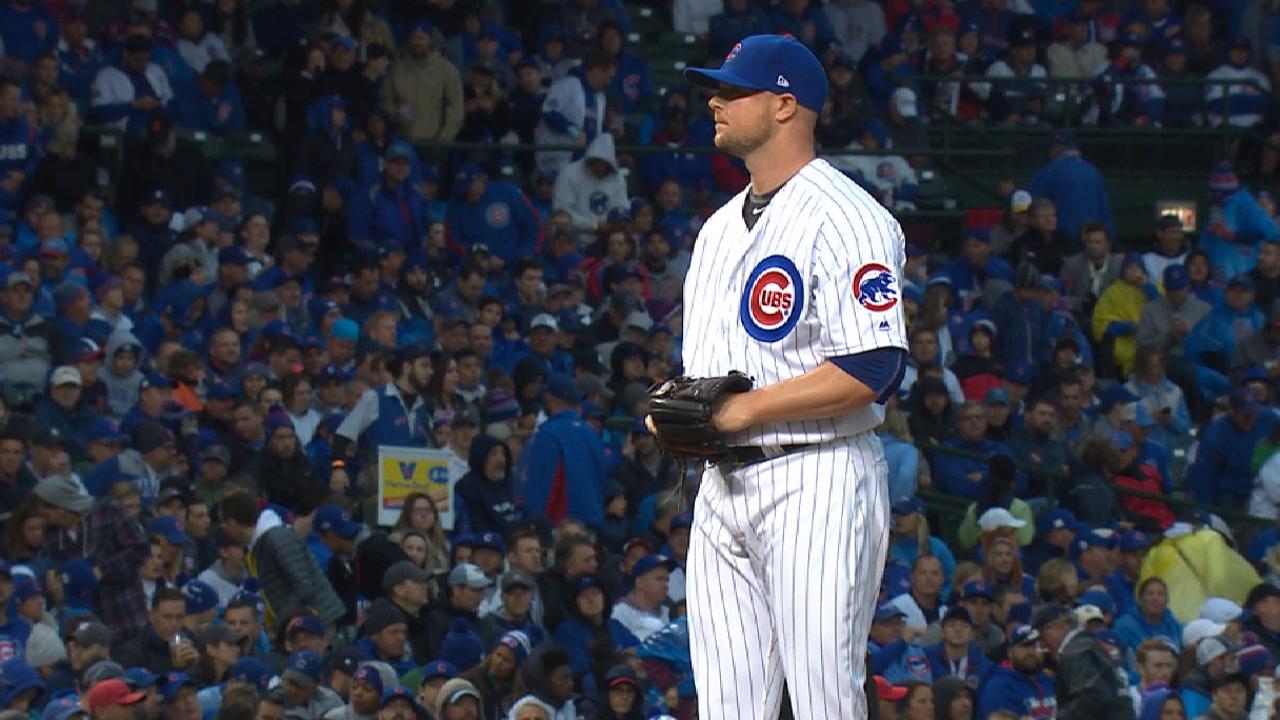 The fact that the Cubs used their Game 2 starter -- a proven postseason ace -- in relief during a non-elimination game might reveal how much they wanted to win at home and avoid Game 5 at Nationals Park. Lester didn't make too much of the decision, however.
"I just do what I'm told," Lester said. "I don't ask questions. I don't read into things. They wanted me down there, and Joe called my name. Try to go out there and do your job. I was able to keep us in it there until the end."
Lester retired the first 10 hitters he faced, cruising from the fifth into the eighth and keeping the Cubs' deficit to one run, before Zimmerman walked with one out in the eighth. Then Lester defied all expectations. Who said he wouldn't throw to first base, anyway?
Lester has developed a reputation for not throwing out baserunners or even attempting to do so. On June 3, Lester picked off Cardinals outfielder Tommy Pham at first base. That was his first successful pickoff at first since Sept. 20, 2015.
Zimmerman clearly intended to test Lester's willingness to throw over to first baseman Anthony Rizzo. With Daniel Murphy batting, Zimmerman danced off first and drew three straight pickoff throws from Lester.
The first one bounced. The second caught Zimmerman off guard, but he dived back to the bag safely. The third found Rizzo's glove in time for him to tag Zimmerman's leg as he reached for first base.
• Lester picks off Zimmerman, receives standing ovation
Zimmerman was ruled safe by first-base umpire Jerry Layne, but Maddon challenged the call. After a replay review, the call was overturned and Zimmerman was out. The home crowd roared.
"My objective is to get outs, one way or another. We got an out there," Lester said. "After that, you try to move on to Murphy. … It was a nice out, but at the end of the day, it didn't really matter."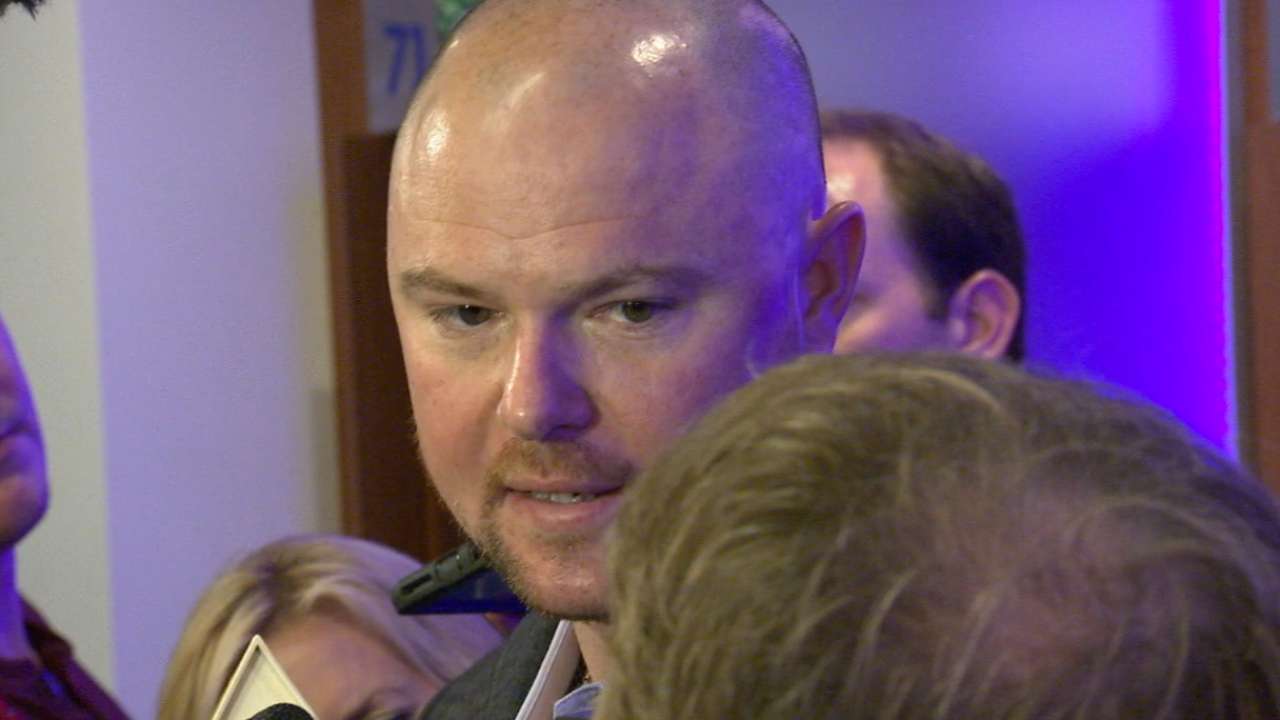 The raucous cheers were quickly silenced when Murphy hit a two-out single off Lester, looping a low curveball into center field. Maddon removed Lester, who walked off the field to another thundering ovation. That, too, was hushed when reliever Carl Edwards Jr. walked two batters before Wade Davis served up a grand slam to Michael A. Taylor.
"Look at the job Lester did tonight. What a guy to have in a postseason situation like that," Arrieta said. "It's just unfortunate we weren't able to scratch across any runs."
Adam Berry has covered the Pirates for MLB.com since 2015. Follow him on Twitter and Facebook and read his blog. This story was not subject to the approval of Major League Baseball or its clubs.