Hahn happy for ex-White Sox players' success
GM reflects on postseason, hopes prospects netted in deals can turn club into contender
GLENDALE, Ariz. -- Rick Hahn doesn't set out to win a trade when executing a deal, although he certainly has had many chances to do so since last December as the White Sox rebuild moved ahead full force.
"You want both sides to feel good about any transaction," said the White Sox general manager from the team's Camelback Ranch complex during Instructional League action Wednesday. "Nobody is looking to fleece anybody or get away with a quote unquote win. You want both clubs to benefit."
With that thought process in mind, Hahn can preside over some of his top prospects working in Arizona while also appreciating the postseason success of his former players.
Jose Quintana, who the White Sox developed into a frontline starter, turned in a frontline sort of start for the Cubs during their victory over the Nationals in Game 3 of the National League Division Series presented by T-Mobile in Quintana's first playoff appearance. A Quintana trade with the Cubs before the start of the second half netted the White Sox outfielder Eloy Jimenez, the No. 4 overall prospect per MLBPipeline.com, and right-hand pitcher Dylan Cease, who checks in at No. 57.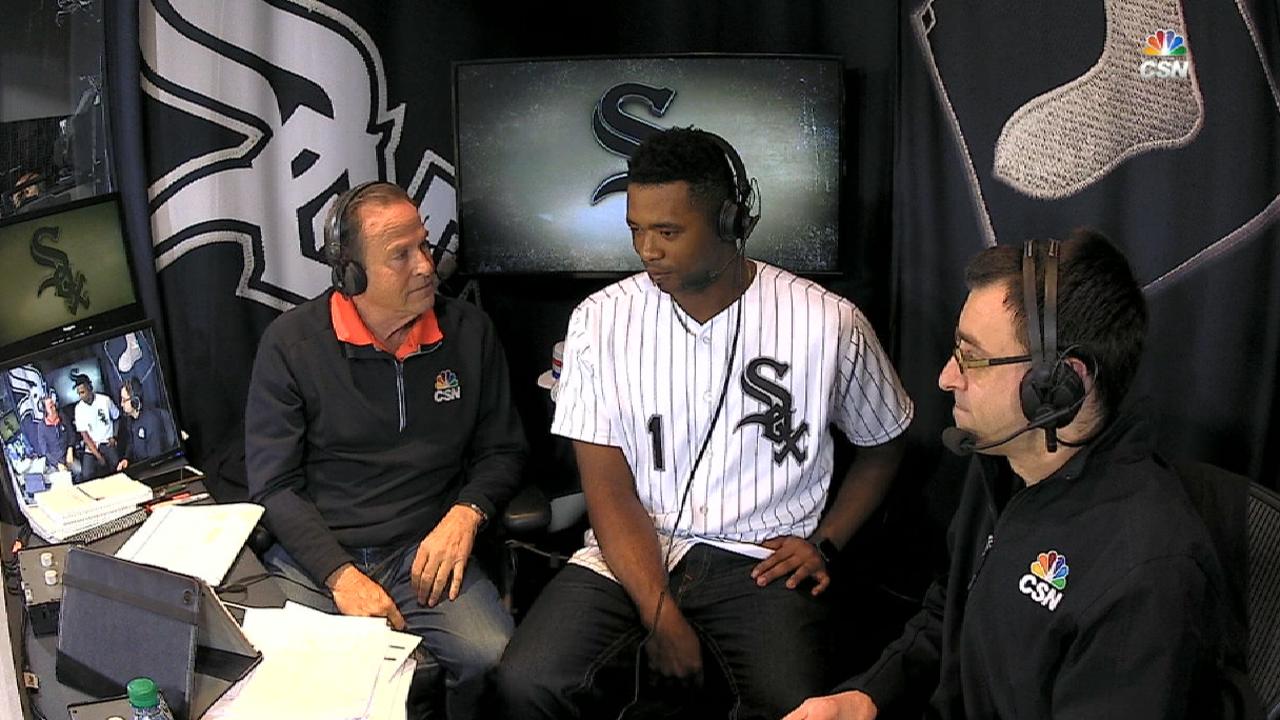 Tommy Kahnle closed out the Yankees' Game 4 victory over the Indians in the American League Division series presented by Doosan by striking out five in two innings of relief. It was Kahnle, David Robertson and Todd Frazier, who also have contributed over New York's first four playoff games, bringing back outfielder Blake Rutherford, No. 39 overall, and pitcher Ian Clarkin in that deal.
Chris Sale, a five-time All-Star as part of the White Sox rotation, didn't have the playoff results he wanted but solidified his place as one of the game's top starters via 308 strikeouts in 214 1/3 innings for the Red Sox. Of course, that Sale move brought the White Sox starting second baseman Yoan Moncada and right-handed hurler Michael Kopech, who checks in at No. 9 overall.
"You don't stop caring for the individuals," White Sox manager Rick Renteria said. "All of us down deep, we pull for all of them. Obviously you don't want them to have that kind of success against you.
"But right now we are glad they are having the success they are having. Hopefully we are building to be able to do something like that in the future."
Renteria attended the first playoff game between the Dodgers and D-backs in Los Angeles, but told his wife, Ilene, that game would be the only one from the 2017 playoffs he would see in person. He would rather watch his former players on television and save the in-person playoff appearance for the next time the White Sox qualify.
"We are certainly happy for the individual players who are doing well and getting that opportunity to perform in the postseason or receive recognition for what they are capable of doing," Hahn said. "On teams that don't make the postseason, it's a little more difficult to get.
"From our standpoint, we are focused more on joining them in the coming years by having the players we've acquired through those trades or draft or by any other means come together and put us in a position where we are the ones in October enjoying the benefits of those deals. A lot of the reason we were able to line up on as many deals as we did is because we were in a different point of our success cycles than a lot of the other clubs."
Scott Merkin has covered the White Sox for MLB.com since 2003. Read his blog, Merk's Works, follow him on Twitter @scottmerkin, on Facebook and listen to his podcast. This story was not subject to the approval of Major League Baseball or its clubs.