ALDS G5 lineups: Edwin returns from injury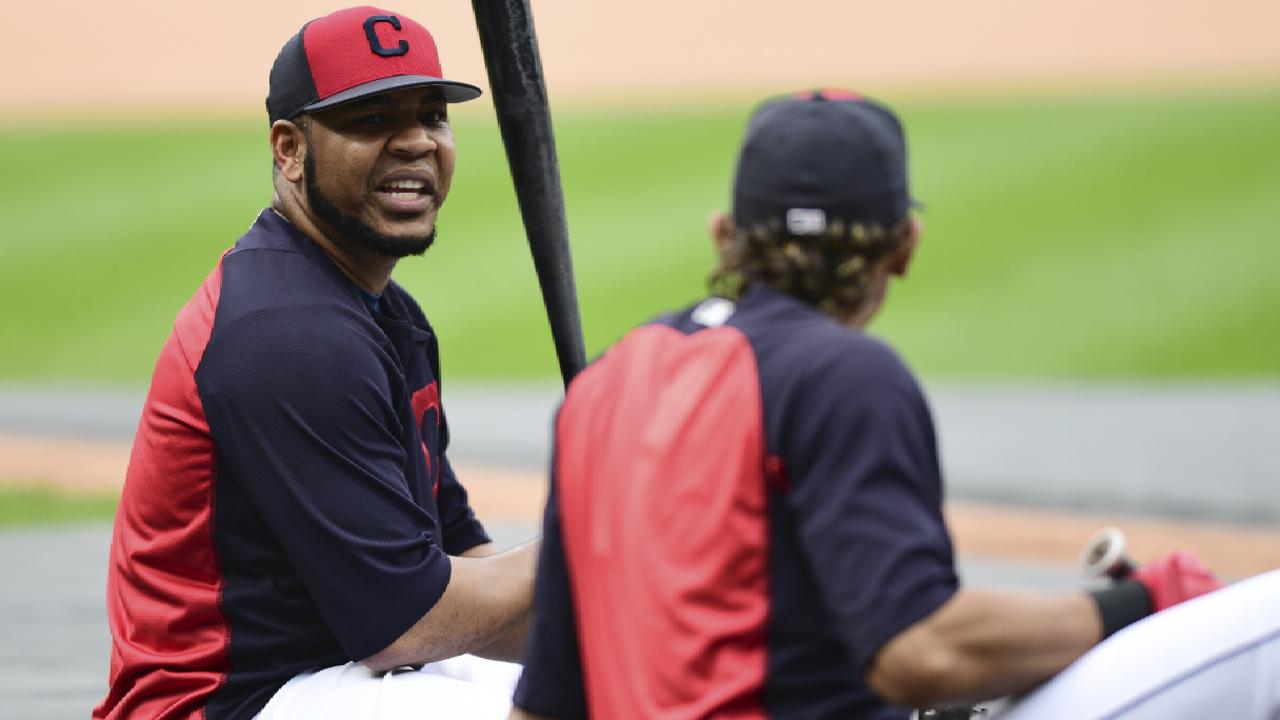 Indians slugger Edwin Encarnacion is back in the starting lineup tonight for the decisive Game 5 of the American League Division Series presented by Doosan against the Yankees at Progressive Field (8 ET on FS1). Encarnacion had been sidelined with a sprained right ankle since Game 2, but he will be the designated hitter against Yanks starter CC Sabathia.
Encarnacion went through running drills and took batting practice during Tuesday's optional workout at Progressive Field. After passing those tests, manager Terry Francona penciled Encarnacion into the cleanup spot for Game 5 after sitting out Games 3 and 4 in New York. During the regular season, Encarnacion slashed .258/.377/.504 with 38 home runs.
"I was looking at everything, because it was an important decision," Francona said of watching Encarnacion on Tuesday. "I was pleasantly surprised how good he looked."
The Indians have Francisco Lindor leading off and playing shortstop, followed by Jason Kipnis in center field and Jose Ramirez at second base. Following Encarnacion in the cleanup spot, Carlos Santana plays first base and bats fifth. Austin Jackson plays left field and bats sixth, followed by right fielder Jay Bruce, catcher Roberto Perez and third baseman Giovanny Urshela. Ace right-hander Corey Kluber will be on the mound.
"We just finally came to the conclusion that we were going to start 'Berto," Francona said of starting Perez over Yan Gomes at catcher. "And I don't know that there was a wrong choice. We just decided that we would start 'Berto and we told Gomer that he would probably have an influence in this game before it's over."
Francona also said he slotted Jackson in ahead of Bruce in the lineup with Santana in mind.
"You try not to upset the apple cart. We've done things a certain way the whole year," Francona said. "But against CC, I just wanted to make sure that coming through the middle there that guys get pitched to, especially Santana. I thought that this was the best way to go about it."
Several hitters in the Tribe's lineup for Game 5 have had success against Sabathia, beginning with Lindor, who is 5-for-9 (.556) with a double. Ramirez is 4-for-8 with four singles, and Encarnacion is 15-for-55 (.273) with four doubles, though no homers. Santana is 10-for-19 (.526) with a double and a homer. Jackson, who did not start in Game 4, is 10-for-34 with three doubles, a triple and a homer against Sabathia.
Ready to rock. #RallyTogether pic.twitter.com/uqsT58rRCj

— AL Central champs! (@Indians) October 11, 2017
The Yankees' lineup remains largely the same from Game 4, but manager Joe Girardi has Jacoby Ellsbury in the DH spot rather than Chase Headley against Kluber. Ellsbury has the highest career batting average (.263, 5-for-19) of any active Yankees player against Kluber, and Headley is 1-for-14 (.071) lifetime against the righty, with a homer.
Girardi has Brett Gardner leading off and playing left field, followed by Aaron Judge in right field, Didi Gregorius at shortstop, Gary Sanchez behind the plate, Greg Bird at first base, Starlin Castro at second, Aaron Hicks in center field, Ellsbury batting eighth, and Todd Frazier batting ninth and playing third base.
The Yankees' starting lineup for Game 5:
1. Brett Gardner, LF
2. Aaron Judge, RF
3. Didi Gregorius, SS
4. Gary Sanchez, C
5. Greg Bird, 1B
6. Starlin Castro, 2B
7. Aaron Hicks, CF
8. Jacoby Ellsbury, DH
9. Todd Frazier, 3B
CC Sabathia, P
The Indians' starting lineup for Game 5:
1. Francisco Lindor, SS
2. Jason Kipnis, CF
3. Jose Ramirez, 2B
4. Edwin Encarnacion, DH
5. Carlos Santana, 1B
6. Austin Jackson, LF
7. Jay Bruce, RF
8. Roberto Perez, C
9. Giovanny Urshela, 3B
Corey Kluber, P
Manny Randhawa is a reporter for MLB.com based in Denver. Follow him on Twitter at @MannyOnMLB. This story was not subject to the approval of Major League Baseball or its clubs.