MLB.com Columnist
Phil Rogers
Extra day for Arrieta to rest can only benefit Cubs
Right-hander has been dealing with a hamstring injury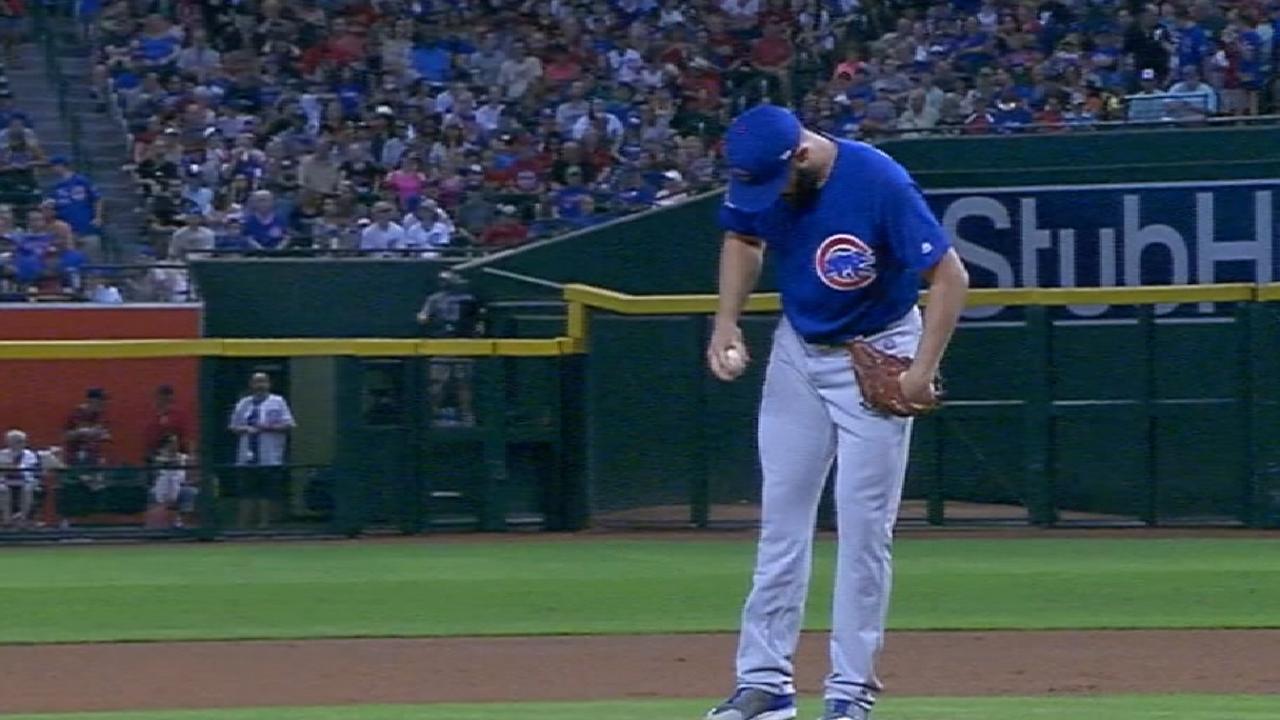 CHICAGO -- Remember the Cubs' last postseason rain delay?
Yeah, thought so.
• Shop for official NL Central champs gear
That one in Game 7 of the 2016 World Series didn't exactly sink the Cubs, and neither should Tuesday's postponement of Game 4 in the National League Division Series presented by T-Mobile. It's just one more day for Jake Arrieta to rest his hamstring and prepare to do what he's done best over the last three seasons -- deliver some of the biggest wins that the Cubs have collected.
"I saw his bullpen a few days ago," Cubs righty Kyle Hendricks said. "He was letting it go and looked pretty good. It's pretty normal preparation, outside of the fact of making sure that hamstring is good to go, testing it here and there. But he's got a solid routine in between starts, and he's a guy I learned a lot from as far as how to work. He'll be prepared for this day I know for sure."
It's true that Hendricks said this early Tuesday, before Major League Baseball postponed the game due to rain. But Arrieta isn't going to mind an extra day of rest.
Heck, Arrieta now might be a little sharper for what could be his last Wrigley Field start as a Cub.
The Nationals on Wednesday decided to go with Stephen Strasburg over Tanner Roark. There had to be a fair amount of back and forth before Nats president of baseball operations and general manager Mike Rizzo and manager Dusty Baker -- with input from Strasburg, who was reported to be less than 100 percent on Tuesday because of an unidentified ailment -- came to that decision.
You know the Cubs studied their options, too. But there wasn't the same sense of importance hanging over the decision, and not just because Anthony Rizzo's RBI single in Game 3 gave the North Siders a 2-1 edge in the series.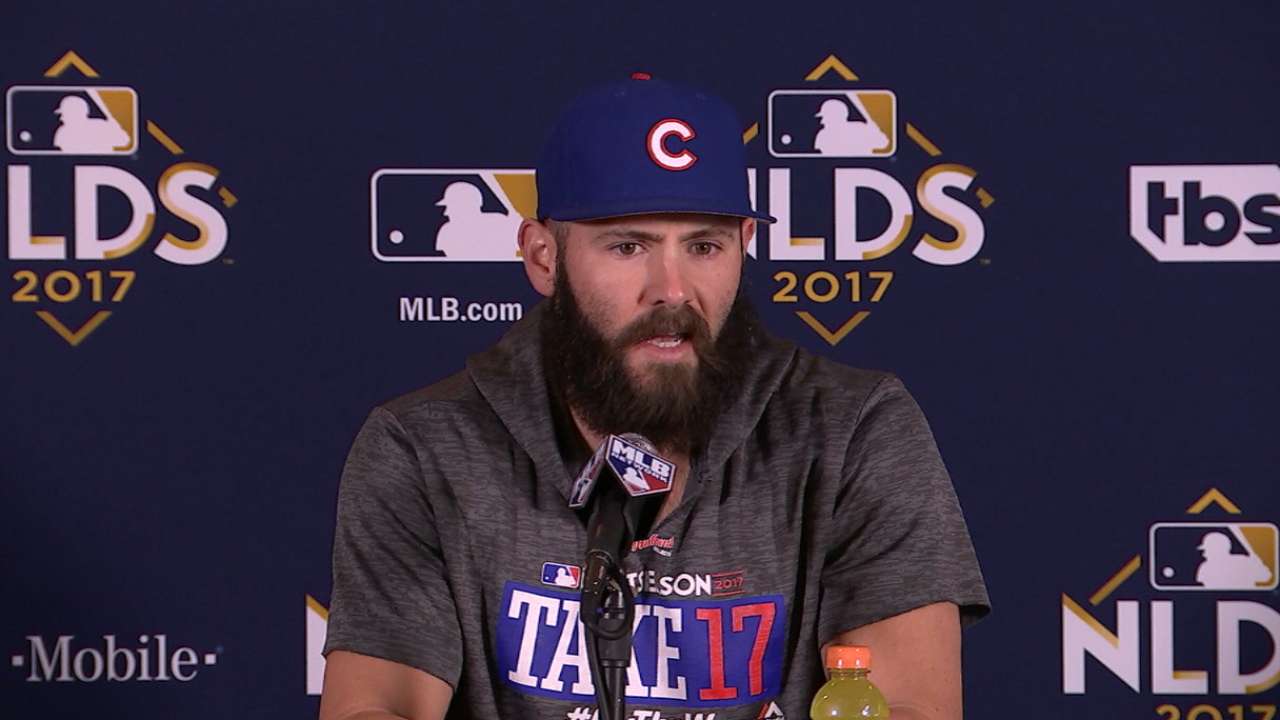 Like the Indians over in the American League, the Cubs have a remarkably deep rotation. Former Cub Jason Hammel, who couldn't get on the 2016 postseason roster despite a 15-10 season, recently described manager Joe Maddon's rotation as "an embarrassment of riches," and he's right. So why change plans in mid-stream?
The Nationals might have been able to use the rainout to their advantage if Max Scherzer had been healthy at the start of the series. That would have given them Scherzer and Strasburg on regular rest in four of the games in a five-game series.
That's a hammer.
But since Scherzer was held out until Game 3, the Nats' choice came down to starting Roark or Strasburg in Game 4, or going to Gio Gonzalez for a second start if they extended the series to five games. Gonzalez gave up three runs in five innings in Game 2 and went 1-3 with a 6.75 ERA over his last four regular-season starts.
Hendricks vs. Gonzalez in Game 5 would be advantage Cubs, even if the game is played at Nationals Park.
While Scherzer has said he hopes to work out of the bullpen in a Game 5, don't overlook the options for the Cubs. Maddon could turn to a fully rested Jon Lester for multiple innings, in addition to having John Lackey and Mike Montgomery in the bullpen. Those two guys made 44 starts between them this season. That's a lot of innings hanging out in your bullpen.
But don't be surprised if Arrieta turns this entire discussion into a lot of wasted breath. He's facing a Washington lineup that has hit .121 in the first three games of the series, and he will have worked himself up to full froth by the time he delivers his first pitch Wednesday.
The 2015 NL Cy Young Award winner, the guy who had that historic 0.75 ERA over 107 1/3 innings in the second half of that season, the bearded Pilates maven, Arrieta has had this start on his mind for weeks.
It's almost like the mission he was on before facing the Pirates in the 2015 NL Wild Card Game or the two times he faced the Indians during the 2016 World Series, and he was 3-0 with a 1.33 ERA in those starts.
Arrieta's health is a question this time around but, then again, so was Scherzer's before he took a no-hitter into the seventh inning of Game 3 of this NLDS. It was a hamstring strain that delayed his arrival in the series.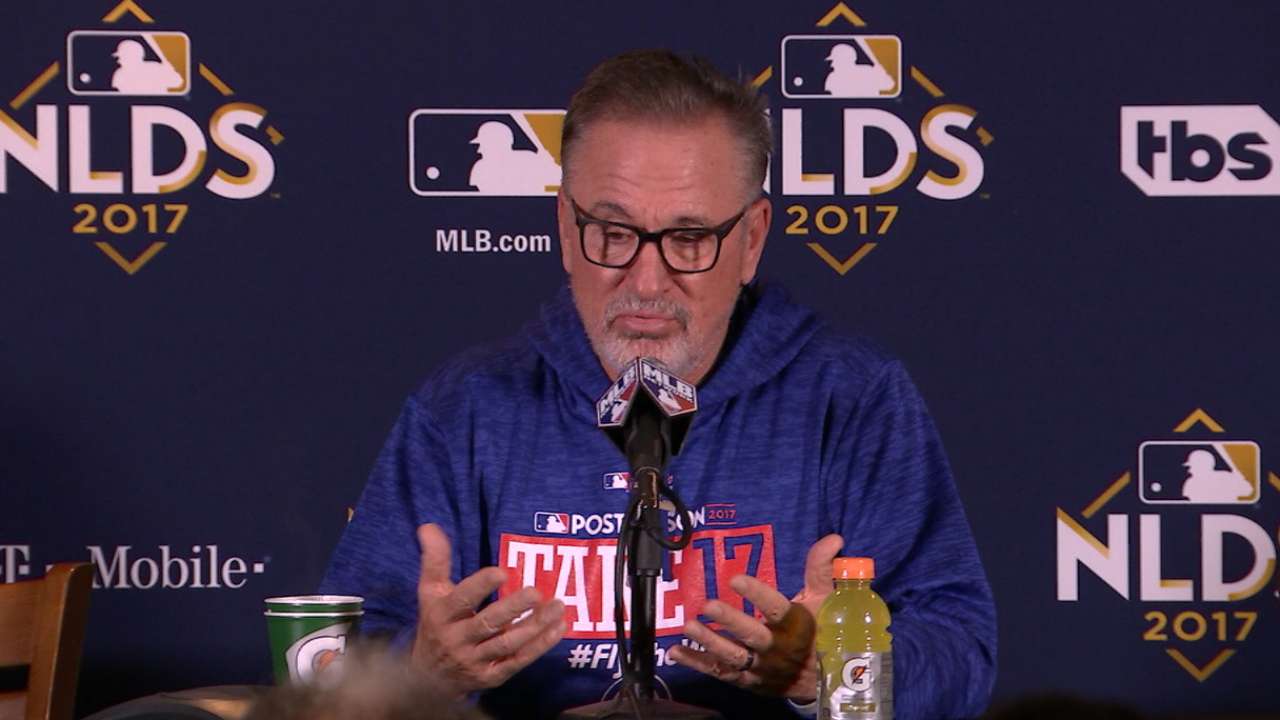 "I don't know to [what] extent that they are exactly similar," Maddon said about the two hamstring injuries. "I just feel good about where Jake is right now physically and mentally. He's mentioned how great his arm feels, also, based on the rest, too. So you have the combination of resting his arm, resting his leg."
There was no complaining by Maddon about the rainout, even if it did give the Nationals a chance to consider adjusting their rotation. The Cubs are confident that they can beat any team under any circumstance, and almost seem to relish the thrill of a good test.
Should they get past the Nationals, they'll be in good shape facing the Dodgers, even if they should lose Game 4 and have to travel back to Washington for a deciding Game 5. The Cubs have a strength-in-numbers approach through their rotation and the options for their lineup.
They found ways to match up with Clayton Kershaw last October and would love the chance to do it again. They're not about to get ahead of themselves though. The Cubs know they need one more victory over the Nationals to get there, and figure Arrieta is the guy to get it for them.
Phil Rogers is a columnist for MLB.com. This story was not subject to the approval of Major League Baseball or its clubs.