MLB.com Columnist
Mark Feinsand
Baker owns decision to stay with Roark in Gm. 4
CHICAGO -- It was all set up for manager Dusty Baker and the Nationals, or so it appeared.
Tuesday night's postponement of Game 4 of the National League Division Series presented by T-Mobile set up Washington with what seemed to be a dream scenario.
With the game moved to today due to rain, the Nationals could skip starter Tanner Roark in favor of co-ace Stephen Strasburg, leaving Gio Gonzalez lined up for a potential Game 5 back in Washington on Thursday.
Instead, Baker made the surprising announcement that Roark -- whose 4.67 ERA this season was significantly higher than those of both Strasburg (2.52) and Gonzalez (2.96) -- would remain the Game 4 starter rather than Strasburg, who held the Cubs to two runs (none earned) over seven innings, striking out 10 in a tough Game 1 loss.
The forecast Tuesday in Chicago, which resembled the slime that covered celebrated Cubs fan Bill Murray in the original "Ghostbusters," had been a known factor for two days, so Strasburg threw his bullpen session on Monday, meaning he could have pitched today in the event of a postponement.
But according to Baker, Strasburg was "feeling under the weather" Tuesday, which seems to be the true motive behind the decision to stick with Roark.
"We're all creatures of habit," Baker said. "We've got full confidence in Tanner."
If Strasburg's illness would have compromised his ability to pitch today, then the decision is understandable. If he would have been capable of pitching, the decision becomes curious at best.
Baker's unexpected decision reinforced one thing: The veteran manager isn't concerned about leaving himself open to criticism.
In the wake of some debatable bullpen moves in Game 3, Baker was asked earlier Tuesday about the nature of his job when it comes to being second-guessed and how that may or may not impact his decisions.
"You can't control the outcome; all you can do is try to put people in position to succeed," Baker said. "As far as the scrutiny and as far as social media and this and that, everything, I don't read it. I have to really stress that to my mom and my wife, because they read everything and I don't read anything.
"I just want to remain in control and not have anybody control my self-esteem. Therefore, it doesn't matter to me; people can say what they want to say and think and write what they want to write, because I know what I'm about, and I have supreme confidence in myself."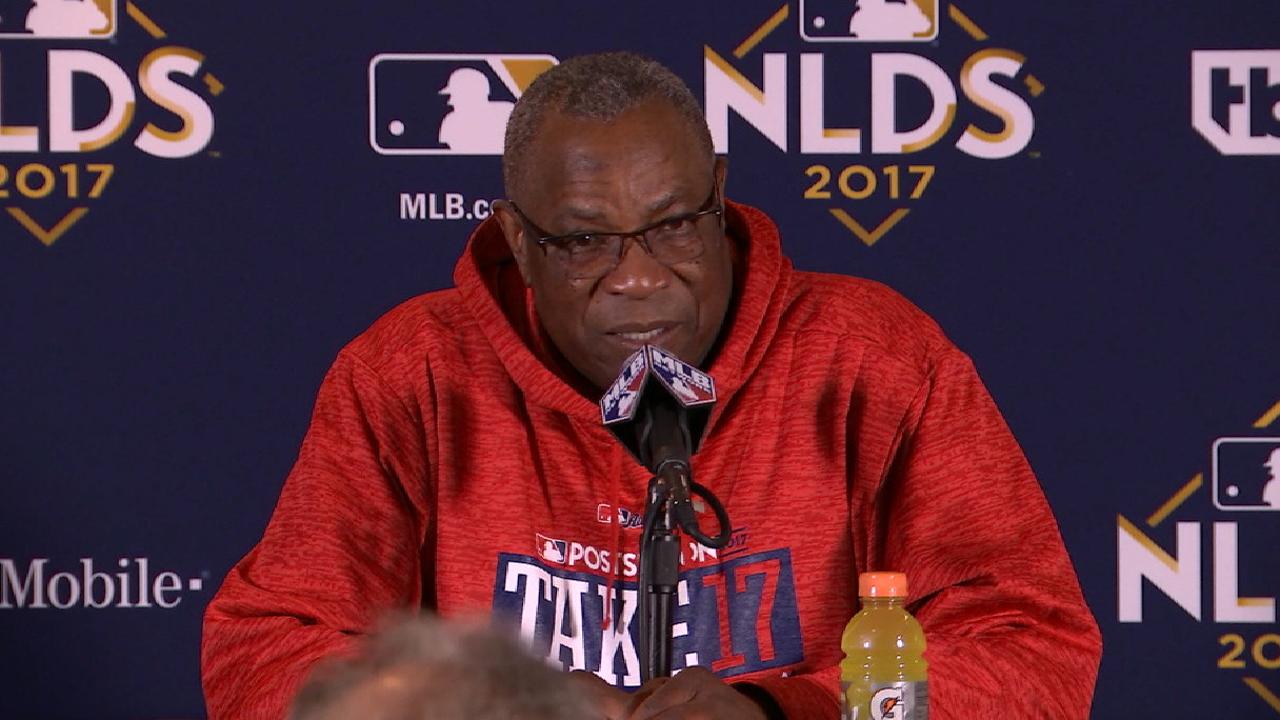 Four hours later, Baker would put himself on the line once again by making another call that raised more than a few eyebrows.
Short of Matt Wieters pulling a Crash Davis and turning on the Wrigley Field sprinklers, the only chance for the Nationals to start Strasburg in this win-or-go-home game was for Mother Nature to intervene.
When she did, it seemed like a mere formality that Strasburg would get the ball with the Nationals' season on the line. Even Cubs manager Joe Maddon sounded like a man expecting Strasburg to pitch, speaking to the media prior to Baker's announcement that Roark would start.
"You have to be able to beat the best to be the best," Maddon said. "Whatever they choose to do, we have to be ready for it. You don't run away from anything, so however it plays out, it's going to play out that way. You don't cry about stuff like that."
Strasburg has never pitched on short rest in his career, and given the myriad injuries he has battled, there was no chance Baker was going to ask the right-hander to do so in the scheduled Game 4, even with the season at stake. As it turned out, pitching him on regular rest in Game 4, rather than Game 5 as originally planned, was also off the table.
Roark, the fourth starter behind Max Scherzer, Strasburg and Gonzalez, does have a solid history against the Cubs. He beat the defending champions on Aug. 4 in Chicago, holding the Cubs to two runs over 6 1/3 innings in his lone start against them this season. In five career games (four starts) at Wrigley Field, Roark is 3-1 with a 3.24 ERA.
Still, he's not Strasburg.
The Nationals will now count on Roark to help get them back home for a decisive Game 5, when Strasburg would have an opportunity to lead his team to its first postseason series win since moving to Washington.
If it works, Baker will be heralded as a genius, one with great feel for his team. If it doesn't and the Nationals are sent home in the first round for the fourth time in six years, at least we know Baker won't be reading about the loss.
Mark Feinsand, executive reporter for MLB.com, has covered the Yankees and MLB since 2001 for the New York Daily News and MLB.com. This story was not subject to the approval of Major League Baseball or its clubs.